I love bundt cakes. They're a gorgeous display cake. It's very fun to turn it out of the pan - it sits upside-down! You don't have to coat it with frosting or icing. You don't have to assemble it, as you do a layer cake.
I have several pans, but my favorite Bundt cake pan is my great-grandma's green Bundt pan. It's much older than I am, and it's solid cast aluminum. You could injure someone with it if you needed to. It makes fantastic cakes. Because it's so solid and so old (it's green! even if you can't tell from the picture), baking with it feels special every time.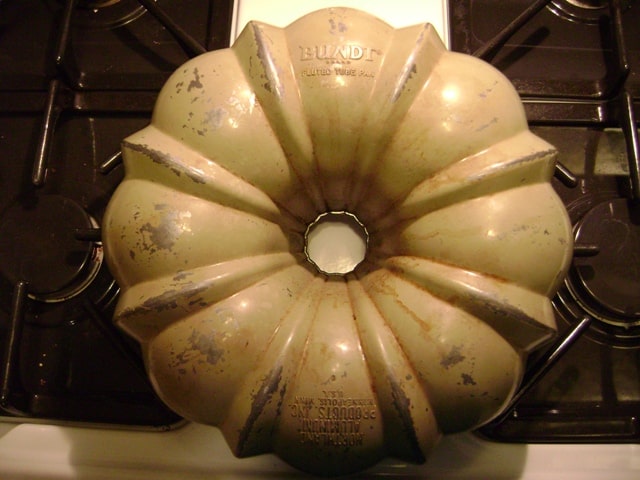 The only other similar pan I've used since I inherited this one has been the stadium cake pan (affiliate link), but it obviously isn't appropriate for all occasions. I also have some silicone tube pans that once got some use, but I honestly don't remember how well they baked.
[This post contains affiliate links. I may make a commission for purchases made through links on this post.]
Pound cakes traditionally take a pound each of flour, sugar, butter, and eggs. Quite a few recipes scale this down while maintaining the proper proportions of ingredients. Alton Brown doesn't really maintain these proportions. Many recipes also include leavening (baking powder or baking soda) and some lemon zest or vanilla for added flavor. This recipe does.
This recipe is adapted from Alton Brown's cookbook, I'm Just Here for More Food (affiliate link).
You can see that this recipe has a much lower egg-to-other-ingredients ratio (as well as butter, unless you decide to pretend the buttermilk counts toward the butter's weight proportion). I followed these directions thoroughly. I even tried to measure the flour according to weight (14.5oz, Alton's pretty picky). This was a delicious cake batter. I knew it would be a short cake, since it was somewhat less ingredients than other cakes that go in that size pan. As you can see above, it baked pretty well, although you can see the couple of places where the sugar butter wasn't as well incorporated. I baked it late on Wednesday night, so I didn't get to try any of it until I took it to work the next day.
This was a delicious, if non-traditional, pound cake. It was very tender and moist, and had a really good flavor. As luck would have it, someone brought store-bought pound cake to work on Thursday as well, but this one was the one that people started talking about upstairs. There were only two pieces left by the end of the day, but I suspect that it would have been all gone if there hadn't been a competing pound cake.
This is a very delicious cake on its own, with its tender and moist crumb. If I were making a pound cake to go with a compote or for some other purpose, I might go with a denser pound cake. I'm going to still experiment with more traditional pound cakes (with fewer ingredients), but I'm very sure I'll make this again.
📖 Recipe
Alton Brown's Pound Cake
adapted from I'm Just Here for More Food
Ingredients
16

tablespoons

unsalted butter

(2 sticks), softened

2

cups

sugar

(14oz)

3

eggs

(5oz)

1

teaspoon

vanilla extract

3

cups

all-purpose flour

(14.5 oz)

½

teaspoon

baking soda

½

teaspoon

salt

1

cup

buttermilk

(8oz)
Instructions
Sift the dry ingredients together in a bowl. In another small bowl, beat eggs together with the vanilla extract. Cream the butter in the stand mixer, add sugar and cream until well blended. Add eggs slowly. Alternate additions of the dry ingredients and the buttermilk. Pour into a greased and floured 12-inch tube or Bundt pan and bake at 325F for 1 hour, or until cake pulls away from sides of pan. Cool for 15 minutes in pan, then turn out to cool completely.