To get back into ice cream making, I decided to make Aztec Hot Chocolate Ice Cream from The Perfect Scoop (affiliate link). It sounded rich and complex, very chocolate - something I'd love.
Did this ice cream live up to my expectations of it? Well, yes and no. I've made it more than once - a good sign, right? - but that was primarily because it was too spicy for us.
[This post contains affiliate links. I may make a commission for purchases made through links on this post.]
Excitedly, we ate a serving of the first batch. This was a great, rich chocolate ice cream - that we couldn't really taste through the chile powder. 2 teaspoons of chipotle chile powder made it entirely too hot for us. My ancho chili powder is old so I opted for the chipotle, but if I'd realized how much hotter chipotles are over ancho chiles, I would have used much less. At least now I know better.
Luckily, all was not lost. Alex somehow managed to eat half of the ice cream I had made. I made another half batch of ice cream, omitting chile powder entirely, to blend with the remaining spicy ice cream and put through my ice cream maker again.
Now the ice cream was spicy but manageable. Honestly, I think that even the reduced amount of chile powder covered up a lot of the other flavors I would have enjoyed - like cinnamon. The chipotle chile made the ice cream smoky, which is good if you like that kind of thing, but I wasn't a fan personally. The ice cream's texture was great; it melted easily in your mouth. I loved the richness of the chocolate. When the spiciness wasn't overwhelming, the ice cream was nicely sweet but not overwhelmingly so.
Overall, I think this was a great ice cream. When I make it again, I'll only use a tiny bit of chile powder so I can taste the other flavors better.
In the mood for a different ice cream instead? Try Anise Ice Cream, Milk Chocolate Stout Ice Cream, or Dried Apricot-Pistachio Ice Cream.
Want something similar in cookie form? Try Mexican Hot Chocolate Cookies.
📖 Recipe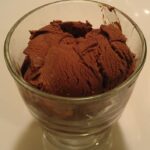 Aztec Hot Chocolate Ice Cream
adapted from The Perfect Scoop
Ingredients
2 ¼

cup

heavy cream

6

tablespoons

cocoa powder

¾

cup

sugar

3

ounces

semisweet chocolate

(chopped)

1 ¼

cup

milk

1

teaspoon

vanilla

a pinch of salt

1 ¼

teaspoon

cinnamon

1

teaspoon

chile powder

(Lebovitz recommends ancho or chipotle for smokiness; I used chipotle but I wasn't a fan)

2

tablespoons

brandy
Instructions
Stir together cream, cocoa powder, and sugar in a saucepan and bring to a boil, stirring constantly. Remove the pan from heat and add chocolate, stirring to combine. Once chocolate is completely melted, add the remaining ingredients. Pour into a blender and blend to make sure everything is well combined (although you could probably skip this step).

Chill the mixture well before churning in an ice cream maker.