We recently celebrated Alex's birthday. I considered buying him a small cake as we were going out on his actual birthday and weren't having a party. I nixed that idea when I realized I would be disappointed with myself if I didn't make him a dessert, particularly since I could make it on a Friday to surprise him with it after work.
I've made Alex a variety of cakes and desserts for his birthday in the past (chocolate peanut butter cheesecake, chocolate peanut butter cake, an ice cream cake, a Spiderman cake), and I wanted to be sure not to reprise them. I looked through all the recipes I've bookmarked, and decided that while I wanted to bake, I didn't feel like layering and frosting a cake. A birthday is a great excuse to make cheesecake, so cheesecake it was.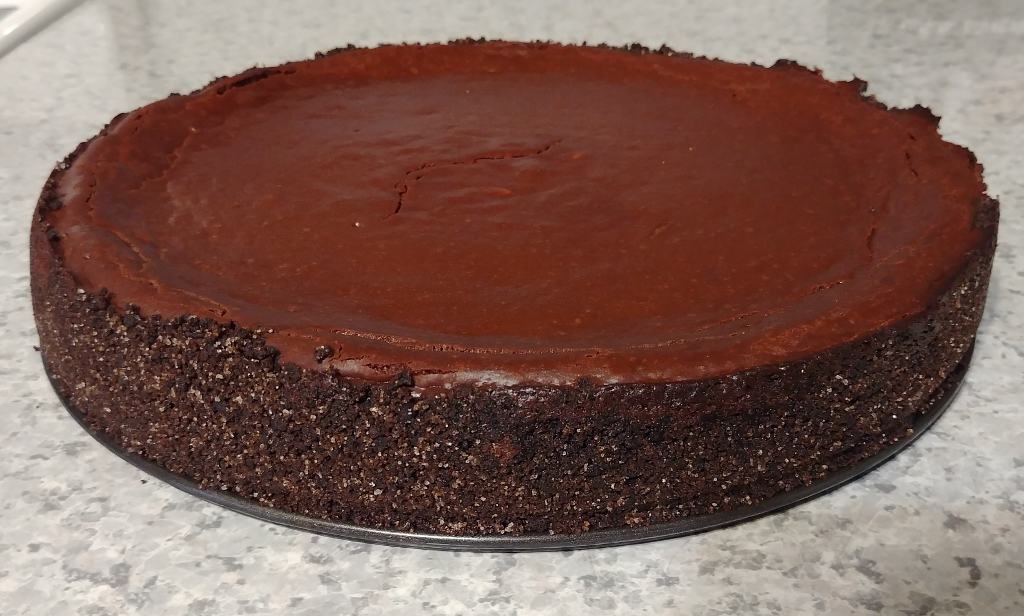 Specifically, this Chocolate Caramel Cheesecake from Smitten Kitchen. I'm not always a big fan of chocolate cheesecake, but this cheesecake was delicious. It was dense and creamy. Some chocolate cheesecakes aren't very chocolatey, or are too sweet - but not this one. It had a very dark, rich chocolate flavor, with a little something extra from the caramel. The caramel didn't stand out, per se, but added to the overall richness and flavor. This is not a tooth-achingly sweet caramel cheesecake. To make it a little more obviously caramel, you could serve with a caramel sauce, of course. But we didn't find it necessary.
Tips to Make Cheesecake
The cheesecake was easy enough to make. A food processor makes easy work of grinding chocolate graham crackers or animal crackers (I measured mine by weight) for the crust, and mixes the sugar and butter in evenly as well. If you want the sugar to disappear into the crust, dissolve it into the melted butter first. Use a light touch in patting the crumbs into the pan.
Next you make a caramel that you pour into the cheesecake batter. The caramel was quick to make, but I've made caramel a few times and am not afraid of using higher heat at the beginning. When mixing the cheesecake batter, be sure that your cream cheese is completely at room temperature before whipping it, and mix on slow when adding eggs to reduce the amount of air you beat into the cake. This will help you avoid cracks in your cheesecake. My cheesecake only cracked when I took it from the oven. To further try avoid cracks, you can cool the cheesecake in the oven slowly before chilling it; I just needed to get mine cold sooner.
I was really impressed with this cheesecake, and would definitely make it again.
Like this recipe? Rate it and leave a comment below!
You may also like Brownie Cheesecake, Chocolate Peanut Butter Cheesecake, Nutella Cheesecake, or Chocolate Stout Cake.
In the past:
One Year Ago: Chocolate Peanut Butter Cheesecake
Two Years Ago: Quick Chocolate Chip Coffee Cake
Three Years Ago: Peter Reinhart's Ciabatta
Four Years Ago: Dried Apricot-Pistachio Ice Cream
Six Years Ago: Hot Chocolate Popovers
Seven Years Ago: Spidey Cake (with Buttercream Frosting), Broiled Steak with Pepper Relish
📖 Recipe
Chocolate Caramel Cheesecake
This delicious chocolate caramel cheesecake is a dark chocolate cheesecake made richer with the addition of a homemade caramel. Finally, a chocolate cheesecake that isn't too sweet!
Ingredients
Crust
1 ½

cups

chocolate graham cracker or cookie crumbs

(5 ounces) (I use chocolate animal crackers)

5

tablespoons

butter

melted

3

tablespoons

sugar

⅛

teaspoon

salt
Cheesecake
1

cup

sugar

¾

cup

heavy cream

8

oz

bittersweet chocolate

chopped

½

cup

yogurt or sour cream

24

ounces

cream cheese, softened

(3 eight-ounce packages) (I always use neufchatel/light cream cheese to cut calories)

4

eggs

1

teaspoon

vanilla

whipped cream

to serve
Instructions
Crust
Using ground crumbs: If your cookies are already crumbs, stir together crumbs, butter, ⅓ cup sugar, and salt. Press into the bottom and about 1 inch up the sides of a greased or buttered 24-centimeter springform pan (about 9.5 inches - yes, mine was this size, but otherwise I'd use a 9-inch pan). Bake for 8-10 minutes at 350F; set aside.

Using whole cookies: Grind cookies in the food processor until finely ground; then add sugar, butter, and salt, and process until mixed. Press into the bottom and about 1 inch up the sides of a greased or buttered 24-centimeter springform pan (about 9.5 inches - yes, mine was this size, but otherwise I'd use a 9-inch pan). Bake for 8-10 minutes at 350F; set aside.
Cheesecake
Cook 1 cup sugar in a dry, heavy saucepan over medium heat, stirring, until melted and golden. This may happen suddenly. Cook without stirring until a deep golden, but don't let it burn. (This, too, may happen suddenly.) Remove from heat and carefully stir in heavy cream. The mixture will bubble and the caramel may harden. Return to heat and cook on low, stirring constantly, to dissolve the caramel. Remove from heat, add the chocolate, and stir until mixture is smooth. Stir in yogurt or sour cream.

Beat cream cheese with an electric mixer until fluffy. Scrape down the sides and bottom, then add chocolate mixture on low speed. Add eggs one at a time, and then vanilla, scraping down the sides and bottom after each addition. Try not to whip in too much air.

Pour filling into the crust. Place springform pan on another baking sheet (in case it leaks), then bake at 350F for 50-55 minutes. Cake will be set 3 inches from the edge, but the center should still be wobbly. Cake will set more as it cools.

Remove cake from oven. If you're concerned it will stick to the sides, run a knife along the edge to loosen it. Chill cake, loosely covered, for at least 6 hours before serving. Cheesecake will last at 1 week.
Recipe Notes
The secret to cheesecake is to be sure that your cream cheese is fully softened, to prevent lumps.
adapted from Smitten Kitchen