Summer has been very hot in New Jersey this year. I don't think it's usually quite this hot, although I don't know for certain as it's only our second summer here. When the heat rivals summer in the Midwest, meals for us usually consist of whatever Alex has grilled that day, leftovers from when Alex grilled, pancakes (because I use an electric griddle (affiliate link)), or BLTs, which are really cooling if you (perhaps heretically) microwave your bacon and don't heat up your oven or a frying pan.
This Eggplant and Barley Salad from Smitten Kitchen is really very nice in the summer, once you get past the steps of roasting vegetables. I first made this salad a few years ago, and I really liked it. Alex doesn't like eggplant, but he enjoys this salad. Roasting the eggplant makes it a little less eggplanty and more delicious. The barley is tender yet chewy, flavored with cumin and coriander. The grain is surprisingly good cold. I usually don't like salads because dressing is too vinegary or assertive, but this salad is dressed with olive oil, lemon juice, and garlic, all of which I like. Tomatoes and roasted zucchini (and olives, if those are your thing) give the dish extra flavor. I love the balanced flavors in this dish.
This is a delicious, flavorful summer salad. It works great as a make-ahead vegetarian/vegan meal and is perfect as leftovers on a lot summer day. We had 4 dinner-sized servings plus some for a toddler, but it would yield more as a side dish.
If you enjoy this, you may enjoy Chickpeas with Spinach and One-Pan Farro with Tomatoes.
📖 Recipe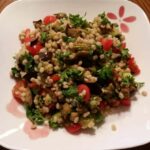 Eggplant and Barley Salad
adapted from Smitten Kitchen
Ingredients
6

tablespoons

olive oil

1

bunch chopped scallions

1 ½

teaspoon

ground cumin

½

teaspoon

ground coriander

⅛

teaspoon

cayenne

1 ¼

cups

pearl barley

1 ¾

cups

reduced-sodium vegetable or chicken broth

[you can use water but add extra salt]

¾

cup

water

1 ½

pound

eggplant

cut into ½-inch cubes

¾

pound

zucchini

cut into ½-inch cubes

1

teaspoon

salt

1

teaspoon

black pepper

2

tablespoons

lemon juice

1

garlic clove

¼

teaspoon

sugar

½

pound

grape tomatoes

halved

⅓

cup

black olives

sliced (optional)

½

cup

thinly sliced red onion

(I omitted this because we're not fans of raw onion)

1

cup

chopped parsley

½

cup

chopped mint
Instructions
Heat 1 ½ tablespoons olive oil in a medium saucepan over medium-high heat. Cook scallion, cumin, coriander, and cayenne for 1 minute. Add barley, stir to coat, and saute for 1-2 minutes more. Add broth and water and bring to a boil, then cover and reduce heat to a simmer. Cook for 30-40 minutes (or however long your package of barley says to cook), until water is absorbed and barley is tender. Let stand 5 minutes, then pour into empty roasting pan (below) to cool.

Toss eggplant and zucchini with 1 ½ tablespoons olive oil and sprinkle with ¾ teaspoon salt and ¾ teaspoon pepper. Divide into two shallow roasting pans. Roast vegetables in a 425F oven, stirring and switching the pans in the oven halfway through roasting time, for 20-25 minutes, until golden brown. Combine vegetables to one pan, then spread hot barley into empty pan to cool for about 20 minutes.

Whisk together lemon juice, 3 tablespoons olive oil, garlic, sugar, ¼ teaspoon salt, and ¼ teaspoon pepper in a large bowl. Add barley, roasted vegetables, fresh vegetables, and herbs. Serve at room temperature or cold. Leftovers are delicious.