Bread, Week 16: I've always wanted to make Hot Cross Buns, but never have. In fact, I've never eaten one.
[This post contains affiliate links. I may make a commission for purchases made through links on this post.]
I came across a recipe for them in Gluten-Free Baking Classics (affiliate link), a cookbook I've been reading through. I debated whether or not I should make them for a little while, before deciding that I should go for it, even though it's a gluten-free recipe and I'd never tried them before. After all, this way I get to share Hot Cross Buns with you before Easter!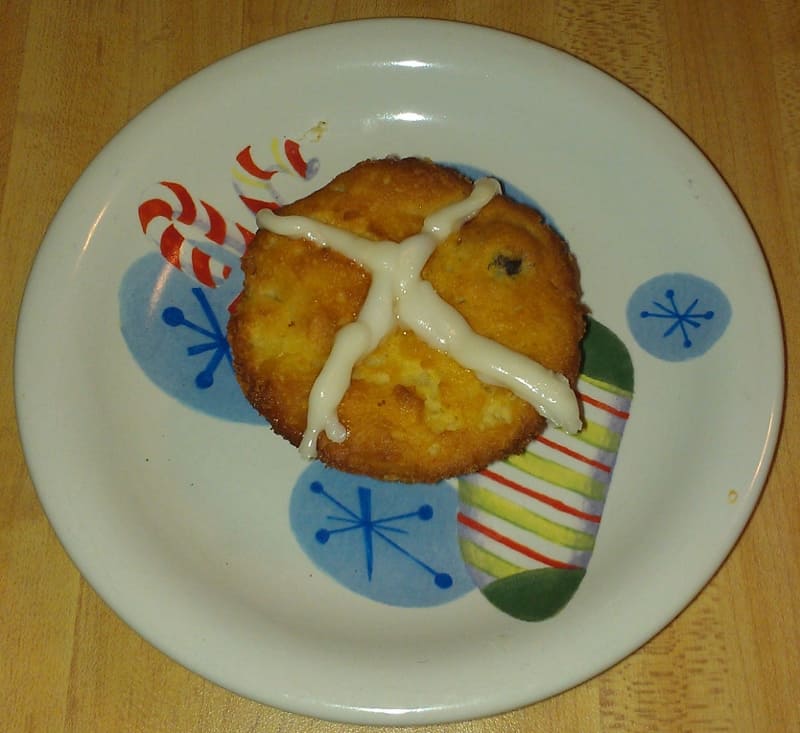 These were pretty good for a gluten-free bread. They were best warmed - in fact, I didn't particularly like eating them cold. I think I overbaked them, which made them a little dry - I think they would have been fine if I'd baked them less.
Clearly, Hot Cross Buns are a vehicle for fruit. Bites with fruit were delicious, but when I ate bites without fruit, I could tell I was eating gluten-free bread. This wasn't unpleasant, but it was a little different than eating a wheat bread. They weren't soft like a wheat bread might be. The buns had some chew to them, and were not crumbly as I had feared they might be; I'm sure it would have been even better if I had baked them a few minutes less. The yeast created a fine crumb and gave the buns a light texture.
Since I overbaked the buns, this was a partial success. I wanted to not notice that the buns were gluten-free, and I only got that part of the time, when there was fruit in each bite. Overall, I enjoyed eating the buns when they were warm, and since I've made things before that I haven't wanted to eat (including gluten-free bread), I consider this to be successful enough. I would consider making this again for a special occasion.
📖 Recipe
Gluten-Free Hot Cross Buns
Ingredients
1

cup

milk

(I used soy milk)

2 ¼

teaspoon

active dry yeast

2

tablespoon

sweet rice flour

(I didn't have this, so I ground 2 tablespoon of Arborio rice until it was very, very fine, and then measured 2 tbsp)

¼

cup

sugar

(divided)

1 ¾

cup

gluten-free flour

(the book has a recipe for this, but I used Trader Joe's brand)

1 ¼

teaspoon

xanthan gum

½

teaspoon

salt

2

eggs

2

tablespoon

vegetable oil

½

cup

dried cherries

⅓

cup

candied orange peel

(or dried mandarin segments from Trader Joe's, as I used)

¾

cup

powdered sugar

~1

tablespoon

milk

½

teaspoon

vanilla
Instructions
Heat milk to 110F. Add yeast and 1 tablespoon sugar (and 1 tablespoon sweet rice flour, but I skipped that step). Stir until yeast dissolves, and let rest for 10 minutes. Yeast should proof and double in size. Meanwhile, grease a 12-cup muffin pan. The recipe originally called for a square cupcake pan so you could make larger, square buns.

Add gluten-free flour, remaining sugar, remaining sweet rice flour, xanthan gum, and salt in the bowl of a stand mixer. In a separate bowl, whisk together oil and eggs. Using the paddle attachment, mix dry ingredients. Add yeast mixture and egg mixture to bowl; mix until combined. Scrape the sides and bottom of bowl, and then beat on high for 3 minutes. Add fruit.

Scoop dough into prepared muffin pan. Fill cups ½ to ⅔ full. I only filled mine halfway, so they rose to the top of the pan; however, I also got 16 buns instead of 10-12, so ⅔ is likely the better way to go. Grease a sheet of plastic wrap well, then lay it over the buns. Set in a warm place to rise (like a preheated oven); let rise until dough has doubled in size.

Bake in center of oven at 375F for 15-20 minutes, until golden brown. I baked mine for 15, which was likely too long for smaller buns.

The recipe says to use a knife to cut around the edges of the buns and pry them loose; I waited 5 minutes to do this to make handling them easier. Cool on baking rack for 30 minutes before frosting.

Combine powdered sugar, milk, and vanilla to form a stiff frosting. The recipe tells you to put it into a bag and pipe it onto the buns in a cross shape. I added a little extra milk and drizzled it on the buns by hand. I stored them in plastic containers for us to eat over the next few days.