Here I will tell you the story of how I was disappointed with a very big, delicious cheesecake.
It was my own fault. It resulted from cold, unsoftened cream cheese.
I didn't believe it would make such a big difference, but it did. There is no substitute for thoroughly softening your cream cheese when you make cheesecake. This, more than anything else than I can imagine, is what might make me turn away from a cheesecake. The crack that might form on top if you beat too much air into it or cool the cheesecake too quickly is disappointing, but manageable - you can just cut the cheesecake along those lines, or top the cheesecake with fruit.
The cheesecake isn't so pretty, but it's still tasty. However, those lumps of cream cheese that aren't dissolved smoothly into the batter will coalesce in your cheesecake, resulting in more of a curd-like texture. Which is fine if you're like my husband and love the flavors of cheesecake and honey and bourbon, and focus on that alone. It makes it more difficult for people like me, who will reject food based on texture alone.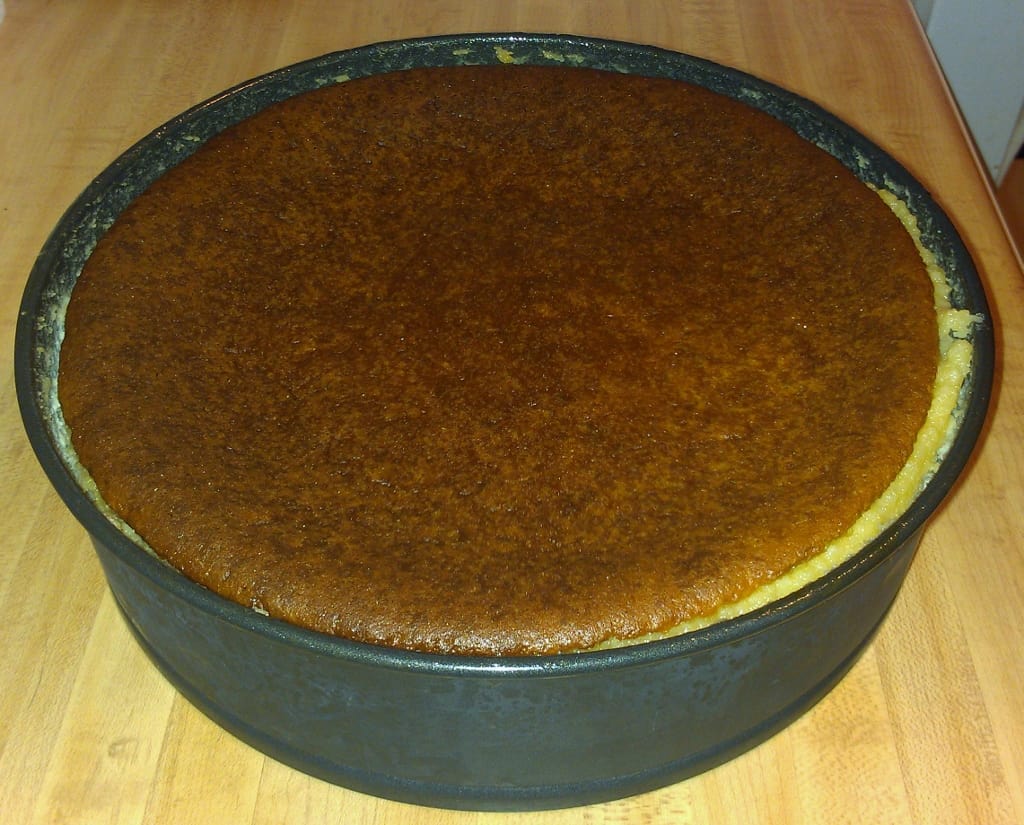 [This post contains affiliate links. I may make a commission for purchases made through links on this post.]
I lamented the lack of smooth, creamy cheesecake which I desired, but I managed. It was truly a mess of my own making with a good recipe.
The Honey Bourbon Cheesecake recipe came from A Splash of Bourbon (affiliate link), which I bought while Alex and I toured the Kentucky Bourbon Trail. I've enjoyed the book, even if I haven't made too much from it yet. We liked this recipe - the flavor of of the cheesecake was great. It also happened to be the first cheesecake I've made that didn't develop a crack along the top. That's definitely a point toward soothing my pride.
I've already discussed the texture; I surprised myself by accepting it and eating a little more cheesecake anyway. The crust was texturally interesting; I could tell that I hadn't ground my cereal finely, but it turned out better than expected given that I had to use cereal for half of the graham cracker crumbs. The cheesecake was sweet and slightly tangy. The honey liquor warmed my mouth after a while - trust me when I say that the alcohol doesn't entirely cook out. The cheesecake definitely had extra honey flavor from the liquor. Overall, the cheesecake was surprisingly good. I wouldn't make it all the time, but I am glad that I tried it.
Want to try some other cheesecake recipes? Check out Brownie Cheesecake, Chocolate Caramel Cheesecake, Nutella Cheesecake, Chocolate Peanut Butter Cheesecake, and these Cheesecake Squares.
📖 Recipe
Honey Bourbon Cheesecake
Ingredients
2

cups

graham cracker crumbs

(I only had 1 cup of crumbs, so I ground some Chex for the remaining 1 cup of crumbs)

2

tablespoons

granulated sugar

¼

cup

melted butter/margarine

48

ounces

cream cheese

(6 8-ounce packages), softened

½

cup

sour cream

4

eggs at room temperature

2 ½

cups

sugar

1

cup

honey bourbon

1

tablespoons

vanilla

½

teaspoon

table salt

½

teaspoons

ground white pepper

(optional - I skipped this)
Instructions
Mix together graham cracker crumbs, 2 tablespoons sugar, and melted butter, and press into the bottom and partway up the sides of a 10-inch springform pan.

With an electric handheld or stand mixer, combine softened cream cheese, sour cream, eggs, bourbon, vanilla, and salt (and pepper if using). Beat on high speed (or medium in the stand mixer) for 5 minutes. Pour cream cheese filling into prepared pan. The pan will be incredibly full.

The recipe says to wrap the pan in several sheets of aluminum foil and set in a warm water bath, then place in the oven. I did this, but it was difficult to find an outer pan large enough to hold the 10-inch springform pan. Also, if your pan doesn't seal well, your cheesecake crust will probably still become soggy. I suggest placing your cheesecake on the middle rack of the oven, and placing a pan of hot water on the lowest rack of your oven to mimic the hot water bath.

Bake cheesecake for about 2 hours at 325F. Cheesecake will inflate and loom over the top of the pan. Cheesecake is done when the center jiggles slightly when the cheesecake is jostled. It will appear dry and no longer shiny. You can also take its temperature - it should be around 160 or 165 - but then you'll have a hole in your cheesecake, if that matters to you.

Cool cheesecake in the oven for 1 hour, then refrigerate until chilled.