I decided to kick off 2014 by baking bread. It was very, bitterly cold when we drove back to St. Louis last weekend. I could think of nothing more satisfying than to celebrate the mid-week holiday and beginning of a new year than by filling my house with warmth and the smells of beef stew and freshly baked bread. So, that's exactly what I did.
[I was very excited to start off 2014 by cooking! I was also excited to write my first post of 2014 on January 1 proper. However, I didn't back up everything that day, and this post has been missing for a few days since my friend Jen restored my site from a back-up copy. I'm sure that this back-dated version of it is better than the original.]
[This post contains affiliate links. I may make a commission for purchases made through links on this post.]
I realized how much I missed bread-baking when I made bread for Christmas dinner last week. While I thumbed through my favorite bread book (The Bread Baker's Apprentice) this week, I realized there were several recipes that I hadn't made, and a few that I hadn't even realized I had (like another recipe for panettone). Why don't I make bread all the time?
A good question. I checked with Alex to make sure he wasn't going to do something crazy like a low-carb diet, and couldn't think of a satisfactory reason not to. It will be a lot to eat, but in 2014, I will make 50 weeks of bread.
I figured I should come up with some ground rules for myself for this year. So:
1. I can remake recipes I've already written about. This is particularly true if I thought they didn't turn out perfectly before.
2. If it has yeast, it counts. King Cake and Gooey Butter Cake, since they take yeast and are shaped and proofed, will count for me. Cinnamon rolls count too (although I will try to make other rolls instead!).
3. Bread doesn't have to be baked. I look forward to cooking chapatis and grill pizza later this year.
4. Beer bread, banana bread, and the like will count. I don't think I'll make them often, but I'm sure I'll need some variety.
5. Biscuits will count. However, I make things like scones and muffins all the time. Despite their similarities, I will not count them. Pancakes, although included in bread sections of cookbooks, also won't count.
To ring in the New Year and for my first week of bread, I decided to make Peter Reinhart's Pain de Campagne recipe from The Bread Baker's Apprentice (affiliate link). I wanted to make this recipe because it was a crusty bread (which I love). It included a little whole grain flour, and promised to be good for shaping, which seemed festive for New Year's Day.
The bread was pretty good. The texture was chewy, although it was a little more finely grained than I expected because I deflated the dough while I tried to shape it. The crust was crisp and delicious. I liked knowing that there was whole grain in my bread, even though it was a tiny amount.
Overall, I enjoyed making this bread. It had great texture and good flavor, even after sitting in the fridge for a few days. It was an easy recipe to follow. I will probably make this again.
📖 Recipe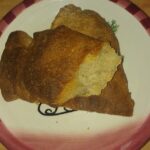 Pain de Campagne
Ingredients
Pre-ferment/refrigerated dough
5

ounces

all-purpose flour

5

ounces

bread flour

¾

teaspoon

salt

½

teaspoon

yeast

6-7

ounces

water

(¾ cup to ¾ cup plus 2 tablespoons)
Final Dough
refrigerated dough

8

ounces

bread flour

1 ½

ounces

whole grain rye flour or whole wheat flour

¾

teaspoon

salt

1

teaspoon

yeast

¾

cup

water

(6 ounces)

cornmeal for dusting
Instructions
I mixed together all the ingredients in the stand mixer with the dough hook until they formed a ball. I turned the speed to medium and kneaded it for 4 minutes, until the dough was soft and stretchy, and tacky but not sticky. I transferred it to an oiled bowl, covered it, and let it rest at room temperature for 1-2 hours (my kitchen was cold!) until it was roughly 1 ½ times the original size. I deflated the dough, covered it, and stored it in the fridge overnight.

I removed the dough from the fridge about an hour before making the dough. Optionally, you can cut the dough into small pieces to take the chill off. I combined the remaining ingredients in the stand mixer and stirred with the dough hook until a dough formed. I turned the speed up to medium and kneaded it with the mixer for 6 minutes (8-10 by hand, the recipe says). The dough was soft and stretchy, and it passed the windowpane test when I stretched a small piece out with my fingers. I transferred the dough to a greased bowl, sprayed the top of the dough with oil, covered it, and let it rise for 2 hours. If it doubles more quickly than that, you're supposed to deflate it and let it continue rising to develop flavor. It was cold, so my dough rose slowly.

I divided the dough into 3 equal sections and shaped the dough. One section I formed into rolls, which I stored in the fridge to rise and bake later. The other two loaves I formed into baguettes by forming a rectangle out of the dough and folding it trifold lengthwise instead of how you would normally fold a letter. I repeated this process until the dough was about 12 inches in length. I placed the dough on a parchment-lined sheet, covered it, and let the dough rise for about an hour, until the dough was 1 ½ times the original size. (You should spray your dough with oil before covering it with plastic wrap, because it will stick otherwise and deflate your dough. I let my dough rise a little too much and too long, so mine deflated some.)

I heated the oven to 500F and put an empty metal pan on the bottom rack to heat. While the oven heated, I cut the bread by using scissors to cut sections into one loaf, and using a dough scraper to section the other. (This step still needs work.) I poured hot water into the hot pan to create steam in my oven, sprayed water into the oven to create more steam, and put the bread in. After 30 seconds, I sprayed the oven again, and I repeated this after another 30 seconds. I turned the temperature down to 450F and baked the bread for 20 minutes, rotating the pan once halfway through. I took the temperature once the bread was done and it was between 205F and 210. I let the bread cool for 40 minutes before cutting and eating.