While I was thinking of my food plans for this year, I was struck by the desire to make the loaf of bread from the cover of The Bread Baker's Apprentice (affiliate link). It was the largest loaf of bread I'd ever seen - and I could potentially make it!
I found the recipe for the Poulane-Style Miche online as well. I'll summarize the bread-making process here.
[This post contains affiliate links. I may make a commission for purchases made through links on this post.]
This is a country-style, whole wheat bread. The original recipe uses sifted whole wheat flour, but Reinhart himself recommends a mix of whole wheat and bread flours, which is what I used. The blog I link to above used white whole wheat flour, which I also recommend for this recipe because regular whole wheat flour, as I used, makes it a heavily- and heartily- flavored loaf.
This is a sourdough bread, so it takes a while for the dough to make. I was supposed to make this bread over two days, but I didn't have enough time to finish it in time for dinner on the second day, so my bread-making process spanned three. Remember that although it takes you three days to make, you're making four and a half (4.5!) pounds of bread. So you're really netting 1.5 pounds of bread per day of work. That's not so bad... right?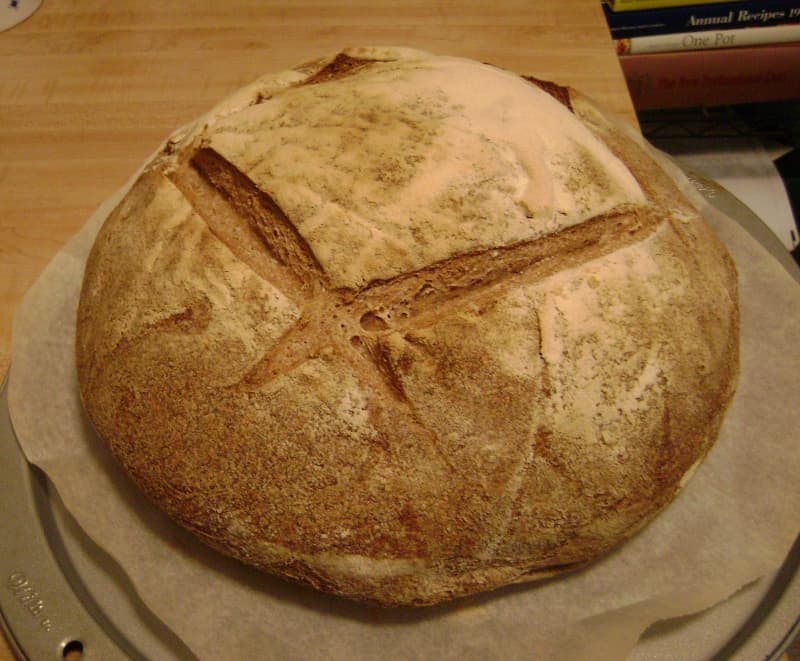 The first day: Make a firm starter.
7 ounces 100% hydration sourdough starter (barm, as Reinhart calls it)
4.5 ounces whole wheat flour
4.5 ounces bread flour
4 ounces (½ cup) water at room temperature
This first step is easy. Mix sourdough starter, flours, and water together to form a ball. Knead for about 3 minutes, until dough is well mixed. Place in a lightly greased bowl, coat with oil, and cover with plastic wrap. Ferment at room temperature for 4-6 hours, until dough doubles in size, then refrigerate. I let this ferment for about 4 hours, at which point I had to put the dough in the fridge because it was bedtime.
The second day: Make, rise, and shape the dough.
Remove the firm starter from the fridge 1 hour before you want to make the dough. Cut into 12 pieces and leave at room temperature, covered, to take the chill off.
All the firm starter
16 ounces whole wheat flour
16 ounces bread flour
.8 ounces salt
18-22 ounces lukewarm water (2 ¼ - 2 ¾ cups water)
Combine the firm starter, flours, and salt, and add at least 2 ¼ cups of water to form a ball of dough. I probably added 2 ½ cups of water. As you can imagine, this is too much dough to make in my stand mixer, so I had to mix and knead by hand. (That said, my stand mixer bowl is the only bowl that I own that's large enough to hold that quantity of dough.)
Once your dough forms a ball, turn it out onto a floured surface and knead for 12-15 minutes, until the dough is tacky but not sticky, and the dough passes the windowpane test. Honestly, I only got my dough developed to the point in the middle picture - medium gluten development. My kneading technique is poor, and decidedly not up for kneading sourdough (which is stiff and difficult to knead) or this quantity of dough (which is tough). I took breaks to do other things around the kitchen while I kneaded to give the gluten a little time to relax, to make the dough easier to knead. I also think that my total time kneading, discounting breaks, was closer to 18-20 minutes.
Once your dough passes the windowpane test, put it in a greased bowl, coat the dough with oil, and cover with plastic wrap. (One of my breaks while I kneaded the dough was to wash my stand mixer bowl so I could let the dough rise in it.) Let the dough rise for 4 hours, or until dough nearly doubles in size.
Next: shaping. Remove dough from bowl and gently form it into a boule, or ball. This basically involves pulling the sides of the dough down, pinching them and tucking them underneath the dough to create surface tension. (I shape it like this person does.) It took a bit of tucking under to get the surface tension how I wanted it; surface tension is important because it's what makes the dough keep its shape.
Once the dough is shaped, place the dough in a bowl large enough to hold the dough when it rises to double the size, and that you can turn the dough out of. Often this is a basket or something that will create a pattern. I used a large salad/serving bowl that I remembered I had; to prepare it, I lined with my pastry cloth, which I coated with cooking spray and flour so that the dough wouldn't stick. Place the dough in the bowl, seam side up. Coat the dough with oil and cover with cloth or plastic wrap.
At this point you can proof the dough at room temperature for 2-3 hours, until it's 1 ½ times the size, before baking. I let it rise a little, but then I placed the dough in the fridge overnight.
The third day: Bake the bread.
I removed the dough from the fridge about 4 hours before I wanted to bake it.
I placed an empty metal pan on the bottom rack of my oven and heated the oven to 500F. I turned the dough out carefully onto a parchment-lined pizza pan; I wouldn't bake this on a silicone mat (affiliate link) because the oven temperature is so high. I pulled the cloth from the top of the bread and scored the bread so that it would get extra spring when it started to bake.
I put the loaf, pan and all, in the oven on the middle rack, carefully poured 2 cups of hot water into the hot pan on the bottom rack, and lowered the oven temperature to 450F. After 25 minutes, I rotated the pan and lowered the temperature to 425F. I removed the bread from the oven after another 30 minutes. The bread should be a deep brown.
You're supposed to let the bread cool for 2 hours before cutting it, so that's what I did. The recipe says it should be good for 5-7 days. I'd say that's definitely the case.
This loaf of bread was huge. It took us days and days to eat it. We ate it at both lunch and dinner with chicken and wild rice soup, minestrone, and spaghetti and meatballs, and we still had some left. I kept the cut end covered with foil, and since it was sourdough, it didn't dry out too much in that time. As with most bread, I enjoyed the crust most. The interior was dense and chewy. This was clearly a whole wheat bread, and I wish I had used the white whole wheat flour I have in my pantry to lighten up the flavor a little. I used just-fed sourdough starter, but the sourness definitely came through. I think I would try a longer rise at all stages next time to try to get more openness in the crumb, and score it a little deeper to get a better rise out of the bread.
This is a serious loaf of bread, and I probably would not make it again for just me and Alex. It's perfect for a crowd, though, so friends be warned - if you ask me to bring bread, you may receive this 4 ½ pound loaf of bread as a dinner party accompaniment.