Honestly, I'm in a cooking rut. For every delicious dessert I write about (and I don't even write about those frequently nowadays), there's several evenings' worth of dinner that I'm not interested in cooking. I can't make a weekly dinner plan to save my life right now. Thank goodness for frozen chicken strips.
Recipes like these Sesame Noodles are a godsend. I love them. You can make them solely with shelf-stable ingredients, so you don't have to make a grocery run. They come together in 30 minutes (depending on how quickly your stove boils water). I've made these several times this summer, mainly on days where it's 4pm and I haven't figured out anything else that I want to make for dinner. [This post contains affiliate links. I may make a commission for purchases made through links on this post.]
(Other good easy recipes that I probably should have also made this summer include Chickpeas with Spinach, and One-Pan Farro with Tomatoes. Perhaps later this week.)
This recipe, like so many, comes from Smitten Kitchen. I've made other versions of peanut or sesame noodles from other sources, but I apparently haven't made them often enough or liked them enough to blog about them. I can't even remember what recipes I would have made. The only other cold noodle recipe I find on my blog is this recipe for Thai-style Rice Noodles, which I recall being good but apparently forgot about making since I haven't made it again. (Oops.)
Smitten Kitchen's Takeout-style Sesame Noodles is a great recipe. I really like the sauce. It's not too heavy or thick or sticky, which means that the noodles are good as leftovers straight from the fridge. It is not too peanuty or sesamey, and has a nice soy flavor. There's the perfect amount of sauce, too, to coat some matchstick peppers and thinly sliced cucumbers that I toss with it. If I didn't have fresh vegetables around to use, I'd steam and drain a frozen Asian veggie mix to go alongside this.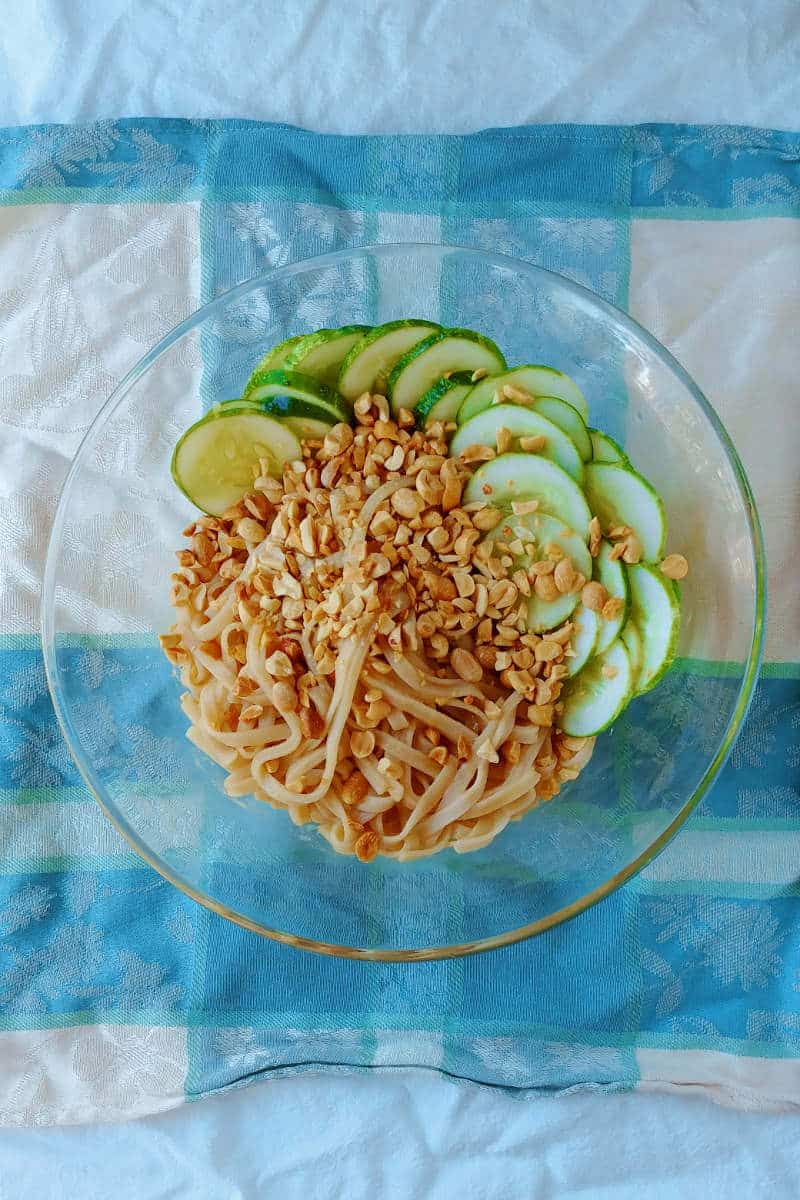 Ingredients and Tips
I used rice noodles for this, but I preferred the thinner, narrower rice noodles rather than the wide ones. (The ones I liked best were these Thai Kitchen thin rice noodles (affiliate link).) It's very important with the rice noodles that you keep the water at a boil and stir them often as they cook, or else they will stick together and be stiff and unpleasant to eat in spots. If you don't want or can't find rice noodles, you could also use Chinese egg noodles, or even ordinary vermicelli, although I haven't tried it with them.
If you don't have rice vinegar, you can use ⅔s of the amount of white wine or distilled vinegar - so, 4 teaspoons. White wine and distilled vinegar are both more acidic than rice wine vinegar.
It takes no more than 30-40 minutes to assemble, from when you start boiling the noodles until you get it to the table. I have enough time to assemble the sauce and slice cucumbers while I wait for my water to boil (although my stovetop is notoriously slow to heat).
Everything in this recipe, aside from the ginger and vegetables, are pantry staples (for me at least), which means it's easy to make these noodles whenever you feel like it. (It also means I've forgotten the ginger and the peanuts before, but the noodles still turned out great!)  This is a recipe worth having around.
Want other quick and easy meals? Try Corn and Green Bean Salad with Lime, Chickpeas with Spinach, One-Pan Farro with Tomatoes, or Roasted Sweet Potatoes with Chickpeas and Tahini Sauce. For something that takes longer but is hands-off, try Stewed Chicken and Chickpeas.
Like this recipe or have questions? Rate it or leave a comment below!
In the past:
Three Years Ago: Whole Wheat Peanut Butter Banana Bread
Four Years Ago: Lemon Muffins with Raspberries
Five Years Ago: Country-Style Steak, Apple and Pear Scones, Pear Bread with Walnuts
Seven Years Ago: Toffee Bars, Hamburger Buns, Butter Tart Squares, Zucchini Stuffed with Ground Meat
📖 Recipe
Sesame Noodles
Sesame noodles are an easy and light summertime meal. They come together in 30 minutes, all with ingredients from your pantry.

Cuisine:
American, Asian, Vegan
Keyword:
easy sesame noodles, sesame noodles
Ingredients
12

oz

thin rice noodles

2

tablespoons

toasted sesame oil

(28 grams)

2

tablespoons

sesame paste/tahini

(32 grams)

1

tablespoon

peanut butter

(16 grams)

3 ½

tablespoons

soy sauce

(52 grams) (I use low sodium)

2

tablespoons

rice vinegar

(30 grams)

1

tablespoon

sugar

1

tablespoon

grated ginger

2

teaspoons

minced garlic

¼

teaspoon

red pepper flakes

(to taste; or use garlic-chile sauce)

½

pound

cucumber

(thinly sliced)

½

cup

roasted peanuts

chopped

minced fresh herbs

cilantro or mint - optional
Instructions
Cook rice noodles according to the package. Keep water at a boil and stir well while they cook. Drain and rinse in cold water, then drain well again. If your sauce isn't ready, mix with a dash of (sesame) oil to keep them from sticking.

While water heats/noodles cook, whisk together sesame paste and peanut butter, then whisk in sesame oil, soy sauce, rice vinegar, sugar, ginger, garlic, and chile paste or chili flakes.

Slice cucumbers if you haven't already.

Add well-drained cold noodles to the sauce and toss to combine. Serve with cucumber, peanuts, and herbs.
Recipe Notes
If you don't have rice wine vinegar, you can substitute in 4 TEASPOONS of white wine vinegar instead. 
Adapted from Smitten Kitchen