Bread, Week 6: My friend sent me this recipe for maple donuts that happened to be both vegan and gluten-free. I decided I had to make them, and immediately ordered myself two donut pans.
I looked at my bread manifesto, and I didn't specify anything about donuts. They're similar to muffins, but I've never made baked donuts. Since I was going to make them anyway, and I had some other cooking plans for the weekend, and I have a lingering cold, I posed the question to my friends: are donuts bread? They said yes, so these donuts have become bread for this week. You all go along with what your friends say too, right?
I really enjoyed these donuts. They were very tasty without glaze, but were even better with it. That said, I'm glad I halved the glaze amount, because it would have been overwhelming for me otherwise. The donuts were very moist and tender -  too tender, in fact, to flip to dip in the glaze. I cracked a few of them just when I tried to lift them, and a few of the intact ones broke when I tried to tip them back out of the icing. No real hardship there, though - just drizzle the icing on! Maple is a hard flavor for me to tease out, but I think I could taste it. The almond meal and ground coconut that I used in the donuts gave them a little texture. I enjoyed the almond butter in the icing.
I really enjoyed these donuts, and will definitely make them again if I wanted donuts and had the ingredients in the house.
📖 Recipe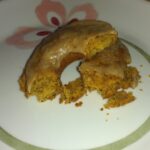 Vegan Maple Donuts
(adapted from The Fresh Direction)
Ingredients
½

cup

oat flour

(I ground my own)

½

cup

brown rice flour

3

tablespoon

brown sugar

2

tablespoons

almond meal

2

tablespoons

coconut flour

(I ground 2 tablespoon unsweetened coconut flakes instead)

2

tablespoons

ground flax meal

1

teaspoon

baking powder

½

teaspoon

baking soda

½

teaspoon

table salt

¼

teaspoon

ground cinnamon

3

tablespoons

vegetable oil

½

cup

coconut milk

(since I didn't have almond)

¼

cup

applesauce

2 ½

tablespoons

maple syrup

2

teaspoons

vanilla

nuts for topping

(if desired) (which I skipped)
Glaze (halved from the original recipe)
½

cup

powdered sugar

1 ½

tablespoons

maple syrup

2 ½

teaspoons

almond butter

1 ½

teaspoons

coconut milk
Instructions
Combine dry ingredients. Separately, combine wet ingredients. (I didn't use a whisk since there was no egg here, but I recommend one. Oil doesn't mix well!) Stir the wet ingredients into the dry until well combined. Divide among 8 well-greased donut cups. Bake at 350F for 15-20 minutes. Let cool briefly, then carefully invert the pans to remove the donuts; avoid trying to pry or pull them out, as the donuts will tear.

While the donuts cool, combine the wet ingredients for the glaze. Stir in powdered sugar until well combined. I like my glaze thick; add more milk if you want yours thinner. The donuts are too fragile to dip into the glaze, so drizzle it over the cooled donuts. Top with nuts if desired.