It's amazing how much time and energy moving takes. I don't recall moving being so involved before. The move from Missouri to New Jersey is certainly the longest I've ever done, but I think that moving when I have a baby due in just a few months is the biggest complication of all. After finding a place to live 15 hours away, finding movers, wrapping up with work and (fortunately) training my replacement, and taking a two-day road trip with girlfriends and my dog to make it here, I still have to navigate health insurance (keeping my old versus getting new) and a new OBGYN and hospital. And I still need to unpack the house. While also traveling for Thanksgiving and early Christmas.
With all the travel, I've lived in New Jersey full-time for one consecutive week! I'm beginning to settle in, and I finally have a little time to tell you a little about the breads that I made while I was still in Missouri and play a little catch up in December.
For Bread 37, I decided to make King Arthur Flour's Whole-Grain Pumpkin Yeast Bread. I was excited to make this since it would use up some pumpkin and whole wheat flour that I moved with me to my friend Kate's house, and it was vegan, meaning that Kate could eat it. I made a decent loaf of bread, although I'm rather dissatisfied with the recipe. The following version of the recipe suggests changes.
The bread itself was tasty enough. You could taste both the pumpkin and the spice in it, and the spices were balanced. It made great toast in the morning. However, the bread itself was dense since the recipe did not call for enough water; even my additions of water didn't help it that much. I'm dissatisfied with the recipe since the amount of flour required doesn't seem proportionate to the amount of water and other liquids. Since the dough is supposed to be sticky, it would have been much easier to make it in a machine or mixer, so I don't recommend making it by hand.
Since the bread itself was fine, give this bread a try if you like pumpkin and spice. Just be ready with a little patience and a willingness to make adjustments.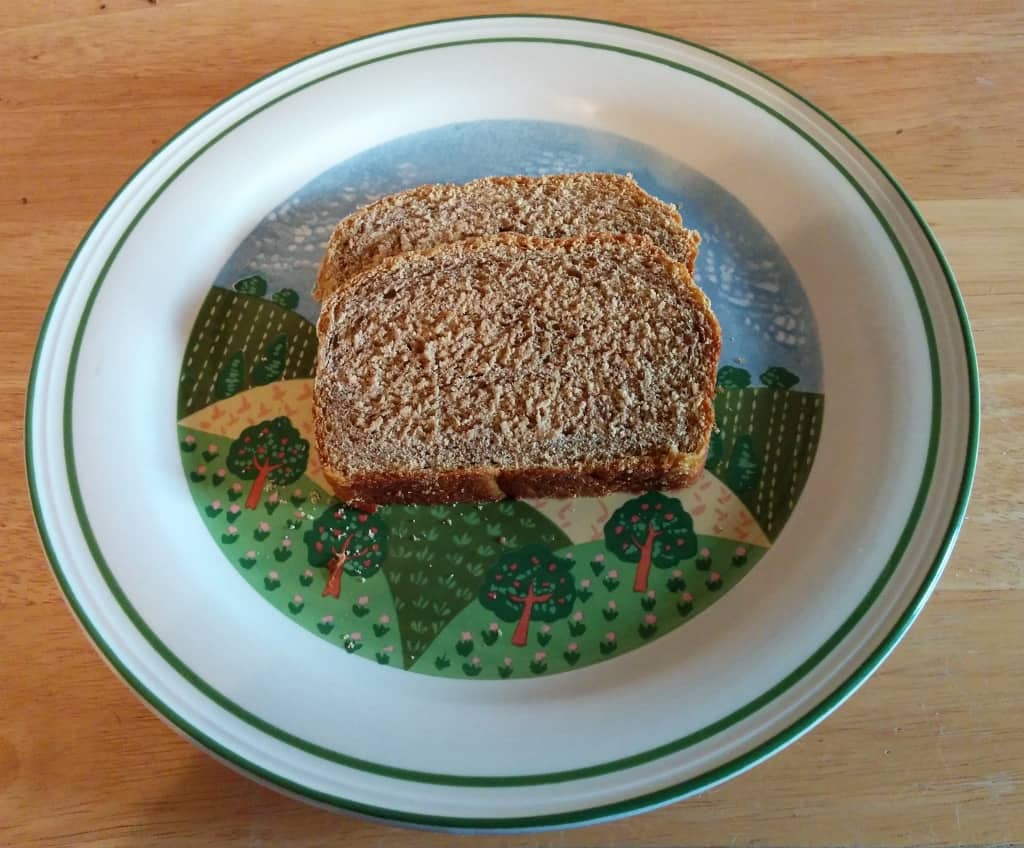 📖 Recipe
Whole Grain Pumpkin Yeast Bread
Ingredients
1 ½

cup

whole wheat flour

1 ½ - 1 ¾

cup

all-purpose flour

1

teaspoon

salt

½

teaspoon

ginger

½

teaspoon

allspice

½

teaspoon

cinnamon

¼

cup

brown sugar

2

teaspoons

yeast

1

tablespoon

vegetable oil

1

cup

pumpkin puree

½

cup

water

(original recipe called for ¼ cup water. This made my dough like a brick. ½ cup is a guess of how much water the dough needs)
Instructions
To make with a stand mixer: Combine all ingredients in your stand mixer and mix with the dough hook on medium until dough is soft and sticky, adding more water as necessary. I would guess this would take about 6 minutes.

To make this dough by hand (which is what I did): Mix together dry ingredients (using the lesser amount of flour) in a large mixing bowl, and then stir in wet ingredients until a dough forms. If a dough doesn't form, add more water, a tablespoon at a time, until you can handle the dough. Once you're done working the dough, it should be soft and sticky, so don't be afraid of adding more water. (The original recipe called for ¼ cup water, which was woefully inadequate. ½ cup is a guess of how much water the bread needs.)

Knead by hand until dough is soft and sticky. I usually do this in the work bowl to keep my workspace cleaner. I would guess this may take 10 minutes. (Mine took much, much longer due to water issues.) Add more water or flour as necessary.

Scrape into an oiled bowl, cover, and let rise for about 45 minutes. It will be puffy, although perhaps not doubled.

Turn dough out onto a floured or lined surface and pat the dough into a rectangle. To create a loaf, fold the dough into a trifold, pinching the seams into the dough after both folds to increase the surface tension. Repeat if necessary to get good surface tension; I often do. Place in a greased 9x5 inch loaf pan and cover with plastic. Let dough rise for about 1 hour, until the dough has risen 1 inch above the top of the loaf pan.

Remove plastic and bake at 350F for 45-50 minutes. The bread will be 190F if you take its temperature. Remove loaf from pan immediately and cool on a rack completely before slicing.