I used to have a love/hate relationship with granola. I loved that it contained whole grains, nuts, and fruit, but hated how much added sugar and oil it had. Homemade granola had a similar problem, until I developed this recipe for a lightly sweetened granola with NO added oil!
I understand being skeptical, but my family gobbles this up. I had friends visit, and they likewise chowed down on it and complimented it several times!
The magic ingredient in this recipe is aquafaba, which sounds scary and esoteric, but I promise you it isn't. Read on for details!
Jump to:
What is aquafaba?
Aquafaba is the weird name for cooking water or brine from chickpeas (or other legumes, although chickpeas work best). It's a fantastic substitute for eggs in vegan cooking and baking. It's a newcomer as far as ingredients go, but don't be scared. Your granola will not taste beany.
If you'd eat chickpeas anyway, you're not buying anything extra. Normally when you use a can of chickpeas, you would simply pour all that liquid down the drain. Now that I have a use for it, I drain the liquid into a glass jar and stash it in my fridge for a week (or two!). Waste not, want not.
Aquafaba can be used for a variety of things, including making vegan meringues and marshmallow popsicles (like the ones that I tested in For the Love of Popsicles (affiliate link)). I love that I can use it in granola like this, adding minimal calories and cutting out all the added fat that would come from using oil instead.
Since aquafaba comes from chickpeas (or other beans, although I've never tried that), it does have carbs. Specifically, it has oligosaccharides, which are a fermentable carbohydrate and a culprit causing gassiness and bloating when you eat beans.
So aquafaba would likely not be low-FODMAP, if that's something that concerns you. I'm not an expert on the low-FODMAP diet, but I do try to pay attention to gut health whenever possible. That said, you're using half a cup of liquid in this recipe, which will be spread out over 8 cups of granola, meaning you're having a half tablespoon at a time.
Canned versus homemade aquafaba
If you've never used aquafaba before, using liquid from a can of chickpeas will be your most sure-fire bet. However, if you're concerned about BPA or other chemicals in can liners, you're not alone.
Using aquafaba from homemade chickpeas can be hit or miss, but I have had great success! Here's the key for me:
Use 1 pound of chickpeas, unsoaked. Add 6-7 cups of water and 1 teaspoon salt. Cook in a slow cooker on low for 8 hours, until the chickpeas are thoroughly cooked. When you remove the chickpeas and cool the liquid, you'll find it's thick and viscous and perfect to whip up.
If you use aquafaba from a can of chickpeas, I've had the best results when I leave the liquid in the fridge uncovered for a day or two, to let a little moisture evaporate and make the liquid a little thicker.
How to make granola using aquafaba
I've adapted this recipe from my Cherry, Almond, and Cinnamon Granola. I got inspiration from Minimalist Baker on switching out the oil for aquafaba.
Aquafaba only works if you whip it like you would egg whites. The great thing is that in this recipe, you don't need to build structure or hold peaks, which is the scary part of whipping egg whites. You just want to make the liquid less thick.
Using hand mixer (with a whisk attachment if yours has one) works best since you're using a small amount of liquid; a stand mixer will work as well. If you have trouble whipping the liquid, just tilt the bowl so it pools along the side. Beat it on high until foamy. The liquid will stop looking yellow and will become white.
Add the maple syrup and cinnamon and mix again. I usually do this with my hand mixer as well. It only takes another minute or so.
You can use an equal amount honey instead of maple syrup if you'd like. It's vegan with the maple syrup, though, whereas it's not if you use honey.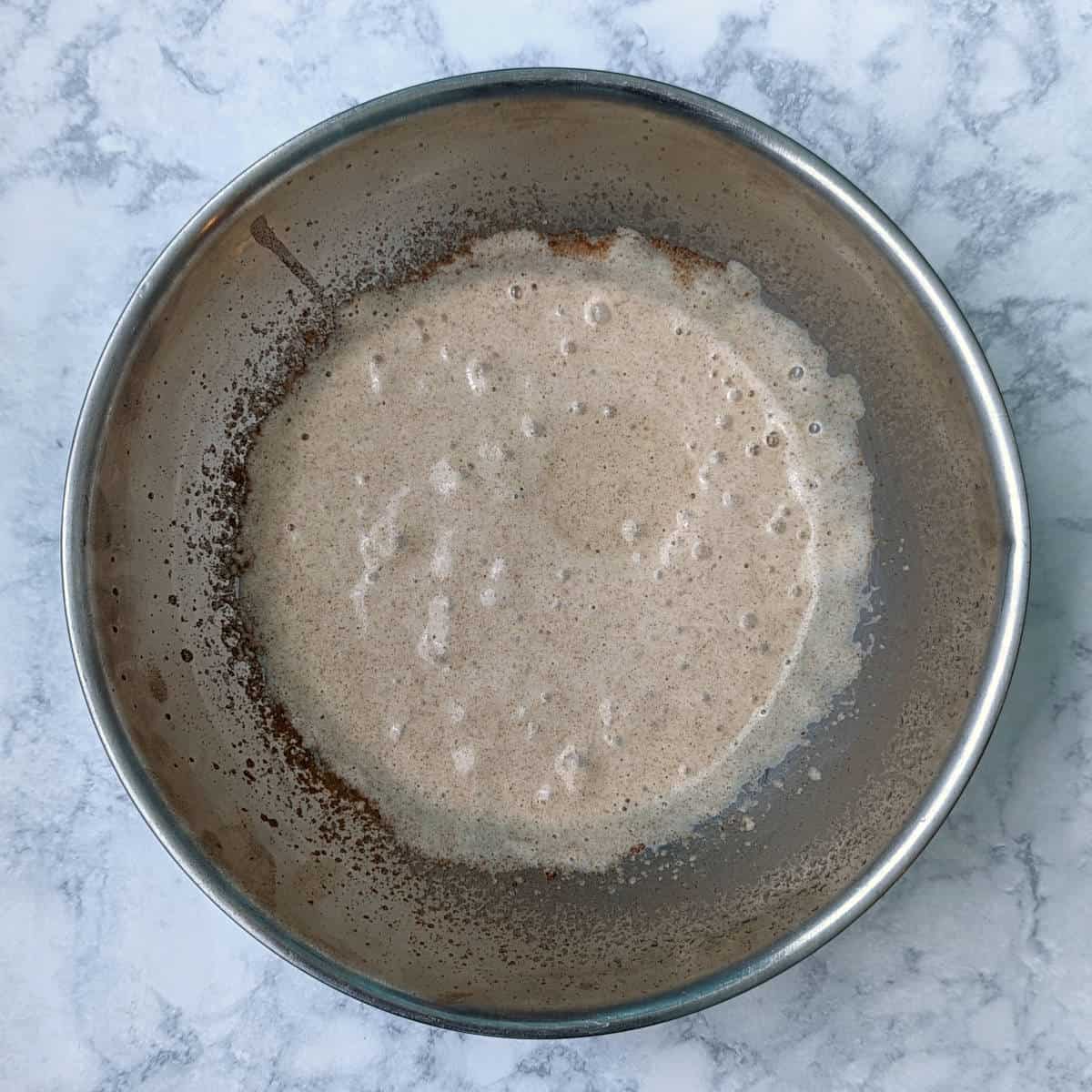 Use a spatula to stir in the oats, coconut, and nuts. Stir as much as you need until everything is coated and there are no dry bits.
Use old-fashioned or quick-cooking oats; both work fine. Instant oats are too powdery, though, and steel-cut are too big. And of course, use whatever nuts you like, as long as they're chopped up a bit.
Although I've used flaked coconut in these pictures, shredded coconut works a little better because it is smaller and dries better. I use unsweetened coconut for a barely-sweet granola to add to flavored yogurt, but sweetened coconut will work just fine as well.
Pour granola onto a baking sheet. Bake for 25-30 minutes, stirring every 10 minutes to help let off steam and help the granola dry.
Let cool before you store the granola or add dried fruit. Or omit the dried fruit so you can top it with fresh fruit instead.
Storage and Serving
Once the granola is thoroughly cooled, store it in a glass jar or airtight container away from heat and humidity.
Granola will stay good for several weeks, particularly if you leave out dried fruit.
My 7 year old snacks on the granola on its own. I also grab handfuls of it when I feel snacky. The granola is great with milk, and it's also wonderful with yogurt!
Want other quick, easy, and healthy breakfast options?
Interested in other recipes? I save and share recipes I like or want to try on my Pinterest page - follow me there! You can also check out my Facebook page for more recipes and helpful tips. I'm also happy to try to help troubleshoot my recipes there.
Have you tried this recipe? Or have a question about it? Rate it or leave a comment below! (PS: rating my recipes helps other people find them, too!)
📖 Recipe
Aquafaba Granola (with no added oil!)
Delicious homemade granola with no added fat or oil! Lightly sweetened with maple syrup, this vegan granola is full of whole grains, coconut, and walnuts! It's bound together with aquafaba, the leftover liquid from chickpeas that you'd usually throw out. This recipe makes a great granola for eating with yogurt, milk, or fresh fruit - or eating by the handful!
Keyword:
aquafaba granola, granola with no added oil
Ingredients
4

cups

rolled oats

(320 grams)

2

cups

unsweetened shredded coconut

(170 grams; sweetened works too, but will make granola sweeter)

2

cups

walnuts

(240 grams; chopped)

½

cup

aquafaba

(130 grams; liquid from a can of chickpeas)

⅓

cup

maple syrup

(112 grams; honey works too)

2

teaspoons

cinnamon

1

teaspoon

vanilla

(optional, but makes the granola sweeter)
Instructions
Using a hand mixer, preferably with a whisk attachment, beat aquafaba on high until white and foamy. It won't be yellow anymore. This takes me about 2-3 minutes.

Add maple syrup, cinnamon, and vanilla if using. Use the mixer to beat it together for about a minute to combine.

Add oats, coconut, and chopped nuts. Stir everything together with a spatula or wooden spoon until everything is coated.

Spread on a large baking sheet in as flat a layer as you can.

Bake at 350F for 25-30 minutes, stirring every 10 minutes. (If you have clumps they will be chewy, not crunchy.)

Cool completely at room temperature. Add dried fruit if desired. Store in airtight containers. Granola will last for a few weeks.
Recipe Notes
This granola has coconut and nuts, so it is not fat-free. However, there is no added fat in the form of butter or vegetable oil.
This is a very lightly sweetened granola, perfect for mixing into yogurt, as I find most granola to be too sweet. For more conventionally sweet granola, use ½ cup maple syrup, or use sweetened shredded coconut.
I've used both old-fashioned and quick oats. Do not use instant oats (too powdery) or steel-cut oats (which won't cook properly).
Maple syrup makes this granola vegan. You may use honey instead. Do not use pancake syrup.
Aquafaba is the liquid from a can of chickpeas. You may also use aquafaba from home-cooked beans. See the description in the blog post above for details.
This is a fine-grained, crumbly granola, created by stirring often to make sure that the liquid cooks out. It should not form clusters, because the clusters will not become crunchy at all. 
Adapted from my Cherry-Almond Granola, with aquafaba inspiration from Minimalist Baker
Calorie counts are an estimate only, using unsweetened coconut. Adding more syrup or sweetened coconut will increase calorie count.
Recipes from the past