I went on a candy-making kick last fall. One of my surprise favorites of these candies was this 4-ingredient Sesame Brittle.
Brittle has a reputation for being very hard and crunchy, sometimes almost too much so. But this one was not. It was firm but easy enough to bite through, with sesame seeds strewn throughout the entire candy.
The candy took patience and attention, but minimal effort overall. It took less than 30 minutes to make!
It made its way into my homemade goodie packages last Christmas. It ships well, and stores well if you can keep yourself from eating it all immediately!
Jump to:
[This post contains affiliate links. I may make a commission for purchases made through links on this post. As an Amazon Associate, I earn from qualifying purchases.]
What is brittle?
Brittle is a candy made by heating a sugar syrup to 300F (the hard crack stage of syrup), and combining it with nuts. Peanut brittle is the most popular brittle in the United States.
Brittle has a reputation for being hard as a rock and difficult to bite through - which was usually true with packaged peanut brittle like my dad always had. Homemade brittle can be much less tooth-shattering. It's certainly true for this recipe!
Brittle is very similar to toffee, but toffee is much richer and often contains higher amounts of butter or dairy. Brittle, in contrast, is a much sweeter confection.
Making brittle
Candy-making can be intimidating, but this recipe is straightforward. Brittle is perhaps one of the best candies to make, because if the sugar burns early on, you can pitch it and start again with little waste and hassle!
First step is to get all your ingredients into place. Candy-making goes quickly, so don't try to gather things while you cook. Prepare your metal cooling pan with foil or parchment, and coat with oil or butter so that your cooled candy will come out easily. Measure out your sesame seeds and set to the side of your stovetop.
Heat butter, sugar, and salt in a heavy-bottomed 1.5- or 2-quart pot. (Thin-bottomed pots tend to have hot spots, which will scorch the syrup.) Do not use non-stick. Try to use a pan with straight sides and minimal rim, which will make using the candy thermometer (affiliate link) easier. Cook over medium heat until the butter and sugar melt together.
Keep cooking, stirring occasionally, until the syrup turns a light amber color. Then insert your candy thermometer.
Overall I like this candy thermometer (affiliate link) because it doesn't touch the bottom and give a false, too-high reading. However, this is not much syrup; I needed to occasionally and carefully tilt the pot so that the syrup covered the bulb entirely and take its temperature.
Can I make it without using a candy thermometer? Yes, you can aim for just using the color and time guidelines, but your sugar may not cook enough, or may burn. I wouldn't chance it.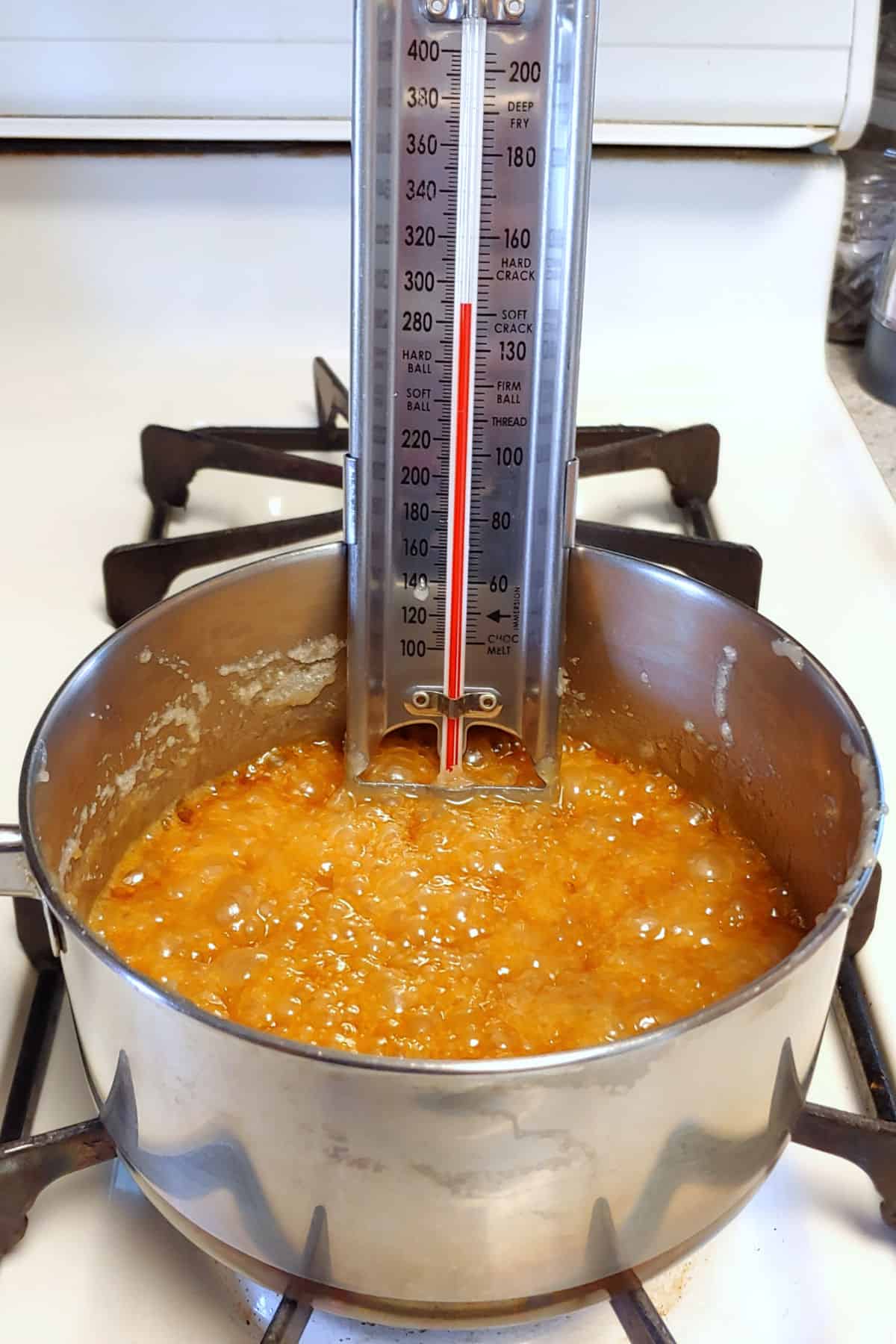 Continue to cook the syrup until the temperature is between 290F and 300F. This can happen suddenly. Immediately stir in the sesame seeds.
Cook and stir constantly until the sesame seeds turn a light amber color, usually about 2-3 minutes.
Immediately remove the pot from heat and scrape the candy mixture into your prepared pan.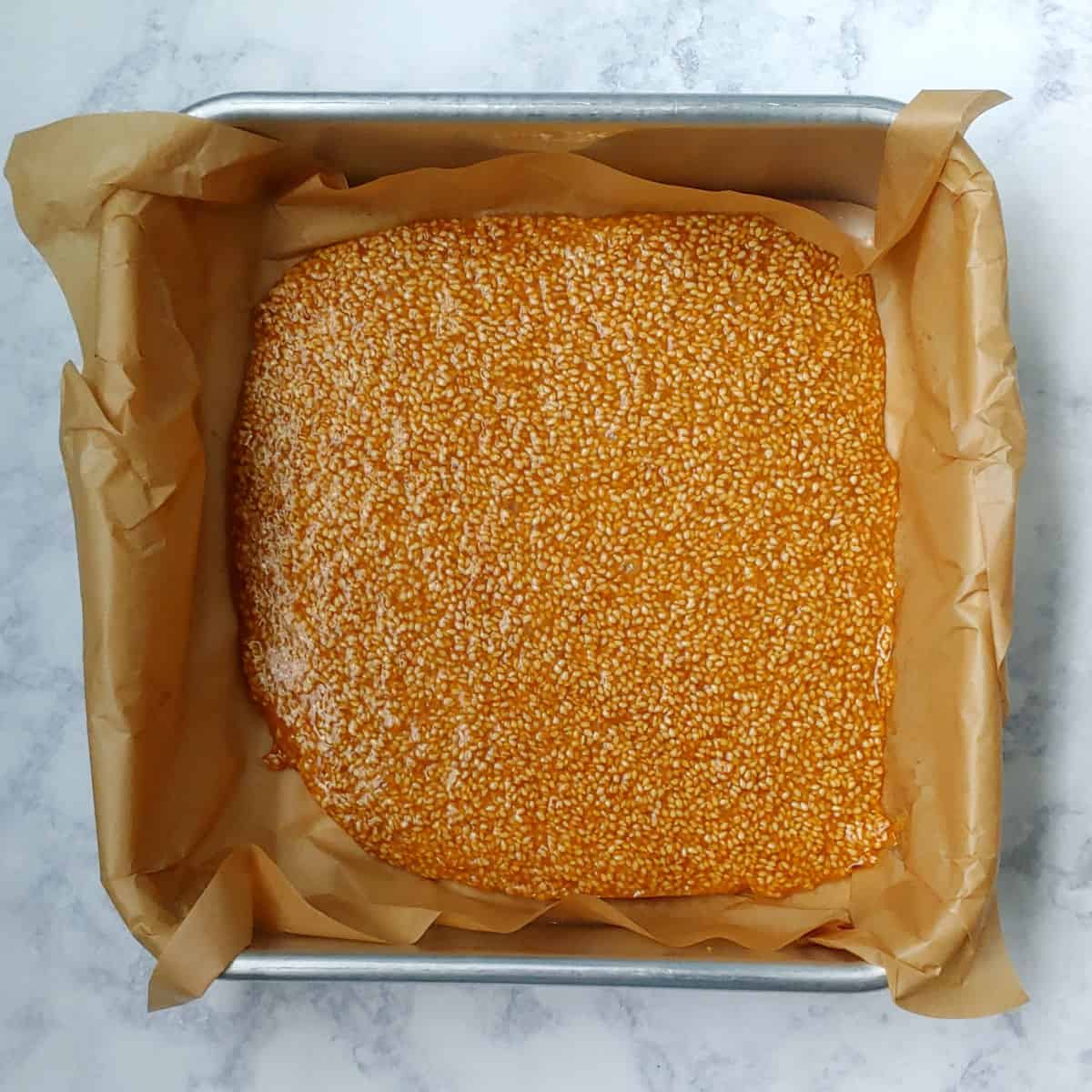 Let cool for an hour before breaking the candy into pieces.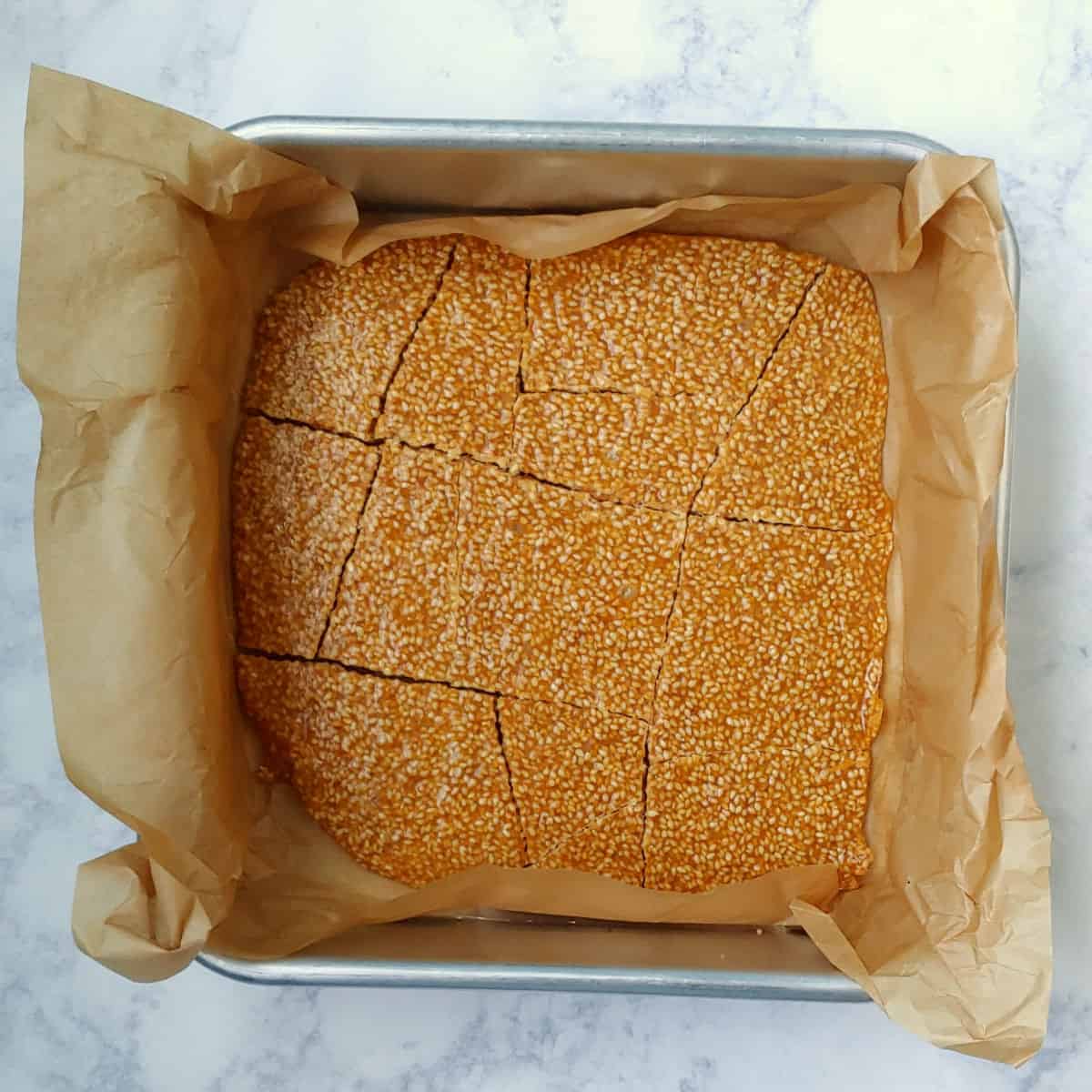 Variations
Use fresh, raw sesame seeds in this. Roasted or old sesame seeds may be rancid, and the hot syrup will cook the sesame seeds anyway.
I made a vegan version of this! To veganize it, use 4 tablespoons coconut oil and 1 tablespoon of water in place of the butter. You need the water to dissolve the sugar. Oil alone will not work. The candy will taste faintly like coconut, depending on how strongly flavored your coconut oil is.
Storing
Keep brittle in an airtight container, to protect it from moisture. I recommend keeping it away from sunlight, too, which will cause temperature variations that can affect humidity.
Brittle is a pretty sturdy candy. It will stay good for a few weeks, maybe longer, at room temperature. This makes it a perfect candy to make ahead and ship to the people you love.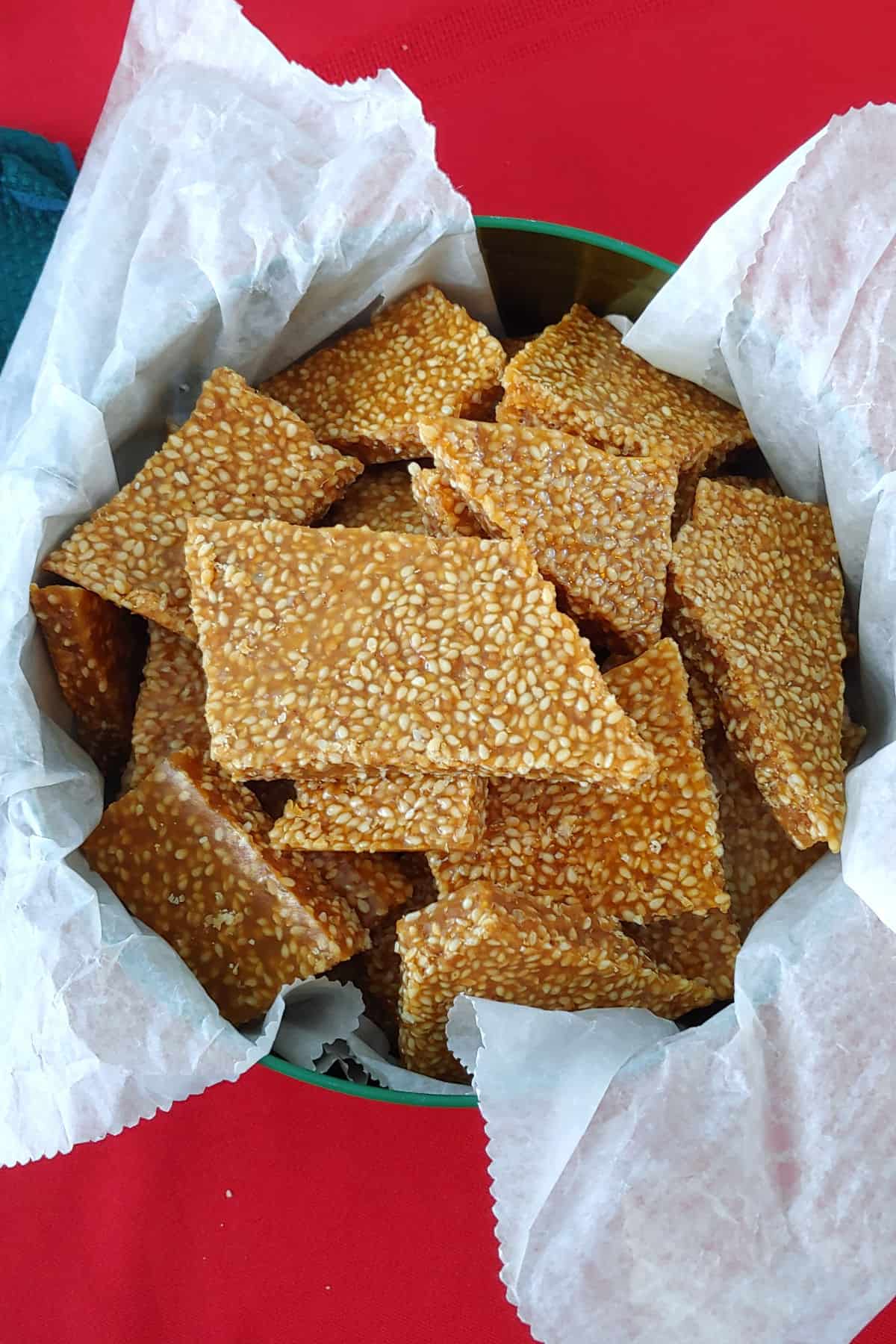 If I'm sending a small amount, I place pieces in a small zipper bag or cellophane bag. In a package that you ship, this bag would need to be cushioned by bubble wrap or other items to prevent the plastic from tearing or the candy being crushed in transit.
When I send a larger amount, I store it in plastic storage containers, or tins lined with waxed paper. Other favorite containers are cleaned takeout containers or cleaned pint-size ice cream jars. Glass jars are nice, but a little too heavy to ship.
Want other candy recipes? Here's a few great options!
Here's some other great recipes that make excellent food gifts!
Interested in other recipes? I save and share recipes I like or want to try on my Pinterest page - follow me there! You can also check out my Facebook page for more recipes and helpful tips. I'm also happy to try to help troubleshoot my recipes there.
Have you tried this recipe? Or have a question about it? Rate it or leave a comment below! (PS: rating my recipes helps other people find them, too!)
📖 Recipe
Homemade Sesame Brittle
A quick, from scratch, homemade sesame brittle. Just 4 ingredients and 20 minutes! An excellent food gift to ship. Plus, it can be made vegan!
Keyword:
homemade sesame brittle, sesame brittle
Ingredients
5

tablespoons

butter

(70 grams)

1

cup

granulated sugar

(200 grams)

⅛

teaspoon

table salt

1

cup

raw sesame seeds

(160 grams)
Instructions
Line an 8- or 9-inch metal pan (or a 7x11 or 9x13 pan) with foil or parchment, and spray with cooking spray. Set aside. Measure out your sesame seeds and place near your stovetop.

Combine butter, sugar, and salt in a heavy-bottomed 1.5 or 2-quart pot. Cook over medium to medium-high heat, stirring occasionally. It usually takes about 4 minutes for the butter and sugar to melt together. Continue to cook another minute or two, stirring occasionally, until the sugar mixture becomes a light amber color.

Place in a candy thermometer. (This may be difficult. You may need to tilt the pot to get the syrup high enough to take a reading.) When the syrup is between 290-300F, add the sesame seeds. This usually is 7-10 minutes after I put the pot on the stove.

Continue to stir and cook until the seeds take on a light amber color. This usually only takes an extra 2-3 minutes for me.

Immediately remove from heat and pour into the prepared pan. Let cool at least an hour before breaking into pieces. Store in an airtight container.
Recipe Notes
Candy syrup can heat drastically. Do not step away once you turn on the stove.
Do not use margarine.
Use raw sesame seeds here since they cook in the syrup.
To make this candy vegan, substitute 4 tablespoons coconut oil and 1 tablespoon water for the butter and cook as described. Do NOT use only oil as you need the water content to dissolve the sugar and get it to caramelize.
Recipe adapted from Homemade Candy from the editors of Farm Journal, 1970.
Recipes from the past