Despite the years that have passed since I first wrote about these Triple Cinnamon Scones, I had never forgotten about them. They were that good.
Although the recipe has been on my blog for the last 7 years, I wasn't thrilled with my write-up. Back then, I would make a recipe once before reviewing it. I wasn't interested in perfecting them - just trying as many as I could.
I'm so glad to revisit these, because they're just that good. Imagine cinnamon rolls in scone form. That delicious sweetness and cinnamon flavor, without as much time spent making them. That's this recipe.
These scones are my ideal scone. Sweet without being toothachingly so. A moist interior under a crisp exterior. The cinnamon sugar on top gives the scones a nice crunch. Layers of scone and cinnamon that you can pull apart if you want. Cinnamon roll scones, definitely - and much easier to make than traditional cinnamon rolls.
[This post contains affiliate links. I may make a commission for purchases made through links on this post. As an Amazon Associate, I earn from qualifying purchases.]
How to Make Triple Cinnamon Scones
Back in 2012, these scones had already been on my to-make list for a long time, and when I made them for New Year's Day breakfast, I was thrilled with how delicious they were. But the recipe, as originally written by King Arthur Flour, was messy, and very, very sweet.
I adjusted it for my post back then, but even now I found it to be a little too sweet, so I cut back on the sugar a bit more when testing this recipe out again.
Scones are not difficult to make, but I can understand if they're intimidating if you've never tried them. I'll walk you through it!
It starts out simple. Mix together flour, granulated sugar, baking powder, and table salt. I think you could use up to one-third white whole wheat flour with no problem, but don't use more than that, or it may make your scones tough.
Use a pastry cutter (affiliate link), or two knives criss-crossed, to cut the butter into the flour. You want the butter in small pieces, no larger than a pea. (Most will be much smaller.) Stir in cinnamon chips.
Don't have cinnamon chips (affiliate link)? You can omit them and adjust the recipe as I've included instructions (in the recipe card below), but the chips add sweetness and moisture to the scones, so I recommend substituting vanilla or butterscotch chips instead.
In a small measuring cup, whisk together your egg, milk, and vanilla. You can use cream or half-and-half for a richer scone, but I don't find it necessary. Pour it into the flour mixture, and mix together gently with a fork until clumps of dough form and there's almost no more dry flour. Add a tiny bit (a teaspoon or two) more milk if you need to, but honestly, you can work the flour in as you form the dough into a ball and pat the scones out.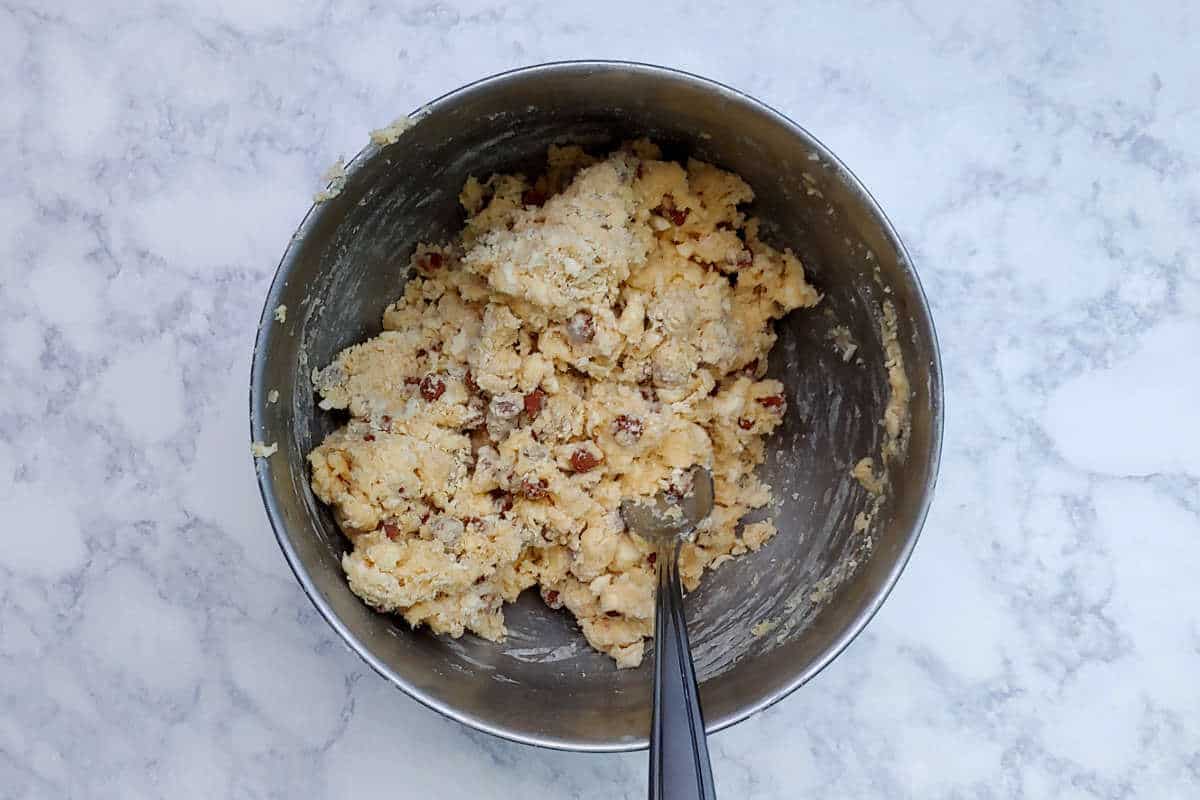 Use your fork or your hands to gently form the dough into a ball. You don't want to knead it or handle it too much, or your scones may end up tough.
Place your ball of dough on a lightly floured surface. Pat it into a square.
King Arthur Flour used a proprietary cinnamon filling, and their original instructions for substitutions didn't work. However, a simple brown sugar-cinnamon mixture does. Mix it together, and sprinkle two thirds of it on the entire surface of the dough. Then, fold the top third of the dough over the middle third, just like you were folding a letter.
Pat the dough down, then fold the bottom third of the dough up to the top edge of the rectangle. You've basically made a log or roll. Pat it down. (Note: I've used a half-batch of dough for these pictures.)
Sprinkle the remaining cinnamon sugar over the top of the dough, and pat it on. Pat the dough out until it's about a 3x18-inch rectangle. Use a knife or a bench scraper (affiliate link) to cut the dough into 3x3 inch squares, then cut each square in half diagonally to form triangles. (You'll have 12, instead of the 6 I have with the half-batch.)
Place the scones, slightly separated, on a baking sheet or a plate, and stick them in the freezer for 30 minutes. You can skip the chilling, but the scones will rise and bake better if you freeze them. You can also freeze them completely and bake them another time if you'd like. (I recommend freezing whatever you won't eat on the day you bake them.)
After your scones have chilled, bake them on a silicone mat (affiliate link) on baking sheet at 425F for about 16 minutes. They'll be golden brown, and if you stick a toothpick in one, it will come out clean.
Cool the scones only as much as necessary before eating, so you won't burn your mouth. The scones originally came with an icing. They're sweet enough without it if you use the cinnamon chips (affiliate link), but use the icing if you omit the chips entirely.
How to Serve
These scones, like most scones, are going to be best eaten on the same day they're baked, although they're pretty good on the second day. I recommend baking what you need, and store the rest in the freezer to bake another day.
I believe these come incredibly close to good bakery scones in texture and flavor. If you can bring them to not eat them all yourself, you should share them with friends.
Want other delicious scone recipes? Try Fresh Apple Cinnamon Scones (perfect for using up these cinnamon chips), Cranberry Oat Pecan Scones (or Christmas Scones), Double Chocolate Scones, Sprinkle Scones, or the more muffin-like Fresh Strawberry and Cream Scones.
Interested in other recipes? I save and share recipes I like or want to try on my Pinterest page - follow me there! You can also check out my Facebook page for more recipes and helpful tips. I'm also happy to try to help troubleshoot my recipes there.
Have you tried this recipe? Or have a question about it? Rate it or leave a comment below! (PS: rating my recipes helps other people find them, too!)
In the past:
One Year Ago: How to Freeze Cinnamon Rolls (and Other Bread)
Two Years Ago: Fudgy Bourbon Balls
Six Years Ago: Soft Cranberry-Orange Cookies
Seven Years Ago: Cranberry Oat Scones, Hazelnut Brown Butter Cake
Eight Years Ago: Coffee Liqueur Cookies, Spiced Apple Cookies
Nine Years Ago: Cabernet-Braised Beef Short Ribs review, Sourdough Cinnamon Rolls review
📖 Recipe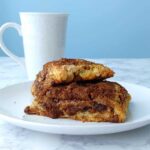 Triple Cinnamon Scones
Delicious, moist cinnamon scones with a crunchy exterior. Made with cinnamon chips, a cinnamon filling layer, and cinnamon sugar topping, they're like cinnamon rolls in scone form!
Keyword:
cinnamon roll scones, cinnamon scones, triple cinnamon scones
Ingredients
2 ¾

cups

all-purpose flour

(330 grams)

4

tablespoons

granulated sugar

(48 grams)

1

tablespoon

baking powder

¾

teaspoon

table salt

8

tablespoons

cold butter

(113 grams)

1

cup

cinnamon chips

(192 grams)

2

egg

½

cup

milk, cream, or half-and-half

(113 grams; I used 2% milk)

1

teaspoon

vanilla

(5 grams)
Brown Sugar-Cinnamon Filling/Topping
10

tablespoons

brown sugar

(130 grams)

2

tablespoons

cinnamon
Cinnamon Glaze (optional; recommended if omitting chips)
1 ¾

cups

powdered sugar

(200 grams)

½

teaspoon

cinnamon

3 ½

tablespoons

water

(50 grams)
Instructions
Combine flour, sugar, baking powder, and salt. Use a pastry cutter or two knives to cut in the butter, until the butter is in pieces no larger than peas. Stir in cinnamon chips.

Whisk together egg, half and half, and vanilla in a measuring cup. Pour egg mixture into flour mixture. Use a fork to toss the flour and egg mixture together, stirring just enough to moisten the flour. A tiny bit of leftover flour in the bowl is okay, but if you have a lot, add a teaspoon or two more of milk until a dough forms.

Use the fork or your hands to gently form a ball of dough. (Don't handle the dough too much, or your scones will be tough.) Turn dough out onto a lightly floured surface and pat into a 9x9 inch square.

Combine brown sugar and cinnamon. Pat about ⅔ of it onto the dough, all the way to the edges. Fold the top third of the dough over the middle third of the dough, as if you're folding a tri-fold letter. Pat down the dough.

Fold the bottom third of the dough up to the top of the new rectangle. Pat down the dough, lengthening it as you pat into a long, 3x18 inch rectangle. Sprinkle with the remaining cinnamon sugar and pat it on to the edges.

Cut rectangle into 6 (3x3 inch) squares. Cut each square in half along the diagonal to create 12 triangles. Place scones on a lined baking sheet or plate and place in freezer for 30 minutes. (This step is optional, but the scones will bake better if you chill them.)

Meanwhile, preheat oven to 425F. Bake your chilled scones for 16 minutes. Eat warm, cold, or immediately.
Optional Glaze
Mix together powdered sugar, cinnamon, and water. Drizzle over scones. For thicker icing, substitute 2 tablespoons milk for the water. Double the glaze if desired.
Recipe Notes
You could likely use up to half white whole wheat flour in this, but using more than that may make the scones dense or tough.
Don't have cinnamon chips? Use vanilla or butterscotch chips, or omit them entirely. If omitting them, increase the sugar and brown sugar each by 2 tablespoons; and make the glaze.
Handle the dough gently. Stir it with a fork only as much as necessary to get a dough to form, and pat it together and out lightly. 
If using the glaze, reduce the brown sugar and cinnamon by ⅓ since you won't put it on top of the scones.
Not going to eat them all right now? Bake only what you'll eat. Separate the remaining unbaked scones, freeze them, and place them in a zipper bag. Bake them for 2-3 extra minutes directly from frozen - no thawing necessary.
This recipe is adapted from the Triple Cinnamon Scones recipe from King Arthur Flour.