I think everyone needs a good, delicious, dependable brownie recipe. That's exactly what this is.
Yes, everyone needs a good, fail-safe dessert recipe. One that you know will turn out every time you make it, no matter what. One that takes no time or effort at all to make. Preferably, one that doesn't take any special ingredients - you know, that you can make straight from your pantry.
At least, if your pantry is stocked for baking, which mine always is.
I've always made Hershey's Best Brownies. This no-fail brownie recipe is my go-to - the recipe that I've made for 20+ years now.
I'm not getting any kind of money for writing about this recipe. I just love it. It's easy - easy enough I made it as a kid. The only perishable things it takes is butter and eggs (which always last longer than the package says, anyway). I love that this takes cocoa powder instead of chocolate, because I don't like melting chocolate - it takes time, which delays your brownie-eating. Maybe your kitchen doesn't have cocoa powder in it, but I would argue that it should - cocoa powder doesn't go bad very quickly. (And I can say that because I once had 18 pounds of cocoa powder in my basement.)
This is the one that I give to anyone and everyone who wants a brownie recipe. My family found it on the back of a package of Hershey's cocoa powder. I'm glad we kept the wrapper, because I haven't found this recipe on a package in years. I also apparently took the wrapper with me to college, because my mom ended up asking me for a good brownie recipe because she didn't have one! It's very funny to me because she's the one who originally found it.
My family originally liked this recipe because it's made in a 9x13-inch pan (affiliate link), so there's lots of brownies to go around. They're not too thin or too thick; they're very moist; and they have a nice cocoa flavor. There are recipes for brownies out there that take more cocoa, but everyone I know enjoys this recipe.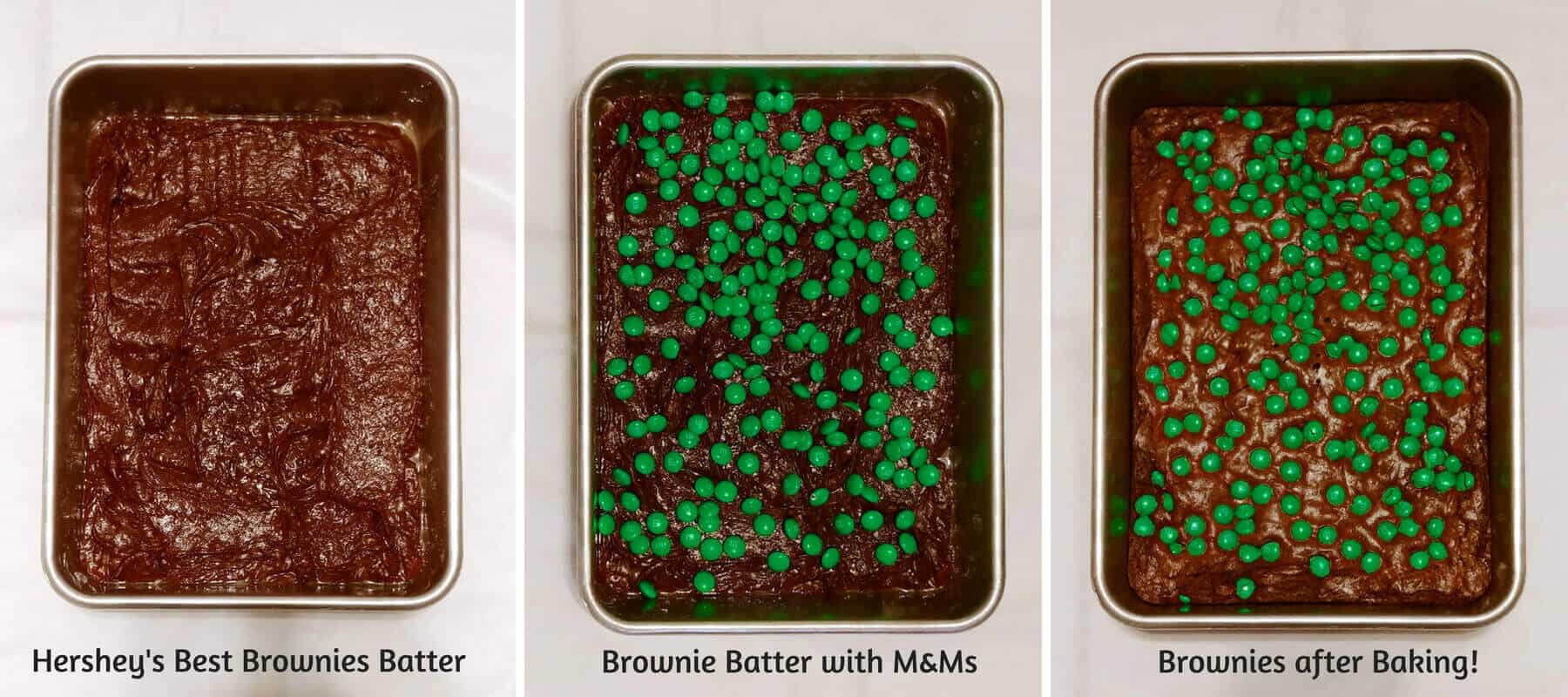 I've made this recipe so often that I have it memorized. These brownies are the first thing I bake to test my oven temperature whenever I move, because I know exactly how many minutes they bake. They're versatile. I added a cheesecake swirl to these once; it turned out well. I taught my husband Alex to make them on his own; he adds M&Ms to these brownies to make them to take to events. And honestly, I've started to prefer them that way. But, you can mix in or top them with whatever you'd like. Or don't. And it's great as the base of a sundae.
I originally posted this recipe 8 years ago, and shortly thereafter I did a brownie taste test with my friends. We compared these brownies to the Best Cocoa Brownies and Alton Brown's Brownies, without knowing which was which as we ate them. Hershey's Best Brownies performed well - sweet but chocolately, rich and moist, fudgy. I consider this to be a classic traditional recipe. (Unfortunately, I hadn't yet made the small-batch Cooking Light Fudgy Brownies, or the richer Fudge Brownies, to compare with these.)
This is a delicious, classic, traditional cocoa brownie recipe that's sure to be a family favorite. It's a versatile crowd-pleaser. And they're wonderful, warm, straight from the pan.
Here's my best tip for making brownies - always underbake them slightly. Start checking them 5 minutes before they should be done, particularly if your oven runs hot. When you stick a toothpick in them, it should come out with some fudgy crumbs stuck to them. But if for some reason they're overbaked, you can freeze them to use for sundaes; mix them into cheesecake; drizzle them with chocolate syrup to moisten them; or heat them and eat them warm.
Want more brownies? Try Fudge Brownies or Best Cocoa Brownies.
Like this recipe or have questions? Rate it and leave a comment below!
In the past:
One Year Ago: Roast Beef Hash
Four Years Ago: Cauliflower Curry
Six Years Ago: Quick and Easy Cinnamon Rolls
Seven Years Ago: Coriander-Crusted Tuna with Black Bean Salsa
Eight Years Ago: Honey and Cheese-Filled Muffins, Mahimahi BLT Tacos
📖 Recipe
Hershey's Best Brownies
My classic go-to recipe. The key to brownies is always to underbake them.
Ingredients
1

cup

butter or margarine

(2 sticks) (if using margarine, skip the salt)

2

cups

sugar

2

teaspoon

vanilla

4

eggs

1

cup

flour

¾

cup

cocoa

½

teaspoon

baking powder

¼

teaspoon

salt
Instructions
Grease 9x13 inch baking pan. Microwave butter until melted. Stir in sugar and vanilla. Add eggs, beating well after each addition. Add flour, cocoa, baking powder, and salt. Beat until well-blended. Pour into prepared pan.

Bake at 350F for 30-35 minutes, or until brownies begin to pull away from sides of pan. Good brownies are best if they're underdone; a toothpick inserted into the center should have moist crumbs clinging to it.