This Steak Salad with Lime, Sesame Oil, and Cashews is my absolute favorite salad. The lime juice is zippy; the sesame oil, toasty and delicious; the cashews, crunchy and buttery. Jalapenos add a slight but not overwhelming amount of heat. And grilled steak - if you like beef, how could you not like that?
I seldom eat salads. This is in part because I don't like vinegar and vinaigrette. (This specific salad gets around the problem by using lime juice for acidity.)
Salads also often have cheese. I haven't yet met a cheese that I like.
But when we lived in Champaign, Illinois, a restaurant/bar called Seven Saints opened up downtown. In addition to having nice sliders (delicious - certainly not like White Castle's) and an extensive whiskey menu (which I didn't take full advantage of in our time there), they had a delicious, cheese-free, vinaigrette-free Seven Saints Salad.
While we lived within walking distance, Alex and I would occasionally walk to Seven Saints and sit on their sidewalk patio for an early dinner. I would have a slider alongside this salad, with a Rogue Dead Guy Ale, probably the hoppiest beer I ever choose to drink. It was so relaxing.
I've modeled this salad off of that one. It's been at least 7 years since I ate at Seven Saints, but this is generally how I remember the salad tasting. It's delicious, and it always reminds me of spring and summer.
Making This Delicious Steak Salad
You can cook your steak for this however you would like. You can also choose whatever kind of steak you would prefer to cook.
I've used flat-iron steak before; grill it to medium doneness (you don't want it overdone), then slice very thinly against the grain before topping your steak.
I have sirloin steak in my freezer that I got for a good price, so that's what I've used this time. I prefer my steak medium-well (I generally don't like the softer texture of medium), so temperatures and cooking times below reflect that. However, I recommend using a thermometer to ensure that you get your steak exactly how done you'd like it.
We have a gas grill. (Precision grilling is the way to go for weeknight dinners!) You may also use a charcoal grill as well; you'll want to grill your sirloin steak directly over the coals. If you don't have a grill, you can also sear your steak on the stove or broil it in the oven; you can find Mark Bittman's instructions on that here. (I prefer to avoid making steak indoors because our exhaust fan isn't very robust.)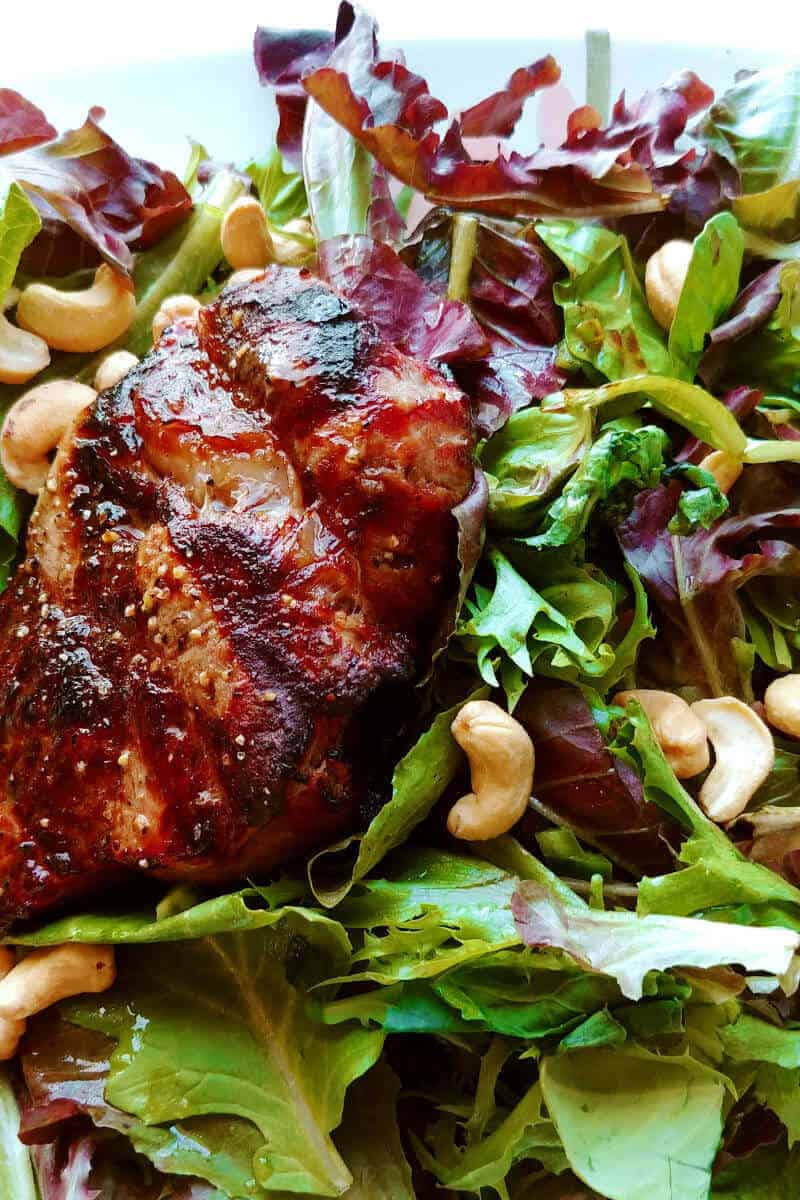 I like spring mix for this salad. You can use all spinach if you prefer, but I like the assertive greens with the steak, lime, and sesame. Whatever you do, no iceberg lettuce here, please.
Jalapeno - it adds a kiss of heat here. All jalapenos have different levels of heat. If you're heat averse, be sure to remove all the seeds and white veins inside. You can also used dried jalapeno flakes in the dressing if you have them.
What to Serve Alongside This Salad
This salad is really a meal unto itself. I would clearly enjoy a good slider (a quality miniature hamburger, really) alongside it. Garlic bread would be nice too, of course, or a different bread. Serve with a good beer of your choice, or whiskey in whatever form you'd like.
Like this recipe or have questions? Rate it or leave a comment below!
In the past:
One Year Ago: Chickpeas with Spinach
Two Years Ago: Date Shake
Three Years Ago: Black Bottom Oatmeal Pie
Four Years Ago: Gluten-Free Banana Bread with Coconut and Flax
Six Years Ago: Blackberry Coconut Macaroon Tart
Seven Years Ago: Scone Nibbles (mini chocolate chip scones)
Eight Years Ago: Carne Adovada, Chocolate Oat Bars (updated in 2019!), Caramel Cake
📖 Recipe
Steak Salad with Lime, Sesame, and Cashews
This delicious steak salad is brightened with a dressing of lime juice and toasted sesame oil. Jalapenos add heat, and cashews add crunch. A delicious and easy summer meal, ready in just 30 minutes!
Course:
Main Course, Salad
Ingredients
2

6-ounce

sirloin steaks

(no more than 1 inch thick; I often buy a 12-ounce steak and cut it in half before cooking)

7-8

ounces

spring mix

1

jalapeno

3

tablespoons

lime juice

(should be about the juice of one lime)

1 ½

tablespoons

toasted sesame oil

6

tablespoons

cashews

(2 ounces)

salt and pepper

(to taste)
Instructions
Heat your grill. Ours is gas and we heat it to high heat.

Remove your steaks from the refrigerator to let the chill come off for a few minutes. Sprinkle them with salt and pepper.

While the grill heats, cut your jalapeno. Slice off the end, then slice down the middle lengthwise. Remove seeds and all of the white veins on the inside. (You can grill it briefly at this point if you'd like.) Finely mince the jalapeno.

Combine the jalapeno, lime juice, and sesame oil. Whisk to combine and add salt to taste.

Once the grill is hot, cook your steaks over high direct heat. To cook to medium well (160F; my preference), grill for 5 minutes over the hot part of the grill. Flip, then grill another 5-7 minutes, until the temperature of the steaks reaches 155F. (Grill a few minutes less for medium.) Remove the steaks from the grill and let them rest for a few minutes while you assemble the salad. The steaks will coast up to 160F.

Divide the spring mix between two plates. Drizzle with the dressing (including scooping the minced jalapenos onto the salad). Sprinkle with cashews. Top with steak. Enjoy.
Recipe Notes
This salad is based on the Seven Saints Salad at Seven Saints, a restaurant in Champaign, Illinois.
This could easily be made with flat iron steak instead. Grill to medium, then slice before topping the salad with the steak. 
If using a thinner steak, grill for a few less minutes.
For instructions on how to cook the steaks with a broiler or in a pan on the stove, check out Mark Bittman's instructions. 
This amount of jalapeno adds a slight amount of heat without being spicy. Include the seeds if you are adventurous, or add a second jalapeno. If using dried jalapeno flakes or pieces, I suggest starting with ½ teaspoon.