When I worked in St. Louis, I had to order a lot of casual catered lunches. Most of these involved a tray of cookies. As a home baker, I'm really particular about my sweets, and so I would almost never eat any cookie leftovers - except for Gooey Butter Cookies.
Gooey butter cookies practically melt in your mouth. This is not a chewy cookie. Rather, they're tender and soft. You roll them in powdered sugar before you bake them, making a sweet, delicious crackly crust that contrasts with the center.
As with most gooey butter things, many of the recipes you find online have boxed cake mix as their base. I didn't want that. Yes, I'm eating tons of sugar, but I'd rather avoid some of those additives in mixes. And, really, I'd rather just make things from scratch.
Luckily for me, there are several recipes out there that have already converted a gooey butter cookie recipe from a cake mix one into a from-scratch one. I tried a few out until this one hit all the right notes.
This cookie recipe is so good that it's become one of my staple cookie recipes. I don't know who can resist them. They're little, rich packages of pure joy.
Jump to:
[This post contains affiliate links. I may make a commission for purchases made through links on this post. As an Amazon Associate, I earn from qualifying purchases.]
How to Make Gooey Butter Cookies
The recipe I liked the most was the gooey butter cookie recipe from Wicked Good Kitchen, but I made a few changes along the way.
This recipe takes both butter and cream cheese, so your first step is to bring both up to room temperature. This is no joke. Cream cheese in particular will not cream very smoothly if it as all cold. So pull out your butter and cream cheese, cut them into cubes, and leave them on the kitchen counter for an hour or two.
Can you use lower fat cream cheese here? I'm not sure, as I've always used regular. I wouldn't chance it if you're making them for the first time.
Once your butter and cream cheese have warmed up, cream them with an electric or stand mixer at about medium speed, mixing until they're creamy and combined. Scrape down the sides of the bowl to be sure. You want to be sure this is completely combined now, before you start adding anything else.
Next, add the sugar, vanilla, and salt. It's a lot of vanilla, and it contributes to the fantastic flavor. 100% worth it.
Mix in the sugar just until everything looks uniform. Add the whole egg and egg yolk, and mix again until just combined. (This is a little different from the original, but I don't want us to toughen the dough by mixing the egg a lot.)
Can you skip the single egg yolk? Sure, but the egg yolk adds richness to the cookie, so you'll be missing out.
Add the flour and baking powder, and mix until just combined.
Wicked Good Kitchen chills her dough for an hour or two, but I don't find it necessary. Scoop a 1 inch ball using a medium (1.5-tablespoon or #40) cookie scoop (affiliate link) and leveling it off. The dough is very sticky though, so drop the dough directly into a bowl or plate of powdered sugar, and gently roll it around until it's completely coated.
Place each cookie about 2 inches apart on a baking sheet covered with a silicone mat (affiliate link). You should get about 12 cookies per baking sheet. I prefer mine to be a little flatter and wider, so I flatten mine with my fingers before baking. You don't have to, though.
Bake at 325F for 14 minutes. The cookies won't look done and shouldn't brown. Just trust it. Take them out and let them cool completely.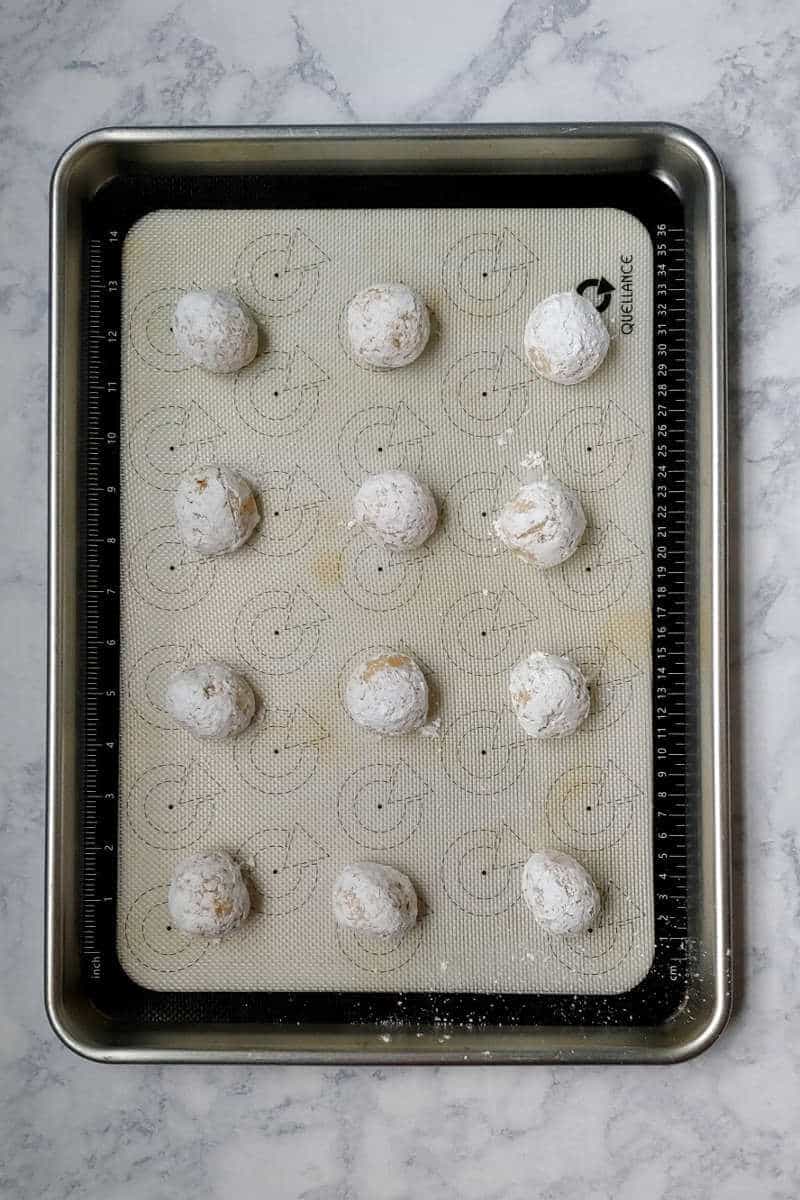 Many cookie recipes say you can bake your cookies 2 sheets at a time and rotate them between the top and bottom racks. I've never had that work out for me, and so I don't recommend it for these cookies, which you don't want to brown.
If desired, you can roll them in additional powdered sugar once they're cooled, but I usually don't.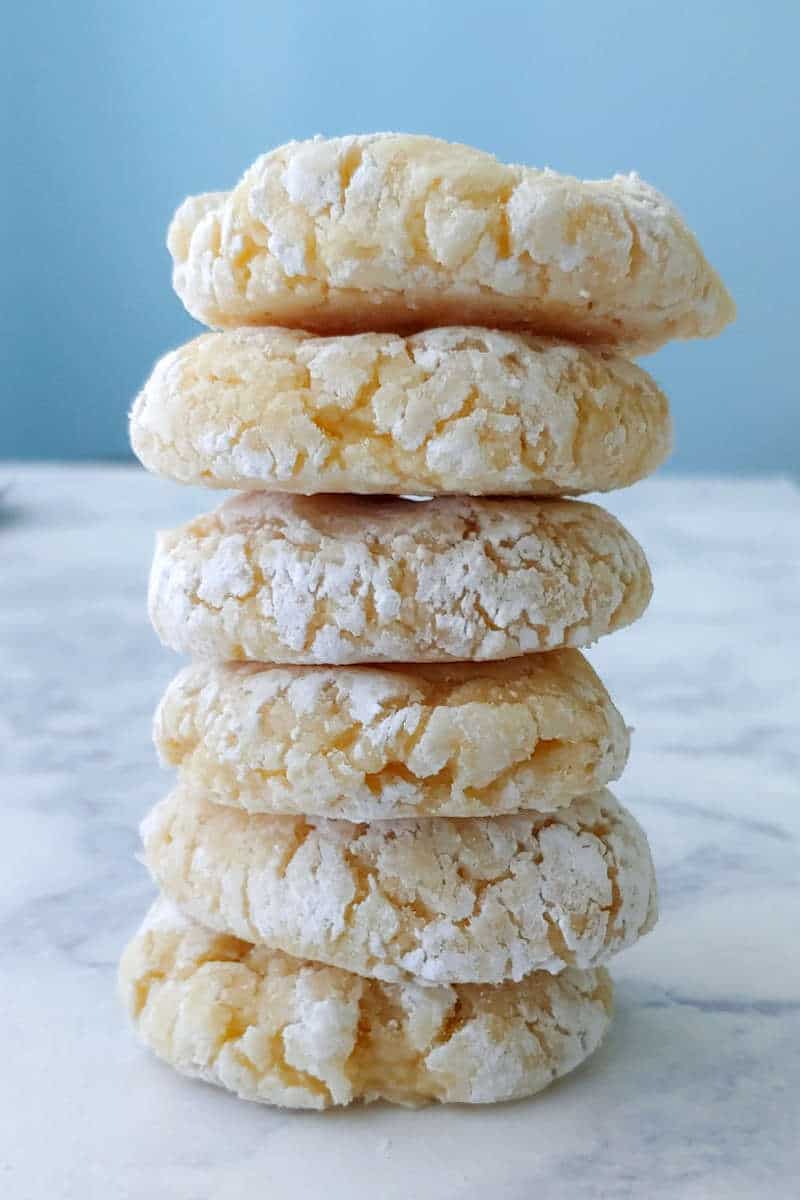 How to Serve Gooey Butter Cookies
Honestly, these cookies go with anything and everything. I've been eating them with my coffee every day as I've worked on this post.
These soft, tender cookies will stay good for up to 5 days in an airtight container at room temperature, if you don't eat them all before that.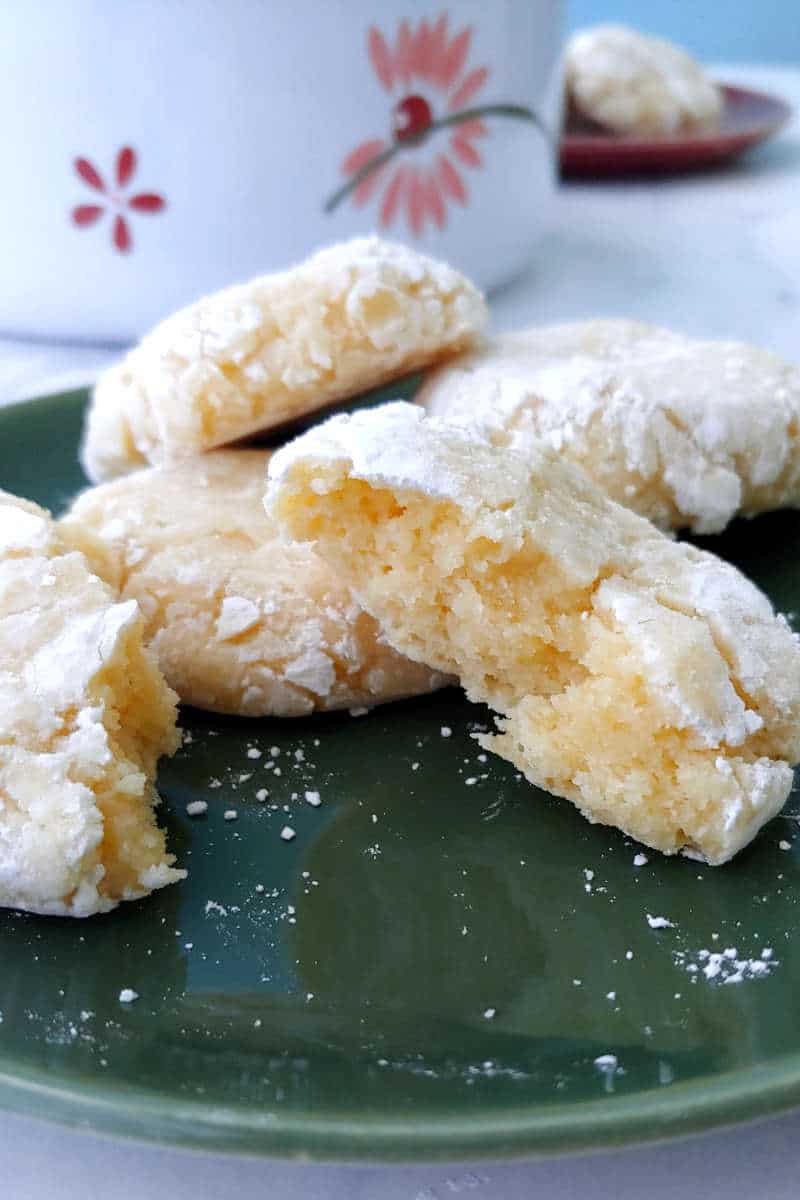 I often recommend freezing balls of cookie dough to bake it later, but I don't recommend it with these. Cookies baked from frozen dough don't spread as much, and the cream cheese makes the texture more cakey than when you bake them within a day or two.
Interested in the St. Louis specialty gooey butter cake instead of cookies? Try this Gooey Butter Cake with a yeasted base, or this recipe for snickerdoodle-like Cinnamon Gooey Butter Cake.
Interested in other recipes? I save and share recipes I like or want to try on my Pinterest page - follow me there! You can also check out my Facebook page for more recipes and helpful tips. I'm also happy to try to help troubleshoot my recipes there.
Have you tried this recipe? Or have a question about it? Rate it or leave a comment below! (PS: rating my recipes helps other people find them, too!)
In the past:
One Year Ago: Homemade Chocolate Marshmallows
Two Years Ago: Chocolate Toffee Cracker Cookies, My Favorite Cookies/a Recipe Round-up
Five Years Ago: Whole Grain Pumpkin Yeast Bread
Six Years Ago: Vegan Pecan Pie, Panettone Muffins
Seven Years Ago: Espresso Biscotti (a review)
Eight Years Ago: Roasted Banana Pudding (a review), Cocoa Fudge Cookies (a review)
Nine Years Ago: Pecan Squares (a review)
📖 Recipe
Gooey Butter Cookies
Tender and soft Gooey Butter Cookies, made from scratch! These delightful morsels are rolled in powdered sugar, then baked, creating a delicious crackly crust that contrasts with the center.
Cuisine:
American, Midwestern
Keyword:
gooey butter cookies, gooey butter cookies from scratch, homemade gooey butter cookies
Ingredients
8

tablespoons

unsalted butter

(114 grams) (softened)

8

ounces

cream cheese

(softened) (one package)

1 ½

cups

sugar

(300 grams)

1

tablespoon

vanilla

(15 grams)

½

teaspoon

table salt

1

egg

1

egg yolk

2 ¼

cups

all-purpose flour

(270 grams)

2

teaspoons

baking powder

1

cup

powdered sugar

(120 grams)
Instructions
Soften your butter and your cream cheese thoroughly.

With an electric or stand mixer, cream your butter and cream cheese on medium speed until thoroughly combined, scraping down the sides and bottom of the bowl. Be sure there are no lumps remaining.

Add the sugar, vanilla, and salt, and mix until combined. Add the egg and egg yolk and mix again until everything is combined, scraping the sides and bottom of the bowl as necessary. You don't want to overmix.

Add the flour and baking powder, and mix on low until just combined.

Use a #40 or 1 ½ inch tablespoon cookie scoop to scoop the cookie dough; level it off flush at the edge. Drop the cookie dough directly into your powdered sugar and roll it around to coat it completely. Repeat with remaining dough.

Place the cookies 2 inches apart on a silicone or parchment-lined mat on a baking sheet; you should get 12 cookies per sheet. Optionally, you can flatten the balls of dough slightly to make wider, flatter cookies.

Bake one sheet at a time at 325F for 14 minutes. The cookies will look underdone and should not brown on the edges or the bottom.

Cool cookies before removing them from the baking sheet. Roll baked and cooled cookies in extra powdered sugar if desired (although I never do). Store in an airtight container.
Recipe Notes
This dough is very sticky, which is why I dollop it directly into the powdered sugar. You may chill it for an hour or two if desired to make it easier to handle. 
Lower-fat Neufchatel cheese may or may not work in this recipe; I haven't tested it with it.
I do not recommend scooping and freezing this cookie dough. Shaped dough balls may be stored, covered, in the refrigerator and baked up to 2 days later.
This recipe was adapted from Wicked Good Kitchen.