I've fallen behind on my bread project for this year, unfortunately. Life has a way of making that happen. I had great momentum starting out this year, and I even managed to mostly keep up with it during a hectic summer. In fact, I've even continued bread making despite a major life change on the horizon, as we're expecting a baby in February!
However, the thing that has put me the most behind has been a little more sudden. Alex got a new job, and within the past few weeks, we've been putting all our energy toward a move from St. Louis to New Jersey. This very exciting development has meant that I've had little time to cook, aside from throwing together random ingredients to use up things I have in my pantry. I've had even less time for blogging - or much of anything else. (For instance, today was the first day I've picked up a novel to read in weeks.)
I will still meet my goal of 50 bread recipes in 2014, but I'll have to play some catch-up in November and December, just as I did in 2010. It's a little disappointing to not stick to the schedule I'd originally planned, but I'm looking forward to having the time to focus on cooking (and unpacking, of course) later this year.
For Bread Week 36, I made Cinnamon Bread. This is one of my all-time favorite recipes; I've made it a few times before. It was actually my 240th recipe from my 365 recipe challenge.
This is a recipe that I give for bridal showers and weddings, whenever I can, because it is easy, reliable, and above all, very delicious.
This is an incredibly tasty, moist bread. It's cinnamony in the best way. I took this batch to work, and no one said that the cinnamon was too strong. I used oil in the topping this time instead of margarine, which made the swirl soggier and harder to distribute. I don't recommend using oil in place of the 4 teaspoons margarine with the cinnamon sugar.
Other reasons that I love this bread: the recipe comes together very quickly, and takes only pantry staples. It's healthier than most zucchini bread or banana bread recipes. I know that whenever I make this bread, I will have a very delicious loaf of bread to share. I really can't recommend this bread more strongly. You should try it sometime, if you haven't already.
Like this recipe or have questions? Rate it or leave a comment below!
In the past:
Two Years Ago: Fresh Pear Coffee Cake
Four Years Ago: Sourdough Breadsticks
📖 Recipe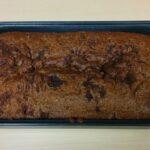 Cinnamon Bread
Cinnamon Bread is an easy, delicious quick bread, with a cinnamon swirl inside and cinnamon sugar crumble sprinkled over the top. Perfect for breakfast, snacks, and sharing!
Keyword:
cinnamon bread, cinnamon quick bread, cinnamon tea bread
Ingredients
Cinnamon Swirl
¼

cup

sugar

2

teaspoons

cinnamon

3-4

teaspoons

margarine or butter

(I don't recommend oil)
Bread
2

cups

flour

(I used 1 ⅓ cup all-purpose, ⅔ cup whole wheat)

1

cup

sugar

2

teaspoon

baking powder

½

teaspoon

baking soda

1 ½

teaspoon

cinnamon

1

teaspoon

salt

1

cup

buttermilk or sour milk

(for sour milk, use 1 tablespoon vinegar, with enough milk to equal 1 cup)

¼

cup

vegetable oil

2

eggs

2

teaspoons

vanilla extract
Instructions
Mix together ¼ cup sugar, 2 teaspoon cinnamon, and margarine. You can melt the margarine if you'd like to make mixing easier; otherwise use a fork or pastry cutter to mash it up. Set aside.

Mix together remaining ingredients, stirring until just combined. Scrape about half the batter into a greased 9x5 inch loaf pan. Top with half of the topping, but try not to let it touch the edge of the pan. Add remaining batter, then top with remaining topping.

Bake at 350F for about 50 minutes, until a toothpick inserted into the center comes out clean.
Recipe Notes
Adapted from All Recipes