Did you know that January 23 was National Pie Day? (Not to be mistaken with Pi Day, which is 3/14, but can be celebrated equally well with pie.) The only reason I know is because I looked up US food holidays last month when Alex told me that it was National Cookie Day (which naturally prompted me to make chocolate chip cookies).
A pie holiday, plus a recent post from Smitten Kitchen, spurred me to make Key Lime Pie on Friday. I love making Key Lime Pie; it's always very quick and simple to bake. I've always from the recipe from the Joy of Baking; it was #229 of my 365 recipe challenge. This time, I mainly followed the Smitten Kitchen recipe, although I found the differences between the recipes to be minimal. Alex and I were very happy with the results. The pie disappeared very quickly.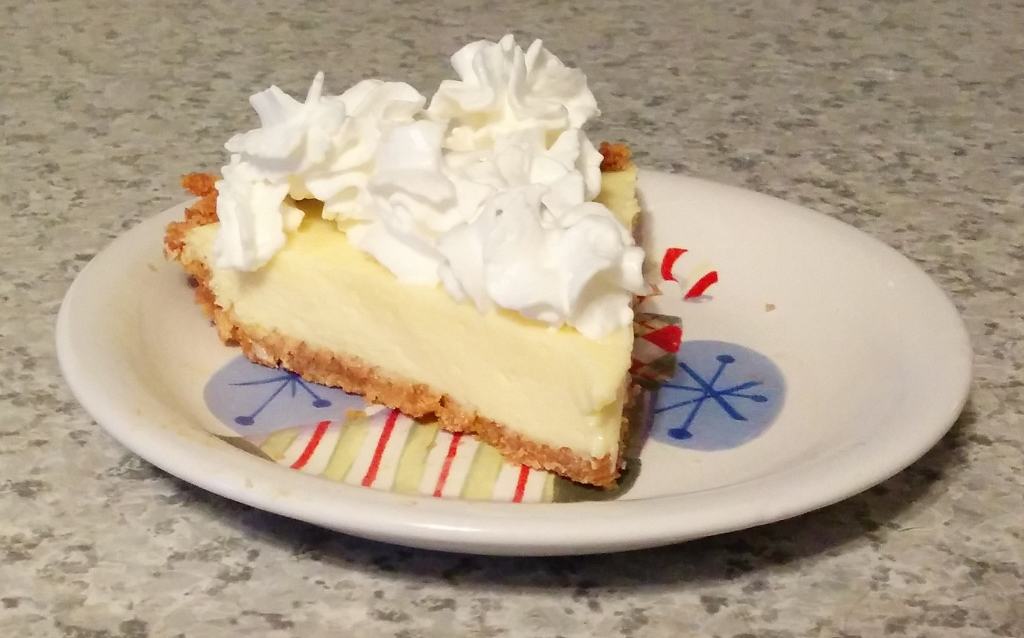 The pie was very good. The bottled lime juice worked just fine in the pie. It was tart despite the lack of lime zest, but not too tart, and the filling was creamy and smooth. The crust was perfect, with just enough graham cracker crumbs to hold together, rather than crumble. Honestly, Key Lime Pie is an excellent pie to make. It takes few ingredients and little preparation and cooking time, and generally turns out great. I look forward to making this pie again this summer.
Want another creamy pie? Try my favorite, Coconut Cream Pie. Want more citrus? Try Lemon Bars or Grapefruit Yogurt Cake.
📖 Recipe
Key Lime Pie
This tart, creamy, satisfying pie is the easiest pie you could ever make.
Ingredients
1 ½

cups

graham cracker crumbs

(I used a mixture of graham crackers and butter cookies)

2

tablespoons

sugar

(optional if you include sweet cookies; I skipped it)

5

tablespoons

margarine/butter

melted

2 - 4 ½

teaspoons

lime zest

(I omitted this; use however much you're comfortable with)

3

egg yolks

14

ounces

sweetened condensed milk

(1 can)

½ - ⅔

cup

key lime juice

(use ⅔ cup if omitting lime zest; I used bottled, regular lime juice because I was lazy)

Whipped cream for topping

(¾ - 1 cup whipping cream + 2 tablespoons sugar, if you'd like to make it yourself; however, I just used a bottle of Reddiwhip)
Instructions
If you don't have graham cracker crumbs, grind your graham crackers in a food processor until pulverized. (About 1 sleeve/10 crackers will be enough.) Mix with sugar and melted butter until crumbs are moistened. Spread in a normal, shallow 9-inch pie pan (mine was glass), using a spoon or back of a measuring cup. Press crumbs evenly around the bottom and sides. Bake at 350F for 10 minutes, then cool briefly while you make the filling.

While the crust bakes, make the filling. Whip the lime zest (if using) with the egg yolks with an electric mixer or the whisk attachment of your stand mixer for 3-5 minutes, until the yolks have lightened in color. Add sweetened condensed milk and beat for another 3 minutes, then add the lime juice and stir until combined. Scrape filling into warm prepared crust and place in the oven. Bake at 350F for 10 minutes, until filling is set. (The surface of the pie should be uniformly shiny (or not so shiny), and the center will not jiggle.)

Cool completely and chill. Top with whipped cream once completely cool, or whenever you would like to eat it. Your choice.
Recipe Notes
This recipe is adapted from both Smitten Kitchen and the Joy of Baking.