I'm apparently on an apple kick this year. In addition to sharing apple butter and apple cider donut cake with you, I've decided to reintroduce you to these sweet and tender Fresh Apple Cinnamon Scones.
It was 4, almost 5 years ago that I first made this recipe. I'd put it off for a while because these scones, unlike some, called for a brief freeze before baking them. But pre-kids me woke up early and couldn't go back to sleep, and took advantage of so much time in the morning to make them. (Waking up and not being able to go back to sleep is a facet of my life now, with a 3 year old in the house. Ah, privileged pre-kids me!)
In any case, I was very glad I'd made them then, and I'm glad that I've pulled this recipe back out now. The outsides are crisp, the insides tender, the tops crunchy with large crystals of sugar. They're sweet and appley and cinnamony. They're a great fall breakfast!
[This post contains affiliate links. I may make a commission for purchases made through links on this post. As an Amazon Associate, I earn from qualifying purchases.]
How to Make Fresh Apple Cinnamon Scones
I adapted this recipe for Fresh Apple Cinnamon Scones from King Arthur Flour.
I've made a lot of scones, and it's not difficult. It's the same as making biscuits, so if you can make biscuits, you can make scones. Haven't made either? I'm here to walk you through it. I promise, you can do it!
You mix together dry ingredients - flour(s), sugar, baking powder, salt, and cinnamon. Use a pastry cutter (affiliate link) or two knives to cut butter into the flour. Mix in cinnamon chips (affiliate link) and diced apple, then stir in wet ingredients - in this case, eggs, vanilla, and apple sauce.
Only mix until the dough just comes together. Gently knead the dough to work any remaining dry flour into the dough. Then turn the dough out onto a very lightly floured surface or parchment. Form it into a ball. Divide it into 2 pieces, pat each into a 5-6 inch circle, and cut into 6 wedges. Or, pat into a rectangle and cut into 12 pieces. I prefer triangles, but you can do squares instead. A bench scraper (affiliate link) works amazingly well to cut through scone dough.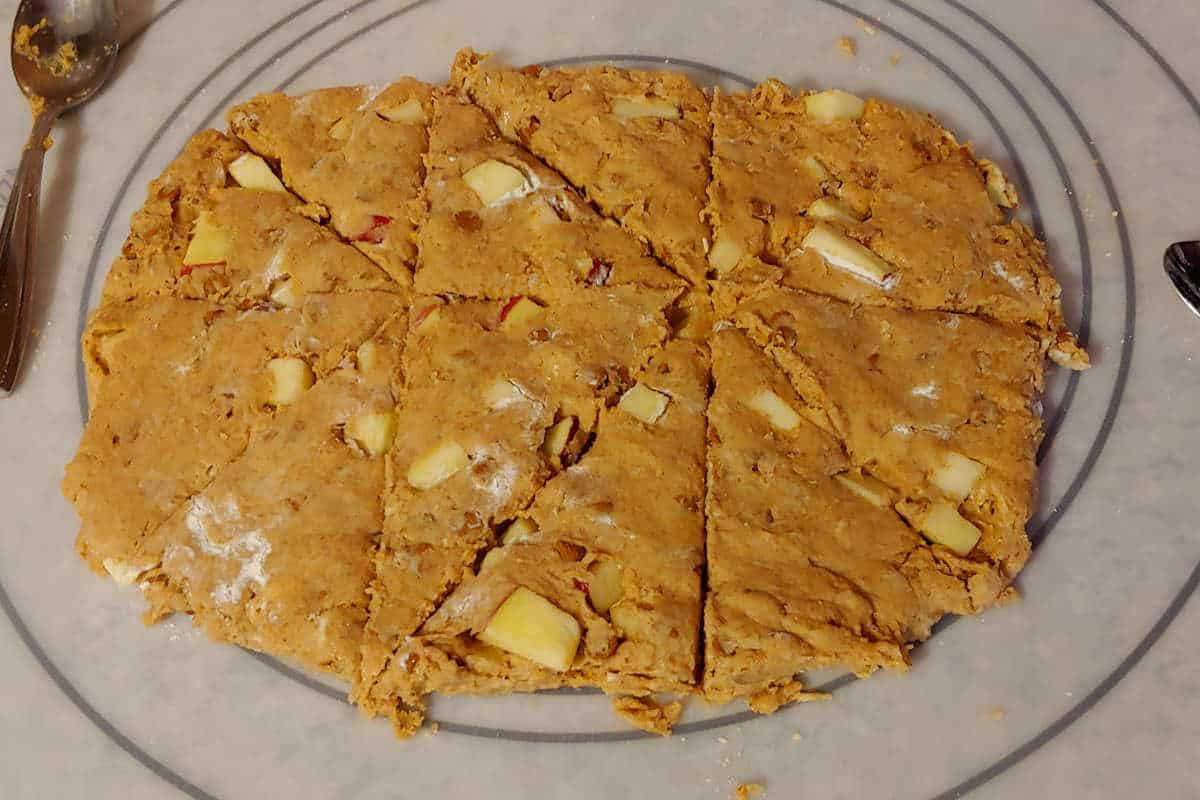 Brush with a little milk or water so that cinnamon-sugar sticks to the dough, then sprinkle with cinnamon sugar.
Separate the wedges, place on a parchment-lined baking sheet (or place the parchment you used directly on your baking sheet). Then comes the worst part - placing the sheet in the freezer for 30 minutes to let the dough firm up.
Why put it in the freezer? It lets the butter stiffen, and the scones puff up more and spread less. You can skip this step if you're impatient, though.
Next, bake them and have a great fall breakfast!
With the heavy amount of cinnamon in this, and the sweetness of the cinnamon chips (affiliate link), this is a great time to add whole wheat flour. I've consistently used half white whole wheat flour in this recipe instead of all-purpose.
You could use brown sugar instead of granulated in the dough if you'd like. I used demarera sugar instead of sparkling sugar on the top. The large crystals give the topping a fantastic crunch! But you can use regular granulated sugar on top if that's all you have.
Cinnamon chips (affiliate link) are incredibly hard to find! I couldn't find them at Shoprite or Walmart. I did find them at Target, but only at Halloween in the seasonal aisle. You can buy cinnamon chips from Amazon for a premium. Butterscotch chips or caramel chips would add just as much sweetness, and are easy to find at grocery stores.
These scones call for applesauce instead of milk, which other scone recipes often use. I used one of my thinner attempts at apple butter in them.
How to Make Scones in Advance
Scones are great baked goods to make ahead of time!
Just make the dough, pat it out, brush it with milk and sprinkle with cinnamon sugar. Separate the wedges a little, then place them on waxed paper or parchment on a plate, and stick them in the freezer. (The waxed paper makes it easier to remove them from the plate later.) Place them in a freezer bag once they're frozen.
When you're ready to bake them, just heat your oven as usual. Place the scones on your parchment-lined baking sheet and bake them directly from frozen. No need to thaw! Bake them for 2-3 extra minutes.
I often freeze dough for scones. Since this recipe makes 12 scones, I make half of them immediately, and freeze the other half to have another morning.

How Do Apple Scones Taste?
The scones are delicious! Since the scones bake at a high temperature (425F), they get a little crisp on the outside while the interior stays tender and soft. I loved the contrast of this interior with the crunchy top - especially the large crunchy sugar crystals.
I noticed the cinnamon chips more than the diced apple - it made these scones rather sweet - but we could definitely taste the apple pieces. Using tart apples helped the apples stand out. And of course, the applesauce adds to the apple flavor. Want the apples to stand out more? Omit the cinnamon chips entirely and double the amount of apple instead.
These scones are best the day they're made. You're best off baking only what you want to eat that day, and freezing the rest to bake when you want to eat the others. If you do end up with leftovers, though, you can store them at room temperature; heat them in the microwave for 5-10 seconds before eating.
Want other apple recipes? Try Caramel Apple Pie, Apple Galette, Apple Pie Bars, Apple Cider Donut Cake, or Slow Cooker Apple Butter.
Interested in other recipes? I save and share recipes I like or want to try on my Pinterest page - follow me there! You can also check out my Facebook page for more recipes and helpful tips. I'm also happy to try to help troubleshoot my recipes there.
Have you tried this recipe? Or have a question about it? Rate it or leave a comment below! (PS: rating my recipes helps other people find them, too!)
In the past:
One Year Ago: Milk Chocolate Stout Ice Cream, Apple Pie Bars
Four Years Ago: Cinnamon Bread
Five Years Ago: Banana Muffins
Six Years Ago: Espresso-Chocolate Chip Shortbread
Seven Years Ago: How I Like to Make Ribs in the Oven
Eight Years Ago: Sourdough Grissini, Black Forest Cherry Cake
📖 Recipe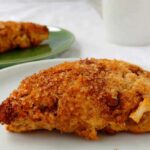 Fresh Apple Cinnamon Scones
Delicious Fresh Apple Cinnamon Scones with chopped apple and cinnamon chips, with crunchy cinnamon sugar baked onto the top! Try with butterscotch/caramel chips too!
Keyword:
fresh apple cinnamon scones
Ingredients
1 ⅜

cup

flour

(163 grams)

1 ⅜

cup

white whole wheat flour

(163 grams) (use all-purpose flour instead if desired)

⅓

cup

sugar

(67 grams)

1

tablespoon

baking powder

⅜

teaspoon

table salt

1

teaspoon

cinnamon

8

tablespoons

butter

¾

cup

finely chopped apple

(101 grams)

¾

cup

cinnamon chips

(130 grams)

2

eggs

1

teaspoon

vanilla

½

cup

applesauce

(or use lightly spiced apple butter, if desired)
Topping
2

tablespoons

sparkling sugar or demarera sugar

½

teaspoon

cinnamon
Instructions
Combine flours, sugar, baking powder, salt, and cinnamon in a bowl. Use a pastry cutter to cut in the butter, working it until the butter resembles small pebbles. Add chopped apple and cinnamon chips, and toss to combine.

Separately, combine eggs, vanilla, and applesauce. Pour wet ingredients into dry ingredients and stir until just combined. If not all of the dry ingredients are moistened, that's okay. Use your hands to gently turn the damp dough, pressing the remaining flour mixture into it. Knead until the dough just comes together.

Divide the dough in half, and pat each half into a 5-6 inch circle onto a lightly floured surface. (Or, pat all dough into a rectangle, and cut into 12 squares.) Brush each circle with a little milk or water. Combine sparkling sugar and ½ teaspoon cinnamon, and sprinkle on top of the dough.

Cut each circle into 6 wedges and place them separately on a baking sheet lined with parchment. Put pan with scones in the freezer for 30 minutes to firm up the dough.

Preheat oven to 425F. Bake scones for 18-22 minutes (mine were done at 16-17 in a hot oven). A toothpick will come out clean, and the tops will be nicely browned. Serve warm.
Recipe Notes
You can use apple butter instead of apple sauce in this recipe if desired.
I only found cinnamon chips at Target in the Halloween aisle. If you can't find them, use butterscotch chips or caramel chips instead. 
This recipe is great for making ahead! Freeze the scones after shaping and cutting them. Bake from frozen for an extra 2-3 minutes.
adapted from King Arthur Flour
(Originally published January 18, 2014. Recipe, photos, and text updated October 2018.)