The weather has no idea what the season is. It's March, yet we have windy, January temperatures. And in a week we'll likely be 15 degrees above normal again. Even with budding spring weather, though, it's a great time to make this Sweet Hot Chocolate Mix!
Despite mild winter temperatures, I'm cold in the evenings and have drank a lot of hot chocolate. It's a perfect wholesome yet luxurious treat that, with this mix on hand, you can prepare in just a few minutes!
I've labeled it Sweet Hot Chocolate Mix because this one is sweeter than the Decadent Hot Chocolate Mix I've been making in recent years. But believe me, it's still rich! It has cocoa powder plus both semisweet and milk chocolates - lots for any chocolate lover.
Jump to:
[This post contains affiliate links. I may make a commission for purchases made through links on this post. As an Amazon Associate, I earn from qualifying purchases.]
Ingredients
This was the hot chocolate mix I started out making, back in the early days of the blog. I adapted it from this Hot Chocolate Mix recipe from King Arthur Baking.
You only need a few ingredients to make this mix!
This recipe takes both chocolate and cocoa powder. I've tried hot chocolate using only one or the other, and it's not nearly so good as using both.
Chocolate is the star of the show; it adds a silky texture you don't get from only cocoa powder.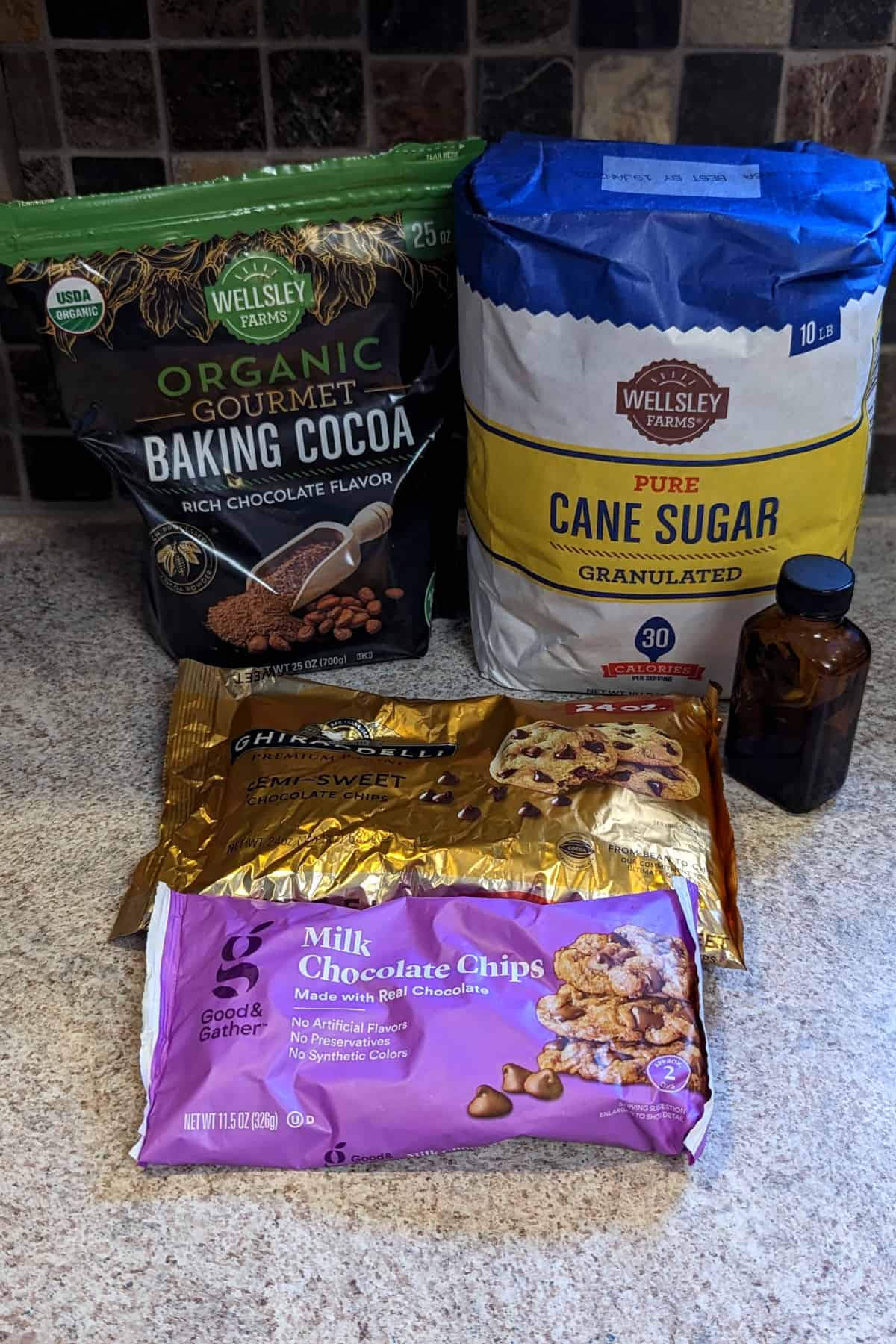 This uses two kinds of chocolate:
Semisweet or dark chocolate is the primary chocolate here.
Milk chocolate rounds out the flavor. I've used Target-brand milk chocolate here because it's what I had.
Use something good that you enjoy eating out of hand. Your mix will only be as good as the chocolate you put in, so be picky. I love Ghirardelli chocolate chips (affiliate link), and I also like using Nestle Dark Chocolate Chips, which I can buy large bags of now at BJ's. Years ago, I would use chocolate from Trader Joe's because it was both convenient and economical.
If you want an even sweeter hot chocolate mix, switch the amounts of semisweet and milk chocolates! If you do, definitely spring for a yummy, name-brand milk chocolate.
Unsweetened cocoa powder also adds flavor and depth. Use whatever you find. I've used a BJ's store brand here, but Trader Joe's, Hershey's cocoa powder (affiliate link), and even Saco cocoa powder (affiliate link) are fine.
Granulated sugar and vanilla round out the ingredient list. You could use brown sugar, but it wouldn't add anything and would likely make the mix clumpy. A turbinado sugar likely wouldn't mix well due to its large crystal size, but use it if that's all you have. Omit the vanilla if you want, or switch it out for almond extract for a special treat.
Make the mix
You've got the ingredients. Next, make the mix!
Put all your ingredients into a food processor.
Process for a minute or so, until everything is chopped up and well-combined! The grinding sound will change as everything becomes powdery.
Using a food processor is extra important for this recipe; my Breville food processor (affiliate link) works very well.
Grating or finely chopping the chocolate does not make it fine enough to melt easily into your milk in the microwave (my preferred form of preparation). Do it if you must, or as a first step before putting it in the food processor if yours doesn't chop things very well.
It looks a little silly, but I always place a towel over my food processor when I grind things into a powder. Otherwise, I find that sometimes I have cocoa fumes float out and settle on the counter! Likewise, let the dust settle in your machine before you open it.
Once you've made your hot chocolate mix, spoon it into a glass jar for storage. Label it for good measure!
Make a mug of hot chocolate
Now that you've got a delicious hot chocolate mix, you can finally make yourself some hot chocolate!
First, decide how much hot chocolate mix you'd like to use:
3 tablespoons/~36 grams makes a sweet but reasonable hot chocolate
4 tablespoons/~45 grams makes a candy bar-level sweet hot chocolate
If you've flipped the chocolate ratios so you used more milk chocolate than dark chocolate, start with 3 tablespoons.
You can make this on the stove, but I prefer using the microwave to make a single serving.
Add your serving of hot chocolate mix and one 8-ounce cup of milk to a mug. Stir or don't stir, it's your choice.
Microwave for one minute to start to melt the chocolate. It will start to bubble.
Stir everything up to start to dissolve the chocolate, then microwave again for another 45-60 seconds. I do 60 because I like mine scalding. Don't microwave your spoon.
Stir your hot chocolate again to mix everything together. Top with a marshmallow!
Let everything cool a little before you sip it. But then, sit there and enjoy!
Variations
As I've said, switch the ratio of semisweet and milk chocolate to take this to candy-level sweetness!
Instead of milk chocolate, try adding part of one of those festive chocolate oranges! (And use the rest of it to make Chocolate Orange Scones!)
Switch out the vanilla for almond extract. Or, switch it out for ¼ teaspoon peppermint extract for mint hot chocolate.
Play with the amount of mix you add to your milk. 3 tablespoons is reasonable richness and sweetness. 4 tablespoons is candy bar-level!
I always make hot chocolate with dairy milk, usually 1% or 2% milk. However, it works well with nondairy milk as well!
Coconut milk and almond milk make your hot chocolate coconutty or almondy, respectively. Soy milk makes for a more neutral hot chocolate, but it will still taste different from using dairy milk. I have not tried it with oat or other milk varieties.
If you're using nondairy milk to accommodate a dairy allergy or vegan diet, you'll need to look at the chocolate labels! Be sure your semisweet chocolate does not include dairy. Substitute semisweet chocolate for the milk chocolate, but I recommend you use 2 different kinds of chocolate with different amounts of cocoa solids for nuance.
If you don't want to use milk at all, I recommend you try something different instead, like my hot cocoa mix.
Storage
For long-term storage at home, I save and use old glass storage jars, like empty jam jars. (Reduce and reuse!) Keep it away from light and heat.
This mix will last all season, as long as your ingredients are good. If your chocolate is really fresh when you buy it and you store it in glass, your mix will likely be good next fall!
Hot chocolate mix is one of my favorite things to give as a food gift! I often package it up to send to friends and family because it stores and ships so well.
For gifting or shipping, I often put it in plastic storage containers. Cleaned Talenti gelato jars will hold a batch of this hot chocolate mix; they're sturdy and won't pop open in the mail.
Serving
It should go without saying that once you prepare it with milk, you should drink the hot chocolate within 1-2 hours, for food safety purposes.
You can top the hot chocolate with whipped cream, but really, you should use marshmallows instead! I particularly recommend my Homemade Marshmallows. My Homemade Chocolate Marshmallows would also be delicious, but the chocolate chips in them will likely sink to the bottom as the marshmallow melts.
This is a rich, delicious hot chocolate - a dessert unto itself. I don't really think you need anything else to go along with hot chocolate, but you couldn't go wrong with a Gooey Butter Cookie or some Shortbread.
Want a darker, less sweet hot chocolate? Try Decadent Hot Chocolate Mix. For a mix that you just add water to, try Alton Brown's Hot Cocoa Mix.
Other Food Gifts
Here are some recipes for my other favorite food gifts!
More Chocolate
Here's more recipes to satisfy your chocoholic needs:
Interested in other recipes? I save and share recipes I like or want to try on my Pinterest page - follow me there! You can also check out my Facebook page for more recipes and helpful tips. I'm also happy to try to help troubleshoot my recipes there.
Have you tried this recipe? Or have a question about it? Rate it or leave a comment below! (PS: rating my recipes helps other people find them, too!)
📖 Recipe
Hot Chocolate Mix
A delicious, sweet but rich hot chocolate mix. Easy to make, in just 5 minutes. Drinking this hot chocolate is like drinking a candy bar!
Keyword:
hot chocolate mix, sweet hot chocolate mix
Ingredients
Hot Chocolate Mix
½ cup + 2 tablespoons

semisweet chocolate

105 grams

3

tablespoon

milk chocolate

37 grams

¼

cup

cocoa powder

20 grams

½

cup

granulated sugar

100 grams

½

teaspoon

vanilla
To Make Hot Chocolate
3

tablespoons

hot chocolate mix

36 grams; use 4 tablespoons/45 grams for a really sweet mug

1

cup

milk

240 grams/8 ounces
Instructions
Making the Mix
Combine all ingredients in the bowl of a food processor fitted with the blade attachment. (Pour the vanilla extract onto the sugar so it doesn't stick to the bowl.)

Process the ingredients for about a minute, until well-combined. The sound of the grinding will change as the chocolate becomes powdery. If necessary, scrape down the bowl and pulse a few more times to get everything blended well.

Spoon the mix into a glass storage jar. Label and store away from heat and light.
Making Hot Chocolate
Measure 3 tablespoons (35 grams) or 4 tablespoons (45 grams) of hot chocolate mix into a microwave-safe mug. Add one 8-ounce cup of the milk of your choice.

Microwave for one minute, then stir to begin to dissolve the chocolate.

Microwave for another 45-60 seconds. (I do 60 seconds to make my hot chocolate scalding.) Stir again to combine. Top with a marshmallow. Sip cautiously until it cools.
Recipe Notes
Use 3 tablespoons for a reasonable but rich cup of hot chocolate. Use 4 tablespoons of mix for a candy bar-level amount of sweetness.
I find a food processor essential for this recipe. A bullet blender works okay, but not ideally. Grating the chocolate is not sufficient as it means you have to heat the hot chocolate mix with the milk for longer.
You may switch the amounts of semisweet and milk chocolate for a sweeter hot chocolate mix. 
Dairy milk (1%, 2%, and whole) all work well, as do coconut milk, almond milk, and soy milk. 
If making for a dairy-free or vegan diet, check the ingredient lists of your chocolate. Use semisweet chocolate for the milk chocolate, but use two chocolates with different amounts of cocoa solids. 
Substitute almond extract for the vanilla extract if desired. For mint hot chocolate, substitute ¼ teaspoon peppermint extract for the vanilla. 
Originally published in 2012.
Calorie count is an estimate, for 3 tablespoons/38 grams of mix. It does not include calories from milk. Your calorie count will vary based on the ingredients used.
Recipes from the past
[Originally published January 2012. Text, instructions, and photos updated March 2023.