These Fudgy Butterscotch Bars are blondies with a layer of fudge in the middle, but that description hardly does them justice. Rather, they're a half-fudge, half-blondie mash-up that's mostly fudge, with just enough butterscotch blondie in there that you can pick them up to eat them without your hands becoming unbearably chocolatey.
A thick, rich layer of fudge made with sweetened condensed milk is sandwiched between a very simple blondie batter. The butterscotch blondie bakes up delightfully chewy along the edges, and provides just enough contrast with the fudge in the rest of the bars in the center.
They're very rich, but also very delicious.
I find these bars addictive, which makes it a shame (or a blessing) that you make these in a medium-sized (15-inch) jelly roll pan (affiliate link). I guess that's plenty for me, as well as plenty to share?
Jump to:
[This post contains affiliate links. I may make a commission for purchases made through links on this post. As an Amazon Associate, I earn from qualifying purchases.]
My history with this recipe
The recipe originally comes from the Pillsbury Best Cookies Cookbook (affiliate link), one of the first cookbooks I bought, off of a bargain shelf at a mall bookstore while I was in high school. It's also one of the cookbooks that survived the cookbook purge I made when I moved from St. Louis to New Jersey. Definitely worth the five dollars I spent on it; I'm glad I kept it.
I originally made these as a part of my 365 Recipe Challenge way back in 2010, I stubbornly made them in a 9x13-inch pan (affiliate link). They were delicious that way, but not as good as they are in the properly sized pan. That said, use the smaller pan if you don't have the 15-inch pan.
As with most recipes from 2010, I put them aside in favor of new recipes. I didn't revisit them again until 2017 when I went digging through my archives. Which is a shame, because I was really missing out!
I really love making these when I want to take a sweet to share with friends, while keeping plenty at home for us as well.
Ingredients
These Fudgy Butterscotch Bars are remarkably similar to those Revel Bars or Chocolate Oat Bars that people make sometimes. This is better, though, in that it's completely devoid of nutritive value! 🤣 Just lots of butter, sugar, and chocolate here.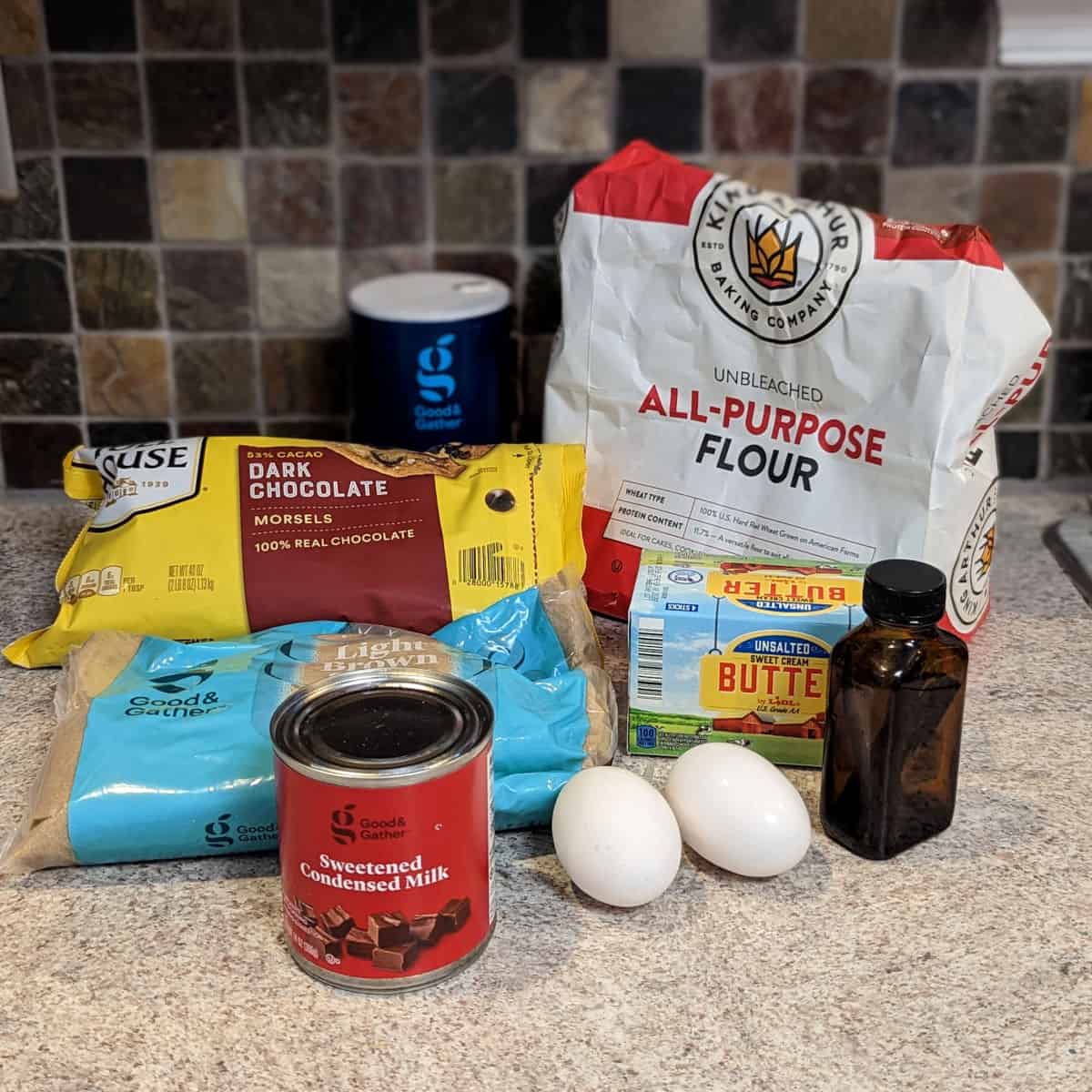 I always use real butter when I bake nowadays, but the Pillsbury cookbook also listed margarine as an option. I recommend cutting back on the salt if you use margarine.
As usual, you should use chocolate that you'd eat out of hand in this recipe. The fudge is a pretty major player for these.
Sweetened condensed milk is not the same as evaporated milk. While both are cooked down so they are shelf-stable in a can, they are not interchangeable. Sweetened condensed milk has sugar added to it, and is much thicker.
You can use light or dark brown sugar. Light brown sugar is usually a bit easier to find, but both will work.
Flour, vanilla, and eggs round out the ingredient list.
Instructions
First, make the fudge layer. This is easiest in a medium pot on a stove-top.
Be patient and melt the chocolate over low heat! Chocolate burns easily, and will become clumpy.
Combine chocolate, sweetened condensed milk, and butter in a saucepan and heat over low heat.
Stir gently and often, scraping the bottom to be sure the chocolate doesn't burn.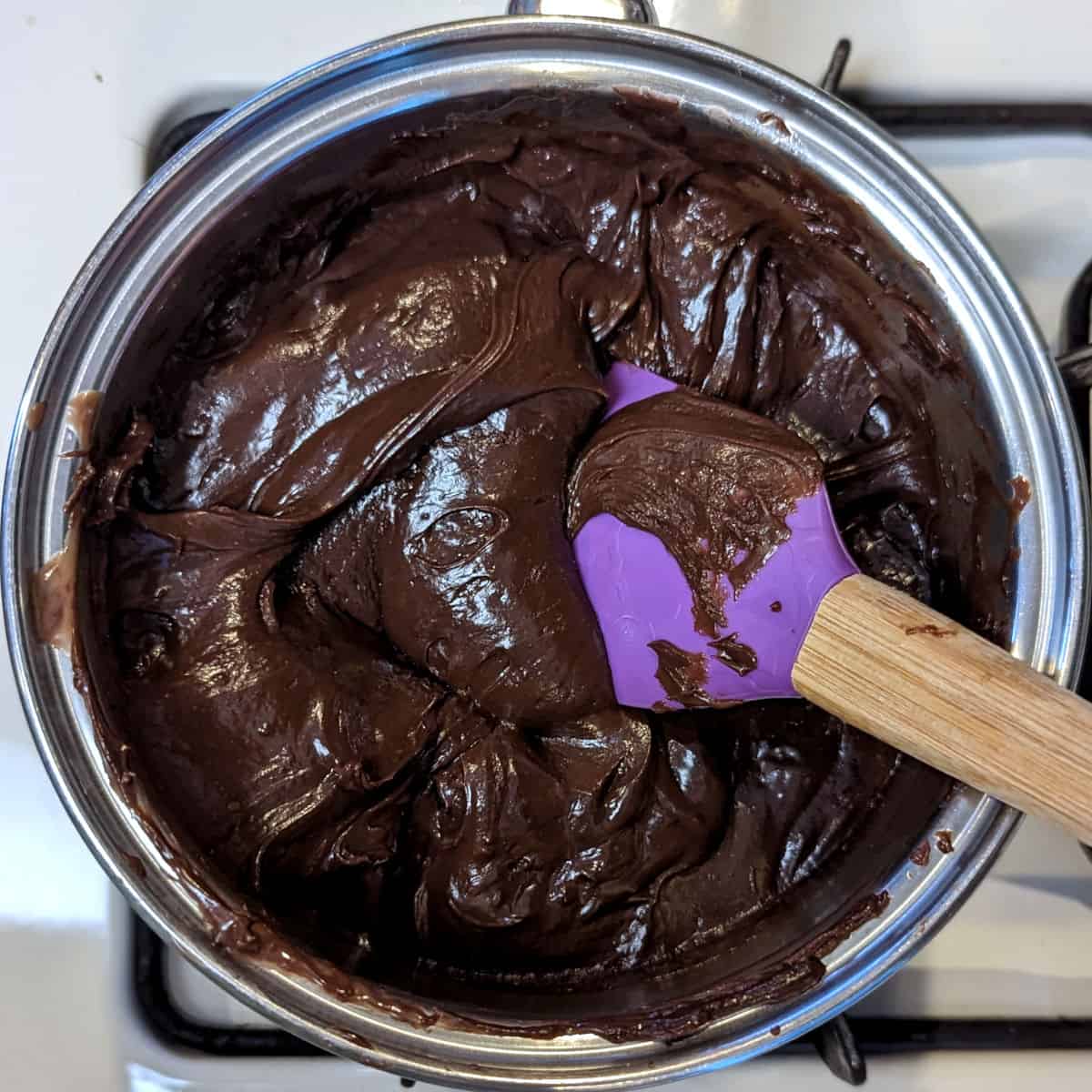 Eventually the chocolate will melt into the sweetened condensed milk and turn into a smooth, fudgy chocolate ganache.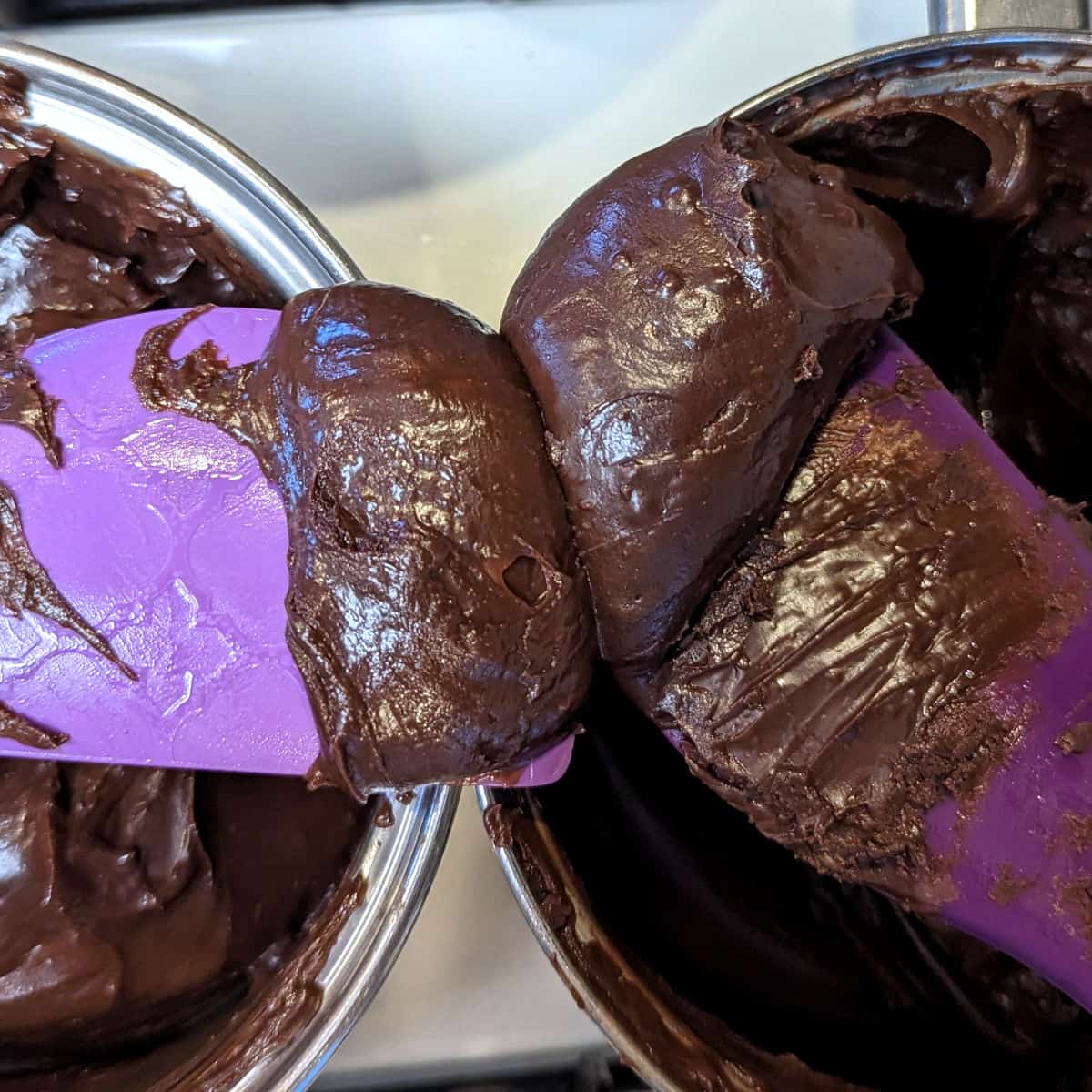 This can often take 10 minutes. Again, keep it on low! Chocolate that overheats turns clumpy and won't dissolve. See the lumps in the chocolate on the right when I overheated it?
If you've overheated your chocolate, you can cool it back down to room temperature and try it again. It will smooth out a bit more the second time around, as long as you cook it on low heat; after that, it will still be delicious in bars. I promise.
Next, we make blondie batter.
Melt your butter. Cool slightly, then stir in brown sugar, salt, vanilla, and eggs. Whisk well.
Add flour and stir well to combine. Scrape the bottom to be sure there's no dry flour.
I've tried dividing the batter different ways to layer with the fudge, and it really does work best if you only put half the batter on the bottom. Don't be tempted to use ⅔ or ¾ of the batter on the bottom. That will just lead to the batter on the top of the bars turning brittle and stale after a few days.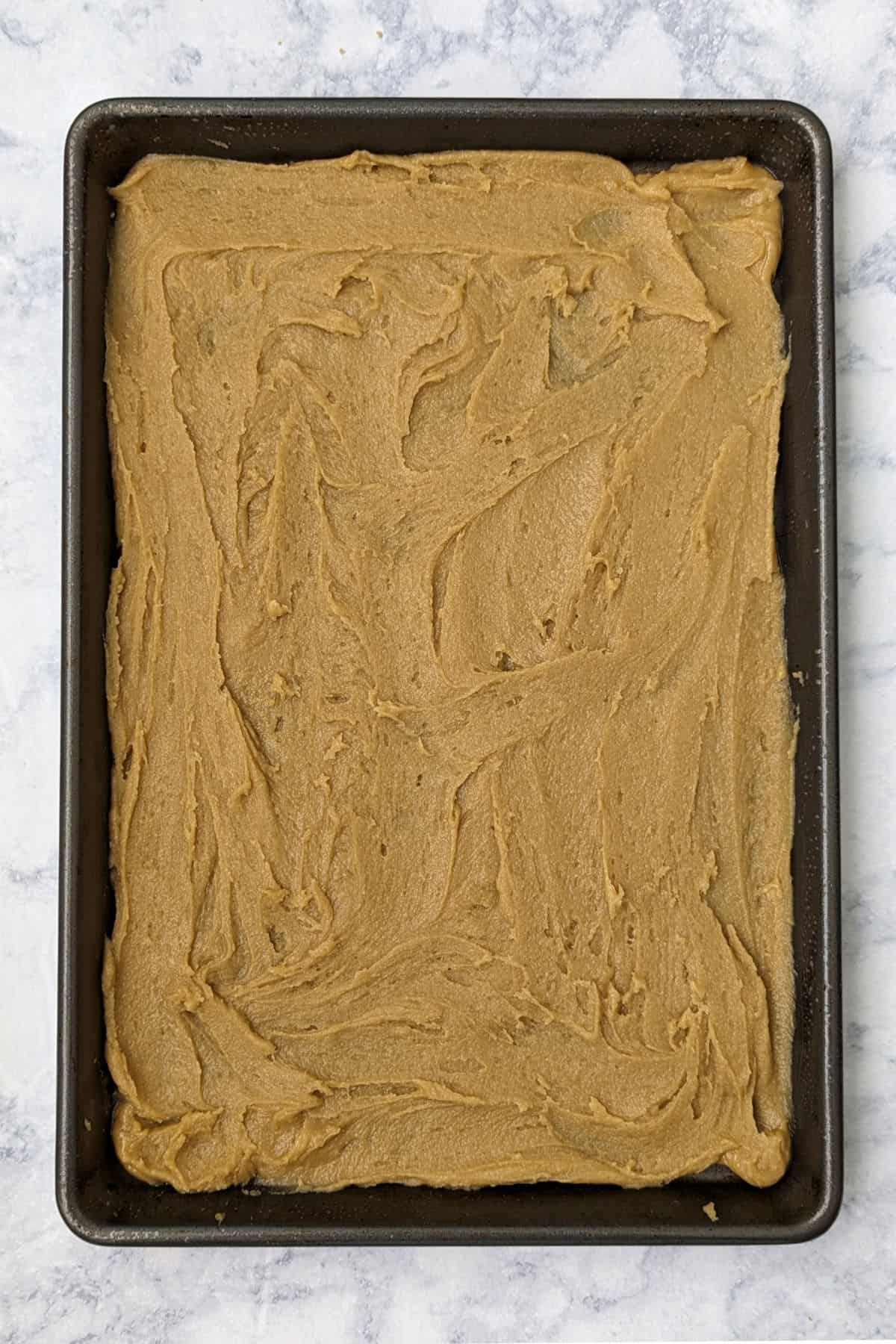 Spread half of the butterscotch blondie batter into a greased 15x10-inch jelly roll pan (affiliate link), getting it to the edges.
Dollop with spoonfuls of the chocolate fudge.
Spread the fudge out. Try not to push it down if possible, but also don't worry about it too much.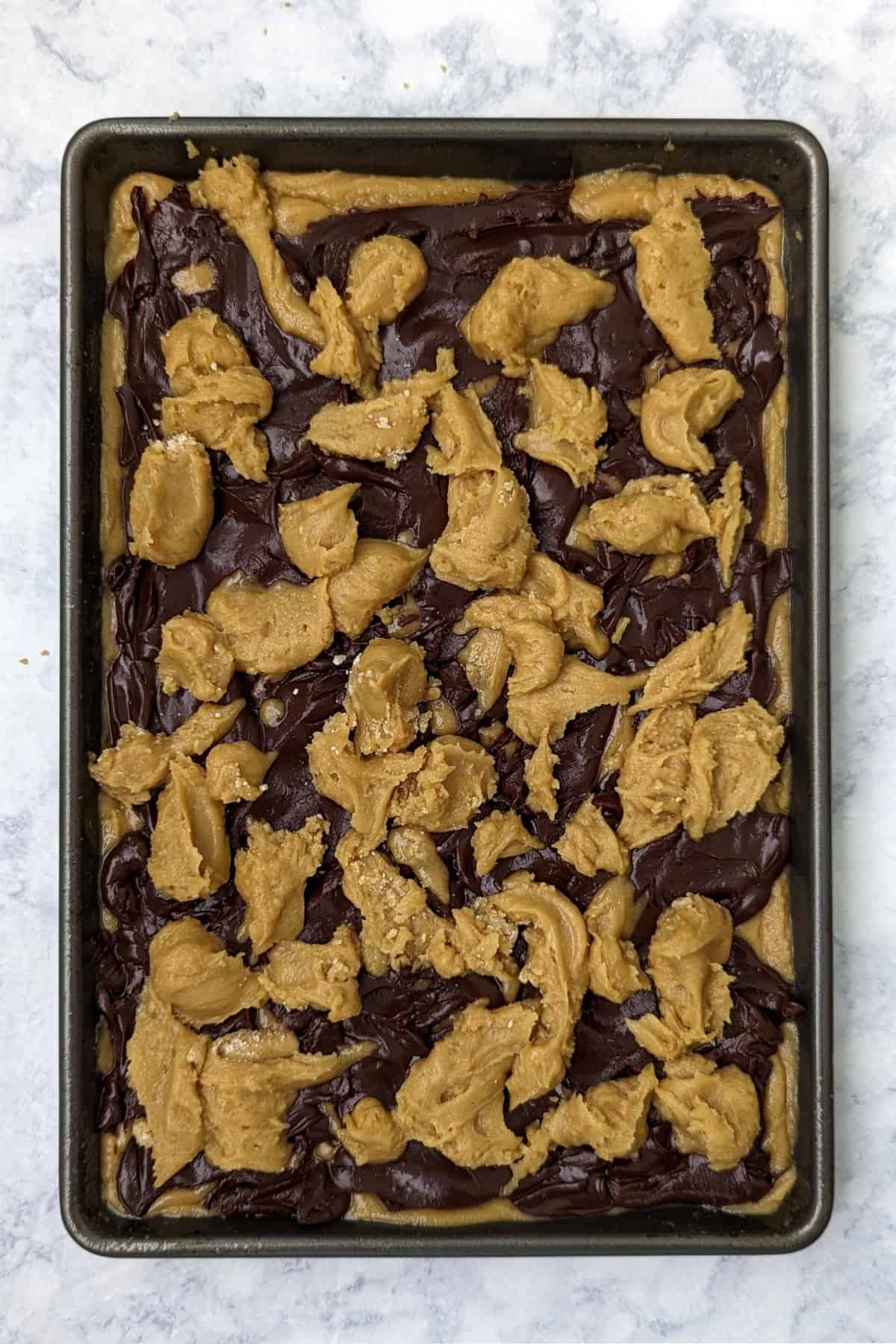 Top with tablespoonfuls of the blondie batter.
Use the flat side of a butter knife to spread the blondie batter over the top of the fudge, but you don't need to cover it all. Use the knife's tip to swirl.
Bake until the center is set and golden.
Cool completely, or at least an hour or two, before cutting.
Serving and Storage
Remember, the bars are rich, so cut them in a 6x8 grid to get 48 bars. I carefully use my bench scraper (affiliate link) to cut through them; if you have a non-stick pan, you will damage the finish if you saw back and forth with a butter knife.
Since this makes such a big pan, there's plenty for everyone. The edges are caramelized and chewy (my favorites!) but the centers are the fudgiest.
Store cut bars in an airtight container. They're shelf-stable so there's no need to refrigerate them unless you prefer them cold.
They're usually still pretty good here after 3-4 days. The fudge keeps them moist. I expect they would freeze well too, although I personally don't freeze cookies.
Find them to be too rich? Definitely try it with a glass of milk on the side!
Other Fudgy Delights
Interested in other recipes? I save and share recipes I like or want to try on my Pinterest page - follow me there! You can also check out my Facebook page for more recipes and helpful tips. I'm also happy to try to help troubleshoot my recipes there.
Have you tried this recipe? Or have a question about it? Rate it or leave a comment below! (PS: rating my recipes helps other people find them, too!)
📖 Recipe
Fudgy Butterscotch Bars
Sweetened condensed milk chocolate fudge baked into layers of butterscotch blondie. Rich and delicious, and makes plenty to share!
Keyword:
fudgy butterscotch bars
Ingredients
Fudge Layer
2

cups

chocolate chips

340 grams/12 ounces/ 1 bag

14

ounces

sweetened condensed milk

1 can; not evaporated milk

2

tablespoons

butter

28 grams
Butterscotch Blondie Layer
1

cup

butter

16 tablespoons or 2 sticks, melted

2 ¼

cups

brown sugar

450 grams

2

eggs

1

teaspoon

table salt

1

teaspoon

vanilla

2

cups

flour

250 grams
Instructions
Fudge Layer
Chocolate will scorch if overheated, so heat carefully on low heat.

Combine chocolate chips, 2 tablespoons butter, and sweetened condensed milk. Heat over low heat and stir constantly until chocolate chips are melted and mixture is smooth, being sure to scrape the bottom. Set aside.
Butterscotch Blondie Layer
In a large saucepan or large microwave-safe bowl, melt the butter. Add the brown sugar, salt, and vanilla, and whisk to combine. Whisk in the eggs, mixing well (about 30-60 seconds should do it).

Use a rubber spatula to stir in the flour. Mix until there's no dry flour, even when you scrape the bottom, but no need to overmix.

Spread half of the blondie batter in the bottom of a greased 15x10 inch baking pan. Drop fudge by tablespoonfuls over blondie batter, and carefully smooth so it covers almost the entire pan.

Drop remaining blondie batter in tablespoonfuls over the fudge. Use the flat part of a butter knife to smooth the batter out, covering most but not all of the fudge. Use the tip of the knife to swirl the batter together.

Bake at 350F for 25, until center is set and edges are golden. Cool for at least one hour, then cut into 48 bars. Store in an airtight container.
Recipe Notes
If desired, you can optionally put ½ cup shredded coconut and ½ cup chopped nuts into the blondie layer.
Sweetened condensed milk is not the same as evaporated milk; the latter will not work in this recipe.
To make fudge layer in the microwave: heat in a large microwave-safe bowl on high heat in 10-15 second bursts, stirring after each one, until chocolate is melted and mixture is smooth. Do not overheat.
If you overheat your fudge and it's lumpy, and you don't have extra ingredients, you can salvage it! Set it aside until the mixture is at room temperature. Then, reheat it on low heat, stirring carefully and scraping the bottom. The fudge will never become perfectly smooth, but you won't notice issues in the bars.
Split the blondie batter as evenly as possible between the top and bottom layers. Add a little more to the bottom if necessary to get it to spread out, but these bake best if the layers are equal.
Adapted from the Pillsbury Best Cookies Cookbook. 
Calorie count is an estimate only and was generated in MyNetDiary.
Originally posted in 2010 and again in 2017; updated in 2023 for clarity. 
Recipes from the past