Shortbread is such a versatile cookie that I really needed a go-to recipe for it. My go-to just happens to be Ina Garten's Shortbread Cookies.
Many people find shortbread boring. I used to be one of those people. But really, a good shortbread cookie is amazing. They're firm but tender (NOT HARD!), sweet, lightly flavored with vanilla, and rich from butter.
Shortbread cookies go with just about anything and everything. Hot cocoa? Shortbread. Coffee? Shortbread. Quick dessert after just about any dinner? Still shortbread. Wine, whether red or white? Definitely shortbread, which won't clash with either variety.
[This post contains affiliate links. I may make a commission for purchases made through links on this post. As an Amazon Associate, I earn from qualifying purchases.]
I first made these cookies way back in December 2011, after digging around for inspiration in The Barefoot Contessa Cookbook (affiliate link), and I wasn't necessarily very good at making a cookie that wasn't gooey. Now, however, I make shortbread cookies for most of the book clubs I attend (since they play well with wine, like I mentioned). I've got the method down, so make some with me!
Jump to:
Ingredients
You only need a few ingredients for shortbread. Just as every other shortbread recipe will tell you, you'll need to be sure you use good quality ingredients because of this!
When I say that, I mean flavorful and unexpired. Premium ingredients can be great, but generics can be fine.
I use unsalted butter because salted butter would add way too much salt. Make sure your butter is fresh and hasn't absorbed odors from the refrigerator.
Granulated sugar adds sweetness. You could gussy it up with something else, but really, there's no need.
Use real vanilla extract. Read the label. It should just be vanilla extractives in water and alcohol, maybe with a little sugar.
I go through enough all-purpose flour that I never have to worry about it going bad. And I never really hear about flour going bad, except in the context of whole wheat flour. But make sure your flour hasn't absorbed odors or anything like that.
I add in fine-grained table salt with the flour, and it mixes in evenly. Larger-grained kosher salt may not work as well.
Equipment
I always make shortbread cookies with the stand mixer, and I consider this to be a secret to making good shortbread cookies. There's no added liquid in these cookies, so you need something powerful to combine the butter, sugar, and flour.
You can try an electric hand mixer to cream the butter and sugar, but it will take longer. And your hand mixer may struggle if you try to use it to mix in the flour. I tried making shortbread by hand a few times before I started this blog; I don't recommend it.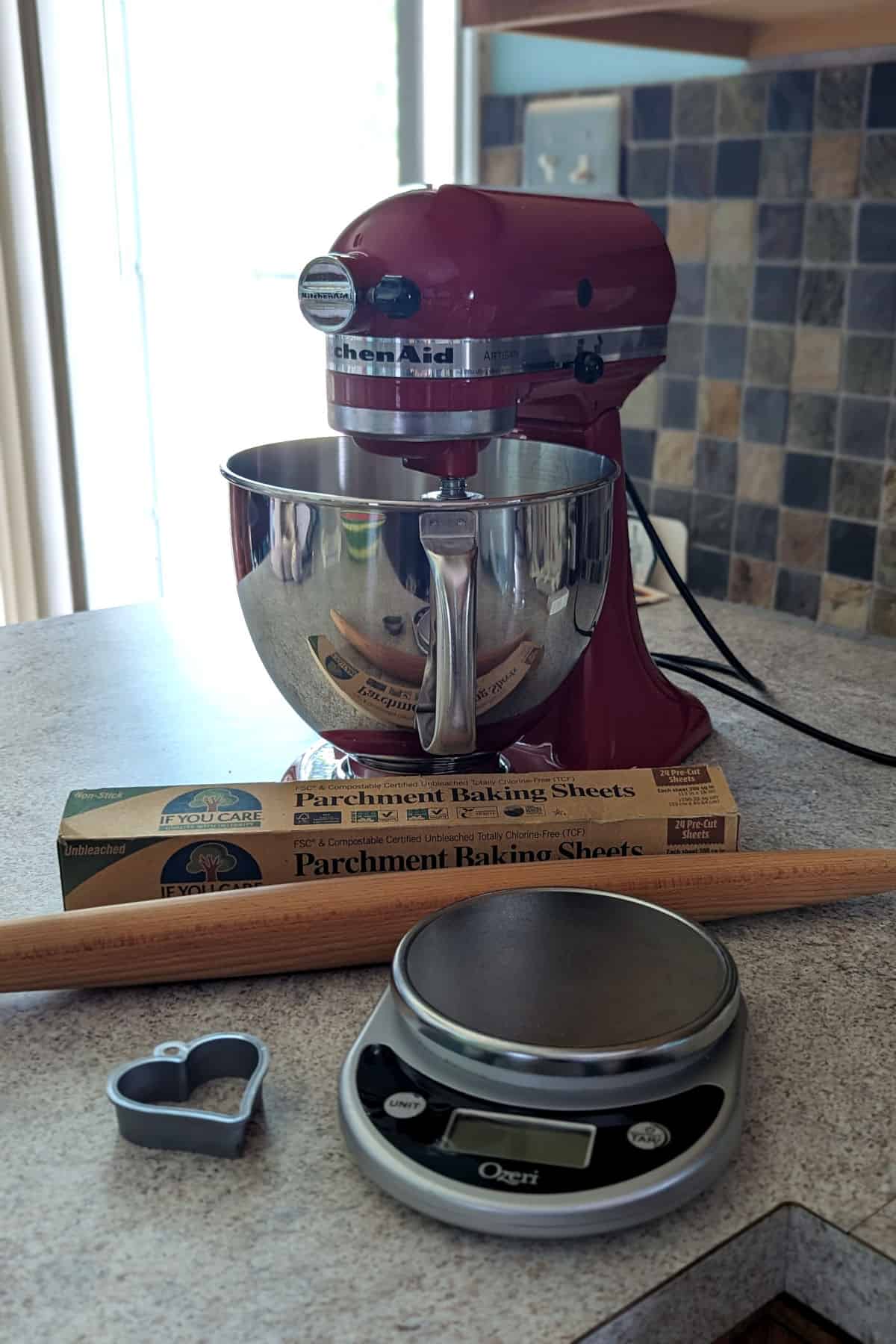 You use a rolling pin to roll out the dough. In a pinch, you could use a wine bottle or something else similarly round and smooth.
I sandwich the dough between waxed or parchment paper to roll the cookies out, because that way you don't need a floured surface for rolling. I find this to be cleaner, and it leads to better cookies because you don't work extra flour into the dough.
While you don't have to use a cookie cutter to cut out cookie shapes, it's much cuter if you do!
Instructions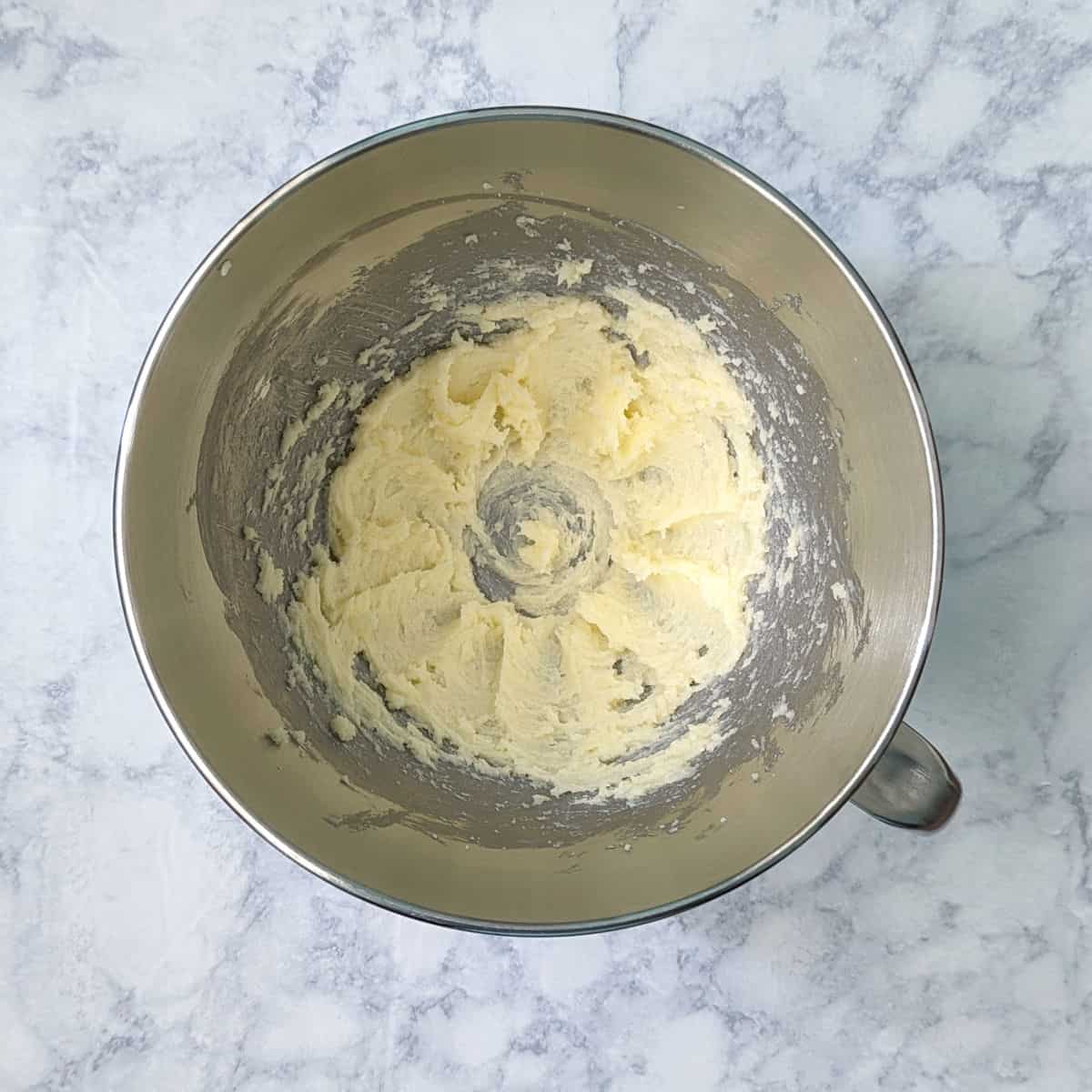 Cream your butter and sugar in the stand mixer until just combined. It should be creamy and smooth, but not fluffy, as that would add air to the dough and make your cookies rise and expand. Add in the vanilla.
Mix in the flour and salt on low just until the dough clumps together. Don't overmix; that would make the cookies tough.
Dump the crumbles out onto waxed or parchment paper. I've made a one-third batch of shortbread dough here. If you've made a full batch, divide the dough into two piles for easier rolling.
Use the edges of the paper to squish and mold the crumbles of dough together into a mass. Use your hands to flatten it out. This makes rolling easier.
Place a sheet of parchment over the dough, and roll it out until it's ½ inch thick. Then wrap the dough and refrigerate for 30 minutes. I roll my dough before I refrigerate it because it's easier to roll that way.
After the dough has chilled for 30 minutes, remove it from the refrigerator and cut into shapes. Squish together the scraps, reroll to ½ inch thickness, and cut out more shapes. Repeat until you've used all the dough.
Place the shortbread cookies on an unlined, ungreased sheet pan. (I usually use silicone mats, but you don't need them here!) The cookies shouldn't expand much, so you can place them close together. Sprinkle with sugar and refrigerate for 10 minutes while you preheat your oven.
After the shaped cookies have chilled for 10 minutes, bake them! Cookies are done when the edges begin to brown. (The very dark cookie seen on this pan was the remaining scraps and was only ¼ inch thick. Not pretty, but still tasty.)
Cool the cookies completely on the baking sheets.
Top Tips
Two tips to keep your cookies from spreading:
Use enough flour in the dough. I measure my flour by weight; 470 grams flour is how much my flour weighs if I scoop 3 ½ cups flour with a ¼ cup measuring cup. The dough should not be sticky, which it will be with too little flour. With the right amount of flour, it should be easy to roll out the dough at room temperature between 2 sheets of parchment.
Chill the dough before cutting the shapes, and chill it again immediately before baking.
Storage and Serving
These rich, sweet shortbread go well with anything and everything. Serve with coffee or tea or hot chocolate. Add them as an accompaniment to a meat and cheese platter. Take them to a wine party. They pair well with chocolate.
I won't blame you if you eat them for breakfast, or for your afternoon snack. I've been known to to both.
Shortbread cookies should be stored in an airtight container. They'll last 3-5 days, maybe longer.
Other buttery treats
Interested in other recipes? I save and share recipes I like or want to try on my Pinterest page - follow me there! You can also check out my Facebook page for more recipes and helpful tips. I'm also happy to try to help troubleshoot my recipes there.
Have you tried this recipe? Or have a question about it? Rate it or leave a comment below! (PS: rating my recipes helps other people find them, too!)
📖 Recipe
Ina Garten's Shortbread
Rich, buttery, slightly sweet shortbread cookies are tender yet firm, and pair well with everything! Based on Ina Garten's recipe.
Cuisine:
American, English
Keyword:
ina garten's shortbread cookies, shortbread cookies
Ingredients
24

tablespoons

unsalted butter

3 sticks/340 grams/12 ounces; softened

1

cup

granuatedsugar

200 grams

1

teaspoon

vanilla extract

5 grams

3.5 

cups

all-purpose

470 grams

¼

teaspoon

table salt

extra sugar, for topping
Instructions
With an electric hand or stand mixer, beat softened butter and sugar until just combined - creamy and smooth, but NOT fluffy. Stir in vanilla. Scrape down the bowl.

Add flour and salt, and mix on low until the dough just clumps together. Scrape down the bowl to be sure there's no dry flour at bottom. The dough should be clumpy, not sticky or very messy.

Divide the dough in two and turn out onto waxed or parchment paper. Use the edges of the paper, or your hands, to smash the clumps together into a mass of dough. Pat it out some to make rolling easier.

Place another layer of parchment on top of the dough. Use a rolling pin to roll out the dough until it's about ½ inch thick. (I always measure this with a ruler, because too thick will not bake properly, and too thin will brown excessively.)

Wrap the dough in the paper, and place in the refrigerator for 30 minutes to allow the flour to hydrate.

After the 30 minutes, remove the dough from the refrigerator. Use a 2-inch cookie cutter to cut cookies. Place the cookies on an ungreased baking sheet; they shouldn't spread much so you can place them an inch apart.

Squish the scraps of dough back together into a mass of dough. Roll the dough back out between two layers of parchment and cut out more shapes. Repeat until all the dough has been shaped.

Sprinkle the cookies with sugar (colored sugar is extra pretty here!). Place the baking sheet in the refrigerator for 10 minutes while you preheat your oven to 350F.

After 10 minutes of refrigerator time, bake the cookies one sheet at a time for 20-25 minutes, until the edges begin to brown. Check them a few minutes early if this is your first time making them, to be sure they don't brown excessively.

If you want to bake both sheets at once, place your oven racks in the top and bottom thirds of the oven. Rotate your sheets front to back and top to bottom halfway through the baking time. However, I find that cookies still won't bake evenly when I do.

Cool on the baking sheet at room temperature. Store in an airtight container. They should stay good for at least 3-5 days.
Recipe Notes
I use unsalted butter because salted butter would add way too much salt to the cookies.
You can make these vegan by using vegan butter. I wouldn't use coconut oil as it would flavor them too strongly. 
I weigh my flour. This is important for me to get the right amount of flour into the dough, particularly since I don't roll it on a floured surface. 470 grams is the weight of flour that I get if I measure 3 ½ cups flour (from Ina Garten's original recipe) with a ¼ cup measuring cup. Using too little flour will make the cookies spread.
I roll dough between layers of parchment a) to keep my counters clean, b) so I don't work extra flour into the dough, and c) because the paper makes it easy to transfer the dough to the refrigerator. 
If your cookies are thicker than ½ inch, they will not cook thoroughly in the center. If they are thinner, they will brown excessively. 
Chill time is important! The first 30 minutes lets the flour in the dough hydrate. The last 10 minutes chill time further resolidifies the butter, reducing spread.
This recipe will also make 24 3-inch cookies, as Ina Garten originally did in The Barefoot Contessa Cookbook. But 2-inch cookies are better for my household. Baking time is the same.
Calorie count calculated via MyNetDiary for 42 2-inch cookies, and is an estimate only.
Recipes from the past
[Originally written and posted January 2, 2012. Completely revised in May 2023.]