I'm long overdue to share my favorite Barbecue Spice Rub with you. It's salty, peppery, and slightly sweet. If you're vinegar-averse, this is for you!!
I've loved it ever since I first made it 8 years ago, when I started this blog with my 365 recipe challenge. It's been my go-to barbecue seasoning ever since. I've tried other rib recipes, but the flavorings have all paled in comparison to this.
Growing up, my family generally only grilled one way - by making hamburgers and hot dogs, smothered liberally in barbecue sauce. I had no concept of grilling things with anything other than barbecue sauce as a seasoning. And I really never thought about grilling any other kind of meat, either.
I've come so far! In the last 8 years, we've had 2 or 3 charcoal grills and 1 propane one; hosted numerous cookouts (though none in New Jersey, unfortunately); and cooked countless pork chops, chicken breasts, steaks, and vegetables outside. But by far my favorite thing is pork baby back ribs; I wait for a super-cheap sale on them ($1.99 is such a steal!), buy 2 or 3 packages, and stash them in the freezer for a nice weekend.
What is Barbecue? And is it Barbecue versus Barbeque?
Basically, barbecue is food that's cooked with fire outside, either over low heat or using smoke. I cook a lot, but I am NOT a barbecue expert, and so I'm not going to discuss it much. Too many people have strong opinions about barbecue.
Generally, much of the internet seems to agree that barbecue has its etymological origins in the Spanish word barbacoa, which they used to describe cooking done by Native Americans.
There's also barbecue seasoning, like this spice rub. Salt is a major component because it is a preservative; it helps cure meat, particular when meat is stored or cooked at low temperatures. (Think bacon or raw ham or salted fish, for instance.)
As for "barbecue" versus "barbeque," I don't have a strong opinion on the matter. If I had to guess, I'd assume that the spelling "barbeque" came about because the Q is attention-grabbing.
Why Should I Use a Spice Rub?
There are many ways you can season ribs, but I advocate for a spice rub for a few reasons:
It's hands-off; you just rub it on the ribs, and you don't have to brush them with sauce constantly.
Barbecue sauce is divisive. There's so many kinds. I like sweet and spicy tomato-based ones, but there's also vinegar-heavy and mustard-based ones. Spice rub skips arguments over sauce (although it may lead to a sauce-vs-rub debate).
Some people, myself included, hate vinegar. I happen to still like some barbecue sauces, but I have friends who don't. But they'll like this spice rub!
Ingredients for this Barbecue Spice Rub
This takes just six simple ingredients - salt, pepper, brown sugar, paprika, cumin, and dry whole or ground mustard seeds. You probably already have most of these in your pantry.
The benefit of making a barbecue spice rub yourself is that you can adjust the seasonings to taste. I've bought some in the past that were incredibly salty.
I've used table salt and the sea salt crystals that I've gotten for my salt grinder. Both work fine, and happen to weigh about the same.
I use whole black peppercorns since I grind everything together, but pre-ground pepper will work as well; it just may not be as flavorful, depending on the quality/freshness of your pepper.
Paprika - some paprika isn't very flavorful. I got mine from the Indian section in the International foods aisle in my local grocery store, so it's a little hotter. Smoked paprika is nice if you're using this spice rub to season something you roast in the oven.
I happened to have black mustard seeds from the International foods aisle, but I've used regular yellow mustard seeds in the past.
If all of your ingredients are already ground, you can simply mix together the rub. If using whole ingredients, use a coffee grinder or bullet blender (affiliate link) to grind everything together. I prefer grinding the spices together; it combines the ingredients better.
This recipe yields ¾ cups of seasoning, enough for about 4 pounds of ribs or other meat. (That's 3 tablespoons per pound.) It's peppery, a little salty, and a little hot. You can vary the amounts of salt, pepper, and paprika as you'd like. You can also just use a little less seasoning on your meat.
Do I Need to Use Barbecue Sauce with the Spice Rub?
No! The spice rub is flavorful on its own and has all the flavor you need.
That said, if you have a barbecue sauce you'd like to use, brush it on for the last 10 minutes of grilling to give your meat a nice sheen.
What Should I Put This Spice Rub On?
Use it on just about anything you grill! It's perfect for pork ribs, brisket, and London Broil; I always coat the meat thickly with the spice rub. It should also be great on pork chops and chicken breast. I've also put this on ribs I make in the oven and on brisket in the slow cooker.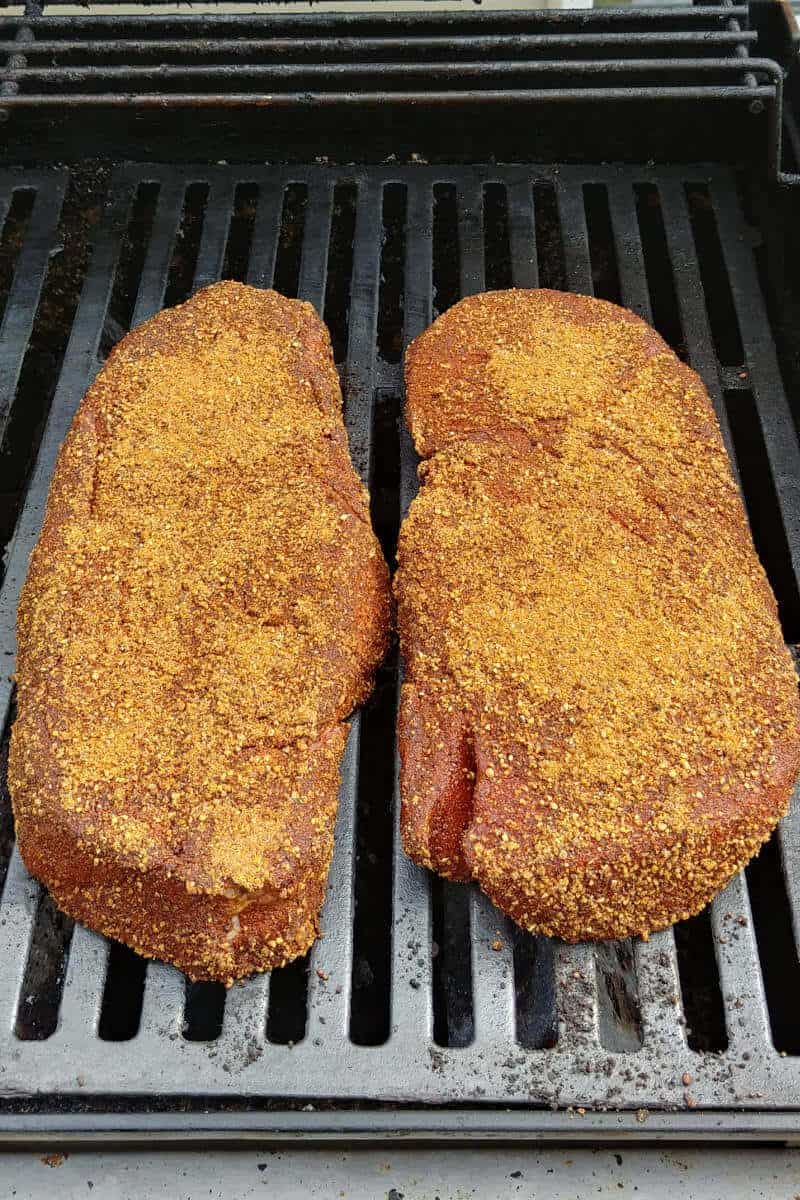 Serve your meat with grilled potatoes or sweet potatoes, corn on the cob, or slow cooker baked beans.
Like this recipe or have questions? Rate it or leave a comment below!
In the past:
Four Years Ago: Quinoa Pizza Crust
Five Years Ago: Chocolate Orange Sorbet
Seven Years Ago: Peanut Butter Cookies
Eight Years Ago: Sourdough Pizza, Cooking Light's Caramel Ice Cream, Pecan and Chocolate Chip Scones
📖 Recipe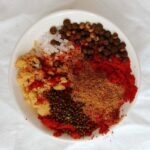 Barbecue Spice Rub
This peppery barbecue spice rub is all you need for ribs or brisket. Rub it on thickly, then grill. This recipe will yield ¾ cup, or enough for 4 pounds of back ribs. No sauce needed!
Ingredients
1.5

tablespoons

salt

(about 30 grams; I usually use sea salt flakes, but table salt is fine too)

3

tablespoons

black peppercorns

3

tablespoons

brown sugar

3

tablespoons

paprika

(smoked paprika is nice here if you're making ribs in the oven)

2

teaspoons

cumin

2

teaspoons

dry mustard seeds
Instructions
Grind all ingredients together in a coffee or spice grinder, or a bullet blender. Yields: ¾ cup, or enough for 4 pounds of meat.

Rub liberally on four pounds of back ribs, or on whatever meat you like. Grill or oven-roast as desired.
Recipe Notes
You can adjust the spices in this spice rub as needed. How peppery and spicy it will be depends on the freshness and quality of your pepper and paprika.
Originally adapted from a spice rub off of cooking.com.