Indian food seems intimidating to make, but it doesn't have to be! One of my recent favorites to make is this simple Yellow Dal, which is healthy, satisfying, and takes just 35 minutes, mostly hands-off, from start to finish!
I love to make this recipe to fill in a meal of leftover Indian food, or simply as comfort food. It goes incredibly well with my Easy Slow Cooker Saag.
Jump to:
[This post contains affiliate links. I may make a commission for purchases made through links on this post. As an Amazon Associate, I earn from qualifying purchases.]
Ingredients
Dal is simply an Indian word for pulses (or legumes like beans or lentils). Dal can refer to both the raw lentils, or to the warm, soupy dishes made from them.
So think of this as a simple Indian bean soup or sauce that you pour over rice. You can eat it on its own, but it works best as an accompaniment or side dish.
This recipe takes 2 kinds of lentils - split red lentils (masoor dal), and small split yellow lentils (moong or mung dal), which is split from green gram or mung beans.
Red lentils can be found in most grocery stores with beans or in your international foods aisle. Trader Joe's definitely has them. If you can't find the yellow lentils (mung dal), you can substitute red lentils instead.
Other ingredients are pretty simple:
onion
tomato (fresh or canned)
garlic and ginger
mustard seeds
turmeric
Prepackaged minced garlic and ginger work fine. Be sure they don't have other added flavors or ingredients. You can sometimes find frozen cubes of ginger.
You can also freeze fresh ginger then grate it, or grate fresh ginger and then freeze it in a freezer bag. I've been using some grated-then-frozen ginger, stored in an airtight freezer bag, for over a year without a problem. Don't use dried ginger in this recipe, as it doesn't give the same flavor.
Turmeric gives an early undertone to food, and a yellow flavor. Don't skip it! It loses flavor quickly. Buy in small quantities from reputable brands. I've found it at Target as well as other grocery stores.
Mustard seeds are a component in prepared yellow mustard, but they aren't interchangable! Brown or yellow mustard seeds should be with spices, or they may be with international foods. You can use the same amount of ground dry mustard in a pinch.
Instructions
I've adapted this recipe from Indian: Delicious, Authentic Dishes (affiliate link). This recipe was originally a Tarka (or Tadka) Dal. Tarka is spices fried in oil, which is then drizzled onto the dal for contrast and flavor.
It's delicious, but I streamlined it to make it a one-pot dish. (And of course, it makes it less authentic!)
Be sure you have all your ingredients ready, because it cooks very quickly to start.
Start with cooking your onion, tomato, mustard seeds, and chili flakes in vegetable oil, for about 2 minutes to bring out their flavor.
Add the lentils, water, and remaining spices. Bring to a boil.
Cover and cook for 20 minutes, until the lentils are soft.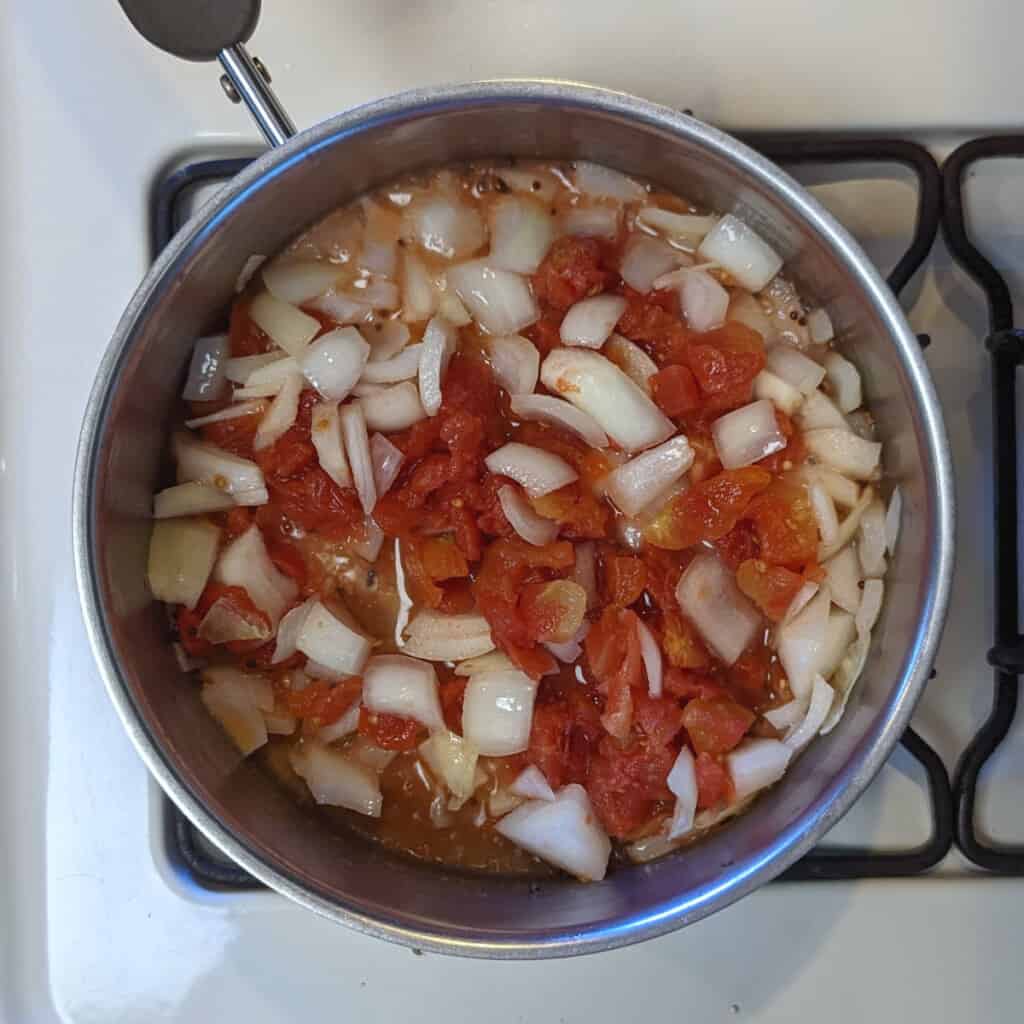 Saute the onion, tomato, mustard seeds, and chili flakes
Add lentils, water, remaining spices, and cook until soft.
Stir it a bit and mash the lentils. Add additional salt to taste, then serve!
Serving
Serve the dal over rice. While it would be a rather light main meal, it's great as a side dish with other leftover Indian food. Try it with Slow Cooker Saag or Cauliflower Curry!
This dal also makes wonderful leftovers. I eat it for lunch for days.
Have you tried this recipe? Or have a question about it? Rate it or leave a comment below! (PS: rating my recipes helps other people find them, too!)
Interested in other recipes? I save and share recipes I like or want to try on my Pinterest page - follow me there! You can also check out my Facebook page for more recipes and helpful tips. I'm also happy to try to help troubleshoot my recipes there.
Related Recipes
📖 Recipe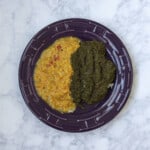 Simple Yellow Dal
A simple, lightly spiced Indian yellow dal, streamlined so it can be ready for dinner, start to finish, in 35 minutes!
Course:
Main Course, Side Dish, Soup
Keyword:
simple dal, yellow dal
Ingredients
2

tablespoons

vegetable oil

1

small onion

(sliced thin; about ½-1 cup)

1

tomato

(diced; or, ½ of a can of diced tomatoes, drained)

¼

teaspoon

mustard seeds

1

pinch

red chili flakes

(or, 4 dried chilies to make it spicy)

⅔

cup

split red lentils

(4oz; aka masoor dal)

⅓

cup

split yellow lentils

(2oz; aka mung dal)

2 ½

cup

water

1

teaspoon

garlic

(minced)

1

teaspoon

ginger

(minced or grated)

¾

teaspoon

table salt

¼

teaspoon

turmeric

2

green chilies

(optional; will make it spicy)

cooked rice

(to serve)
Instructions
Place oil in a 3-quart pot. (2-quart will work, but it will be full.) Heat over medium-high heat. Cook onion, tomato, mustard seeds, and chili flakes for 2 minutes to bring out the flavor.

Add the lentils, water, garlic, ginger, turmeric, and salt (and green chilies if using). Turn to high and bring to a boil.

Reduce the heat, cover, and simmer for 15-20 minutes, until lentils are soft. Stir the dal to mash the lentils. Adjust salt to taste.
Recipe Notes
I measured my ingredients by weight, not volume. Your measures may be more densely packed, so add more water and simmer a little longer if the lentils don't seem cooked by the end.
You can use ground dry mustard instead of mustard seeds. Add right before adding the lentils, as it may burn otherwise. DO NOT use yellow prepared mustard.
You can find red lentils most places, but yellow lentils are harder to find. You may substitute red lentils for the yellow without problems, but it will not be quite as tasty.
You can use frozen or packaged minced ginger as long as it doesn't contain other flavor ingredients. Do not use dried ginger as the flavor is different.
Be sure your turmeric is fresh; it grows stale and flavorless quickly.
This recipe, as I've written it, is not spicy. To make it more authentically spicy, use the dried red and fresh green chilies as suggested.
Calorie count is an estimate only, and will vary. Calorie count does not include rice.
Adapted from Indian: Deliciously Authentic Dishes by Shehzad Husain and Rafi Fernandez
In the past