I've started making this incredibly satisfying Breakfast Sausage Hash when I'm at a loss on what to make for dinner. It's a delicious, balanced meal, and goes from fridge to table in 40 minutes!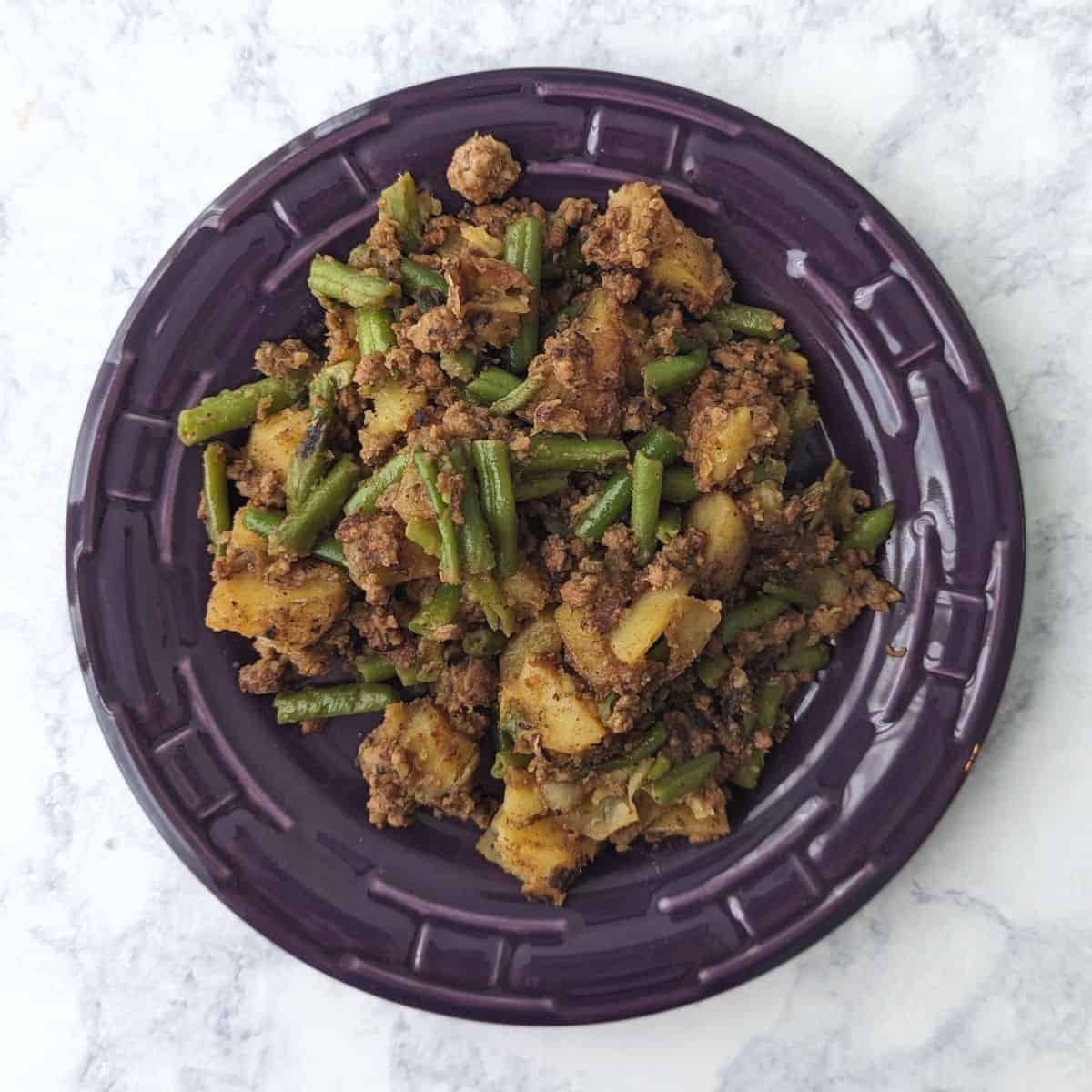 I combine ground pork (though you can use breakfast sausage), cooked with potatoes, green beans, and breakfast sausage seasoning. If you don't want to use my breakfast sausage seasoning recipe below, it works great with store-bought seasoning, too!
Sometimes you want something easy-to-make and straight-forward. Nothing glamourous - just something hearty, delicious, and satisfying. And this fits the bill perfectly!
[This post contains affiliate links. I may make a commission for purchases made through links on this post. As an Amazon Associate, I earn from qualifying purchases.]
Jump to:
Ingredients
This is a pretty straight-forward meat and potatoes dish - simple, down-home cooking. Not the prettiest dinner you can make, but it really hits the spot.
I've assembled my own breakfast sausage seasoning, but you don't have to. The benefit of making it yourself, though, is that you can customize it and cut back on the salt, etc.
Paprika, for flavor and color; I use sweet red paprika, but you can use hot or smoked paprika instead
Brown sugar, for sweetness; you can use granulated instead
Dried sage, which screams country breakfast sausage to me
Dried thyme
Salt, pepper, nutmeg, and optional cayenne, if you like heat
Again, you can certainly buy breakfast sausage seasoning instead. I've made it using sausage seasoning from Penzey's before.
I use ground pork instead of sausage, largely because I have it after buying a meat share from a local farm. I've tried this recipe with premade sausage, but you'll still need to add more seasoning.
Caution: not all ground pork is the same. Some is leaner, some is fattier. Some has sodium added, like the ground pork from Target (which I used once for my Spicy Pork with Asparagus). Your package should say if it has a sodium- or salt-solution added; if it does, reduce the amount of salt, and only add it at the end after tasting the cooked hash.
I prefer yellow potatoes for this dish. They let off some starch, but still hold their shape as they cook. I've also used Russet potatoes; they work but can become a bit mushy, so be gentle when you stir.
I consider green beans to be a perfect country vegetable to have with sausage and ham. Frozen cut green beans work great; no need to thaw, as they will steam when you add them. You can use fresh instead, or another green vegetable. I have added greens like kale when I've been out of green beans.
Instructions
Start by mixing together your breakfast sausage seasoning, if you're making your own as I have in this recipe. I prefer blitzing mine together in my bullet blender (affiliate link) to grind up the sage and thyme a little more, but that's not strictly necessary.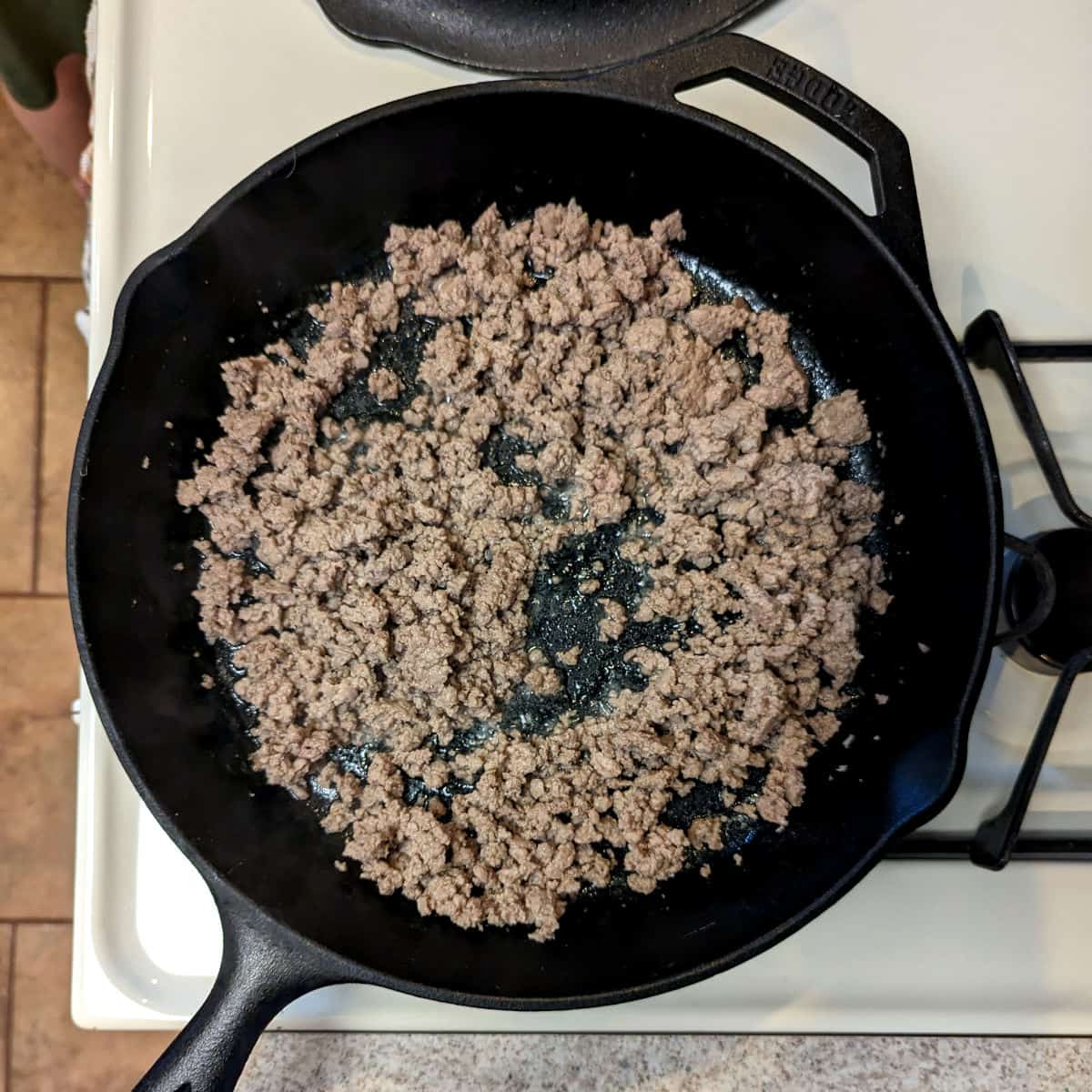 Brown your ground pork. You don't want any pink left.
Add a little oil, the diced potatoes, and the sausage seasoning. Give it a good stir to be sure the potatoes are coated in the grease, then cover and cook for 10 minutes.
After the 10 minutes, add some water, and scrape up anything stuck on the bottom. Stir in the remaining breakfast sausage seasoning, then top with the frozen green beans and replace the lid.
Cook for another 10 minutes. Add more water, and stir and scrape up the bottom again.
Use a fork to test one of the potatoes for doneness. It'll be tender. If they're not done, cover and cook for another 5 minutes. Uncover, add more water, stir/scrape, and test again.
Give the potatoes a taste, and adjust the seasonings as necessary. Serve warm!
Equipment
I highly recommend using a 12-inch cast iron skillet (affiliate link) to cook this recipe. The potatoes stick to the bottom as it cooks; you scrape up the browned bits when you add water and stir.
If you use nonstick cookware, there is a chance that you will scrape it up during the cooking process. This may not happen if you use a lower heat, extra oil for the potatoes, and additional water when you stir.
You need to cover the hash as it cooks to fully cook the potatoes. I have an iron skillet lid (affiliate link) that fits my skillet. If you don't have a lid that fits, cover your skillet with a pizza pan or other flat baking sheet to keep in the steam.
Storage
Hash is best fresh and hot, but we also enjoy leftovers the next day.
Heat up leftovers in the microwave in a container with a lid. Sprinkle a few drops of water on the hash before heating to create steam and keep it from drying out.
I hope you enjoy this simple and hearty meal as much as we do!
Other Easy Dinners
Here's some of my other favorite quick and easy dinners!
Interested in other recipes? I save and share recipes I like or want to try on my Pinterest page - follow me there! You can also check out my Facebook page for more recipes and helpful tips. I'm also happy to try to help troubleshoot my recipes there.
Have you tried this recipe? Or have a question about it? Rate it or leave a comment below! (PS: rating my recipes helps other people find them, too!)
📖 Recipe
Breakfast Sausage Hash
A hearty, satisfying, one-pot meal made with ground pork, potatoes, green beans, and breakfast sausage seasoning.
Course:
Breakfast, Main Course
Keyword:
breakfast sausage hash
Ingredients
Breakfast Sausage Seasoning
1

tablespoon

paprika

2

teaspoons

sage

2

teaspoons

brown sugar

1

teaspoon

thyme

1 ¼

teaspoon

table salt

½

teaspoon

ground black pepper

¼

teaspoon

nutmeg

¼

teaspoon

cayenne

optional
Hash
16

ounces

ground pork

454 grams

1

tablespoon

vegetable oil

14 grams

32

ounces

potatoes

908 grams; diced

16

ounces

frozen green beans

454 grams; generally, one bag

½-3/4

cup

water

120-180 grams/4-6 ounces
Instructions
Combine the ingredients for the breakfast sausage seasoning. (I prefer to grind it in a bullet blender to pulverize my sage and thyme.) Set aside.

In a large cast iron skillet, brown the ground pork over medium-high heat. Add a little oil if the pork is lean and sticks. No need to drain.

Add about 1 tablespoon oil, unless your pork has let off a lot of fat. Stir in the diced potatoes and half of the breakfast sausage seasoning. Cover with a lid. Cook for 10 minutes.

Remove lid and add ¼ cup water. Sprinkle on the remaining seasoning. Stir and scrape browned bits from the bottom of the pan; the water will help loosen them up.

Top with the frozen green beans. No need to mix them in yet. Cover with the lid and cook for another 10 minutes.

Remove the lid. Add another ¼ cup water, and stir and scrape the bottom again.

Use a fork to test a potato for doneness; the fork should easily pierce the potato, and the potato often falls in two. If it's not done yet, cover and cook a few more minutes; then, repeat adding more water and stirring.

Add a little more salt, pepper, or other seasonings (usually sage) as needed. Serve hot.
Recipe Notes
You can make this with your favorite breakfast sausage, but you will still need to add additional seasoning to the hash. You may need to withhold some of the salt if you use breakfast sausage.
Not all ground pork is the same. Some is lean; some is fattier. Prepackaged ground pork (like from Target) has a sodium solution added. If yours does, withhold some of the salt, and add salt to taste at the end.
I prefer yellow potatoes for this. They become soft and starchy in this, without dissolving entirely. I've also used Russet potatoes, but you need to treat them gently because they will dissolve more.
Use any amount of green beans you want. 12-16 ounce bags are usual; you could use a 20-ounce bag as well. No need to thaw; they steam after you add them. No green beans? I've added kale in a pinch.
Don't want to make breakfast sausage seasoning? Use premade. I originally made this recipe to use up Penzey's breakfast sausage seasoning I had in my pantry. 
I always make this in a cast iron skillet. I caution against using nonstick cookware for this because you're scraping food off the bottom. See the blog post for additional notes. 
If you don't have a lid, use a pizza pan or other bakeware to cover your skillet. The steam is crucial for letting the potatoes cook.
Recipes from the past