I first made Fennel-Crusted Pork with Potatoes and Pears 7 years ago, as #362 of my 365 recipes that I made that year. Alex had gotten our friends to give me recipes for a birthday several years prior (best present ever!).
When he did, our friend Allison gave me the recipe for it from Real Simple. I made a lot of recipes in 2010, but this is one that has stuck with me. It's the first recipe that comes to mind when I decide to make a pork loin. I love it. It's delicious, and the recipe is simple and hands off. It takes me no longer than 20 minutes to get dinner into the oven, and the pork is done in 50 minutes, with no other work from me. I honestly don't know why I don't make this more often.
[This post contains affiliate links. I may make a commission for purchases made through links on this post.]
The pork is dressed with a simple rub of crushed fennel, garlic, salt, pepper, and olive oil. It's surrounded with potatoes, onions, and pears, which I never thought of having in savory food before first making this. The onions caramelize deliciously while everything else roasts.
I love the flavors in this recipe. The pork is delicious from the garlic and fennel. The pears are a little sweet, but not very much. The caramelized onions are delicious eaten with everything. I like to eat it with a little spring mix; otherwise it's a very monotone meal. Last time I made this, I knew Alex would have some leftover pork for lunch the next day, but he wanted to have the pears and potatoes too. We didn't have much left; I was jealous but I let him have it anyway.
In my opinion, fennel is an underused spice. It goes wonderfully with pork loin. Fennel seeds (affiliate link) taste a little like anise - which itself tastes a bit like licorice (which I will add that I don't actually like) - but better and spicier. Before finding this recipe, I usually only used a little fennel in pizza sauce. If you haven't tried it before, try it - I bet you'll like it.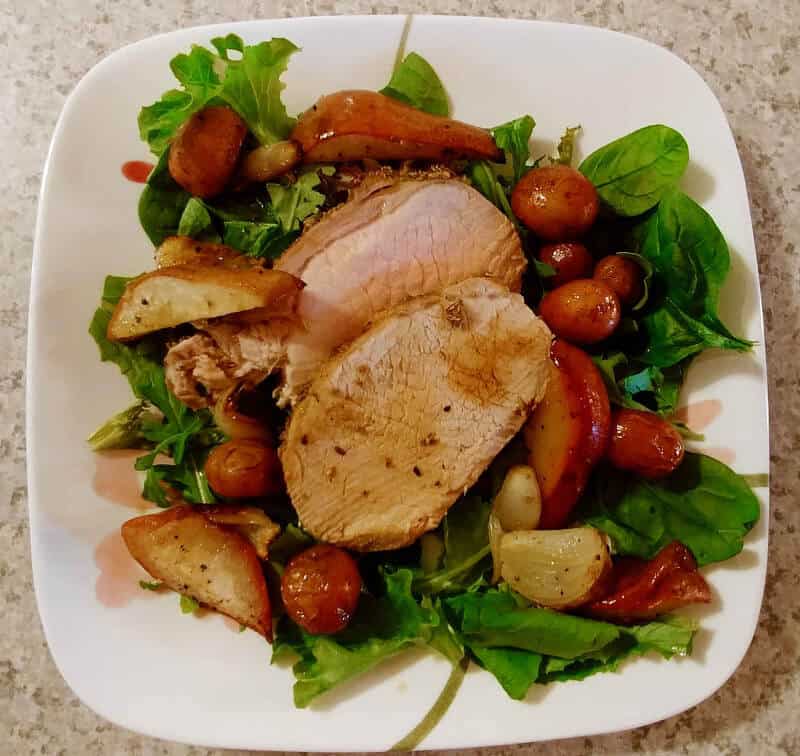 Note: I always cook roasts, chickens, turkeys, etc., with an oven-safe probe thermometer (affiliate link) that I set to an appropriate temperature. As such, the cooking time listed is an estimate, and I highly recommend you use a thermometer as well. When I started using one in 2010, I started roasting chickens and making large cuts of meat all the time!
Pork roasts and chops only need to be cooked to 145F now (per the revised 2011 USDA food safety guidelines), and using a thermometer is the most effective way to prevent overcooking. I simply set the alarm to go off when the pork reaches 145F, put the probe in the pork and the pork in the oven, and wait until the alarm goes off.
Whatever model you use, just don't let the cord from the probe touch the heating element or be too close to the flame when you broil; we've ruined a thermometer that way.
Have extra fennel seed to use up? Try my favorite, Fennel Spice Rub.
Like this recipe or have questions? Rate it or leave a comment below!
In the past:
One Year Ago: Decadent Hot Chocolate Mix, Grapefruit Yogurt Cake
Four Years Ago: Gluten-Free Cornmeal Pizza Crust
Five Years Ago: Horchata, Fig and Honey Scones
Six Years Ago: Cuban Bread, Paczkis
Eight Years Ago: Jerk Chicken
📖 Recipe
Fennel-Crusted Pork Loin with Potatoes and Pears
An easy, delicious, hands-off dinner that's a little savory and a little sweet.
Ingredients
2-3

pounds

pork loin

1

tablespoon

fennel seeds

(crushed or ground)

2

cloves

garlic

(minced); or ½ teaspoon garlic powder

2

tablespoons

olive oil

(divided)

½

teaspoon

table salt

¼

teaspoon

black pepper

(freshly ground)

2

small or medium red or yellow onions

(quartered and segments separated)

1

pound

small or fingerling potatoes

(cut into 1-inch pieces if necessary)

3

firm pears

(such as Bartlett pears), cored and quartered

additional salt and pepper
Instructions
Crush or grind fennel seeds coarsely. Combine with garlic, ½ teaspoon table salt, ¼ teaspoon ground pepper, and 1 tablespoon olive oil. Rub mixture over pork loin and place fat-side up in a roasting pan. (I recommend a pan with no more than 2-inch sides.)

In a large bowl, combine onion segments, potatoes, quartered pears, and 1 tablespoon olive oil. Mix together and season with salt and pepper. Spread around the pork. Don't overcrowd the pork or the vegetables.

Place a digital probe thermometer in the pork and place the roasting pan in the oven, being sure that the thermometer cord isn't too close to the heating element. Bake at 400F for about 50-60 minutes, until the internal temperature of the pork is 145F. Let pork rest for 5 minutes before cutting and serving. Serve slices of pork alongside vegetable mixture. There won't be much liquid in the pan, but spoon what liquid there is over the pork and vegetables.
Recipe Notes
Adapted from Real Simple magazine
(Post updated with new writing, recipe, and photos. Originally published December 2010.)