I've loved this Sweet Potato and Peanut Stew since the very first time I made it 10 years ago. It's warm and wholesome, hearty and satisfying.
This stew happens to be healthy, with sweet potatoes and lentils providing fiber, and the lentils and peanut butter providing protein. It also just happens to be vegan!
Sweet potatoes and peanut butter give it a touch of sweetness. It's spiced with cinnamon and cumin and just enough cayenne pepper to provide a warming heat without being spicy.
Also, it makes excellent leftovers, and even my 8 year old likes it!
When I first made this recipe, I jumped to blog about it as soon as possible, despite how busy I was otherwise. It's that good!
Jump to:
[This post contains affiliate links. I may make a commission for purchases made through links on this post. As an Amazon Associate, I earn from qualifying purchases.]
Ingredients
Peanut butter and sweet potatoes complement each other so well, I wonder why I don't have more recipes that combine them. I have the Yam and Peanut Stew recipe from Food52, from which I've slightly adapted this recipe, to thank for pairing them!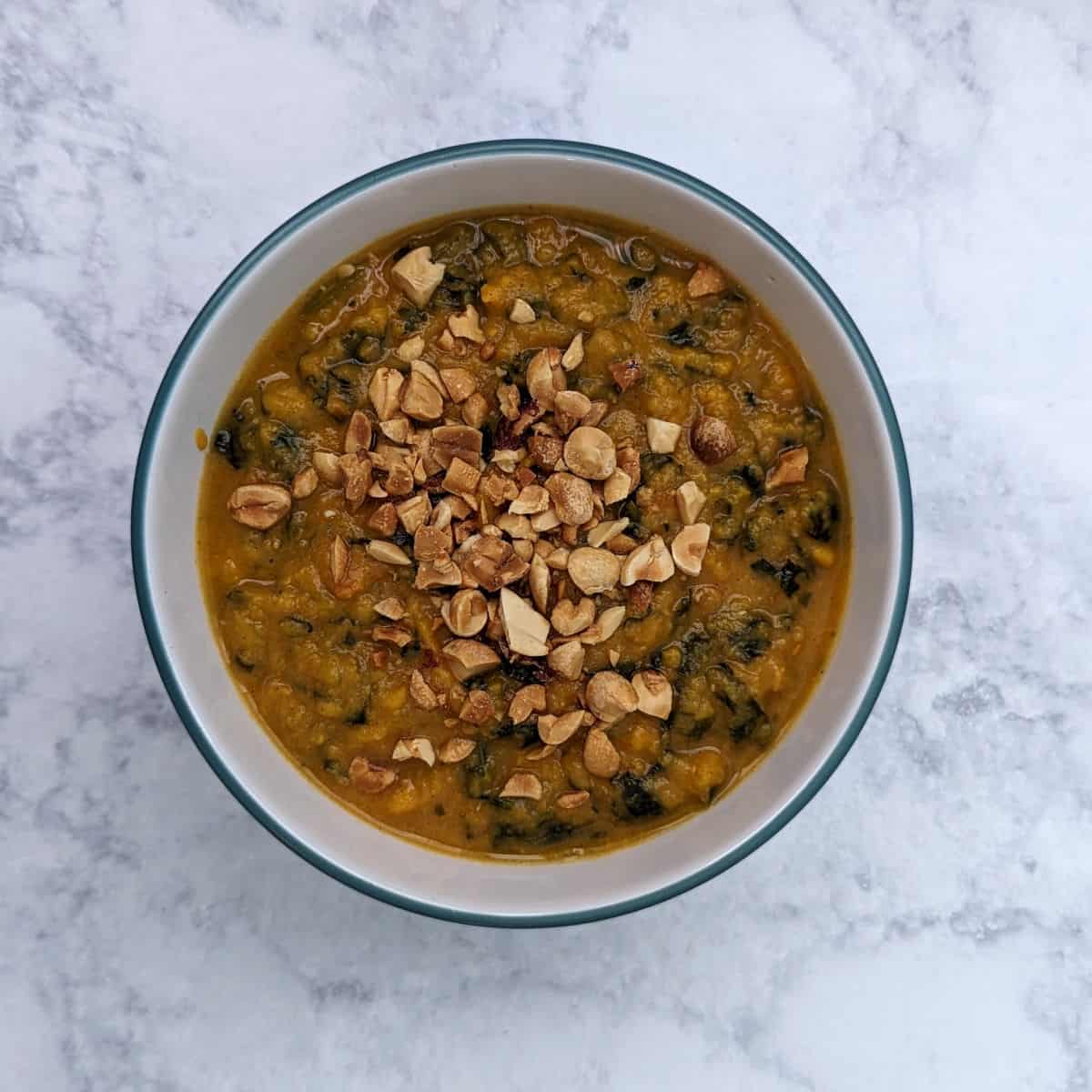 The main ingredients in this soupy stew, aside from the titular sweet potato and peanut (butter), are lentils, greens, and a variety of spices.
Only use fresh or frozen, unseasoned sweet potatoes. DO NOT use sweet potatoes from a can that have been soaked in syrup; your soup will be icky sweet. If you plan to mash your stew instead of puree it, peel your sweet potatoes when you cut them.
I've only ever used regular creamy peanut butter (with added oil and sugar) in this soup, but I think you could use a peanuts-only peanut butter here easily. You may need to add a pinch of sugar if you do, though.
If you have a peanut allergy, I think you could easily use sesame/tahini in this soup instead. Almonds and almond butter may also work, if you don't have a nut allergy. As with unsweetened peanut butter, you will want to add a pinch of sugar to balance out the flavors if you do.
Red lentils dissolve nicely in this soup, but common brown lentils that you find at the grocery store will work fine here too. I've used a mix of the two in the past. Cook the stew a little longer if you use regular lentils, and definitely blend since the skins can be tougher.
In addition to garlic, onion, and ginger, the stew wouldn't really work without its spices. Cumin and cinnamon are easy enough to find; just don't use a cinnamon-sugar blend! There's a little cayenne in this, just enough to add heat without making it spicy hot. Adjust it to taste.
Turmeric adds an earthy, base flavor to the soup, and it's easy enough to find at places like Target nowadays. However, if your turmeric is old or of poor quality, skip it; it won't really add anything. Be aware, if you use turmeric - it can stain your clothes and counters. (Sunning your clothes can often help get rid of turmeric stains in clothing, luckily.)
After you mash or blend the stew, you add greens. The recipe originally called for kale; spinach works fine too. Both fresh or frozen are fine; most recently, I add a chopped kale-spinach blend from the freezer section.
Instructions
It's a simple soup to make. Start by sauteing your onion, garlic, and ginger for a few minutes.
Stir in the sweet potato, lentils, spices, and broth. Bring to a boil, then simmer covered for about 30-40 minutes, until everything is tender.
Remove the stew from heat and stir in the peanut butter. Then carefully use a potato masher (affiliate link) or an immersion blender (affiliate link) to mash or puree the stew.
Return the pot to the heat. Add your choice of greens and cook for another 3 minutes, to wilt them if they're fresh or heat them through if they're frozen. Add salt to taste.
Top with chopped peanuts (and green onions, if those are your thing).
Serving and Storage
The stew is rather nice with a little bread or crackers on the side.
Leftovers keep for a few days in an airtight container.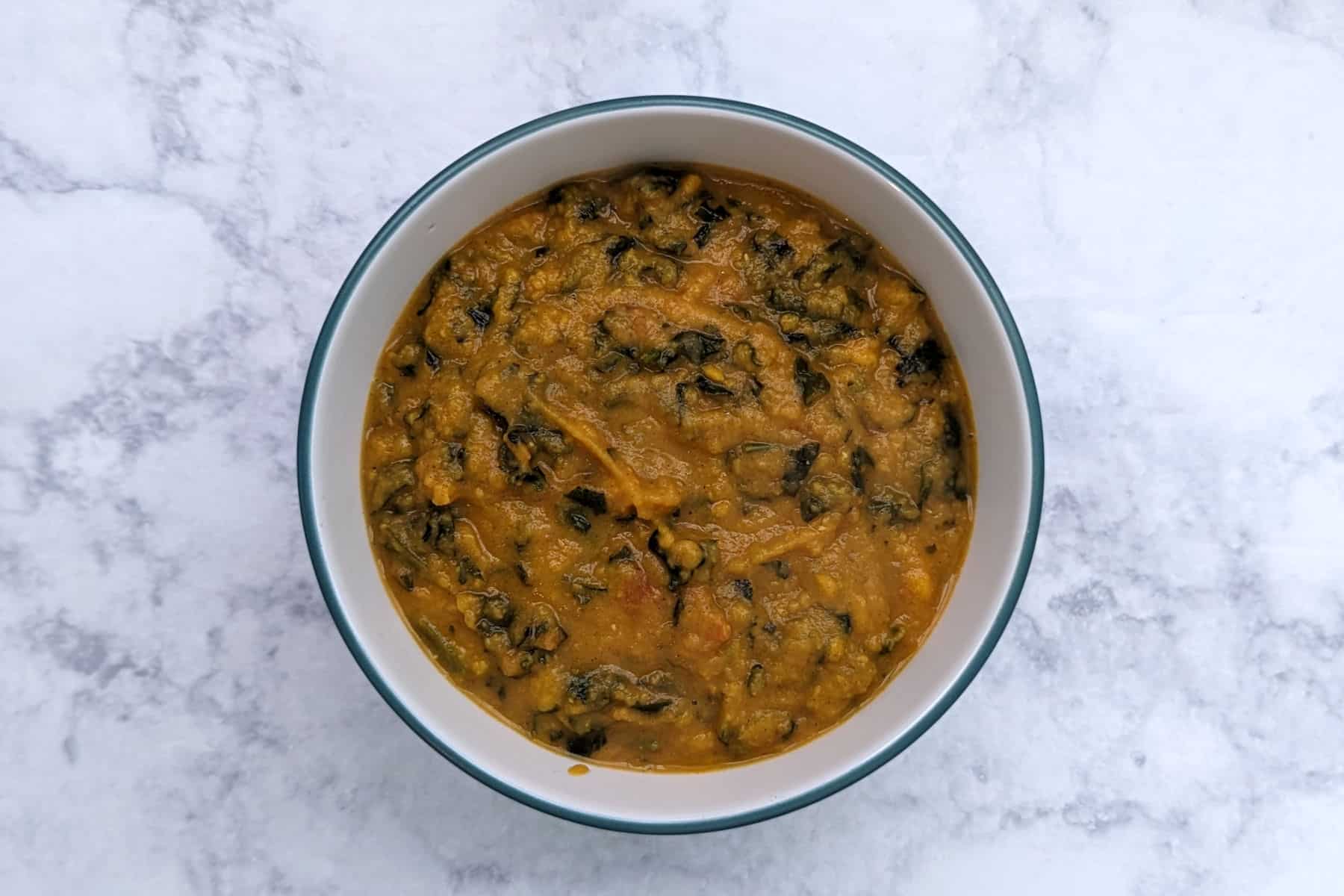 We really do love this soup in my house. I hope you love it as much as all three of us do!
Have you tried this recipe? Or have a question about it? Rate it or leave a comment below! (PS: rating my recipes helps other people find them, too!)
Interested in other recipes? I save and share recipes I like or want to try on my Pinterest page - follow me there! You can also check out my Facebook page for more recipes and helpful tips. I'm also happy to try to help troubleshoot my recipes there.
Other similar recipes
📖 Recipe
Sweet Potato and Peanut Stew
A delicious, healthy, and warming sweet potato and peanut stew. Spiced but not spicy, it happens to be vegan.
Keyword:
sweet potato peanut stew
Ingredients
1

tablespoon

olive oil

1

onion

diced; ~1 cup

1

teaspoon

minced garlic

2 cloves

1 ½

teaspoons

ginger

minced or grated; don't be afraid to use extra

2

pounds

sweet potatoes

cut into 1-inch pieces; peel if you're mashing, not blending the soup

½

cup

red lentils

84 grams/3 ounces; brown are okay too, as long as you blend the soup

1

15-ounce can

diced tomatoes

1

teaspoon

cinnamon

2

teaspoons

ground cumin

½

teaspoon

ground turmeric

⅛

teaspoon

cayenne

4

cups

vegetable broth

908 grams/32 ounces

¼

cup

creamy peanut butter

64 grams

4

cups

kale

340 grams; cut into very small pieces; frozen is okay too!

¼

cup

green onions

chopped; optional but pretty

¼

cup

peanuts

60 grams; chopped

salt and pepper

to taste
Instructions
Heat olive oil in a large pot over medium heat. Saute onion for 3 minutes. Add the garlic and ginger and cook for another 3 minutes, being careful not to let anything scorch.

Add sweet potatoes, lentils, tomatoes, and spices. Stir in broth. Bring to a boil, then reduce heat to medium low and simmer, covered, for 30-45 minutes, until sweet potatoes and lentils are tender.

Stir in peanut butter. Use an immersion blender to puree almost all of the soup, breaking down the big chunks of sweet potato. (You can use a potato masher to make a chunky stew, if desired.) The pureed soup will be very thick.

Stir in kale. Cook on medium-low for another 3 minutes to wilt the kale.

Taste soup. Add pepper and up to ½ teaspoon of salt, to taste, depending on how salty your broth is. If desired, add a little more broth or water to thin it out.

Serve soup topped with green onions and chopped peanuts.
Recipe Notes
This makes great, hearty leftovers! The soup will thicken up, so add a dash of water when reheating it.
Frozen cubed sweet potatoes work great; it will just take longer to bring your soup to a boil. Don't use canned sweetened yams.
I don't peel my sweet potatoes because I blend the soup. If you decide to mash the soup for a chunky texture, I recommend peeling your sweet potatoes.
Red lentils and brown lentils work fine. Brown lentils will take longer to cook. They will also not dissolve into the soup like red lentils do. If using common brown lentils, I recommend blending, not mashing, the soup.
I use frozen kale in this often. Frozen chopped spinach is also fine.
Turmeric adds a nice background flavor to this soup. If your turmeric is flavorless, throw it out and buy a fresh jar.
The amount of cayenne in this soup adds a touch of heat without making it spicy. Add a dash if you're very sensitive to hot-spicy food; double it (or more) if you like your food spicy.
I have not tried it, but you can likely substitute in tahini/sesame butter for peanut butter to accommodate a peanut allergy. 
I've made a lower FODMAP version of this soup by using garlic-infused olive oil, and substituting leeks for the chopped onion. 
Adapted from Food52
In the past
Originally written in October 2013 and April 2018. Rewritten for clarity, with new photos, in February 2023.