This recipe, Chickpeas with Spinach, has been one of my favorite quick meals to make recently.
Originally an appetizer, I decided it looked substantial enough for a meal. I felt the same way about the version of it I made several years ago, too. That version had more liquid than this, and took more time to make. Smitten Kitchen's version as well had a few extra steps that I didn't feel like doing. So I simplified it so it's a one-pot dish, that involves no cutting (unless you slice your bread), that takes no more than 20 minutes to make from the time you begin to measure your ingredients to the time you place it on the table. This adaptation of Smitten Kitchen's version omits the bread that you blend into it, uses tomato paste instead of sauce (which the bread used to soak up), and wilts the spinach in the pot at the end instead of cooking it first. (I tried frozen cooked spinach, but it wasn't as good.) Oh, and this version uses much less olive oil.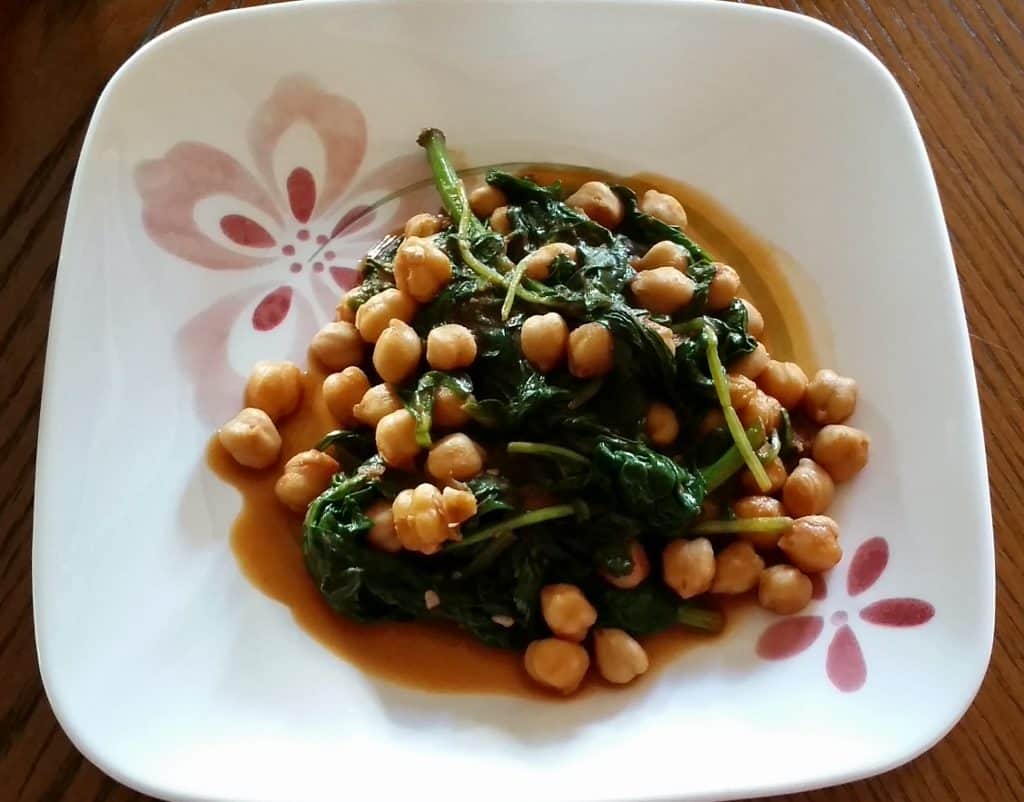 The sauce is balanced with a dash of vinegar (I've used balsamic instead of red wine vinegar since that's what I have), and there's not so much sauce that it turns your toast to mush, which I can't stand. It has negligible heat from the dash of red pepper, though you could boost that if you wanted to. You could probably omit the smoked paprika in a pinch, and the dish would come out fine. And you're eating chickpeas and spinach, on toast - very healthy. This likely isn't as rich as the tapas-version of Chickpeas with Spinach should be, but it's very satisfying as a meal.
📖 Recipe
Chickpeas with Spinach
adapted from Smitten Kitchen
Ingredients
2

cans chickpeas

rinsed and drained (½ pound dried chickpeas, cooked)

2

tablespoons

olive oil

3

cloves

garlic

minced

½

teaspoon

cumin

a dash red pepper flakes

¼

cup

tomato paste

(about half a small can)

1 ½

teaspoon

red wine vinegar

(though I've used balsamic, too)

½

teaspoon

smoked paprika

1

pound

spinach

washed

Salt and pepper

to taste

Lemon juice

to taste

Bread or toast

to serve
Instructions
Heat olive oil in a large pot. Add garlic, cumin, red pepper flakes, and smoked paprika, and cook one minute. Add tomato paste, vinegar, and chickpeas, and stir to combine. Once mixture is warm, add spinach. You may want to do this in batches. Stir and cook over medium heat until all the spinach is wilted. Serve over bread or toast.
Want another easy healthy, vegetarian meal? Try One-Pan Farro with Tomatoes.