My absolute favorite way to cook and eat winter squash is to grill it. As the flames cook it, it caramelizes and becomes sweeter. It's so good, that Alex and I really don't eat it any other way.
Grilling slices of squash ensures that they cook quickly. How long do they take? As Alex says, just as long as anything else he's grilling.
A little olive oil on the slices keeps them from sticking or drying out (as many vegetables will do otherwise). If the squash dries out, it won't caramelize, which would be sad.
Jump to:
[This post contains affiliate links. I may make a commission for purchases made through links on this post. As an Amazon Associate, I earn from qualifying purchases.]
I'm pretty sure I went my first 25 years of life without having tried any kind of winter squash. That's right - no butternut or acorn squash in my early life. As such I didn't know much about what to do with it.
So many recipes say to cut the squash in half, or leave it whole, and bake it or steam it. I never had luck with that; my squash was either not quite done, or mushy.
Cooking your squash whole in the Instant Pot (affiliate link) is a great way to go if you want puree. I've had great luck getting squash done that way, steamed with a cup of water. But it's not nearly so delicious as grilling it.
Grilling Winter Squash
Which squash to grill? My favorite is buttercup squash. It's a turban squash, similar to kabocha, which I first had in Japan (after it was cooked on a grill, no less). I'm thrilled that my CSA grows it each year. It's a little sweeter than butternut squash.
Butternut squash also works, though it may need to be cut slightly thinner or cooked slightly longer. Delicata squash would be lovely. I have not tried cooking acorn squash this way; I don't like it in general because it's so hard to cut. And of course, this cooking method won't work for spaghetti squash.
First, cut your squash in half and scoop out the seeds, then slice your squash. You want the slices to be the same thickness; aim for ¼ to ½ inch thick.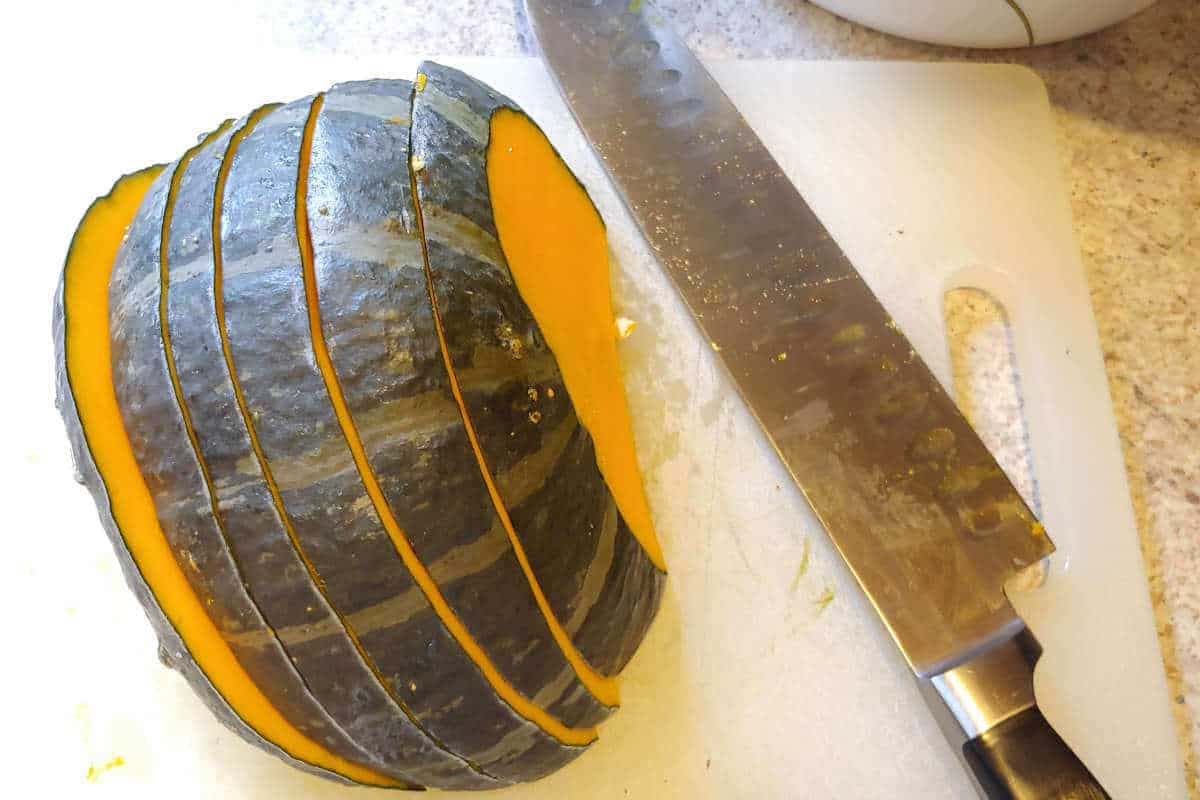 Slice off any bumps or warts. Peel the squash if desired, although I usually don't. If the skin of your squash seems extra hard or thick, you will probably want to peel it. My buttercup squashes have been easy to cut, and we eat the skin and all.
Coat each slice of squash with a small amount of oil. You don't need a lot. I usually drizzle olive oil over a pile of slices and rub it on each one. If your squash isn't well coated, they will dry out, may not cook thoroughly, and won't caramelize.
Sprinkle on some salt or pepper. It doesn't need anything else. If you want to add other seasonings, do so after cooking; otherwise, the spices run the risk of burning.
Next, put them on your grill. We usually leave them on for however long we grill other things, which is usually salmon or bratwurst nowadays.
"Cook them however long you cook everything else" isn't very useful as a cooking instruction. We grill most things over medium direct heat on a gas grill, which is about 400F. Grill the slices of squash for 5-6 minutes per side, although a little extra is nice to ensure that they're browned and caramelized.
And that's it! You're done!
Serving Grilled Winter Squash
Grilled squash goes with any main dish you'd like. I prefer to have something a little spicy or highly seasoned to go with it, since the squash is so simple.
Since all you've added to this squash is a small amount of olive oil, it's still incredibly healthy! Buttercup squash is also very filling.
I really can't emphasize how much I love making this side dish. I hope you enjoy it as much as we do!
Interested in other recipes? I save and share recipes I like or want to try on my Pinterest page - follow me there! You can also check out my Facebook page for more recipes and helpful tips. I'm also happy to try to help troubleshoot my recipes there.
Have you tried this recipe? Or have a question about it? Rate it or leave a comment below! (PS: rating my recipes helps other people find them, too!)
In the past:
One Year Ago: Ricotta Pound Cake
Two Years Ago: Apple Cider Donut Cake, Fresh Apple Cinnamon Scones
Three Years Ago: Milk Chocolate Stout Ice Cream, Apple Pie Bars
Six Years Ago: Cinnamon Bread
Eight Years Ago: Espresso-Chocolate Chip Shortbread
Nine Years Ago: How I Like to Make Ribs in the Oven
Ten Years Ago: Black Forest Cherry Cake, Sourdough Breadsticks
📖 Recipe
Grilled Winter Squash
An easy way to cook winter squash! Sliced buttercup squash grills up quickly. The grill caramelizes the slices, making them sweeter and even more delicious! Minimal oil keeps it healthy!
Keyword:
grilled buttercup squash, grilled winter squash
Ingredients
2

pounds

winter squash

(I prefer buttercup; delicata and butternut work as well)

1

tablespoon

olive oil

salt and pepper

(to taste)
Instructions
Cut squash and remove seeds. Slice squash into ¼ to ½-inch slices. Peel off any warts or knobby bits of skin; peel it all if desired. Drizzle with olive oil and rub each slice to coat. Top with salt and pepper.

Preheat your grill. Cook over medium direct heat (on a gas grill; ~400F on charcoal) for 5-6 minutes. Flip the slices, then grill for another 5-6 minutes, for a total of about 12 minutes cooking time. Serve while warm.
Recipe Notes
How quickly the squash cooks depends on how you thin your slices are. The thinner the slices, the more quickly it will cook, and the more caramelized it will become.
We eat the skins on grilled squash. If using a very hard squash, like an acorn squash, peel it before grilling.
I use buttercup squash, which is very similar to kabocha. I've grilled unpeeled butternut squash this way as well; give it an extra minute or two on the grill. Unpeeled delicata squash would work well. On any squash, peel off warts or knobs before cooking.
For seasonings other than salt and pepper, add them when serving, after grilling.
Nutritional information is an estimate. That said, winter squashes are a great source of fiber, Vitamin A, and potassium.