This margarita recipe proves that simple = delicious. Just 4 ingredients - tequila, Cointreau, lime juice, and simple syrup (or sugar), over ice. So incredibly refreshing!
If you've only had a slushy margarita made from a mix, you are missing out. Margaritas don't have to be super-sweet or frozen. In fact, they're more refreshing if they're not!
When you make a real, fresh margarita, you don't end up full and bloated and gross-feeling. Save all that super-sweet stuff for another time.
Jump to:
[This post contains affiliate links. I may make a commission for purchases made through links on this post. As an Amazon Associate, I earn from qualifying purchases.]
Margarita Origins
Just like many other cocktails, many people lay claim to inventing the margarita. Generally, it seems that the margarita was developed in the 1930s in Mexico. (Wikipedia cites several claims of invention, of course.) By 1945, Jose Cuervo was using a margarita recipe to advertise its tequila.
Related drinks are sours (like a daiquiri, which is rum, lime juice, and sugar), and daisies, which are mixed drinks with orange liqueur and citrus. Interestingly, margarita means daisy in Spanish (per Difford's Guide).
Another interesting tidbit: the world's first frozen margarita machine was invented in 1971 (per Smithsonian magazine's history of the margarita).
Where Does My Recipe Come From?
I don't drink a lot of margaritas, but about 5 years ago, my friend Kate noted that her dad "makes a killer margarita," and of course, we all had to get the recipe. She said:
"I always go back to this. My dad has it written on a manila file folder. The 'serves 5' makes me laugh. That's 4 shots of tequila per person, and my parents rarely drink."
It makes me laugh too! Although, a pitcher of margaritas sounds perfect for an evening with friends, don't you think?
According to Kate:
"Apparently before they had kids, my dad was quite the margarita maker. My aunt and uncle have described how he would put ice in the blender to crush it for the drinks. Then they completely stopped drinking alcohol while we were under 21."
Kate's dad, Ron, had lost the recipe that he liked. So he looked up several recipes, wrote the ingredients in a grid to compare amounts, and settled on this recipe, written on a manila folder for safekeeping.
I adore that scientific approach!
I've scaled this recipe down a bit, but I keep the same ratios. I simply juice my limes to see how much juice I have, and add the right amount of ingredients from there. But read on - I have an actual recipe for you as well.
Ingredients
Margaritas can be done well, or done poorly. This recipe does it well.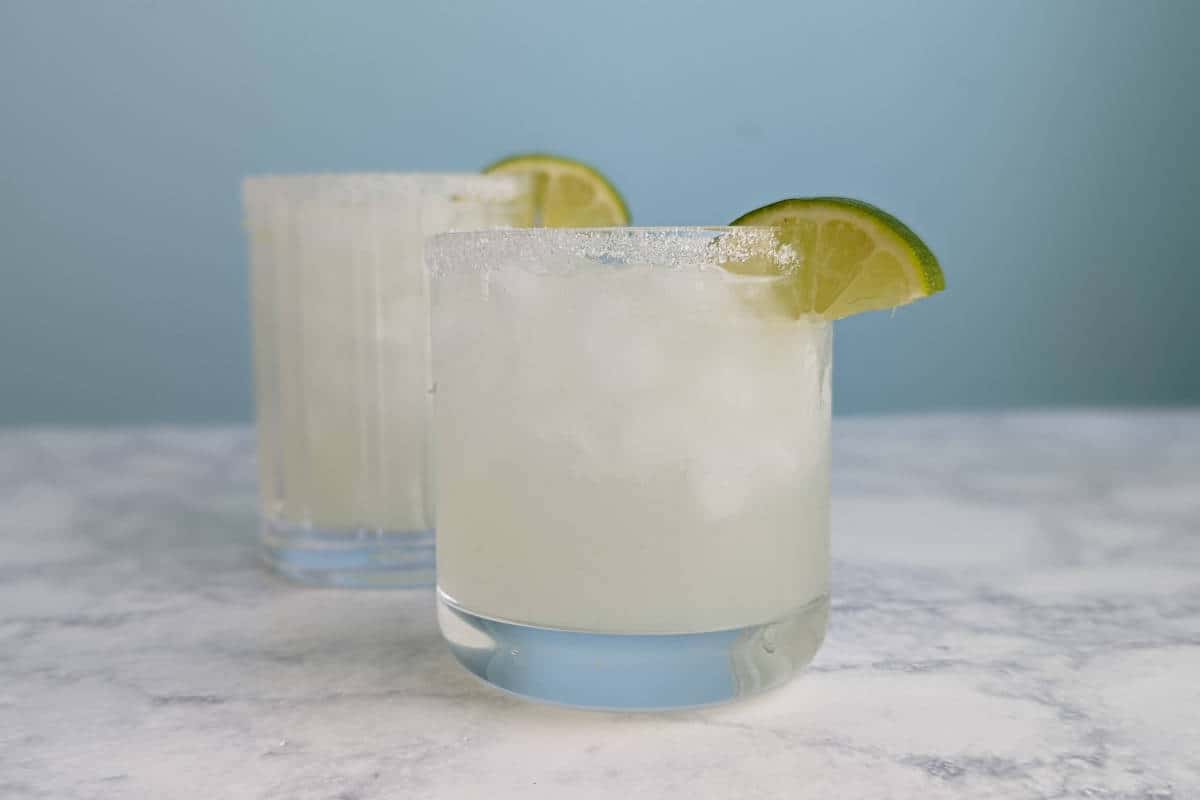 You just need 4 basic ingredients: tequila, an orange liqueur, lime juice, and a sweetener (to balance the lime juice).
Notice what's not here? Sour mix. Remember - it's seriously artificial and too sweet. You're having a cocktail; save that much sugar for dessert.
Tequila: I spent many years not liking tequila (for the reasons you might associate with college parties). Now, I like it in margaritas (and palomas, which are grapefruit). Using a decent, mid-range tequila instead of a bottom-shelf bottle, makes a difference. Only use silver tequila - anything gold or aged will interfere with the citrus. I'm not partial to any brand.
Cointreau: you need an orangey citrus for a margarita. Cointreau is higher-end and consistently good quality. However, it is expensive, so you can use triple sec; try not to use super-cheap bottom-shelf bottle. In a pinch, you can add an equivalent amount of orange juice instead of either liquor, but you will need to adjust the sweetness to taste (usually by adding extra syrup or sugar).
Lime juice: use fresh stuff here, as it's a major component of the drink. Anything bottled will contain preservatives that will give the drink an off taste. I sometimes use bottled lime juice for convenience in cooking, but it doesn't belong in this drink.
How much juice do you need? Just 1 if you're making cocktails for 2. Below is a picture of limes from 2 bags of limes. Same store brand, bought at different times. The 2.2 ounce lime on the left is in a ¼ cup measuring cup; the 3.9 ounce lime on the right is in a ½ cup measuring cup. I got 1.1 ounces (~2 tablespoons) of juice from the left lime; I got 1.5 ounces (3 tablespoons) from the right lime.
Simple syrup: tequila and lime juice aren't sweetened, so you need to add a sweetener. We aren't going overboard here. You just need enough sweetness to balance the tart lime juice.
Simple syrup is just a 1:1 ratio of water to sugar. You're in good company if you don't have simple syrup lying around, but here's what I do. I take the amount of simple syrup, cut it in half, and dissolve that amount of sugar in my lime juice, or in a small amount of water. Just give it a good stir. It can take a few minutes for it to dissolve; use that time to gather your other ingredients.
Ice: a fifth, sometimes neglected ingredient. This margarita is a strong drink, and the way you make it smoother and more drinkable is with ice. Sometimes I shake the margaritas in a cocktail shaker; other times I stir; and yet other times I build it in the glass. Plenty of ice in the shaker, and crushed ice in the glass, is how a margarita becomes refreshing. Ice cubes are fine, but take longer to melt and dilute the drink, for better and worse.
Equipment
You don't necessarily need equipment to make a margarita, but a citrus juicer makes it a bit easier. You get more juice with a juicer, and it's easier for your hands.
You can use a high-powered electric one, which are great for juicing in quantity - but you don't need that much juice for just 2 margaritas. Invest $20 in a handheld model (seen above); you'll be more likely to use fresh juice in all your cooking! This hand-held citrus juicer (affiliate link) is what I have; brand doesn't matter much, but having the two levers press together helps squeeze the juice more easily than doing it strictly by hand.
I do sometimes use a cocktail shaker to make this drink. Shaking helps the syrup and Cointreau mix evenly with the other ingredients. However, laziness often wins, and I pour the ingredients directly into each glass, or a dishwasher-safe measuring cup, since I usually just make 2 at a time.
How to Make a Salt or Sugar Rim
I don't care for salt rims, so I usually rim our glasses with sugar. This step is totally optional, but cute.
Take your glass and either a lime wedge, or the still damp rind from your squeezed lime. Rub it along the edge of the glass.
Sprinkle some sugar into a small plate. Rotate the wet rim of the glass in the sugar. And, you're done!
Serving
Although margaritas are best immediately when they are made, you don't have to drink it all at once. Store extras in the fridge, without the crushed ice for serving. Then pour over ice when you're ready for a drink.
I often make these margaritas to go alongside a snacky dinner of tortilla chips, guacamole, and a simple dip of black beans blended with chipotles in adobo sauce. It would also be excellent at a dinner with Fajitas or Barbacoa. I recommend Tres Leches Cake for dessert!
Have you tried this recipe? Or have a question about it? Rate it or leave a comment below! (PS: rating my recipes helps other people find them, too!)
Interested in other recipes? I save and share recipes I like or want to try on my Pinterest page - follow me there! You can also check out my Facebook page for more recipes and helpful tips. I'm also happy to try to help troubleshoot my recipes there.
Related Recipes
📖 Recipe
Simple Margarita
A simple classic margarita recipe with silver tequila, Cointreau (or triple sec), fresh lime juice, and simple syrup or sugar. No sour mix!
Cuisine:
American, Mexican
Keyword:
fresh lime juice margarita, margarita
Servings
:
2
strong drinks
Ingredients
3.75

ounces

white tequila

(7.5 tablespoons)

1.875

ounces

Cointreau

(3.75 tablespoons; may sub triple sec)

1.5

ounces

lime juice

(3 tablespoons; use fresh, not bottled; from ~1 lime)

.75

ounce

simple syrup

(1.5 tablespoons; or sub 2.5 teaspoons sugar)

crushed ice

salt or sugar

(optional, for the rim)
Instructions
Juice your lime. Measure how much juice you have. 1 ounce of juice is 2 tablespoons by volume; 1.5 ounces of juice is 3 tablespoons. (See my math below to adjust the recipe based on your amount of juice.)

If using sugar instead of simple syrup, add to your lime juice and stir until dissolved.

Optional: salt or sugar the rims of your glasses Rub a lime wedge along the rim of the glass. Roll the wet edge in a small plate of salt or sugar, your preference.

Combine tequila, Cointreau, lime juice, and simple syrup in a cocktail shaker filled with ice, or a large mixing glass. Shake (or stir) until mixed and very chilled, about 30 seconds. If not sweet enough, add more syrup little by little to taste.

Strain into the salt- or sugar-rimmed glasses filled with crushed ice. Don't skip the ice; that's what makes the drink refreshing. Enjoy.
Recipe Notes
Use mid-range, white tequila in this recipe. Premium is unnecessary. Gold tequila will add unwanted flavors to your margarita.
You can substitute any triple sec for the Cointreau; however, your margarita may end up a little sweeter.
If you don't have orange liqueur at all, add the same amount of orange juice instead. You may need more sugar or syrup to taste.
Use only freshly squeezed lime juice. Bottled lime juice has preservatives, and while I use it sometimes in cooking, it won't taste that good when you drink it.
Don't use sour mix!
You can use granulated sugar or agave syrup in place of simple syrup. To substitute sugar, add half the quantity for the syrup (~2.5 teaspoons). To substitute agave, use the same amount as the simple syrup.
The syrup/sugar adds body to the drink, light as it is. I don't recommend adding artificial sweeteners.
Ratios based on lime juice amounts I've written down:
1.1 oz lime juice | 2.75 oz tequila | 1.375 oz Cointreau | 0.55 oz simple syrup or 1 ½ teaspoon sugar
1.2 oz lime | 3 oz tequila | 1.5 oz Cointreau | 0.6 oz syrup or a heaping 1 ½ teaspoons sugar
1.4 oz lime | 3.5 oz tequila | 1.75 oz Cointreau | 0.7 oz syrup or 2 teaspoons sugar
1.6 oz lime | 4 oz tequila | 2 oz Cointreau | 0.8 oz syrup or a heaping 2 teaspoons sugar
2 oz lime | 5 oz tequila | 2.5 oz Cointreau | 1 oz syrup or 1 tablespoon sugar
0.375 fluid ounces = just over 2 teaspoons
0.5 fluid ounces = 1 tablespoon
0.75 fluid ounces = 1.5 tablespoons
1 fluid ounce = 2 tablespoons
2 fluid ounces = ¼ cup
1 tablespoon = 3 teaspoons
Calorie count is an estimate only; calories in your cocktails will depend on the amounts of ingredients used.
In the past: