I like pecan pie, but I don't love it. Even at its best (and the pecan pie recipe I use turns out well whenever I make it), it's a little too gooey for my taste. Pecans are my favorite nut, so I enjoy a slice, but I always feel like I should love pecan pie.
So I was pretty excited when I came across this recipe for pecan pie cookies. It recalled to me the pecan squares that I made back in 2010 and loved so much. Pecans + brown sugar, but not much goo, on top of cookies? Count me in.
[This post contains affiliate links. I may make a commission for purchases made through links on this post.]
Now, maybe you're a person who likes pecan pie precisely because of the goo. Do you like pecan pralines? Then you'd like these.
Thumbprint cookies at heart, with delicious pecans with brown sugar, without all the goo - these did not disappoint. The cookie was soft and tender. I didn't let mine brown much, so perhaps I even underbaked them a little bit.
The cookie dough was a simple sugar cookie dough that came together easily. I used a small (2-teaspoon or #60) cookie scoop (affiliate link) (I really like my cookie scoops) to portion the cookie dough, which you roll into balls, then hollow out space for the brown sugar pecans. The recipe said to press the cookie with your thumb (hence the thumbprint), and then rotate your thumb to create more space. However, the dough stuck to my fingers a bit that way, so I rather made two thumbprints in an X or cross shape. Pressing on the dough squishes the balls down into a flatter cookie, which is good, but be careful not to make the thumbprint too deep, or the brown sugar will make the bottom a little soggy. I used a teaspoon to scoop the pecans, but I missed the phrase "heaping teaspoon" so I didn't pour quite enough pecans into some of the cookies. I poured the leftover mixture into my morning oatmeal the next day, which was wonderful.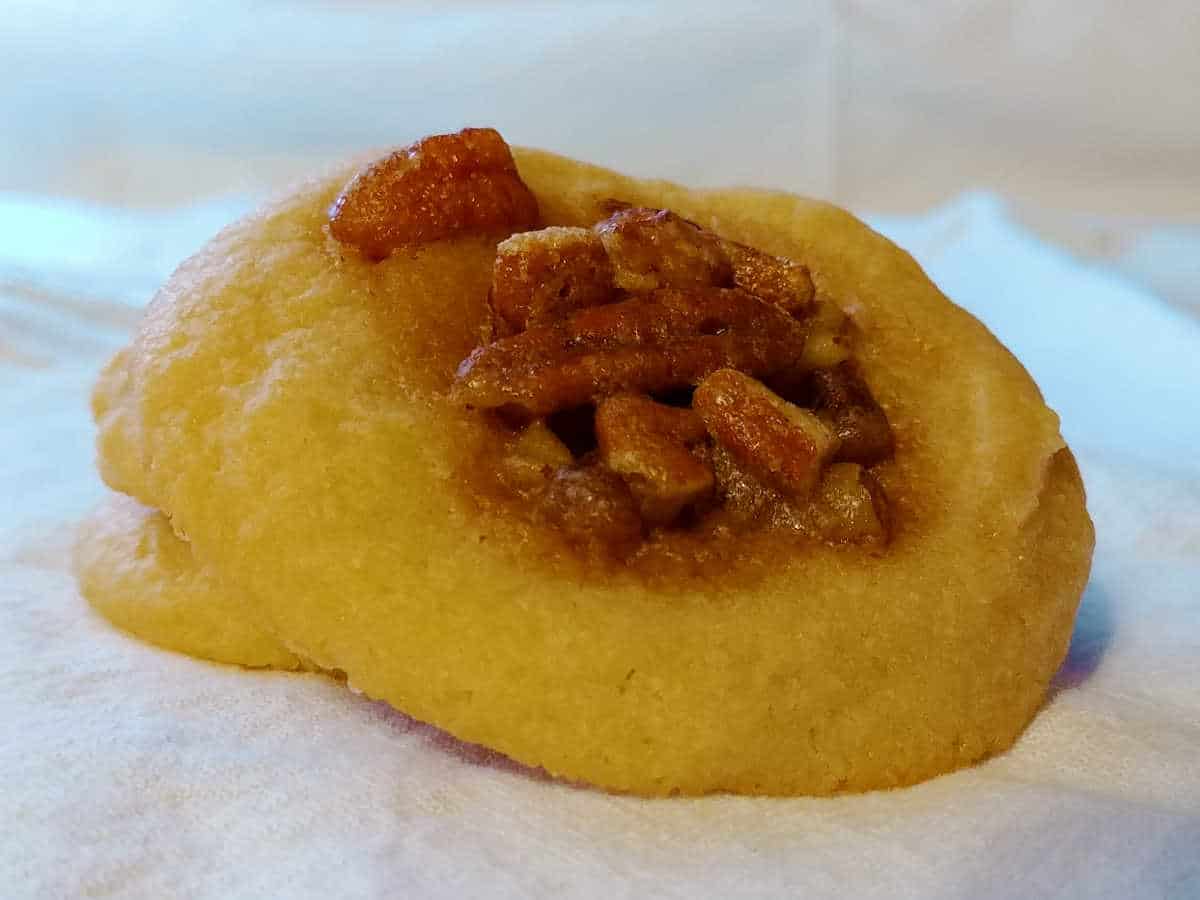 Like this recipe or have questions? Rate it or leave a comment below!
In the past:
Four Years Ago: Soft Cranberry Orange Cookies
Six Years Ago: Fig and Toasted Almond Scones
Seven Years Ago: Lemon Bars, Lebkuchen
📖 Recipe
Pecan Pie Cookies
adapted from Land 'O Lakes, via Genius Kitchen
Ingredients
¾

cup

12 tablespoons unsalted or salted butter, softened

1

cup

brown sugar

I used light

¼

teaspoon

table salt

only if using unsalted butter

1

egg

1

teaspoon

vanilla

2

cups

flour

1

teaspoon

baking powder

1

cup

chopped pecans

½

cup

brown sugar

¼

cup

cream

1

teaspoon

vanilla
Instructions
With an electric mixer, cream butter and 1 cup brown sugar on medium speed, until creamy. Add egg and vanilla and mix until combined. Add flour and baking powder; mix on low until just combined.

In a bowl, combine pecans, ½ cup brown sugar, cream, and vanilla.

Using spoons or a 2-teaspoon (#60) cookie scoop, form the cookie dough into 1 ¼ inch balls. Place on an ungreased or a Silpat-lined baking sheet. Use your thumb to make indentations into the cookie dough; rotate your thumb to hollow it out, or press your thumb the other way to make a criss-cross indentation. Be careful not to press too far down.

Fill the cookies with a heaping teaspoon of the pecan mixture.

Bake at 350F for 8-12 minutes, until lightly browned. Cool before removing from the baking sheet (particularly if you've baked them the shorter time).