I didn't grow up eating much fish, so this recipe for salmon with baked couscous was the only fish recipe I made for several years. The salmon, baked under a layer of couscous flavored with olive oil, lemon juice, olives, capers, and raisins, was delicious and usually turned out right, even when my cooking failed in other ways.
It's a real shame that it took me so long to get this recipe onto the blog. It made regular appearances at the dinner table until I started experimenting wholeheartedly with cooking and writing this blog in 2010.
I came across this recipe in graduate school, back in the days where I (and many others) still printed out recipes to try. One of my primary sources back then, and source for this recipe, was Food Network, although I didn't watch the show this recipe aired on. Tyler Florence's Salmon with a Couscous Crust purportedly served two, but in our experience it easily served three or four. It was easy to make as written, and delicious.
How to make Salmon with Baked Couscous
I loved, and still love, how quickly it comes together. Simply mix together couscous with seasonings, pour on top of salmon, and bake for about half an hour. It gives you plenty of time to clean up your kitchen before dinner. And that makes it a good candidate for serving to friends for dinner, in my book.
Of course, I made changes. The recipe took more olive oil than needed in a weeknight dinner, so I cut it back. I omit raisins since I don't care for them. I inexplicably like capers but not olives, so I use extra capers as a substitute.
I've substituted almonds for pine nuts, and forgotten them altogether before; both ways are fine. I usually don't toast the nuts because it's faster that way. The couscous is delicious even when I forget parsley. You could add the zest of the lemon into the couscous if you'd like.
No matter the variation, the salmon is moist since it's poached in the water, and the couscous is flavorful.
I usually serve the recipe alongside green peas; I guess I find they go well with the lemony couscous.
This recipe doesn't take long to put together, and is pretty hands-off. The quantity of couscous easily feeds four once you serve it alongside a vegetable, so I usually use a little extra salmon and plan on leftovers for lunch or dinner for the next day.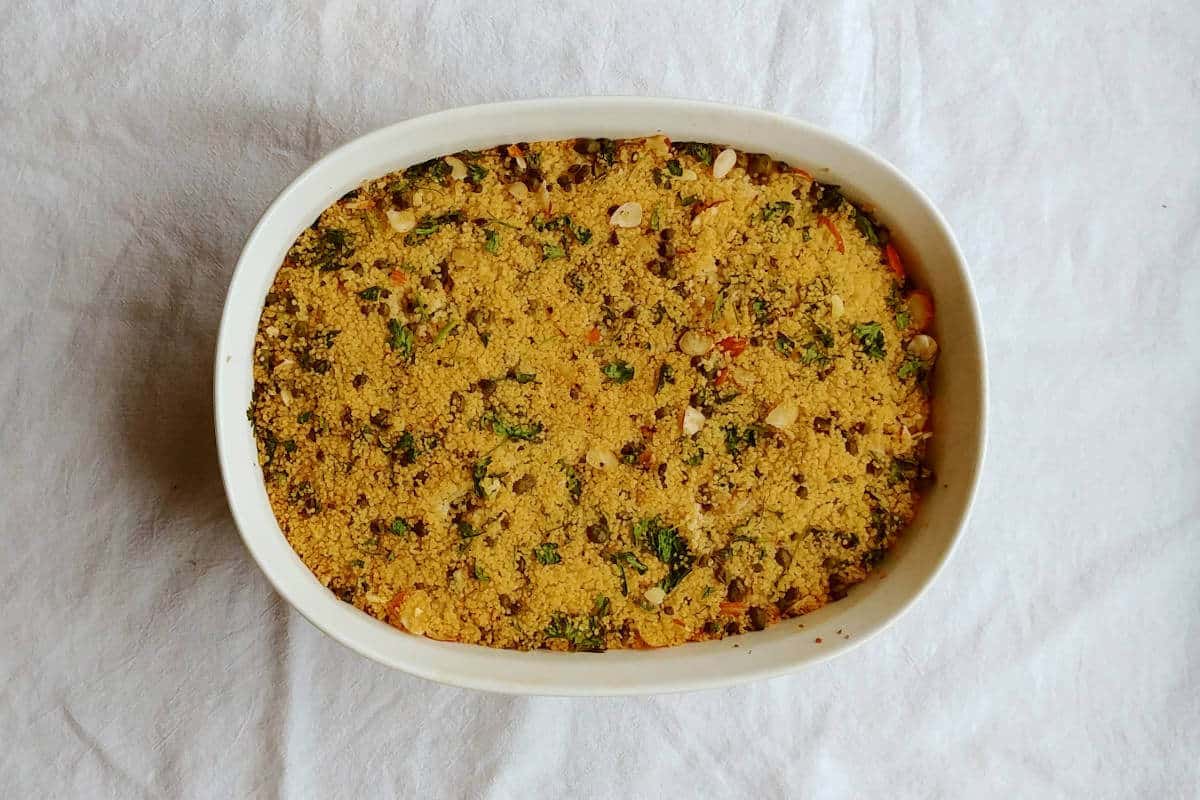 Like this recipe? Rate it and leave a comment below!
Two Years Ago: One-Pan Farro with Tomatoes
Four Years Ago: Thai Chicken with Basil and Cashews, and Oatmeal Sandwich Bread
Five Years Ago: Strawberry Coffee Cake
Six Years Ago: Lavender Angel Food Cake, and Stovetop Fideos
Seven Years Ago: Brown Sugar and Toasted Almond Ice Cream, and Banana Bread with Dates and Pecans
📖 Recipe
Salmon with Baked Couscous
An easy and delicious recipe for moist salmon with baked couscous, flavored with olive oil, lemon juice, olives, capers, and raisins.
Ingredients
16

ounces

salmon fillets

(skinned)

1

cup

parsley

(1 bunch) (chopped)

¼

cup

raisins

(optional; I skip them)

3

tablespoons

olives

(coarsely chopped) (I substitute an extra 2-3 tablespoons capers)

2

tablespoons

capers

(coarsely chopped)

3

tablespoons

pine nuts or almonds

(toasted and coarsely chopped) (optional) (I usually use untoasted slivered or sliced almonds)

2

tablespoons

olive oil

(28 grams; reduced from 4 tablespoons in the original recipe), plus extra to drizzle over the top

3

tablespoons

lemon juice

(45 grams; the juice of one lemon)

1 ½

cups

couscous

(250 grams) (I usually use whole wheat couscous)

2

cups

water

salt and pepper
Instructions
Grease a 10x8 inch baking dish (2.3-2.8 liter capacity). Place salmon on the bottom and season with salt and pepper.

Combine parsley, raisins (if using), olives, capers, nuts, olive oil, and lemon juice in a bowl. Stir in couscous and season with salt and pepper. Spread couscous evenly over salmon fillets in baking dish.

Pour water into the dish along the side of the casserole dish, so that the water doesn't wash the couscous from the top of the salmon. You want the salmon to stay covered. Spray or drizzle with oil if desired.

Bake at 375F for 25 minutes. Fish will flake easily when done.

Recipe Notes
Adapted from Food Network
(Updated in April 2018 with new pictures and updates to the recipe.)