I mainly write about sweets and desserts, but my meals are usually pretty healthy. Like this new recipe for saag, an Indian dish of spinach and greens, lightly spiced and cooked down in a slow cooker.
I love Indian food, but I don't make much of it at home. There's often a lot of spices and a lot of prep that goes into it. However, I finally adapted a dish that is practically hands-off! Dump in the slow cooker; cook; blend; cook again. Then you have dinner!
[This post contains affiliate links. I may make a commission for purchases made through links on this post. As an Amazon Associate, I earn from qualifying purchases.]
Ingredients
Saag is an Indian dish of spinach and other bitter greens. It's cooked down to a creamy but thick sauce or curry.
Ingredient proportions: you need more spinach than other greens in this dish. Spinach should be at least half of the greens you use. Otherwise, the saag can leave a bitter or astringent aftertaste.
For bitter greens, mustard greens are traditional, but I use whatever I have in the freezer, like kale. I also toss in a variety of greens from my CSA. I freeze the greens from beets, turnips, radishes, and carrots specifically to use in this. I've also used stems from kale and chard; they just need to cook longer and be blended very well.
The recipe takes onion, garlic, and ginger. I usually buy fresh ginger and grate or shred it. (You can also freeze ginger root to grate later, or freeze the grated root to use later. I use mine well over a year later.)
You could also buy frozen ginger cubes, and jars of minced ginger or ginger paste. These are also fine, but make sure they don't have other ingredients added for flavor. I don't recommend dried ginger as its taste is different.
The first spices you add are ground coriander, cumin, turmeric, and black pepper. All of these can be found at a grocery store. Coriander and cumin are used in Mexican cuisine. Turmeric adds an earthy undertone, and I've only seen it used in Indian food. You can buy small containers of it from Target, as well as other grocery stores. You want it relatively fresh, as its flavor fades quickly.
Cayenne or chili is optional for us, which I know makes this recipe inauthentic. My daughter complains about spicy food, and this is flavorful enough for us without it. I also enjoy it more this way! If your cayenne doesn't add spiciness to food, then it's old and you should throw it out.
You add garam masala after you blend the spinach, but what is garam masala? It's a spice mix that's not usually spicy hot. The ingredients in it vary but often include black pepper, cumin, cinnamon, cardamom, and cloves; it shouldn't have chilies. Much like Italian seasoning blends, no two blends are the same. It's also not the same as curry powder, which is a British or Western invention and usually contains turmeric, which also adds a yellow color to food.
Garam masala quality varies. I bought a bag of it once that was hot spicy and wasn't very good. Just like your turmeric, you want your garam masala to be relatively fresh. If you've never tried it before, I recommend buying a small amount from whatever quality brand of spices you buy. It's also found online, like through Penzey's. If you don't already have garam masala but have the ingredients, the Spruce Eats has a recipe you can try.
Making Saag
This recipe is *not* authentic. I've lightly Americanized it as I made it easier for myself. I adapted it from two recipes from Ashley at My Heart Beets - Sarson Ka Saag, and her Instant Pot Saag. (She also has some excellent Indian desserts on her website.)
I like my slow cooker recipes to be dump-and-cook; this recipe is almost there. However, this recipe requires you blend the greens halfway through cooking, which helps the tougher greens cook down. You also add garam masala at this halfway point; you want it to cook enough to bring out the flavor of the spices, without overcooking them.
I think that makes this recipe perfect for a lazy weekend at home. You can extend the cooking time a little bit on both before and after blending, and the slow cooker will keep things warm for you.
I've streamlined my prep by skipping sauteing onion and other aromatics, adding them directly to the slow cooker with the spices and greens.
You can use frozen greens! Add them before or after thawing, with frost on them. Frozen leaves thaw quickly. If using fresh greens, rinse them before cooking them because you need the steam from that water.
Push everything down into the slow cooker so that the lid closes.
Cook your greens on high for 2 hours; add at least 30 minutes if your greens are frozen or if you're including stems. (A frozen blog of greens encased in ice will take longer to cook, as will stems.) It's fine if you cook it a bit longer than 2 hours here, even if everything is fresh.
Your greens will have really cooked down; it'll only be about half the volume you started with.
Turn off your slow cooker. Carefully use an immersion blender (affiliate link) to puree the cooked spinach and greens. (My immersion blender is an older, 1-speed model from 2009 that's still going strong.) Add a couple of tablespoons of water to help blend it if necessary.
Stir in garam masala, then cover again and turn your slow cooker back to high. Cook the saag for another 2 hours.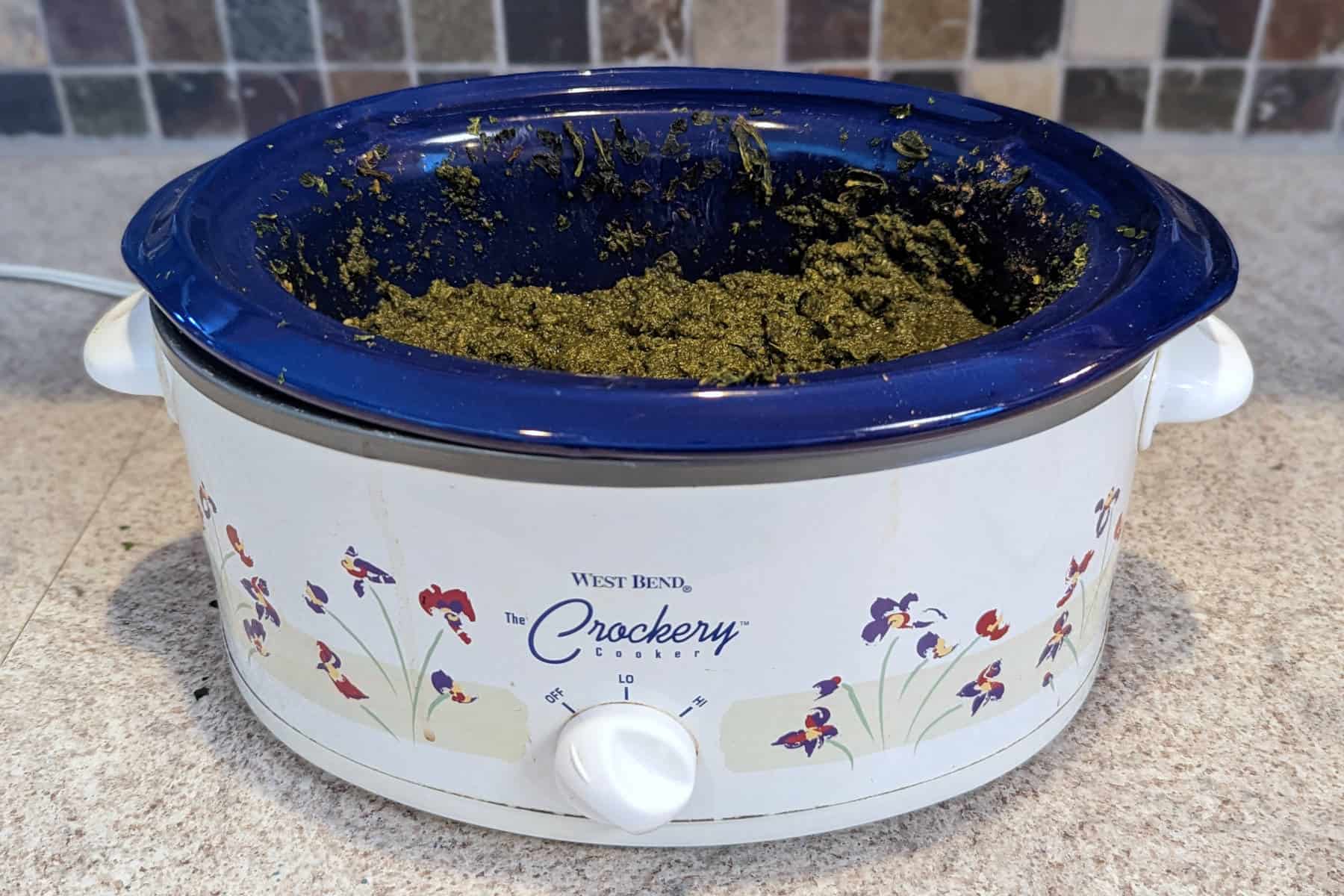 After you turn off your slow cooker, stir in the heavy cream. You need this to add a little creaminess and body to the sauce. You can add ghee if you'd rather, or perhaps some coconut cream to make it vegan (although I haven't tried it).
Serving
Serve the saag over rice, or with naan.
I like to make saag as an accompaniment for leftover Indian food, since we usually don't order anything with vegetables. I also often make a simple dal (soupy Indian lentils) to go along with it. (Recipe coming soon!)
To make this saag into a meal on its own, stir in drained canned chickpeas or lentils after it's cooked.
Leftovers last for a few days, stored promptly in the fridge.
Related recipes
Slow Cooker recipes
Have you tried this recipe? Or have a question about it? Rate it or leave a comment below! (PS: rating my recipes helps other people find them, too!)
Interested in other recipes? I save and share recipes I like or want to try on my Pinterest page - follow me there! You can also check out my Facebook page for more recipes and helpful tips. I'm also happy to try to help troubleshoot my recipes there.
📖 Recipe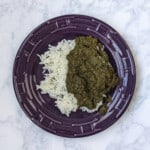 Easy Slow Cooker Saag
A healthy and easy saag (Indian spinach and greens) that you make in the slow cooker! Flavorful but not spicy.
Course:
Main Course, Side Dish
Cuisine:
American, Indian
Keyword:
slow cooker Indian spinach, slow cooker saag
Ingredients
24

ounces

spinach

(fresh or frozen, which I usually use)

8

ounces

bitter greens

(such as kale; mustard greens; carrot tops; chard; tops from beets, turnips, or radishes) (fresh or frozen)

1

onion

(chopped)

2

tablespoons

ginger

(grated or minced; about a 2 inch piece)

2

tablespoons

garlic

(minced)

1

teaspoon

coriander

(ground)

1

teaspoon

cumin

(ground)

1

teaspoon

table salt

½

teaspoon

turmeric

(ground)

½

teaspoon

black pepper

(ground)

½

teaspoon

cayenne

(optional, but recommended if you like spicy)
To Finish
¼

cup

heavy cream

cooked rice

(for serving)
Instructions
In a 3.5 or 4 quart slow cooker, combine the spinach, greens, and remaining ingredients (except for garam masala, heavy cream, and rice). If using fresh greens, be sure to rinse them and put them in the slow cooker while wet. If using frozen greens, add them frozen, ice and all.

Cover and cook on high for 2 hours. If using stems or frozen greens, add 30 minutes (or more if your greens are in a chunk of ice). A little extra cooking time won't hurt.

Use an immersion blender to puree the cooked greens until relatively smooth and not chunky. Blend especially well if you've used stems from kale or other greens.

Stir in the garam masala. Cover the slow cooker and cook for another 2 hours on high.

Turn off the slow cooker. Stir in the heavy cream, and add more salt to taste if necessary. Serve over rice and enjoy!
Recipe Notes
Adjust the amount of greens to your taste. Use at least half spinach. Use as much as 16 ounces or as little as 6 ounces of greens, substituting spinach for the rest.
Minced or frozen ginger works fine.
We skip the cayenne, but use it if you prefer some spiciness.
Garam masala is not the same as curry powder, which is not very good in this recipe. Be sure your spices are fresh. See blog post for details.
Add 2 tablespoons ghee in place of the cream, if desired. Or, try canned whole fat coconut milk to make it vegan (although I haven't tried it).
I strongly recommend using an immersion blender, as the saag will be too thick for a normal blender.
Calorie count is an estimate only, and will vary depending on the greens you use. Calorie count does not include rice.
Adapted from recipes by My Heart Beets
In the past