I love ice cream in every season, so autumn is a fine time for me to share one of my favorite ice cream recipes - this rich yet delicate Anise and Honey Ice Cream.
It's sweet and perfectly scoopable, right out of the freezer! Smooth and refreshing, it's a great alternative to vanilla ice cream.
Jump to:
[This post contains affiliate links. I may make a commission for purchases made through links on this post. As an Amazon Associate, I earn from qualifying purchases.]
Ingredients
I've adapted this recipe is adapted, ever so slightly, from David Lebovitz's The Perfect Scoop (affiliate link), which is a great ice cream book. I really hesitated to try it because we don't like licorice that much. However, when I first made this 9 years ago, I recalled how pleasant the Pan de Muerto I made in late 2011 was with the inclusion of anise in the dough. I gave the ice cream a try, and haven't forgotten about it since.
Although I don't make it often enough, I love homemade ice cream. It's so much better than what you buy at the store because you use pure ingredients, and you can make unusual flavors that you can't buy otherwise.
Ingredients for ice cream are, and should be, simple. Sometimes, though, ingredient lists on cartons of ice cream can be very long! Luckily, you know exactly what goes into homemade ice cream!
Anise, or aniseed, is the main flavor here. It's a spice that tastes a little like licorice, but don't let that scare you away. I don't like licorice, but I do like anise. (Fun fact I just learned: anise is not the same plant as star anise. Also, anise is sometimes used to enhance the licorice flavor in candies.)
If you can't find anise in your regular spice aisle, large grocery stores may have it with a section in their international food aisles. There's really no substitute for it here.
This recipe takes honey, which also provides lots of flavor! Use the tastiest honey you can get, but regular grocery store honey will be fine as long as you like the flavor.
Honey, as a liquid sweetener, keeps the ice cream from freezing super hard, which means I can scoop it directly from the freezer. You may be able to substitute an equal amount of corn syrup (which provides no flavor) or agave (which will add a different flavor), but I haven't tried it. Using extra sugar instead will simply make your ice cream harder.
Milk and cream: I've used store-brand dairy milk and heavy cream when making this. Whole, 2%, and 1% milk work fine for this. I would not recommend using skim/fat-free milk, although I have not tried it.
Churning the cream is what aerates the ice cream and provides it with texture. I expect you could use 2 cups of dairy half and half plus 1 cup of heavy cream instead. If you use less cream (and bump up the milk instead, for instance), I expect you will end up with icy instead of creamy ice cream. If you go all cream and no milk, you will churn your ice cream into butter.
Egg yolks help thicken the ice cream mixture as you cook it. This makes your ice cream smoother, and less icy.
Making Ice Cream
Start by toasting the anise seeds in a dry saucepan large enough for your entire ice cream mixture. You can skip this, but toasting them brings out the flavor and makes your ice cream tastier.
Heat on low-to-medium heat for about 2-3 minutes. Watch the seeds to be sure they don't burn! If they smell scorched, pitch them and try again.
Add 1 cup of the cream, milk, sugar, honey, and salt. Heat until warm. Turn off the burner, cover the pot, and steep the mixture for an hour.
After the mixture has steeped, return it to medium heat. Stir it occasionally, until it starts to steam. Pour the other cup of cream into a bowl or measuring cup, and place a strainer over it.
Place your egg yolks in a heat-safe bowl. Once the milk mixture is warm again, carefully drizzle a small amount into the egg yolks while you whisk. This is tempering the eggs. You want to warm them gradually so they don't curdle and you don't end up with bits of scrambled egg in your ice cream. (Luckily, though, the strainer will also be nice backup protection!)
Once your egg yolk mixture is warm, pour it back into the saucepan, whisking constantly. Cook on medium heat, scraping the bottom with a rubber spatula, until the mixture coats a back of a spoon.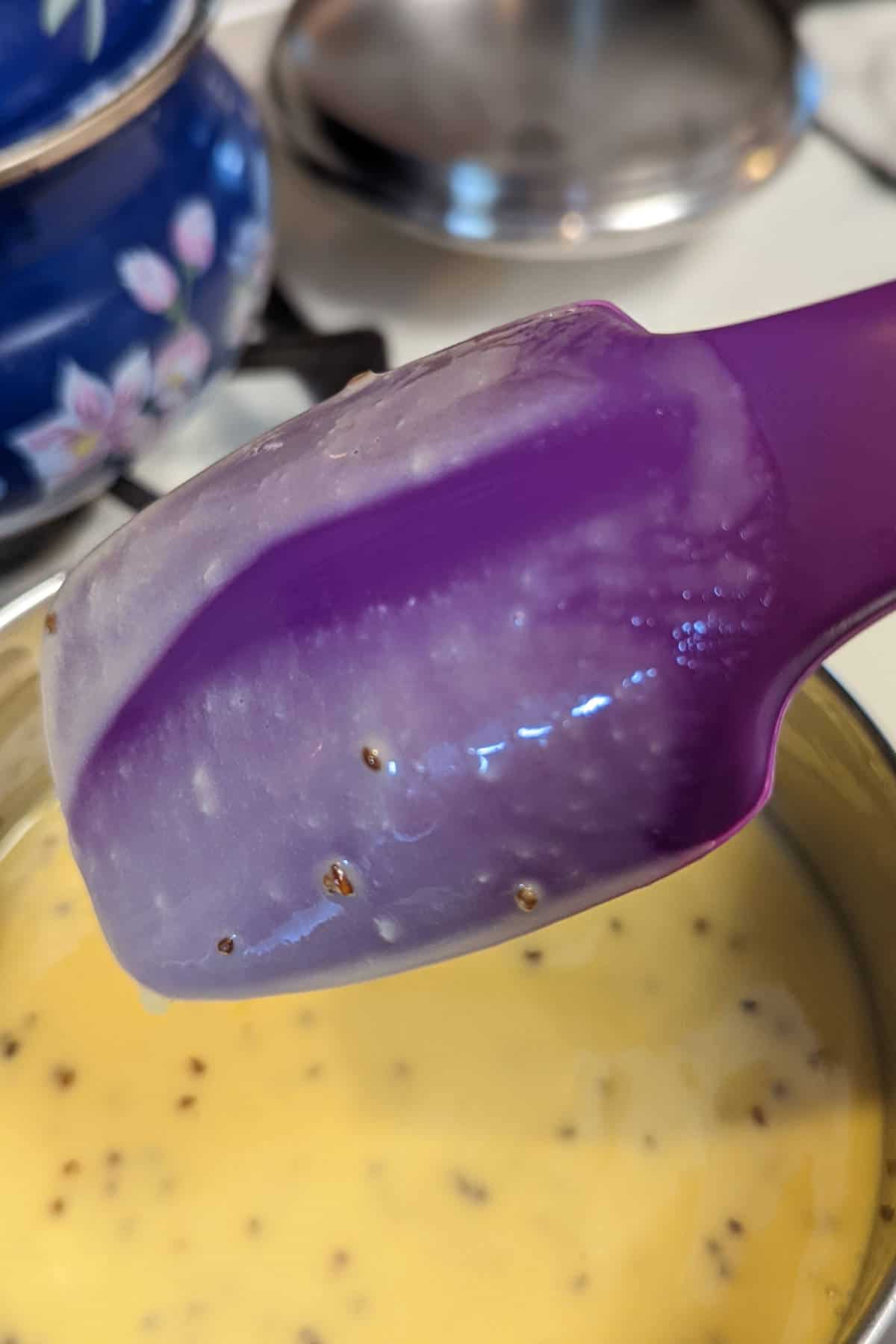 Remove the mixture from heat. Pour through the strainer into the reserved cream. Use a bigger strainer than I did in the picture below! The strainer will separate out the anise as well as any bits of overcooked egg.
Give the mixture a stir, then store it in the fridge to chill. Chill it for at least 4 hours before churning it in your ice cream maker.
Finally, use your ice cream maker to turn this batter into ice cream! As you churn it, the ice cream batter will increase, maybe double, in size. Delicious!
Follow the instructions for your machine, of course. I have the Kitchenaid Ice Cream Attachment (affiliate link), which works well for me, but any ice cream maker should work fine.
Storing and Serving
I've saved a couple of plastic ice cream cartons that I use strictly for ice cream. Really, store it in just about any container you wish. Divide it into single serving portions before storing if you prefer.
I find that the honey makes this ice cream easy to scoop. However, if you have trouble scooping ice cream from your freezer, you might have trouble with this one too. If that's the case, try to use a thin-sided container so that you can leave it on the counter to soften to a scoopable consistency quickly.
I generally prefer single-flavor ice creams, without add-ins. I adore the texture of ice cream. However, Lebovitz suggested having it alongside biscotti or almond cookies, or using it to fill eclairs or cream puffs. These are solid ideas.
Truly, I am still a little surprised at how much I enjoy this ice cream. It's rich from the honey and anise, but still delicate. I love how smooth and sweet and refreshing it is - a great alternative to vanilla. I don't get tired of eating it.
Want more creamy dessert recipes to try?
Interested in other recipes? I save and share recipes I like or want to try on my Pinterest page - follow me there! You can also check out my Facebook page for more recipes and helpful tips. I'm also happy to try to help troubleshoot my recipes there.
Have you tried this recipe? Or have a question about it? Rate it or leave a comment below! (PS: rating my recipes helps other people find them, too!)
📖 Recipe
Anise and Honey Ice Cream
A delicious, smooth homemade ice cream flavored with anise and honey. Rich and creamy, it's a refreshing alternative to plain vanilla!
Keyword:
anise and honey ice cream, anise ice cream
Ingredients
2

teaspoons

anise seeds

(5 grams)

1

cup

milk

(227 grams)

⅔

cup

sugar

(133 grams)

1 ½

tablespoons

honey

(33 grams)

a pinch of salt

2

cups

heavy cream

(454 grams; divided)

5

egg yolks
Instructions
Toast anise seeds in a medium saucepan over low-to-medium heat for about 3 minutes, until they smell fragrant. Be careful to not let them burn.

Add the milk, sugar, honey, salt, and 1 cup of the cream. Heat until warm (I let mine start to steam), then remove from heat. Cover, and let steep for 1 hour.

Pour the other 1 cup cream into a 4-cup measuring cup or bowl. Place a strainer on top.

Whisk egg yolks in a heat-proof bowl that's large enough to hold about 2 cups.

Return the anise mixture to heat and warm gently. Slowly drizzle a small amount of the warm milk into the egg yolks while you whisk constantly; this is tempering them by warming them gradually.

Repeat this by whisking the warm milk in the saucepan while you pour the egg yolk mixture back into it. Heat the custard over medium heat, stirring constantly, until the mixture thickens and coats the back of a spoon.

Strain the custard through the mesh strainer into the cream and stir to combine. Cool the mixture in an ice bath (optional), then refrigerate for at least 4 hours, until cold.

Churn ice cream in your ice cream maker according to the machine's instructions. Store in an airtight container in the freezer.
Recipe Notes
You may use any dairy milk, although non-fat milk is not recommended.
Agave or corn syrup may be substituted for the honey, although the flavor will change. Be sure to use a liquid sweetener, rather than additional sugar, as this keeps the ice cream from being too hard.
If you scorch the anise seeds, start over.
Straining the custard removes the anise seeds from the mixture, as well as any overcooked egg. Think of it as insurance that you have a delicious ice cream. Do not skip.
Recipe adapted from David Lebovitz's The Perfect Scoop
Originally written May 2013.
[Originally posted May 2013. Completely rewritten in July 2022.]
Recipes from the past