A Thanksgiving and Christmas tradition in my family is my grandma's homemade chocolate pie.
This from-scratch chocolate pie is simple and wholesome. It's just creamy and sweet, cozy and comforting, just as the holidays should be. It's nothing fancy, and that's what makes it perfect.
We don't just make one pie. My mom makes two, even though there's just five of us. And we cut it into six wedges instead of the usual eight, so we eat extra big servings!
So believe me - there's nothing more homey than this chocolate pie in my house.
Jump to:
[This post contains affiliate links. I may make a commission for purchases made through links on this post. As an Amazon Associate, I earn from qualifying purchases.]
This is a humble chocolate pie. It's made from scratch, with real ingredients (especially if you use whipped cream instead of the Cool Whip my mom tops hers with). It's not heavy. It's not overly rich. It's not over-the-top.
Impatient? Jump to Recipe
This pie recipe comes from my dad's mom, Aldean. My mom loved it so much that she got the recipe and made it for her parents and sisters each Thanksgiving and Christmas we spent with them in Arkansas. My mom would make one while my aunt Renee made another, because we enjoyed eating the pies so much. (It sounds like a competition, but I'm pretty sure it wasn't!)
Even now, when there's only five adults and one child at her house in a normal year, Mom makes two of these chocolate pies. She knows we will eat one after Christmas dinner, and still want second dessert later on or the next day.
Jump to Recipe
How to Make Chocolate Pie - from Scratch!
You can tell from the state of this index card that our chocolate pie was well-loved.
I have no idea where grandma got the recipe. I'm pretty sure my mom wrote it down from verbal instructions, not a recipe card.
One of the things I love about this recipe is the simple ingredients. There's no mixes. No melting chocolate. No heavy cream. No excess of butter. Just things you, a Southerner or Midwesterner, would have in your kitchen already. I love those kind of recipes.
Let's get to making a pie. First, choose your pre-baked crust.
We've experimented with using graham cracker or other crumb crusts, but I think they detract from the chocolate filling. I prefer a more traditional, not-too-thick pie crust. We've used homemade crusts since I started baking; homemade crusts are always best. If you want store-bought crust, go with the refrigerated pie shells that you have to unroll (I've used Pillsbury in a pinch), or some other kind of premium frozen crust. The filling is simple, so you want the crust to be something delicious that you want to eat.
This filling is simpler than many other cream pies you may make because you cook all the ingredients together from the beginning, rather than trying to add hot milk to eggs and hope you don't scramble them.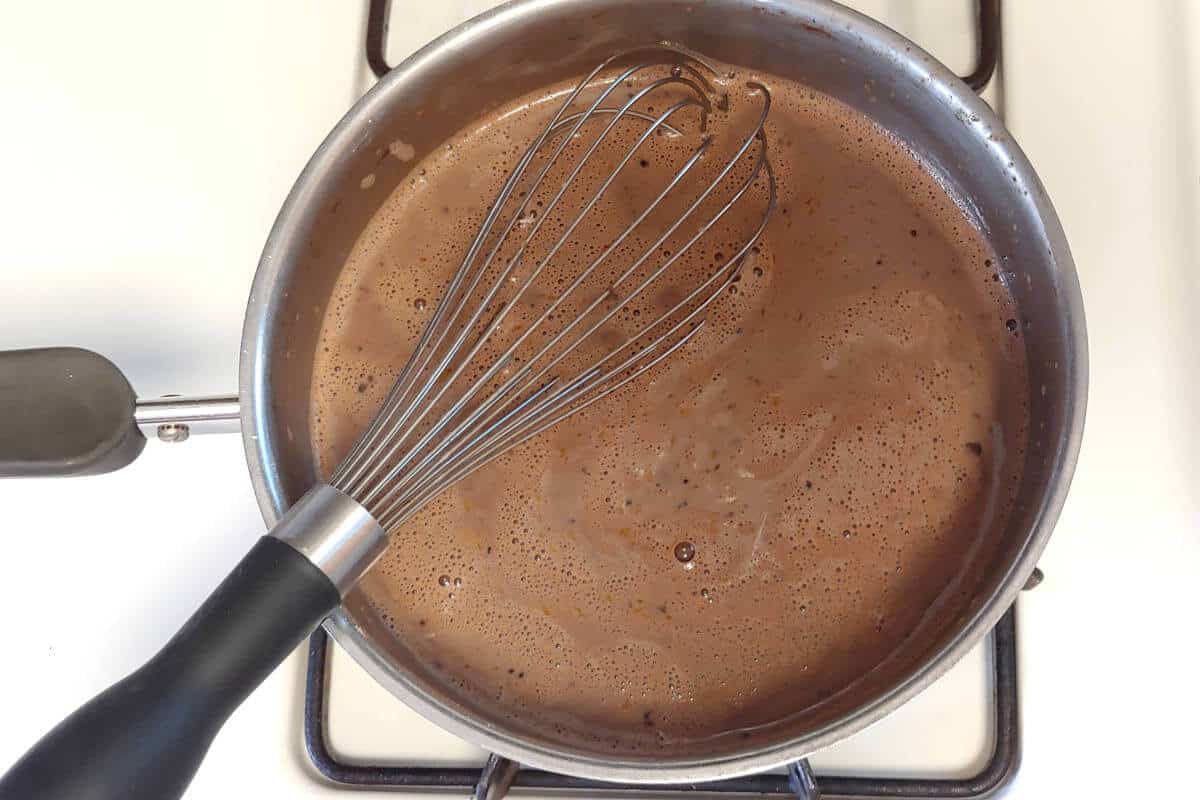 Use a whisk to combine eggs, sugar, cocoa powder, and cornstarch in a medium saucepan. Slowly whisk in the milk. The cocoa powder will make it foamy. (I usually use Hershey's cocoa powder (affiliate link) now, though I've used Saco cocoa powder (affiliate link) in the past.)
Cook over medium heat and stir occasionally. You want to be sure to scrape the bottom and edges of the pan so that nothing sticks or burns. This also helps you be sure all the cocoa is mixed in, so you won't have clumps of stuff in your filling.
Really, the secret to making any kind of pudding or pudding pies on the stove is scraping the bottom of the pan often to be sure nothing sticks and everything cooks evenly.
You'll feel the mixture start to thicken. Stop stirring for a few seconds to see if you get bubbles in the center of the pan. If not, continue scraping the bottom. Getting to this point took me about 10 minutes.
Once you get bubbles in the center of the pan, set a timer for 3 minutes. Use the whisk to stir the pudding constantly, still scraping the bottom, edges, and sides. I like using a whisk because it breaks up lumps.
After the 3 minutes, remove the pudding from heat. Add the butter and the vanilla (which will fizzle a little). Use a whisk or rubber spatula to stir it in.
Pour the pudding into your pie shell. I like to lay plastic wrap on the top of the pudding; this keeps a pudding skin from forming, so the pie remains nice and creamy.
Chill the pie for 2 hours before serving.
Jump to Recipe
Serving and Storing Homemade Chocolate Pie
My grandma topped this with meringue. My mom uses whipped topping. I use whipped cream. You can whip cream yourself, or use the spray stuff on each slice, which isn't as good but is much easier.
If you use whipped topping or whipped cream, top the entire pie before serving. I made my whipped cream in the pictures with heavy cream (rather than light cream or whipping cream) and a little sugar, and whipped it to soft-to-medium peaks. Even after 3 days, it hadn't deflated.
Refrigerate leftovers, if you have any. The pie is good for about 3 days in the fridge; after that, it sometimes becomes a little weepy and the crust may get soggy.
One of the things that makes this pie nice is that it's lighter than some others. Since there's no cream or melted chocolate in it, it's lower-fat and has fewer calories than richer desserts.
This pie is delicious; we certainly wouldn't make it year after year, otherwise. It's chocolatey but not overwhelmingly so. Filling, but not too much. Not too sweet (like pecan pie usually is), nor too rich. It's smooth and creamy and comforting.
For me, this pie tastes like home. There's nothing fancy about it, and that's what makes it perfect.
Want other delicious pie recipes? Try Pecan Pie, Pecan Fudge Pie, Coconut Cream Pie, Key Lime Pie, Blueberry Pie, Black Bottom Oatmeal Pie, or Caramel Apple Pie.
Interested in other recipes? I save and share recipes I like or want to try on my Pinterest page - follow me there! You can also check out my Facebook page for more recipes and helpful tips. I'm also happy to try to help troubleshoot my recipes there.
Have you tried this recipe? Or have a question about it? Rate it or leave a comment below! (PS: rating my recipes helps other people find them, too!)
In the past:
One Year Ago: Healthier Sweet Potatoes with Marshmallows; Triple Cinnamon Scones
Two Years Ago: Cranberry Pecan Oat Scones (or Christmas Scones); How to Freeze Cinnamon Rolls (and Other Bread and Breakfast)
Three Years Ago: Maryland Fudge Cake; Fudgy Bourbon Balls
Eight Years Ago: Cranberry-Oat Scones
Nine Years Ago: Spiced Apple Cookies review; Coffee Liqueur Cookies review
Ten Years Ago: Cabernet-Braised Beef Short Ribs review; Billowy Sourdough Cinnamon Rolls review
📖 Recipe
Aldean's Chocolate Pie
A simple, homemade chocolate cream pie, based on my grandma's recipe.
No melting chocolate or tempering eggs; you use cocoa powder, and heat the eggs with the pudding filling!
Keyword:
chocolate cream pie, chocolate pie
Ingredients
2

eggs

(110 grams)

1

cup

sugar

(200 grams)

¼

cup

cornstarch

(35 grams)

3

tablespoons

cocoa powder

(20 grams)

2

cups

milk

(480 grams)

1

tablespoon

butter

(14 grams)

1

teaspoon

vanilla extract

(5 grams)

1

pre-baked pie crust

whipped cream

(for serving)
Instructions
In a medium saucepan, whisk together eggs, sugar, cornstarch, and cocoa. Slowly stir in the milk and whisk to combine. The cocoa will make the mixture foamy.

Place saucepan on stove and heat over medium heat, stirring often and scraping the bottom and corners with your whisk or a wooden spoon. Stir and scrape the bottom more as you feel the mixture thicken.

Pause stirring for a few seconds to see if the mixture is bubbling yet. If the surface doesn't bubble yet, continue lazily stirring the bottom for a minute, then try again. (This process usually takes me about 10 minutes from when I put the pan on heat, but this will depend on your pan and stove.)

When the middle of the mixture starts bubbling, cook for another 3 minutes, scraping the bottom and sides of the pot constantly. (Again, this keeps the mixture from sticking and burning, and breaks up lumps. It's especially important at this stage.)

After the pudding has bubbled for 3 minutes, remove it from heat. Add the vanilla and butter and stir until completely combined. Pour into your pre-baked pie shell or crust. Place a layer of plastic wrap directly on the pudding to prevent it from forming a skin on top.

Let pie cool on the counter briefly, then refrigerate until chilled. To serve, remove plastic wrap and top with whipped cream. Refrigerate leftovers, which will keep for about 3 days.
Recipe Notes
Grandma's recipe originally called for 3 eggs, separated; the whites were used for meringue. I don't make meringue, so I just use 2 whole eggs. My mom uses 3 whole eggs, makes no meringue, and tops her pie with whipped topping.
If you don't have cornstarch, you can use ½ cup flour, which my grandma used. Flour clumps up, and it's hard to get the filling smooth, so I recommend using cornstarch for your peace of mind.
My mom always uses whole milk; I use 1% or 2% milk, and it always turns out. It is possible that non-dairy milk would work, but I can't guarantee it.
Grandma's recipe called for "1 pat butter." I've always guessed that's 1 tablespoon, and it works for me. My mother uses margarine in her pie.
Boiling the filling for 3 minutes works for me, as long as I know the center of the pot was bubbling. My mom cooks hers for 5 minutes with no problems, because she remembers making chocolate filling that didn't set. (I had that problem years ago too, but now I just know 3 minutes is enough.)
Calorie count includes filling only; it does not include calories for the pie crust of your choice, or whipped cream.