I've finally rediscovered a recipe for a Pecan Fudge Pie after, oh, about a decade.
It was years ago (maybe 2007?) when I was in Houston and went to a place (a diner? I can't remember the name) that was supposed to have amazing pies. I got a slice of a fudgy pecan pie, which was indeed very delicious - everything I had hoped it would be. Skip forward one or two years, when I convinced my family at Christmas that the five of us needed not our usual 4 pies (2 chocolate, 1 pecan, 1 lemon) for the holiday, but 5. The fifth pie was a fudge pecan pie, easy to make, with corn syrup and the usual pecan pie ingredients. [This post contains affiliate links. I may make a commission for purchases made through links on this post.]
This was before I started this website, and so I didn't write about the dessert, which means that of course I don't know what recipe I used. I assumed I would have emailed it to myself (or to my mom, or someone) but I have no record of it.
I tried a chocolate pecan pie recipe a couple of years ago. It was disappointing. I didn't eat more than a slice. But in thinking about pies at Christmastime this past winter, I began wondering about the chocolatey pecan pie recipe I've been missing for the last several years. I've made other, similar pies (such as the delicious Black-Bottom Oatmeal Pie), but I wanted a pie that was as easy to assemble as pecan pie - just mix together ingredients and bake.
[envira-gallery id="35798"]
I finally found it. This pie recipe, originally from Taste of Home, is exactly what I was looking for. At heart it's a fudge pie, with some pecans adorning the top. It's fudgy and a little gooey, but thicker than a traditional pecan pie with the addition of cocoa and flour to the filling. The pecans make it a little nutty, and for a nuttier flavor, you couldn't go wrong with using an extra ½ or 1 cup pecans, particularly if you make it in a deep dish pie pan.
Making Pecan Fudge Pie
Ingredients: this takes a large amount of corn syrup. I didn't have enough light corn syrup and so substituted in both dark corn syrup and honey. Honey alone may make for a decent substitution for corn syrup if you don't want to use it, but I haven't tested it that way. I've also heard that golden cane syrup is a decent substitution. I think you could substitute cocoa for the flour if you wanted to make it gluten-free (assuming you were putting it in a gluten-free pie crust, of course); however I haven't tried it. Cocoa doesn't thicken the same way, so the filling may be looser.
The crust recipe below is the pie crust from my Betty Crocker Cookbook (affiliate link), and it's the standard pie crust I always reach for because I've made it so often. When made with all butter as I did for this pie, it makes a crunchy pie crust. In the past I've used shortening or margarine, which makes a more tender crust. Of course, you can use a store-bought crust if you wish; I usually grease my pie dish when I do, and my experience has been that store-bought crusts often shrink up in the pan as they bake.
I'm so happy that I found a recipe for this pie after so long. I'm often good for only a slice of pie, maybe two, but I'm definitely doing my share of heavy lifting (read: eating) on this pie. You should definitely try this recipe sometime when you want a decadent but easy-to-make pie.
Like this recipe or have questions? Rate it or leave a comment below!
In the past:
Three Years Ago: Black Bottom Oatmeal Pie
Four Years Ago: Applesauce Oatmeal Bread
Five Years Ago: Lentil Soup with Sausage and Kale
Six Years Ago: Spellbinders (a favorite!!)
Seven Years Ago: Coriander-Crusted Tuna with Black Bean Salsa
Eight Years Ago: Provencal Leg of Lamb and Roasted Vegetables with Arugula Pesto, Blueberry-Buttermilk Scones, Black and Tan Brownies
📖 Recipe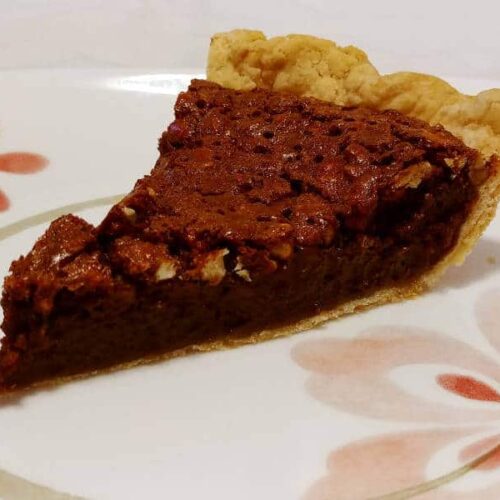 Pecan Fudge Pie
This rich fudgy pecan pie is easy to make. Just whisk together ingredients and bake.
Ingredients
1 ¼

cups

light corn syrup

½

cup

sugar

⅓

cup

cocoa

⅓

cup

flour

¼

teaspoon

salt

3

eggs

3

tablespoons

butter or margarine

(melted)

1 ½

teaspoons

vanilla extract

1-2

cups

chopped pecans

(I used 1; I think you could use up to 2 to make it extra nutty, if your pie pan is deep enough)

1

unbaked pie crust

(see recipe below)
Instructions
Combine corn syrup, sugar, cocoa, flour, salt, eggs, butter, and vanilla. Mix until well combined. Stir in nuts. Pour into unbaked (9-inch) deep-dish pie crust.

Bake at 350F for 55-60 minutes, until puffy and set. Cool completely (or for at least 2-3 hours) before serving. Pie will deflate a little and settle as it cools.