Bread Week 31: Chocolate chip cookie-filled pretzels are a thing, and yes, they're just as amazing as you might imagine.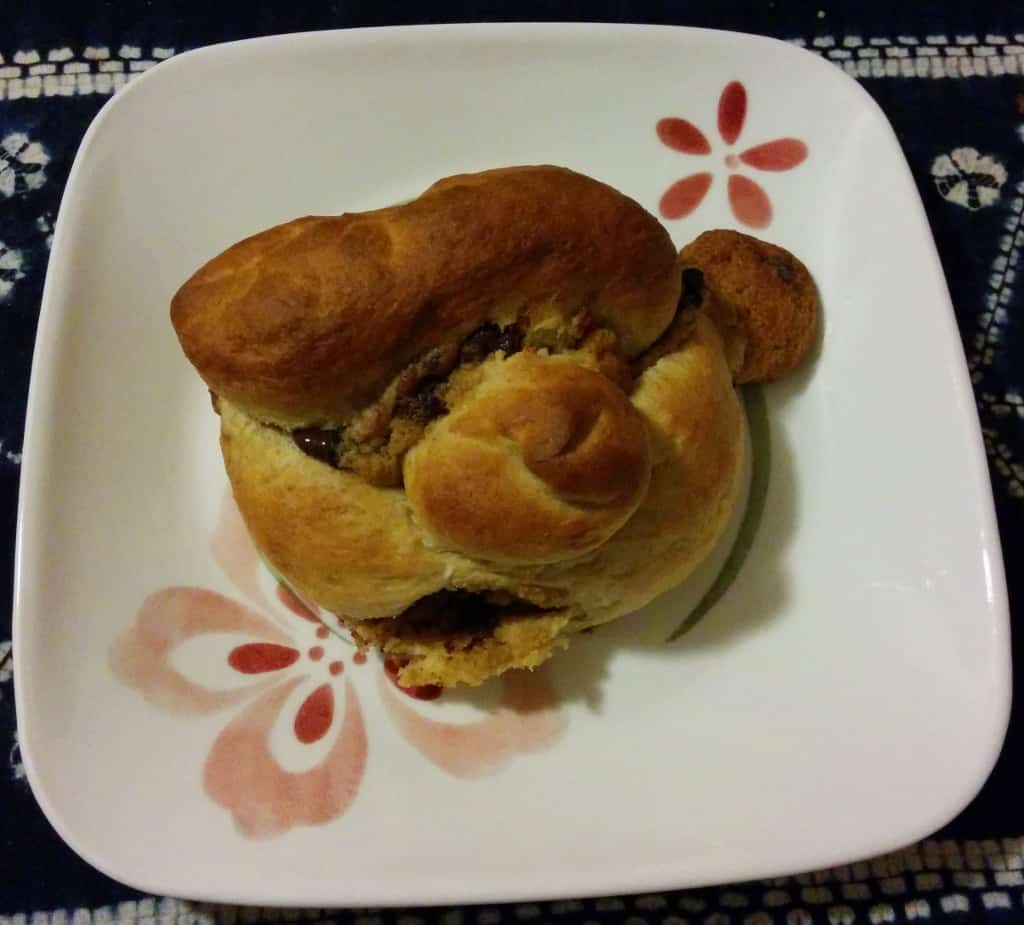 These were pretty amazing. The pretzels were very good warm, as all chocolate chip cookies are, but they were also very good the next day. Each bite was a nice mouthful of bready, chewy pretzel with a sweet swirl of cookie dough and chocolate. The knobby ends of the pretzel were more bread than cookie, but they were the exception. The ends were the most pretzel-like of the entire pretzel, and I missed having salt or sugar on them. These were a great snack throughout my days at work, although I did regret eating an entire one at once - it's a lot of bread and cookie! Half of one was the right portion for me.
These cookie-filled pretzels were like having chewy chocolate chip bread with a bonus cookie swirl. They weren't perfectly satisfying if you just wanted cookies or pretzels, but really good for bread and for a different snack. I'd make these again for a special occasion.
📖 Recipe
Chocolate Chip Cookie-filled Pretzels
Adapted from Half-Baked Harvest
Ingredients
Pretzel Dough
4 ½

cups

all-purpose flour

(I substituted in ¾ cup whole wheat and ¾ cup bread flour)

2 ¼

teaspoons

active dry yeast

2

tablespoons

brown sugar

¾

teaspoon

table salt

8

tablespoons

salted butter or margarine

(the original recipe said to melt, but this isn't necessary with a stand mixer)

1 ½

cup

water

(don't add all at once)
Cookie Dough
2 ½

cups

all-purpose flour

1

teaspoon

baking soda

16

tablespoons

salted butter or margarine

(softened)

½

cup

granulated sugar

1

cup

brown sugar

2

eggs

1

tablespoon

vanilla

2

cups

chocolate chips

(1 package)
To finish
2

teaspoons

baking soda

1

egg

(beaten, for egg wash) (optional)

coarse salt or sugar for sprinkling
Instructions
Combine 4 ½ cups flour, yeast, 2 tablespoons brown sugar, salt, 8 tablespoons butter, and 1 cup of water in the bowl of a stand mixer. Mix with dough hook on low until a dough forms, adding more water if it doesn't come together and flour is loose. Once the dough comes together, knead on medium for about 4 minutes. The dough should be smooth and elastic once ready, and you'll be able to form a windowpane with a piece of the dough. Place in an oiled bowl, cover with plastic wrap, and let rise in a warm place for 1 hour, until doubled.

About 10 minutes before you want to make the pretzels, make the cookie dough. Using the paddle attachment of the stand mixer, cream the 16 tablespoons softened butter with the sugars for about 3 minutes, until fluffy. Add vanilla and eggs and beat until combined. Turn mixer to low and gradually add the flour, mixing until just barely combined. Add chocolate chips.

To form the pretzels, divide dough into 8 equal pieces. Form each piece into an oblong bun shape, then roll out to form a rope. Flatten the rope, then pat out until the dough is roughly 11x3 inches. A rolling pin may be helpful here, although I found I had less control over the shape with it. A mix of rolling and patting/stretching worked best for me. If the dough seems resistant, let it rest for a minute or two to let the gluten relax. I found it best to work in batches of 2 or 3 at a time.

Line the center of each pretzel strip with cookie dough. About an inch around will be enough. Leave room on the sides and at the end so you can wrap the pretzel dough around the cookie dough. Fold the ends of the pretzel dough over the cookie dough, then stretch the length of the pretzel dough over the cookie dough. Pull the bottom pretzel dough up and pinch together to seal. Try not to let any cookie dough show. Pick up each filled rope and stretch out gently, especially at the ends. Bring ends together, twist ropes around each other twice, and then fold the ends over to rest them on the loop. Place on lined baking sheet. You'll get 4 giant pretzels per sheet.

Once you've made all the pretzels, mix together 2 teaspoons baking soda with enough water in a bowl to submerge a pretzel. Dip each pretzel, then replace on the sheet. Brush with egg wash if desired. Sprinkle with coarse salt or sugar; this is optional, but I think it would have been really good on the bready ends of the pretzels. Bake in a preheated 425F oven for 15 minutes, rotating your pans and switching their positions halfway through baking. Serve warm, but they're also good at room temperature