When you bake a lot like I do, it sometimes feels like there's nothing new to make. So imagine my surprise when I came across a new (to me) dessert - this rich, delicious, sweet, gooey Earthquake Cake!
You're probably already familiar with Earthquake Cake - an inside-out German Chocolate Cake, with coconut, nuts, and cream cheese frosting baked INTO the cake, rather than slathered on top. By baking the topping into the cake, it becomes easier and faster to make.
Plus! While it stays just as rich and delicious as a traditionally assembled German Chocolate Cake, Earthquake Cake becomes more gooey with a ribbon of cream cheese layered into the cake.
This homely dessert is perfect for potlucks and parties. I can't wait for you to try it!
Jump to:
[This post contains affiliate links. I may make a commission for purchases made through links on this post. As an Amazon Associate, I earn from qualifying purchases.]
Ingredients
I came across the inspiration for this recipe from a comb-bound cookbook of chocolate recipes compiled by a 6th grade class after reading Charlie and the Chocolate Factory. It's full of home-cooking style desserts, and it's where found the recipe I use for my Easy Homemade Chocolate Fudge.
Lots of those recipes take convenience ingredients - like cake mix, which Earthquake Cake usually takes. I simply don't use cake mixes, though. Instead, here I make a chocolate cake from scratch, using all the usual ingredients.
Granulated sugar
All-purpose flour
Cocoa powder (any brand is fine)
Baking powder, Baking Soda, and Salt for leavening
Vanilla extract rounds out the flavor
I use vegetable oil instead of butter because you refrigerate the cake for storage, due to the cream cheese. Butter makes the cake stiffer and less fluffy; oil keeps the cake softer, especially when cold.
Since we don't use butter, we use milk as part of the liquid in the batter, for flavor. I usually use 1% or 2% dairy milk.
Boiling water added to the batter helps the cocoa bloom (to make it more chocolatey) and gives the leavening agents a head start.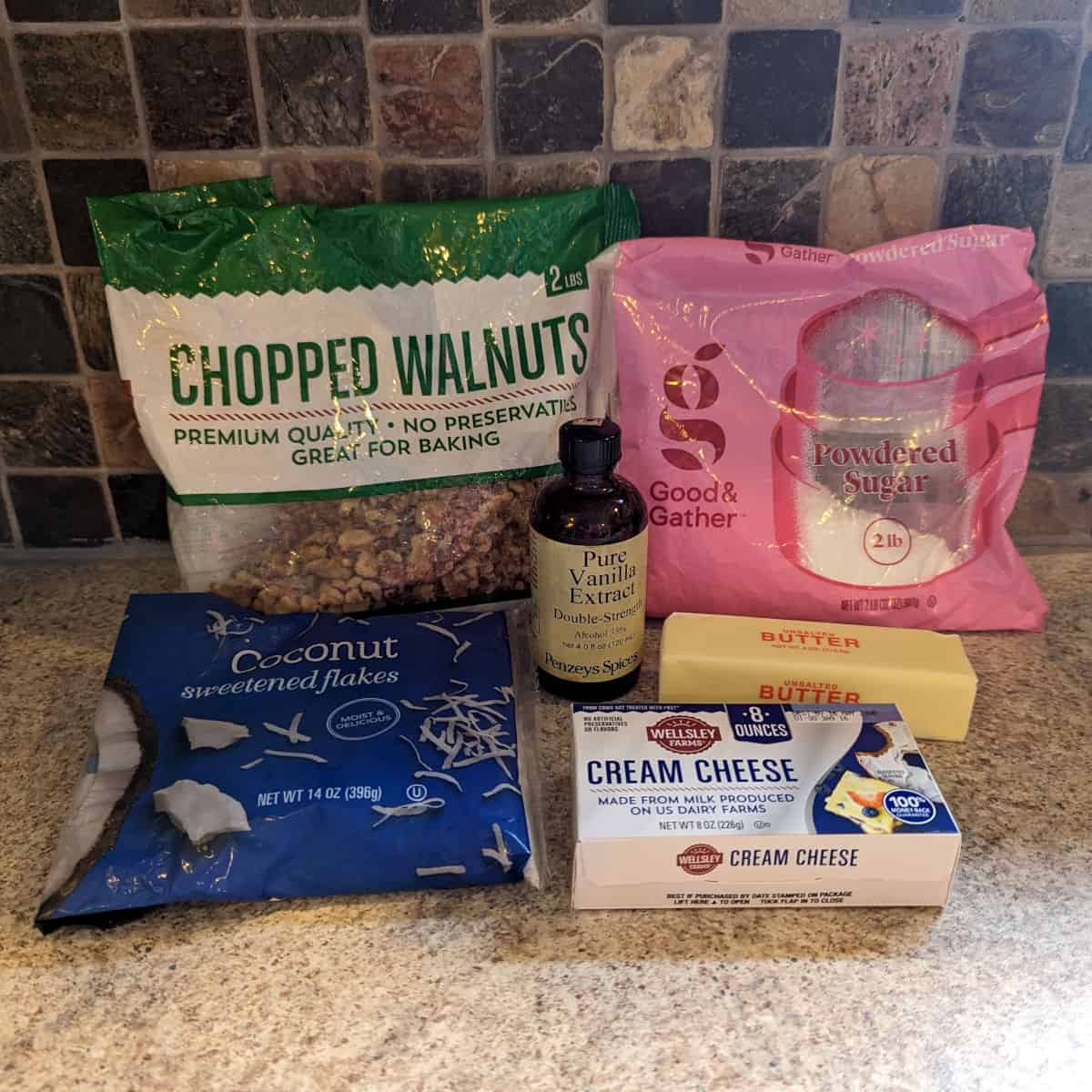 Next up, we have our filling ingredients.
Chopped nuts like walnuts or pecans
Shredded sweetened coconut (although you can use unsweetened if you prefer)
Cream cheese at room temperature - you'll regret it if it's not soft! I haven't used lower fat Neufchatel here, but it will likely work if that's what you're used to.
Softened butter, powdered sugar, and vanilla round out our ingredient list here.
Instructions
As I said, inspiration for this homely dessert took cake mix. Instead, I borrowed the oil-based chocolate cake recipe from Hershey's "Perfectly Chocolate" Chocolate Cake recipe.
So, let's get baking!
First, chop up your walnuts and coconut if they need it. I find that we like the texture of coconut in baked goods more if we chop it up a little first. However, this step is optional.
Next, combine all ingredients for the chocolate cake batter EXCEPT the boiling water. Use a hand or stand mixer to beat it for 2 minutes. Then, add the boiling water. (Just boiled but still steaming is okay, too.)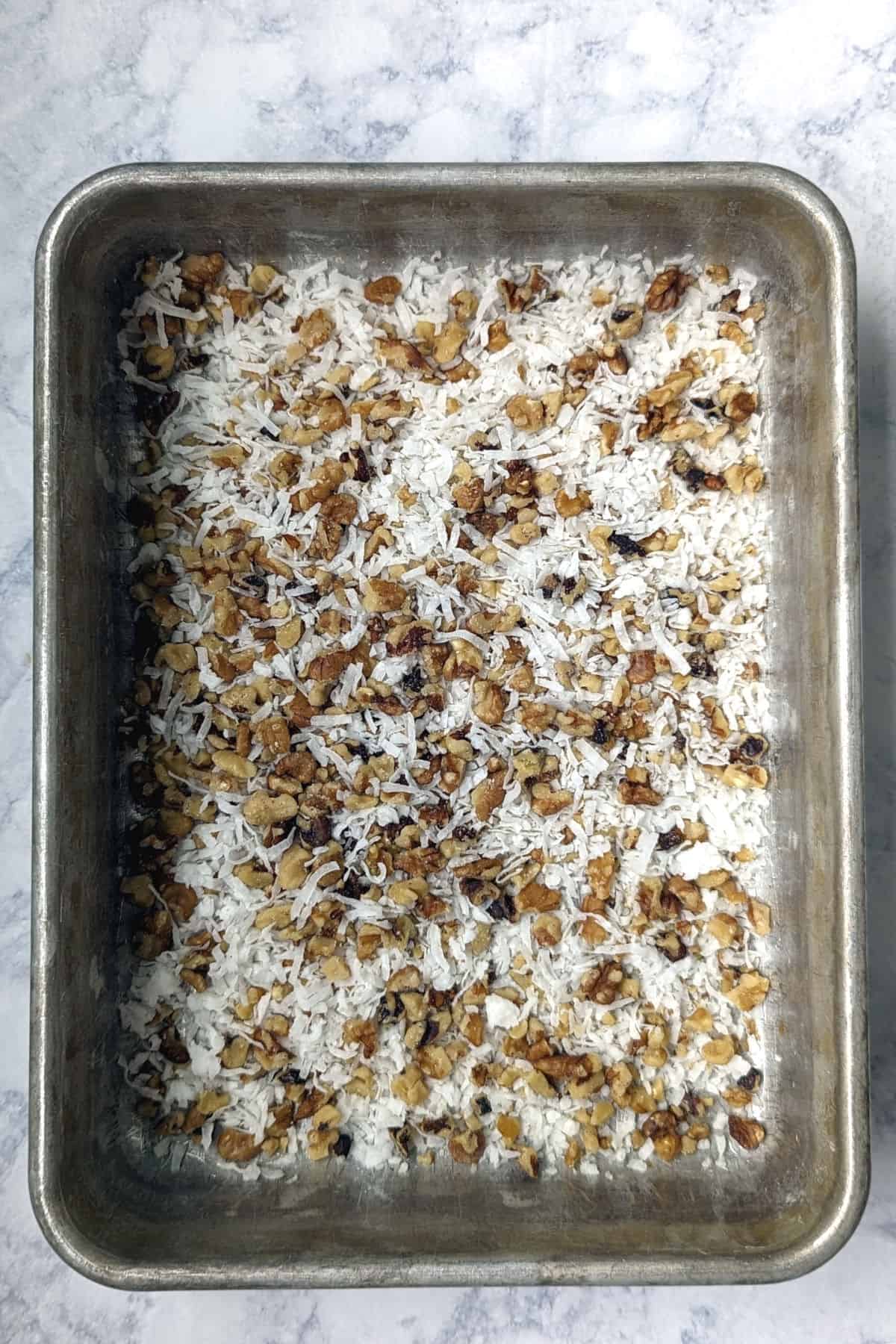 Sprinkle the nuts and coconut on the bottom of a greased 9x13-inch pan (affiliate link).
Carefully pour the batter over the nuts and coconut. Batter is very thin, so be careful! Try not to have them mix, but a little mixing is okay.
I always reuse the stand mixer bowl and paddle here for the cream cheese layer, no cleaning necessary. I scrape as much batter off them into the cake pan first, but a little batter in the cream cheese frosting won't hurt.
Cream your softened cream cheese and butter until smooth. Add the vanilla and powdered sugar, then beat until fluffy.
Carefully dollop the cream cheese frosting on top of the cake batter, being sure to get along the edges and in the corners.
Use a knife to swirl the frosting into the batter to break up the biggest clumps of frosting, but don't mix it in too much.
Bake the cake for 45-50 minutes. The center will still be shaky and the cake won't look done, but it will set as it cools. Trust me, this dessert is best when it's gooey.
Serving and Storage
Let the cake cool for at least an hour to set up before you cut into it. The center will deflate as it cools.
The cake will keep at room temperature for the rest of the day. After that, store it (covered) in the refrigerator due to the cream cheese frosting. It should last at least 5 days that way, if you don't eat it all first.
Earthquake cake includes its own frosting, so there's no trick to serving it! A ribbon of cream cheese will extend all the way to the edge and corner bites if you spread it out well before baking.
This is a great casual dessert, perfect for potlucks and any barbecues or get-togethers you have this summer. On especially hot days, try topping it with a little vanilla ice cream! For an afternoon or after-school snack, serve it alongside a cold glass of milk to cut the sweetness a little bit.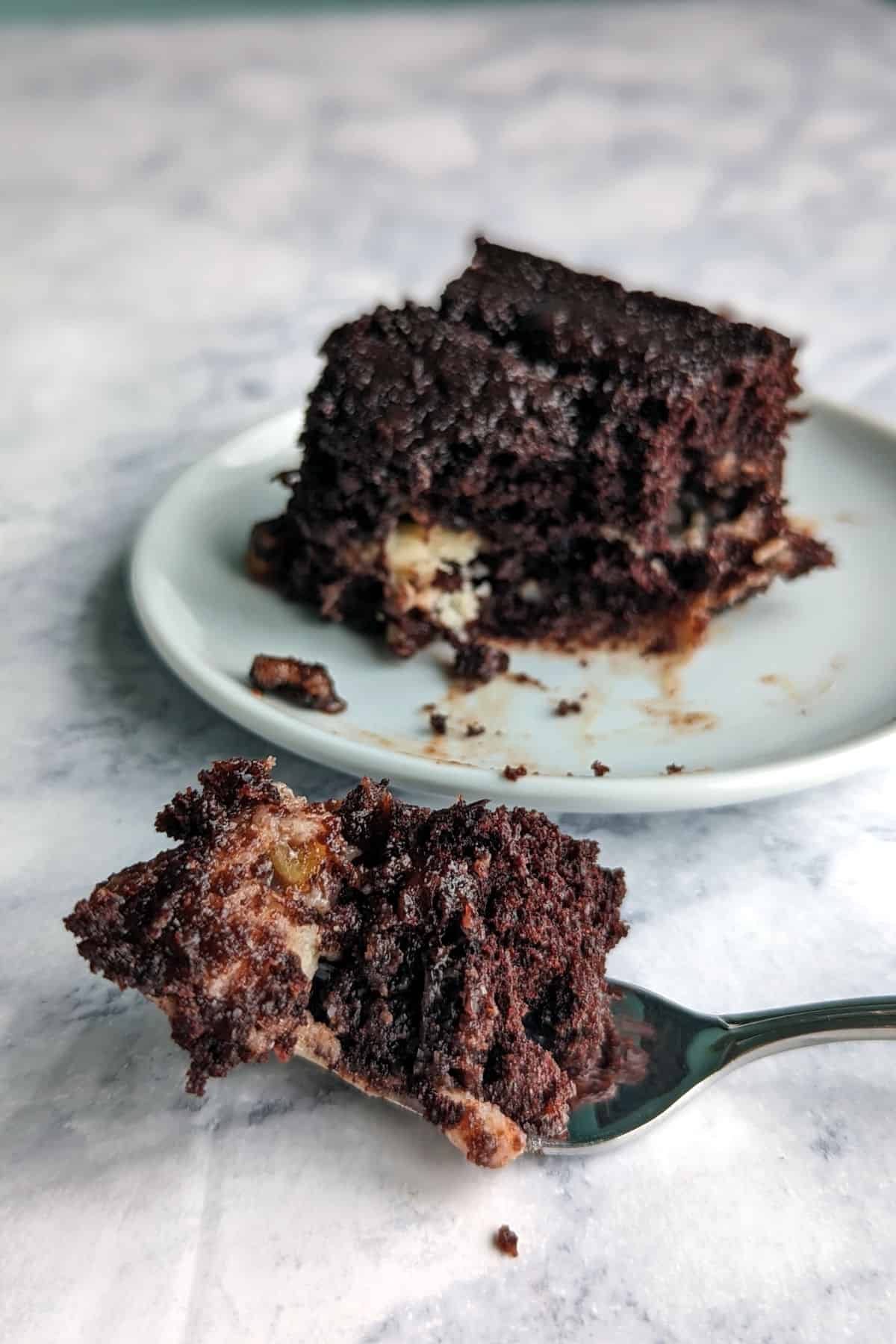 Although it's great for parties and crowds, I've been known to have a slice of this cake for lunch. Cream cheese and nuts and coconut provide protein, right?
Other Casual Party Desserts
Looking for other recipes like this? Try these:
Interested in other recipes? I save and share recipes I like or want to try on my Pinterest page - follow me there! You can also check out my Facebook page for more recipes and helpful tips. I'm also happy to try to help troubleshoot my recipes there.
Have you tried this recipe? Or have a question about it? Rate it or leave a comment below! (PS: rating my recipes helps other people find them, too!)
📖 Recipe
Earthquake Cake
A rich, from-scratch chocolate cake with nuts, coconut, and a ribbon of cream cheese frosting baked into it! Like an inside-out German Chocolate Cake. No cake mix required!
Keyword:
earthquake cake, inside out german chocolate cake, upside down german chocolate cake
Ingredients
Mix-ins
1

cup

chopped walnuts

120 grams

1

cup

shredded coconut

firmly packed; 100 grams
Chocolate Cake Batter
2

cups

sugar

400 grams

1 ¾

cups

flour

236 grams

¾

cup

cocoa powder

60 grams

1 ½

teaspoon

baking powder

1 ½

teaspoon

baking soda

1

teaspoon

table salt

1

cup

milk

227 grams

½

cup

vegetable oil

112 grams

2

teaspoons

vanilla extract

10 grams

1

cup

boiling water

227 grams
Cream Cheese Layer
8

ounces

cream cheese

227 grams; at room temperature

8

tablespoons

butter

227 grams; at room temperature

3 ½

cups

powdered sugar

454 grams/1 pound

1

teaspoon

vanilla extract

5 grams
Instructions
I usually start by prepping my mix-ins. Chop the walnuts and the shredded coconut. Sprinkle them in the bottom of a greased 9x13-inch pan. Set aside.
Chocolate Cake Batter
Preheat the oven to 350F.

Place cake batter ingredients EXCEPT boiling water in a large bowl. Using an electric or stand mixer, beat on medium speed for 2 minutes.

Scrape down the bottom and add the boiling water. (Just boiled but still hot is fine.) Mix on low until the batter is uniform. Scrape the bottom to be sure that there's no thicker batter hanging out down there.

Carefully pour the batter over the nuts and coconut in the pan, trying not to mix them in too much; the batter will be very thin. Scrape as much out of the bowl and off of the mixer as you can. Set the pan aside.
Cream Cheese Layer
Place cream cheese and butter in the same bowl you used for the cake batter. (No need to wash it first, as long as you scraped it as clean as you could.) Beat on medium speed for 1-2 minutes, until creamy. You should have no lumps; scrape down the bowl to be sure.

Add the powdered sugar and vanilla. Mix briefly on low so you don't make a mess, then turn the speed up to medium. Beat until everything is creamy and uniform, scraping down the bowl again.

Use a spoon to dollop small amounts of cream cheese frosting evenly all over the cake batter. Be sure to get it along the edges and in the corners of the pan.

Do not cover the cake batter entirely. You want some of the chocolate batter poking through.

Use a knife to gently swirl the cream cheese into the batter. Break up big clumps of cream cheese frosting, but don't mix it in too much or push the cream cheese to the bottom.

Bake at 350F for 45-50 minutes. The cake will be shaky and jiggly in the middle and it won't look done, but trust me, it will set as it cools.

Cool about an hour if possible before cutting just to let the cake set. The cake keeps at room temperature for about a day, but store covered in the refrigerator after that.
Recipe Notes
Yes, you can use a cake mix if you'd rather. Follow the instructions on the box. This recipe replicates a Devil's Food cake, but you can use regular chocolate or German chocolate cake if you'd prefer. 
Use pecans instead of walnuts if you prefer.
You can adjust the quantity of nuts or coconut, as long as the total amount of the two combined isn't more than 2 cups.
I used full-fat cream cheese, but lower fat Neufchatel cheese will likely be fine if you usually use it for baking anyway.
I use dairy milk (usually 1%) when I bake. I expect that non-dairy milk will work fine in this recipe. 
This cake turns out fine if you put the nuts/coconut on top of the batter, instead of underneath.
If you don't like your desserts too gooey, bake it a few minutes longer.
I covered this cake entirely (to the edges) with the cream cheese layer before; it was a mistake. You're looking for a nice marble look before baking. 
To make an extra decadent cake, sprinkle ½-1 cup mini chocolate chips over the cake when it comes out of the oven.
Cake layer adapted from Hershey's Perfectly Chocolate Chocolate Cake recipe. 
Calorie count is an estimate only and was calculated in MyNetDiary.
Recipes from the past