This tender, lightly sweetened Sour Cream Coffee Cake is half whole grain, making it healthier than most! This delicious breakfast treat has long been one of my favorite recipes since I first made it in 2010.
It's fluffy and moist. Ground oats and a small amount of whole wheat flour make it healthier, but you really can't tell that they're in there.
You hear "coffee cake" and you think of tooth-aching amounts of sugar, but this recipe has just the right amount. It's sweet enough to feel just a little indulgent, without feeling irresponsible.
[This post contains affiliate links. I may make a commission for purchases made through links on this post. As an Amazon Associate, I earn from qualifying purchases.]
Jump to:
My history with this cake
I don't make this coffee cake often, but I do think about it frequently. This was #74 of my 365 recipe challenge in 2010, and I've made a lot of other recipes since then, but it's delicious enough that I've never wanted to try a different recipe.
When I made this in March 2018 with 3 year old Amelia, I wrote the following, which I don't want to lose:
This cake does take a little time to assemble in the morning, but we've established a nice routine this year in the Konkel household. One morning a weekend, I get up with Amelia, and she helps me make a breakfast from scratch. Some weekends this means helping cut butter into flour for scones, scooping baking powder, and patting out dough. (She's become my hand model, and wants her hand in all my pictures now.) When I made this cake, it involved her turning the stand mixer up and down to adjust the speed, holding an egg gently and saying it's cuddly, and eating walnuts and keeping me company while I made the cake.

But all of this is to say, making something like this for breakfast has become a weekend family project in our house, and so the time is well spent. Hopefully you will find it so in your house, too. And even if you have to make it all by yourself, eating this cake is worth it.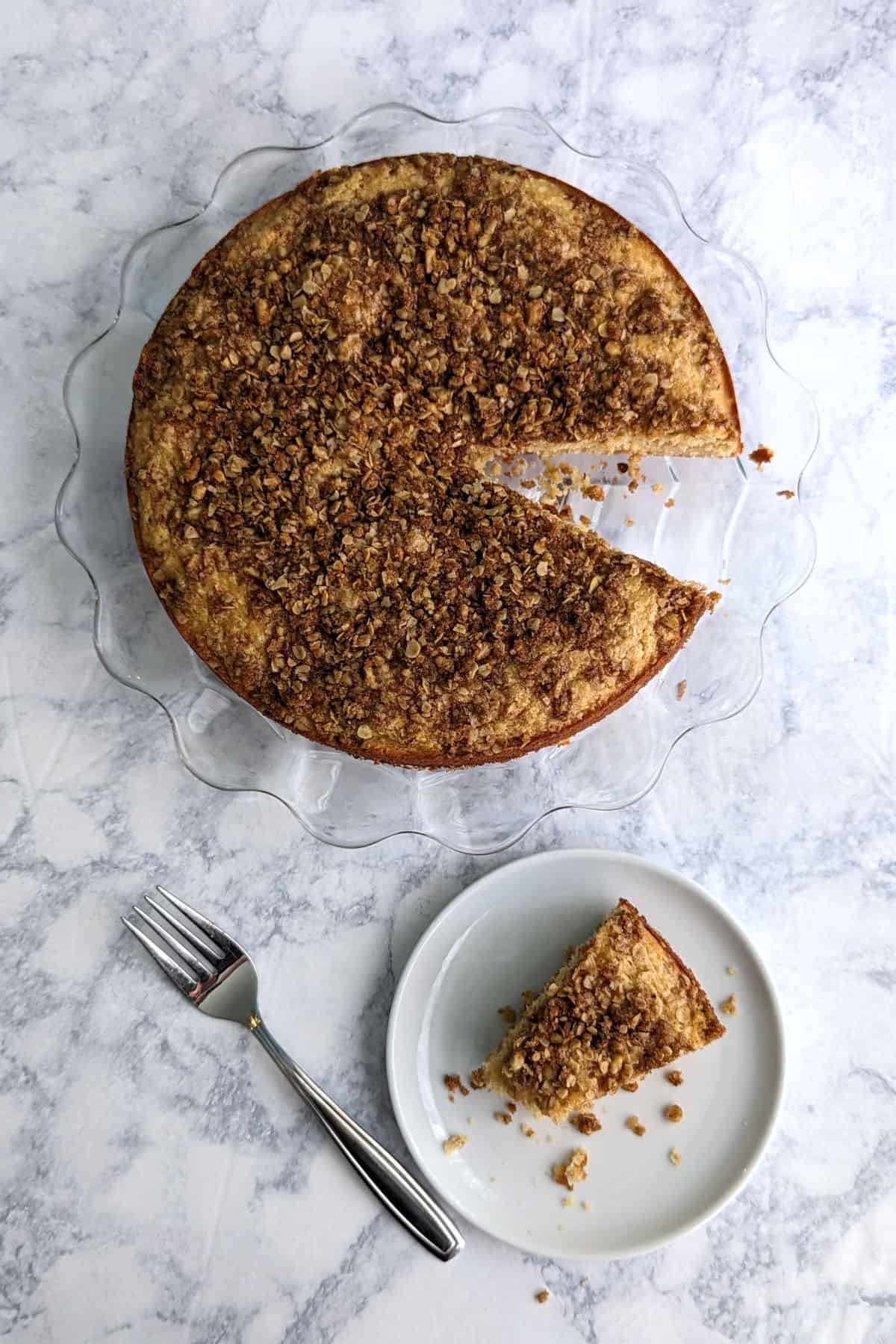 Ingredients
This recipe originally came from Cooking Light Magazine, which was incorporated into Eating Well Magazine a few years ago. I subscribed to both back in 2010. I'm glad I adapted the recipe for this website, because it isn't available online at Eating Well.
Their recipe was a lightened up version of a much heavier coffee cake. That original used margarine and light sour cream. I don't. Here's my ingredients.
I use unsalted butter instead of margarine; I don't like the taste of margarine now, and I don't think it saves that many calories.
This takes both granulated and brown sugars. I use light brown sugar, but dark brown will also work.
Eggs bind the batter and provide structure. Vanilla extract adds flavor.
In addition to all-purpose flour, this coffee cake also takes whole wheat flour and oats. This is what makes it part whole grain. I use regular whole wheat flour (from red wheat) for the small amount of whole wheat flour in this recipe.
Whole wheat flour is heavier than all-purpose flour, and so I'm not tempted to make this entirely whole wheat. If you are, try milder white whole wheat flour, which doesn't taste as heavy as the regular whole wheat flour; however, your cake may be more dense.
Quick-cooking or old-fashioned rolled oats both work. You grind them up to add to the batter anyway, but I prefer the quick-cooking oats for the streusel since they're smaller. Do not use instant oats (too gummy) or steel-cut oats (which won't cook through).
I also use whole-milk sour cream instead of light; however, use those lower-calorie substitution if you'd prefer. You can also use yogurt instead of sour cream in a pinch.
For the streusel, you use the brown sugar, butter, and oats, and combine them with ground cinnamon and finely chopped walnuts. If you don't like cinnamon, you can use nutmeg instead.
You can use pecans or some other nut instead of walnuts the most important thing is making sure they're finely chopped so your streusel holds together. For a nut allergy, add an extra 2 tablespoons (or 10 grams) of oats in place of the walnuts.
Instructions
You've gathered your ingredients. Let's start baking!
First, pour your oats onto a baking sheet. Put them in the oven for 6-8 minutes while you preheat the oven. Check on them at 6 minutes to be sure they don't scorch.
Set them aside to let them cool briefly, then use a bullet blender (affiliate link) or food processor to blitz the rest into a coarse powder.
Using an electric or stand mixer, cream your butter and sugar for 3 minutes, until light and fluffy. If your butter is cold, it may only become creamy. That's okay. Mix in the eggs and vanilla.
Add half of the flours, ground oats, and all the leavenings. Mix on low speed until mixed in. Mix in all the sour cream, and then mix in the remaining flours. Remember to scrape the bottom of the bowl!
Scrape your batter into a grease 9-inch springform pan. Spread it all the way to the edges; it won't spread otherwise.
Next, mix together melted butter, brown sugar, and cinnamon. Stir in finely chopped walnuts and oats, and mix until sandy.
Sprinkle the streusel on the cake...
...until the entire thing is covered.
Bake for 30-35 minutes, until it's golden brown and a toothpick inserted in the middle comes out clean.
Wait 10 minutes, then remove the side of the Springform pan to let the cake cool more fully.
Serving and storage
You can cut the cake then and there on the base of the Springform pan, or you can wait another 30-60 minutes before moving it to a serving platter. It will still be fragile at that point, so be careful!
I prefer to serve this cake warm. Store leftovers in a tightly covered container at room temperature for a day. The cake is best the day it is made, although it's still pretty good on the following day if you stored it well.
Serve it with coffee, of course, but it's also great with a nice cup of tea. Or a glass of milk, for that kiddo of mine.
This cake does take a little time to assemble in the morning and so it's best for a lazy morning or a late brunch. It's worth it, though. I hope you love it too!
Other brunch favorites
Interested in other recipes? I save and share recipes I like or want to try on my Pinterest page - follow me there! You can also check out my Facebook page for more recipes and helpful tips. I'm also happy to try to help troubleshoot my recipes there.
Have you tried this recipe? Or have a question about it? Rate it or leave a comment below! (PS: rating my recipes helps other people find them, too!)
📖 Recipe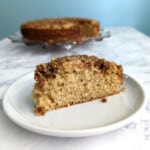 Sour Cream Coffee Cake
This delicious, lightly-sweet, half-whole-grain coffee cake is moist and fluffy, with a light covering of streusel topping it.
Keyword:
cooking light sour cream coffee cake, sour cream coffee cake
Ingredients
Cake
½

cup

old-fashioned rolled oats

45 grams

1

cup

all-purpose flour

125 grams

¼

cup

whole-wheat flour

30 grams

1

teaspoon

baking powder

½

teaspoon

baking soda

¼

teaspoon

salt

5

tablespoons

unsalted butter

70 grams, at room temperature

½

cup

granulated sugar

100 grams

¼

cup

brown sugar

50 grams

2

eggs

1

teaspoon

vanilla

1

8-ounce carton

sour cream

227 grams
Streusel
1

tablespoon

unsalted butter

14 grams, melted

¼

cup

brown sugar

50 grams

½

teaspoon

ground cinnamon

¼

cup

old-fashioned oats

25 grams

2

tablespoons

finely chopped walnuts

20 grams
Instructions
Cake Batter
Place ½ cup oats on a baking sheet. Bake at 350F for 6-8 minutes, until light brown, while you preheat your oven. Keep an eye on them at 6 minutes to be sure they don't scorch. Set aside and cool slightly.

Grind oats in a food processor or bullet blender, for about 4-5 seconds or until finely ground. Combine ground oats with flours, baking powder, baking soda, and salt in a medium bowl.

Using an electric mixer or stand mixer, beat butter with sugar and brown sugar until light and fluffy, about 3 minutes at medium speed. It may only become creamy if your kitchen is cool; that's okay.

Add eggs, one at a time, then add vanilla. Mix until combined.

On low speed, add half of the flour mixture, and stir until combined. Mix in the sour cream, then add the remaining flour mixture. Scrape down the sides and bottom of the bowl, and mix until just combined.

Spoon batter into a greased 9-inch springform pan. Spread it out to edges. Set the pan side while you make the streusel.
Streusel
Melt the 1 tablespoon butter if you haven't already. This should take no more than 20-30 seconds in the microwave.

Stir the ¼ cup brown sugar and cinnamon into the melted butter. Add the ¼ cup oats and the nuts; stir until everything is sandy and well-mixed.

Sprinkle the streusel on top of the batter in the Springform pan, getting it all the way to the edges.

Bake at 350F for 30-35 minutes, until a toothpick inserted into the center comes out clean. Cool cake for 10 minutes, then remove the sides of the Springform pan.

Serve warm. If kept well covered, cake is almost as good the next day. 
Recipe Notes
Both old-fashioned and quick oats work here; instant and steel-cut oats will not.
This coffee cake is half whole grain. I don't recommend making it 100% whole grain because whole wheat flour is heavier than all-purpose. However, if you want to attempt it, be sure to choose White Whole Wheat Flour to keep the taste from being too heavy.
Choose margarine instead of butter and light sour cream instead of whole-milk sour cream, if desired; that's how Cooking Light Magazine originally developed it.
Any chopped nut will work in place of walnuts; pecans would be best. To accommodate a nut allergy, substitute 2 tablespoons additional oats for the nuts in the streusel.
Adapted from Cooking Light Magazine
Originally written in 2010 and updated in March 2018, with more updates in 2023. 
Calorie count was calculated in MyNetDiary and is an estimate only.
Recipes from the past
(Originally posted in April 2010, and updated with new text and recipe in March 2018. Rewritten with new photos and better instructions in May 2023.)