Every year I bake a fruitcake to send to my relatives (although last year, it was technically fruitcake drops). While I strongly believe that fruitcake is not the scary food that it's made out to be, I'm not particularly interested in it. I have both cake and fruit year-round. Why would I eat fruitcake when I can eat other desserts on Christmas - all the pies, cookies, and candy that we make?
This year I decided to try a different recipe, and I was excited about it.
The Golden Fruitcake included primarily fruit I liked, and promised not to be too heavy or spicy. As I made it, I decided that I wanted to keep one for myself, to sample what I was making. Part of this motivation was that my friend Kate sent me a link to several things I could make with fruitcake. How could I not try at least one of them?
Fruitcake is one of those things that, since it generally contains alcohol which acts as a preservative, can be made in advance. In fact, often it's said to be best if it's made in advance and allowed to mature. My decision to make fruitcake was a little last minute, so it didn't get to age.
This recipe for fruitcake makes a lot of fruitcake. If you're just curious about fruitcake, you can try to scale back the ingredients and make less, but the math might be a little tricky. If you want lots of pictures of the fruitcake-making process, you can check out the King Arthur Flour blog post about it, because I found some of it to be useful as well.
How to Make Fruitcake
First step: soak fruit in brandy, rum, whiskey, or juice overnight. The total quantity of fruit is 6 ¾ cups total. I soaked the fruit in rum, and used 2 cups of raisins; ¾ cup dried apricots; 2 cups dried cranberries (flavored like orange and cherry); 1 cup dried cherries; and 1 cup of maraschino cherries. You don't have to soak the maraschino cherries.
Next step: making the cake. I used my stand mixer. Mix butter, sugar, a little corn syrup, baking powder, salt, and nutmeg. Add eggs (5 of them!), then add the flour and milk to the batter in stages. Then, add the fruit and nuts (I used walnuts).
Let me say that this is a huge quantity of batter once you incorporate the fruit. You may not be able to do it with a mixer; my bowl was incredibly full.
Spoon the batter into lightly greased or parchment-lined baking pans. I used the suggested two 8 ½ x 4 ½ inch pans, but it wasn't nearly enough space. If you make this recipe, plan on needing additional pans, or baking multiple cakes in stages. I also made the mistake of overfilling my pans; only fill your pans ¾ full. I ended up making 2 loaf cakes and one mini-loaf cake, but if I hadn't filled my pans almost to the brim, I probably could have made 3 loaf cakes or more mini-loaf cakes.
Baking time: you'll need more than 80 minutes at 300F to bake your loaves. These probably baked for 2 full hours, but this was compounded by the fact that my pans were too full. I had to wait until a toothpick inserted into the center came out clean. If you make these, plan to check your cakes often, and for them to take a long time to make. Don't plan for them to finish when you expect them to so that you can pick your husband up from work on time. It just won't happen. (Sorry to make you wait, Alex!)
Once your cakes are done, unmold them unless you're sending them as gifts in what you baked them in. Brush them with extra liquor or juice, as this will help preserve them and give them flavor. Wrap them well. I wrap mine in 2 or 3 layers of plastic wrap, followed by a layer of foil. I'm not convinced that's the best way to wrap them, but it's the system I've devised so far. You're supposed to brush your fruitcake with liquor every week to preserve it; otherwise, you should probably store it in the fridge or the freezer.
How to Like Fruitcake
So, once you eat fruitcake, how is it? You'll only like it so long as you like the fruit you've put in it. I don't like raisins that much, so I didn't like that part, but bites with cherries and walnuts were good. My fruitcake had citrusy flavors from the orange-flavored cranberries, which I thought was probably a good thing since I didn't have citrus peel to include in the cake. This fruitcake isn't heavy or spicy like many other fruitcake recipes, but honestly, a little bit goes a long way.
In my opinion, though, fruitcake simply doesn't compare against the chocolate and pecan and lemon pies and cookies and everything else that we have over the holidays. So what to do with the fruitcake after we've dutifully sampled it?
What to Do With Leftover Fruitcake
French toast it! I combined 1 egg with 1 cup milk (you could use ¾ cup instead) and a little vanilla, dipped roughly 6 1-inch slices of fruitcake in it, and cooked it in a skillet over medium heat for about a minute or so on each side. I'm still not very good at making French toast, but the results were good enough. I think I enjoyed the fruitcake more as a meal than as a dessert! Alex enjoyed his with a liberal amount of Cool Whip.
Will I make this fruitcake again? Potentially and probably, with an even better combination of fruit - I want to use some candied fruit and peel next time. I did like this recipe more than the other recipe I've made in the past. This version is worth another shot, but the baking times will take a lot of work to figure out.
Still interested in fruitcake? You can see a review of Alton Brown's recipe here and check out recipes for Panettone, Stollen, and Fruitcake Drops if you want a few fruitcake-like alternatives. Want other ideas for food gifts? Check out my blog post on my favorite giftable food.
Like this recipe or have questions? Rate it or leave a comment below!
In the past:
One Year Ago: Mushroom and Barley Risotto, Mexican Chicken-Hominy Soup, Mexican Hot Chocolate Cookies
📖 Recipe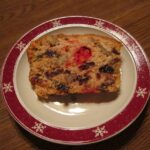 Golden Fruitcake
This delicious fruitcake has lots of fruit and some alcohol, but is very lightly spiced.
Cuisine:
American, English
Keyword:
golden fruitcake
Ingredients
Fruit (6 ¾ cups total)
2

cups

raisins

1

cup

dried cranberries

1

cup

dried, diced apricots

1

cup

candied lemon peel

1 ¾

cups

candied or maraschino cherries

¾

cup

brandy, rum, or whiskey; or apple juice

(plus extra to brush over the cakes)
Batter
1

cup

unsalted butter

1 ¾

cups

sugar

¼

cup

light corn syrup

2

teaspoons

baking powder

1

teaspoon

salt

½

teaspoon

ground nutmeg

5

large eggs

3 ¾

cups

flour

1

cup

milk

2

cups

diced pecans or walnuts

(optional)
Instructions
Fruit
Combine all fruit except for cherries in a large bowl with the brandy, rum, or whiskey. (I used rum.) Cover and let soak overnight.
Batter
On the day you want to make the cake, preheat oven to 300F. Line pans with parchment or grease the pans, using either three 8 ½ by 4 ½-inch loaf pans or six 7-inch paper loaf pans (which you will need to place on a baking sheet). [The original recipe said two 8 ½-inch loaf pans, which there was too much batter for.]

On the day you want to make the cake, beat together butter, sugar, corn syrup, baking powder, salt, and nutmeg. Beat in eggs, one at a time. Stir in half of the flour. Stir in the milk, then add the remaining flour.

Add the fruit and its soaking liquid, the cherries, and the nuts (if using). Spoon batter into greased baking pans, filling them ¾ full.

Bake cakes for 50-80 minutes, until a toothpick inserted into the center comes out clean. (If you overfill your large loaf pans, you may need up to 2 full hours to bake the cakes, as I did.)

Remove cakes from oven and set on a wire rack. Brush immediately with extra alcohol or apple juice.

When cakes are completely cooled, unmold from the pans (if not giving pans as gifts) and wrap well in plastic wrap or store in an airtight container. Wait at least 24 hours before serving. Brush occasionally (every week) with alcohol or flavored syrup. Fruitcake should last a month.
Recipe Notes
You can use any type of fruit in this fruitcake. The quantities listed here are suggestions - use your favorite!
You will likely not be able to incorporate the fruit into the batter using a mixer. A wooden spoon will work better. 
The length of time you need to bake fruitcake will depend on the size of the pan. Small loaves will bake for the lesser amount of time.
You can turn leftovers into French toast! Dip slices in a mixture of 1 cup milk with 1 egg and a little vanilla. Cook in a skillet on medium heat for about one minute per side.