Since I posted last, the weather took an unseasonable turn. We had a weekend in the 70s! Most of another week was in the 60s. I took Amelia on walks and to parks several days to let her burn off some of her endless 2-year-old energy. It takes her a while to run out of steam, and I began to fear we'd sunburn in February.
Having had a taste of beautiful weather and sunshine, I have spring fever. I'm pretty sure I'll cry if we have cold weather again, so I'm keeping my fingers crossed.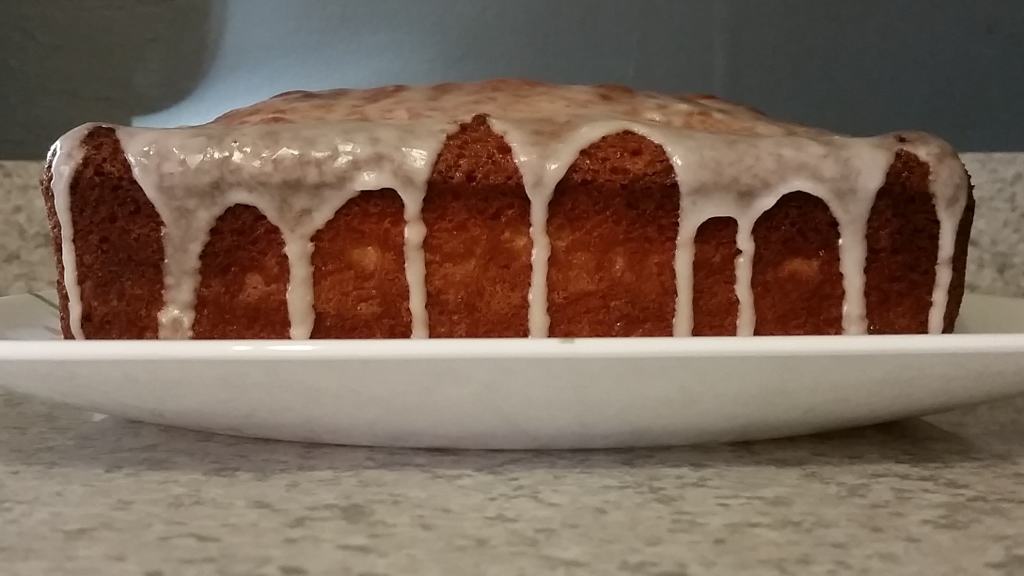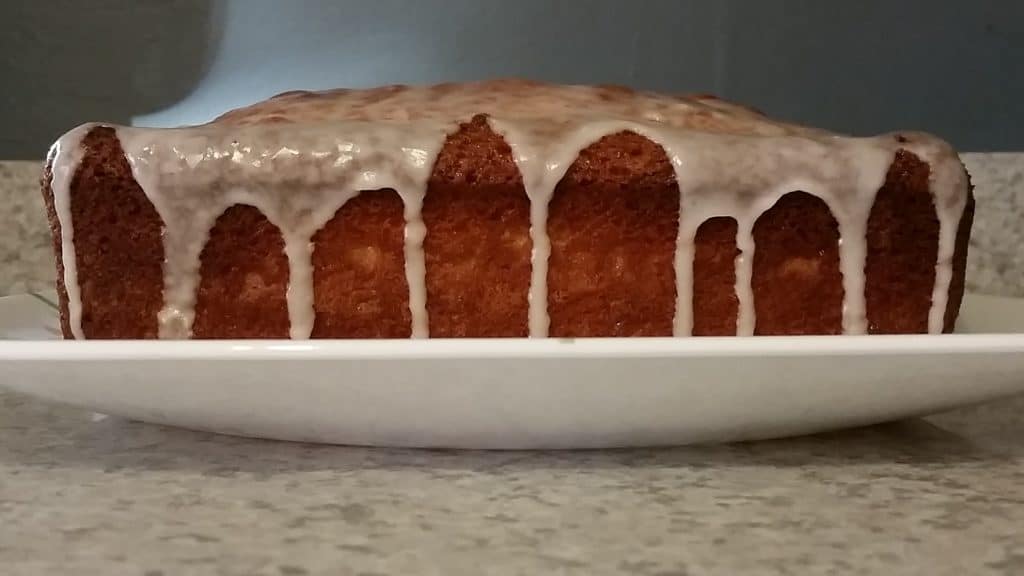 When I got my juicer for Christmas at the end of 2010, I went out and bought an 18-pound bag of grapefruit. It was an economical choice, really. It was only $8! Why would I spend $2 on 2 grapefruit when I could get so many more for just 6 extra dollars! They made excellent juice. Not at all bitter, and pretty sweet. Everyone would like grapefruit juice if they were all that delicious. I didn't eat many of them, though, so I was thrilled to find this recipe.
I'd like to share this bright Grapefruit Yogurt Cake with you again. I first made it in 2011 and have made it several times since, although not since I moved to New Jersey.  Although it's been a while since I made it, I love this recipe. The cake has a subtle citrus flavor that people can't quite place, but usually assume is lemon. There are so many lemon recipes out there, that it's nice to do something a little different. This cake is sweet but not too sweet, so it's perfect for breakfast or a snack.
The cake is very simple to assemble. It takes oil but not butter, and yogurt helps keep it tender. Grapefruit zest lightly flavors the batter (I wouldn't dare omit it), and grapefruit juice poured onto the hot cake shortly after it comes from the oven helps keep it moist and gives it extra grapefruit flavor. A simple glaze of grapefruit juice and powdered sugar pretties it up (particularly if your edges brown excessively like mine tend to do). I find it gives the cake an extra bit of flavor, but feel free to omit it. For extra grapefruit flavor, use a double amount of grapefruit juice for the soak, but reduce it to ⅓ cup before adding sugar and drizzling it on the cake.
I've enjoyed this cake time and time again. I'm not the only one who liked it, though. When I first made this cake, I took it to work to share. In response, I got an email that said, "that cake was freakin' delicious"! And that's what I bake for 🙂
Want more delicious yet gentle grapefruit? Try out Grapefruit Scones. For something zestier, try Lemon Bars.
📖 Recipe
Grapefruit Yogurt Cake
This delicious cake is tender and moist, with a bright but not sharp citrus flavor.
Ingredients
1 ½

cups

flour

2

teaspoons

baking powder

¼

teaspoon

salt

zest of 1 grapefruit

1

cup

sugar

1

cup

yogurt

(2% is fine)

3

eggs

½

cup

vegetable oil

½

teaspoon

vanilla
Soak
⅓

cup

grapefruit juice

(you can use more and heat and reduce it to this amount, for more intense flavor)

1

tablespoon

sugar
Glaze
2

tablespoons

grapefruit juice for glaze

1

cup

powdered sugar for glaze
Instructions
Zest grapefruit into large mixing bowl, then slice and juice grapefruit. Add 1 cup sugar, yogurt, eggs, vegetable oil, and vanilla to the large mixing bowl with the zest. Whisk until combined. Add flour (sift if you're concerned for lumps), baking powder, and salt, and stir until just combined. Pour into a greased and floured 8.5x4.5 inch loaf pan. Bake at 350F for about 50 minutes, until a toothpick comes out clean. (Don't be surprised if yours takes more or less time, because sometimes mine takes up to 10 minutes longer).

Meanwhile, combine ⅓ cup grapefruit juice and 1 tablespoon sugar. Heat for 20 seconds in the microwave, then stir to dissolve sugar. Or, heat on stove until sugar dissolves.

Cool cake for 10 minutes, then remove from pan to a wire rack over a baking sheet or cake plate (if you're impatient and don't mind chancing a soggy cake bottom). Drizzle sweetened grapefruit juice on the cake. (Juice will run off.)

Cool at least 1 hour before adding glaze. Combine 2 tablespoons juice and 1 cup powdered sugar. Glaze will definitely run off the cake if cake is still warm.
Recipe Notes
Adapted from Smitten Kitchen
(Originally published January 2011. Post updated with new photos, content, and recipe.)