"You *must try* these Banana Cupcakes with Peanut Butter Frosting," I wrote here 9 years ago. I wasn't kidding; this is still true. These cupcakes are rich and hearty and satisfying, and with banana and peanut butter, I don't feel (that) guilty eating them.
They are hefty cupcakes, though, so I hadn't made them since then. It's tough for two and a half of us to eat a dozen cupcakes. When Alex requested cupcakes to share that were not chocolate, though, this recipe immediately came to mind.
They're not elegant, but they are so satisfying. They're comfort food, and we all could use some of that, couldn't we?
Jump to:
[This post contains affiliate links. I may make a commission for purchases made through links on this post. As an Amazon Associate, I earn from qualifying purchases.]
How to Make the Cupcakes and Frosting
These cupcakes, originally from King Arthur Baking, are pretty easy to make. It's a basic cake recipe, where you just cream butter and sugar, add wet ingredients, and then add the dry ingredients. Easy-peasy.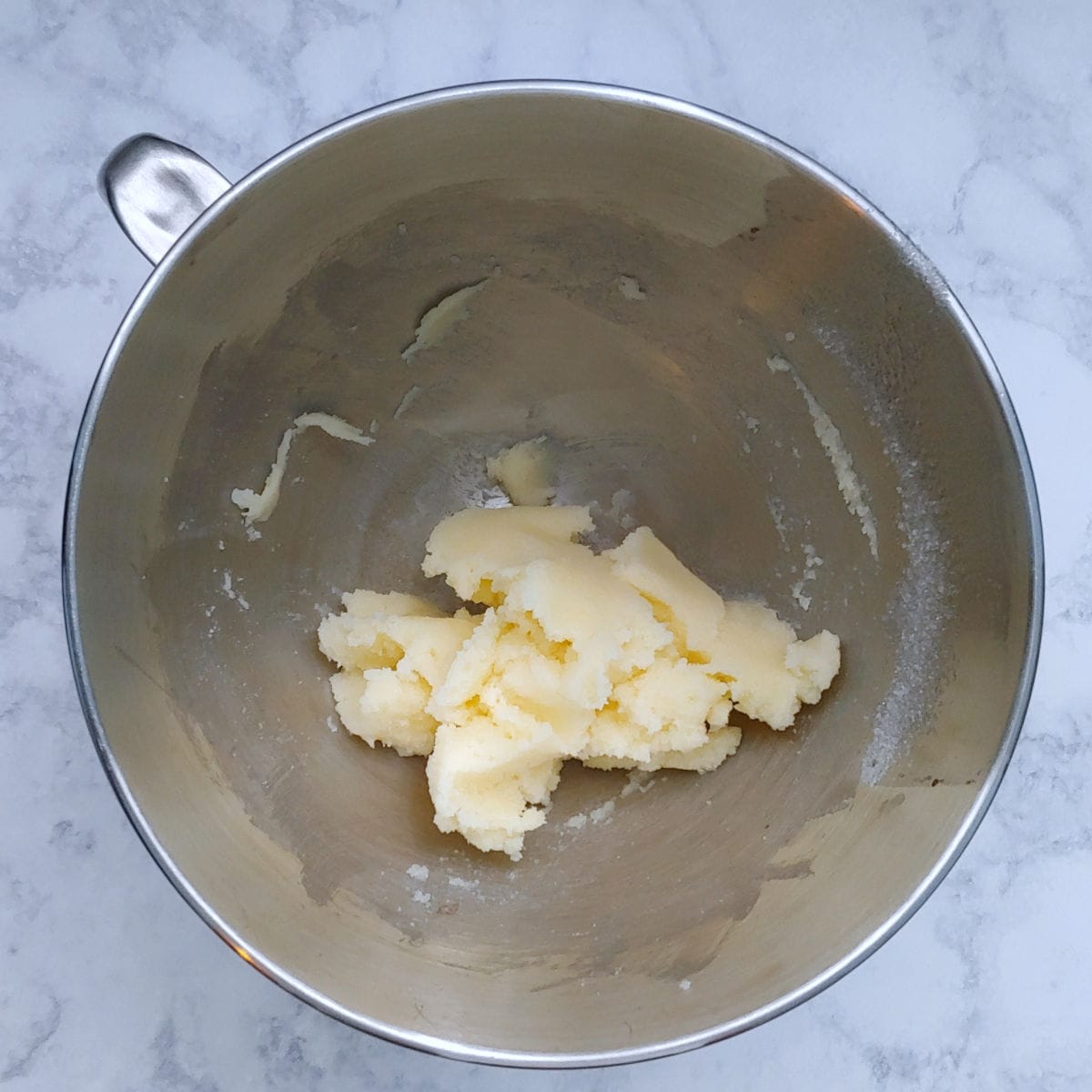 What makes it different is that the cake takes banana and a little honey. I usually freeze my bananas when they get a little overripe, and those are perfect for this recipe; just thaw them first. Honey adds a little moisture and nuance.
With some cupcake or muffin recipes, you fill the cups up only halfway. With this banana cake, you fill the muffin cups up almost, but not quite, to the top. You don't want a muffin top spilling over the side. I found about ¾ to even ⅞ full to be perfect. Leave about ¼ inch leeway at the top.
I always recommend using paper or reusable muffin liners in a muffin tin. I tend to scratch the nonstick in my muffin pans if I don't.
Remove the cupcakes from the pan as soon as possible after baking, to keep their bottoms from getting soggy. (Silicone liners have a tendency to hold moisture and create soggy bottoms, so bake thoroughly.) If you don't have a cooling rack, though, you can tilt them on their sides to vent them instead.
After your cupcakes have cooled, make your frosting. As with any frosting recipe, this is easiest with a hand or stand mixer. You want to beat in just enough milk to make the frosting creamy, fluffy, and spreadable. This is just enough frosting for 12 cupcakes; you probably won't have any leftover.
Roll your frosted cupcakes in crushed peanuts. Amelia had fun crushing the peanuts in a bag with her fists; I've used a meat mallet. Don't crush them to dust, though; you want varied texture. You can use salted, unsalted, or honey roasted peanuts, depending on your preference. To have fun, you could add some mini chocolate chips to the nuts when you're ready to top the cupcakes.
Substitutions and Alterations
If you don't have or don't like honey, you can use maple syrup instead.
Do not use natural peanut butter that has no sugar added. It doesn't have the right consistency for the frosting.
This recipe can be made vegan! In the cake, substitute oil for the butter, and your favorite non-dairy milk with a teaspoon of vinegar for the yogurt. To replace the eggs, mix together 2 tablespoons of ground flaxseed with 6 tablespoons of water; let rest 5 minutes before using. In the frosting, replace the milk with your non-dairy milk.
I tested this recipe with oil and flaxseed, and it was still delicious. I did not have non-dairy milk, but I've used it often while baking in the past. I recommend soy milk unless you know you'd like the flavor of other milks with banana and peanut butter.
Serving and Storing Cupcakes
I have a cupcake carrier (affiliate link) that I store cupcakes and muffins in. I like mine because it's a box with a lid that closes. I've seen cupcake carriers that connect directly to muffin pans break, with cupcakes and frosting falling to the ground. It's a huge mess.
Whatever you choose to store your cupcakes in, be sure it's airtight container, so that the cupcakes don't dry out. These surprisingly delicious treats stay moist for days that way. Store at room temperature; no need to refrigerate.
I'm not a spice cake person; I'm not always a banana person; and I'm not always a peanut butter person. But the combination of the three here is fantastic!
I don't add spices to my banana bread, but the cinnamon adds a little something extra to the banana cake. The cake itself isn't very sweet (although the oil version seemed sweeter than the butter version), but adding peanut butter frosting kicks these firmly into dessert territory. The frosting reminds me of the filling of peanut butter candy.
You can skip rolling the cupcakes in crushed peanuts, but you shouldn't, because they're a nice, chewy contrast to the soft cake and creamy frosting.
All cupcakes, with their frosting, are usually calorie-heavy. Rather than being too sweet, however, frosting makes these cupcakes hearty. Using peanut butter instead of butter in the frosting makes this cupcake more substantial and satisfying than most. When I made these back in 2012, I took them to work with me each day as a mid-morning snack, and followed it up with a late light lunch because I simply wasn't that hungry afterward.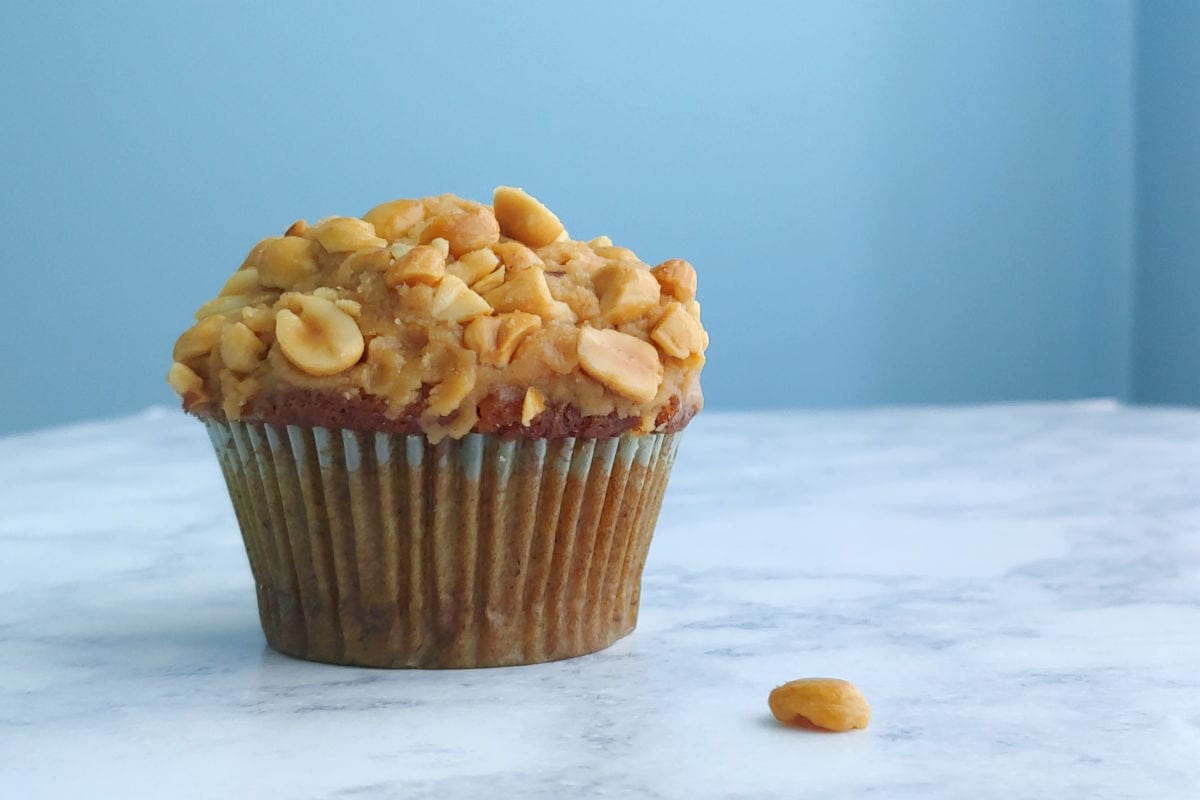 Amelia likes to follow up these cupcakes with a big glass of cold milk, which sounds like a great idea to me.
Want to play around with them a little bit? Try adding a few crushed peanuts to the batter (you'll get about 13-14 cupcakes that way), or roll the frosting in mini chocolate chips instead of nuts.
Want more banana?
Need more peanut butter?
Interested in other recipes? I save and share recipes I like or want to try on my Pinterest page - follow me there! You can also check out my Facebook page for more recipes and helpful tips. I'm also happy to try to help troubleshoot my recipes there.
Have you tried this recipe? Or have a question about it? Rate it or leave a comment below! (PS: rating my recipes helps other people find them, too!)
📖 Recipe
Banana Cupcakes with Peanut Butter Frosting
Delicious, easy banana cupcakes with a simple peanut butter frosting, rolled in crushed peanuts. A great comfort food, perfect for potlucks!
Keyword:
banana cake, banana cupcakes, peanut butter and banana, peanut butter frosting
Ingredients
8

tablespoons

unsalted butter

(113 grams; softened)

1 ¼

cup

sugar

(250 grams)

2

eggs

(100 grams)

2

bananas

(medium bananas, 280 grams, peeled; frozen and thawed are fine)

¼

cup

honey

(85 grams)

¼

cup

yogurt or buttermilk

(60 grams; I often use 1 teaspoon vinegar and ¼ cup milk to make sour milk for this)

1

teaspoon

vanilla

(5 grams)

2 ⅓

cup

flour

(275 grams)

1

teaspoon

cinnamon

1

teaspoon

baking powder

½

teaspoon

baking soda

¾

teaspoon

table salt
Peanut Butter Frosting
2

cups

powdered sugar

(227 grams)

¾

cup

peanut butter

(198 grams)

1

teaspoon

vanilla

(5 grams)

⅓-1/2

cup

milk

(80-120 grams; start with ⅓ cup, then add more if necessary)

1 ⅓

cup

peanuts

(crushed, for garnish; 170 grams)
Instructions
With a hand or stand mixer, cream together the softened butter and the sugar. Scrape down the bowl, then add the remaining wet ingredients (through vanilla). Mix until combined.

Add half the flour and all the cinnamon and leavenings. Stir briefly (on low) to combine; you don't want to send flour flying everywhere! Add the remaining flour. Once it's mixed in, scrape the bottom of the bowl again, and then mix at medium speed for 30 seconds.

Scoop batter into paper-lined or well-greased muffin cups, filling each one at least ¾-7/8 full. You may have a little batter leftover; grease another muffin cup or mini Bundt pan and bake it in that.

Bake at 350F for 24-27, until a toothpick inserted into the middle of the cupcake comes out clean. This may take a little longer if your bananas are larger than medium. Remove cupcakes from the tin to a cooling rack, or tip each cupcake on its side in the muffin cup to allow steam to vent from the bottom.
Peanut Butter Frosting
In a large bowl, use a hand or stand mixer to beat together the powdered sugar, peanut butter, and vanilla until crumbly. Add ⅓ cup of milk. Beat until creamy, light, and fluffy, adding a little extra milk as necessary until you get the texture you want.

Scoop frosting onto the cupcakes and use a knife to frost them, bringing the frosting to the edge of the cake. This doesn't need to be perfect, since you're garnishing them with peanuts.

Place the crushed peanuts in a small bowl. Roll the top of each frosted cupcake in the peanuts to coat.

Store in an airtight container at room temperature. Cupcakes will stay moist and delicious for at least 4 days.
Recipe Notes
I freeze overripe bananas to use in recipes like this. Thaw completely before using in the cake.
You can substitute maple syrup for the honey.
Only use creamy peanut butter. You would likely need extra chunky peanut butter to get the frosting to the right consistency.
Try rolling the frosted cupcakes in mini chocolate chips for a fun twist!
Make it vegan! Substitute oil for the butter, and non-dairy milk with a teaspoon of vinegar for the yogurt. To replace the eggs, mix together 2 tablespoons of ground flaxseed with 6 tablespoons of water; let rest 5 minutes before using. In the frosting, replace the milk with your favorite non-dairy milk (I recommend soy).
Recipe adapted from King Arthur Baking
Nutritional information is an estimate only.
In the past:
Two Years Ago: Chocolate Oat Bars; Classic Banana Bread
Three Years Ago: Alton Brown's Pina Colada Waffles
Four Years Ago: Sesame Noodles; Chewy Oatmeal Cookies
Seven Years Ago: Whole Wheat Peanut Butter Banana Bread
Eight Years Ago: Raspberry Lemon Cupcakes (a review)
Nine Years Ago: Country-Style Steak; Apple and Pear Scones
Eleven Years Ago: World Peace Cookies (a review); Cinnamon Bread; King Arthur Flour Hamburger Buns