I make 3 or 4 batches of homemade marshmallows each year, and have been doing so for the last 7 or 8 years. I love them. A couple of these batches are always Chocolate or Chocolate Chip Marshmallows.
I've never been a big marshmallows person otherwise. Marshmallows in cereal, s'mores, rocky road - none of it really did anything for me. But the homemade stuff - wow, is it so much better. I love to just sit and eat these. In fact, if I'm not careful, I run out of them and have to make another batch to share with family and friends.
I still make regular homemade vanilla marshmallows; they're great for hot chocolate. But making chocolate or chocolate chip marshmallows like these is really special. I love eating these as candy.
Making marshmallows really doesn't take very long, and is pretty easy overall. Plus, everyone is impressed when you say "I made marshmallows!"
[This post contains affiliate links. I may make a commission for purchases made through links on this post.]
What are Marshmallows?
Marshmallows are a spongy, chewy candy that no one realizes can be made at home. Long ago they were made with the sap of the marshmallow plant, but to streamline the process, French confectioners started using gelatin instead to recreate the texture.
So, over 100 years ago, marshmallows were a high-end specialty. It's hard to believe when you can buy a store-brand bag of marshmallows at the grocery store for just a dollar. If you'd like to read more about it, Mental Floss has an article about the history of marshmallows, as does the Spruce.
Now most marshmallows are made using corn syrup, sugar, gelatin, and sometimes egg whites, and are usually mass-produced. Which is a shame, because homemade marshmallows are so much better.
Why Should I Make Marshmallows from Scratch?
Homemade marshmallows taste so much better than store-bought. They're soft! They're creamy! They're fluffy! And you can make lots of variations on them. I really can't stop eating these chocolate chip ones. Just look at the chocolate layered inside!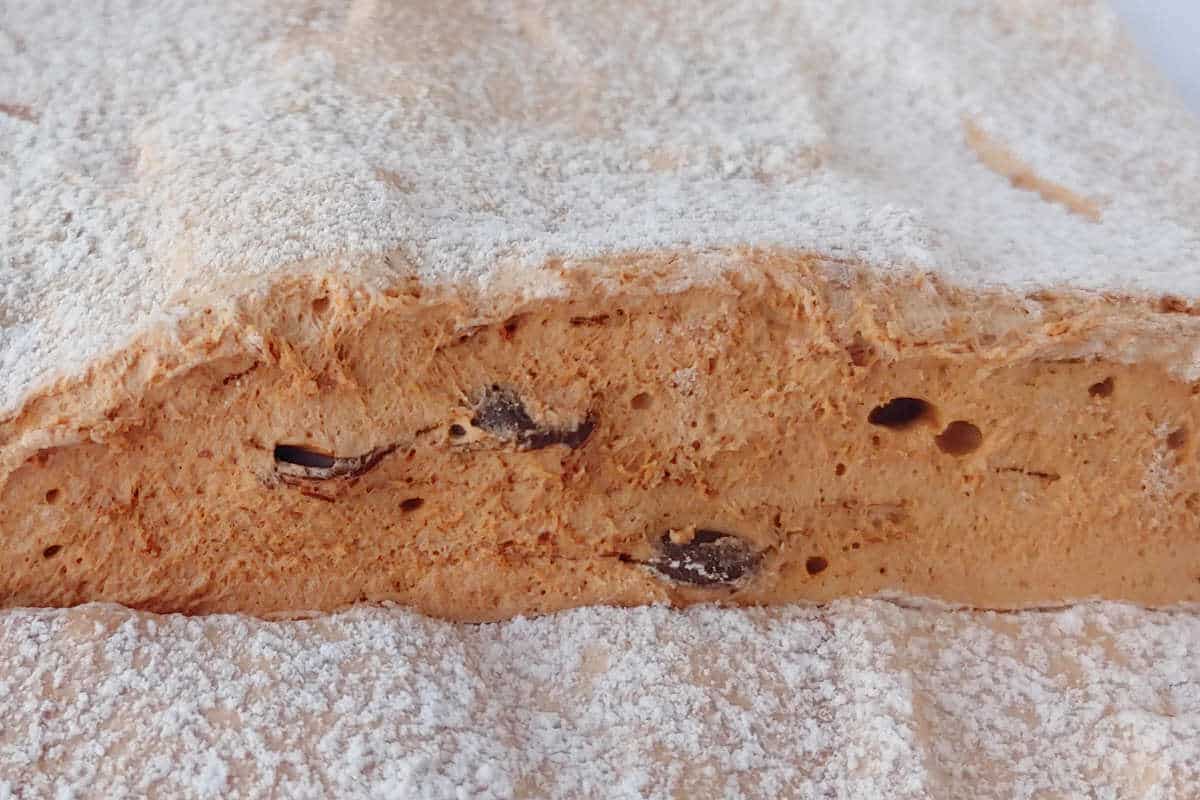 Another great perk - marshmallows last a long time, and they ship well. Marshmallows are a great addition to DIY food gift packages. My family always looks forward to getting homemade marshmallows in their gift packages, more than anything else that I make and send.
How to Make Chocolate or Chocolate Chip Marshmallows
First, for chocolate chip marshmallows, place your chocolate chips in the freezer. You can do this at any point before you start making marshmallows; the colder they are, the less they will melt.
Combine corn syrup, sugar, and water in a heavy saucepan. Stir it up, then place in a candy thermometer (affiliate link). (I like this one because the bulb doesn't sit on the bottom of the pan.) Heat the syrup on the stove over medium- to medium-high heat.
Meanwhile, combine 3 packets or envelopes of gelatin with the remaining ½ cup water in the bowl of your stand mixer. Be sure that all the gelatin is mixed into the water; it will soak up the water and thicken.
The syrup will come to a boil. Cook it (no need to stir) until it reaches 240F on the thermometer. This can take 10 minutes on medium-high heat, or up to 30 if your stovetop is underpowered and the temperature is low.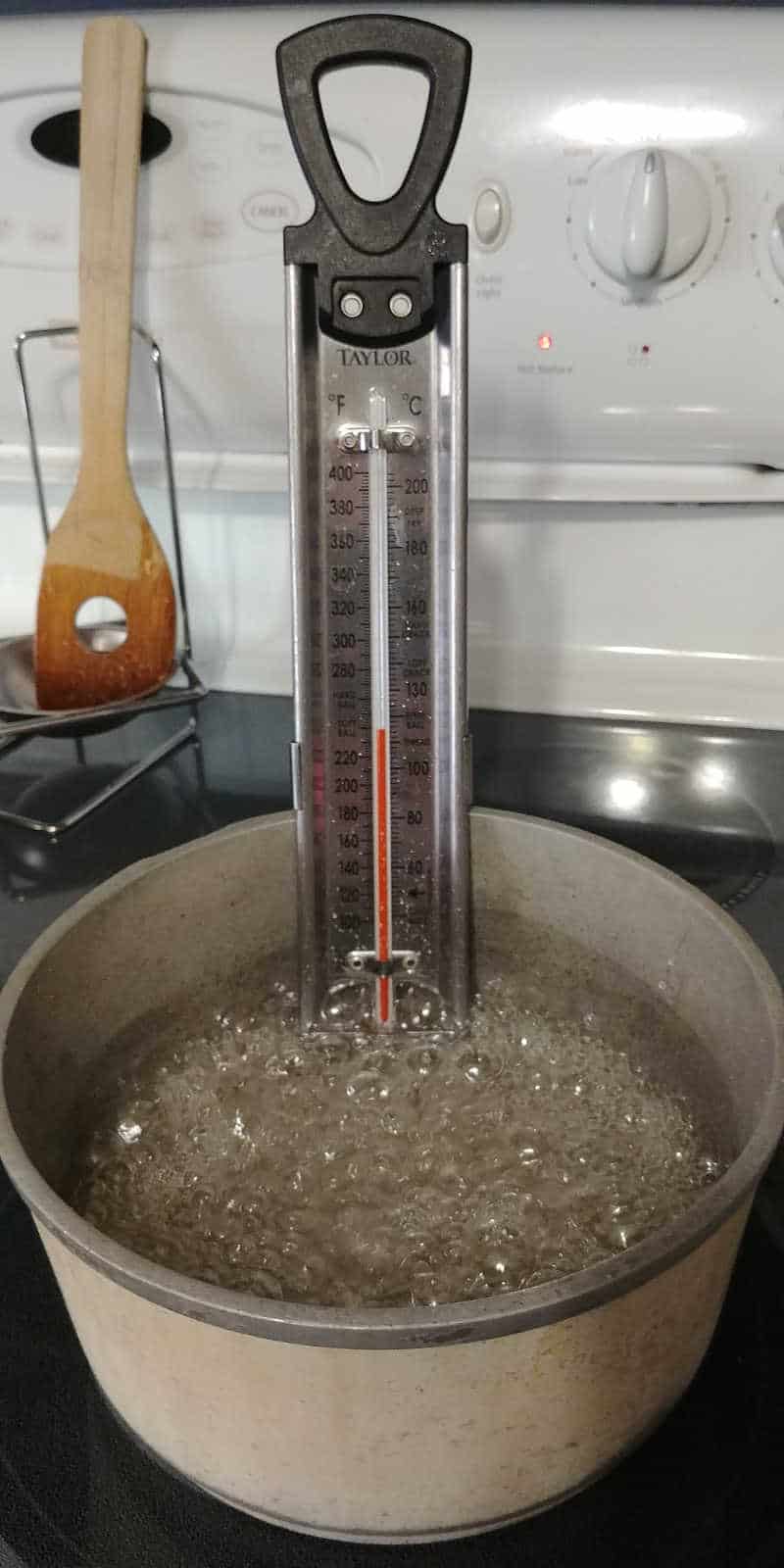 Break up the gelatin in the stand mixer bowl. Use the whisk attachment of your stand mixer and turn it on to low power. Carefully drizzle in the hot syrup while the machine runs; you don't want it to spatter, and it needs to be added slowly to dissolve the gelatin. You don't want clumps of gelatin in your marshmallows!
Once all the syrup is added, turn your stand mixer up to high speed - 8 or 10 on a Kitchenaid stand mixer. Set a timer and whip the marshmallows for 7 minutes. (I haven't used a hand-held mixer; you may have to beat them longer if you do.)
While the candy whips, prepare your pan. Spray a 9x13-inch pan (affiliate link) with oil, including the sides, then dust liberally with powdered sugar. I prefer a glass pan for this, but you can use metal if you'd like.
(If you want, you can dust your pan with a mixture of powdered sugar and cocoa powder. It seldom hurts to add more chocolate!)
After the 7 minutes are up, slowly drizzle in the vanilla along the side of the bowl. If you add it too quickly, or directly to the marshmallow, it will spatter.
Add the chocolate chips. Room temperature, and especially miniature, chocolate chips will melt; frozen ones will partially melt. Mix for 30-60 seconds; shorter equals more chocolate chips, while longer means more chocolate swirls in the mallows.
Spray a rubber spatula with cooking spray and use it to scrape the marshmallows into your prepared pan. Smooth it out as much as possible; this also has the nice effect of spreading the chocolate chips out into swirls a little more.
Dust your marshmallows with more of your powdered sugar. Let cool for a few hours, then cover the pan with plastic wrap and let set overnight.
The next day, turn out your marshmallows. If you've powdered your marshmallows well, you should be able to grab a corner or edge and pull the marshmallows right out.
Place them on a cutting board and cut them into the number of marshmallows you want. I used to do this with a pizza cutter, but honestly, my bench scraper (affiliate link) cuts them more easily and makes the neatest lines. Dipping it in powdered sugar should help keep the marshmallows from sticking to it.
Turn the marshmallows onto their sides, then dust with more powdered sugar. You want all the sides to be powdered, or they will stick together.
I like to store them in a tin lined with plastic wrap. I prefer them to not touch, but if you've powdered them well, it's not such a big deal. You just don't want them squished.
Recipe Ingredients and Variations
This recipe for marshmallows takes packets or envelopes of powdered gelatin (like the Knox brand, or store brand). I bought a giant package of gelatin (affiliate link) of Amazon; it lasts for a few years, and I make enough marshmallows for it to be worth it.
One regular box of 4 packets of gelatin that you buy at the grocery store will be enough to make this recipe. I have not used sheets of gelatin.
This recipe does not take egg whites, but the gelatin makes this recipe NOT vegan. I have not successfully made marshmallows with agar-agar or guar gum (and in fact, had a disaster the one time I tried a recipe with agar-agar). You will need a different recipe for vegan marshmallows, but carefully choose a recipe that has picture proof that it works.
These marshmallows are dairy-free if the chocolate you use is dairy-free. I usually use Ghirardelli chocolate chips (affiliate link), which do contain milk fat.
I have not tried to make this recipe without corn syrup. You can try a sugar syrup or honey, agave, or maple syrup, but the texture may be different.
To make vanilla marshmallows, just use my Homemade Marshmallows recipe, or omit chocolate chips from this one.
Try adding a half-amount of peppermint extract for the vanilla extract to make mint-chocolate marshmallows.
I expect using coffee in place of the water would make nice mocha marshmallows.
To fancy these up, you could freeze the marshmallows, then dip in melted chocolate.
I haven't messed up a batch of marshmallows yet in 8 years of making them, so trust me when I say it's easy! Definitely give these marshmallows a try.
Interested in making hot cocoa or hot chocolate to go with these marshmallows? Try Alton Brown's Hot Cocoa Mix (for mixing with boiling water), or this sweet Hot Chocolate Mix or Decadent Hot Chocolate Mix (my favorite). I've made each of these as food gifts before, and they're fantastic.
Interested in other recipes to make to give as Christmas gifts? Check out my post on DIY Food Gifts for other ideas, especially for food you can ship.
Like this recipe or have questions? Rate it or leave a comment below!
In the past:
One Year Ago: Chocolate Toffee Cracker Cookies
Five Years Ago: Panettone Muffins
Six Years Ago: Espresso Biscotti
Seven Years Ago: Cocoa Fudge Cookies
Eight Years Ago: Pecan Squares
📖 Recipe
Homemade Chocolate Marshmallows
Homemade Chocolate Marshmallows are soft, fluffy, creamy, easy to make, and hard to stop eating! Studded with chocolate chips, they make great DIY food gifts, and ship well.
Keyword:
homemade chocolate chip marshmallows, homemade chocolate marshmallows
Ingredients
3

packets

gelatin

1

cup

cold water

(divided) (227 grams)

1 ½

cup

sugar

(300 grams)

1

cup

corn syrup

(312 grams)

1

tablespoon

vanilla extract

(15 grams)

1

cup

chocolate chips or miniature chocolate chips

(170 grams)

~½

cup

powdered sugar

(57 grams) (for dusting the pan and marshmallows)
Instructions
For chocolate chips in your marshmallows, place your chocolate chips in the freezer. The longer they freeze, the more distinct the chocolate chips will be in your marshmallows.

Combine gelatin and ½ cup water (113 grams) in the bowl of your stand mixer.

In a medium saucepan, combine sugar, corn syrup, and remaining ½ cup water (113 grams). Stir to combine and heat over medium-to-medium high heat. Insert a candy thermometer when the mixture comes to a boil, and cook until it reaches 240F. (You can stir or not stir while it boils; it hasn't made a difference to my mallows.)

Break up your gelatin in the stand mixer bowl. Turn on stand mixer to low, using the whisk attachment. Pour in the syrup slowly while the motor runs. Pouring slowly helps prevent the syrup from spattering, and helps dissolve the gelatin.

Crank the speed of your mixer to high and whisk for 7 minutes. The mixture will grow in volume and turn white and frothy.

While the mixer runs, prepare your pan. Spray the bottom and sides of a 9x13 pan (glass if possible) with cooking spray and coat with powdered sugar; set aside.

After the 7 minutes have passed, add the vanilla slowly to the marshmallow on the sides of the bowl; the mixture will try to spatter out if you add it all at once. After 30 seconds, add the chocolate chips. Mix about 30 seconds more, until the chocolate chips are throughout the candy.

Use a greased spatula to spread the marshmallows into the prepared pan. Dust with powdered sugar. If desired, use your hands to flatten out the marshmallow evenly; otherwise, use the spatula. Let cool for a few hours before covering with plastic wrap, then let set overnight.

Turn out onto a cutting surface. (I turn mine out an oversized cutting board.) You may need to use a spatula or knife to loosen the edges of the mallows from the side of the pan, but I've been able to pull mine out easily with my hands most recently.

Cut into cubes using a pizza cutter or bench scraper. Coat with additional powdered sugar, particularly along the cut edges. Store between layers of waxed paper in an airtight container at room temperature.

Recipe Notes
Mix less for more chocolate chips; mix more for smaller chocolate chips in the mallows.
Marshmallows are in their prime for their first few weeks. They are still good up to a month or so after being made, but the outsides may dry out a little. Marshmallows do grow mold if exposed to moisture or heat.
Try adding 1 ½ teaspoons peppermint extract in place of vanilla for mint chocolate marshmallows.
Dust with a mixture of powdered sugar and cocoa powder if desired. 
Originally adapted from King Arthur Flour
(Originally posted December 23, 2013. Updated in December 2018 with text, photos, and updated recipe.)