Homemade marshmallows are one of my favorite things to cook. You take ingredients that aren't exciting on their own - corn syrup, sugar, gelatin - and turn them into something magical!
I am generally not a marshmallow person, but homemade marshmallows are different. They're soft. Creamy. Fluffy. Springy. They're a delicious confection that is maligned by all bagged grocery store versions you come across.
They seem intimidating, but I promise you - they're not hard. They are 1000% worth making yourself. Homemade marshmallows are so superior to prepackaged ones that they're practically a different food.
Jump to:
[This post contains affiliate links. I may make a commission for purchases made through links on this post.]
Why I've Made Marshmallows for 12+ Years
I first made marshmallows in 2010 as my 344th recipe of my 365 recipe challenge. I'd never given a thought to making marshmallows before, but the year prior, a coworker's husband had made marshmallows and shared them with us. They were amazing!
I originally tried two recipes when I started making marshmallows - Alton Brown's, and King Arthur Baking's. Alton Brown's was fine, but he included cornstarch in the coating and that created too much of a crust. He also whipped them an incredibly long time. King Arthur Baking's was less fussy and turned out much better, and is where I've adapted my recipe from.
In the 12 years since I made my first batch, I've made at least two batches per year to give out as food gifts. Most years I make four, including my chocolate chip marshmallows. I love those for snacking on, but I prefer these OG vanilla marshmallows for topping hot chocolate.
Ingredients for Marshmallows
Ingredients for marshmallows are simple: sugar, corn syrup, powdered sugar, vanilla, and gelatin, plus a little water.
Sugar: Just use plain ol' granulated sugar. I used brown sugar once, and it really just muddied up the color without adding flavor.
Corn Syrup: This adds stability to your syrup mixture and improves the texture. Use light corn syrup. You can use dark in a pinch, but it will muddy up the color.
This is an all-sugar treat, and you're using regular corn syrup, not high-fructose corn syrup. Still, if you have hard feelings against corn syrup, you can try honey, agave syrup, or golden syrup, which may work the same but may not. They may also change the flavor somewhat.
Gelatin: This is what stabilizes all of your foam as you whip the syrup into its white, frothy pillowiness, and allows it to keep its shape after it cools.
I've always used the powdery Knox brand in these, or a generic brand if I find it. Gelatin is derived from collagen from animal bones. As such, it is not vegan. If this icks you out, realize that gelatin is in store-bought marshmallows as well. I haven't yet successfully tried out a vegan recipe. (A recipe I tried years ago with agar-agar flakes did not turn out, dramatically.)
One 4-packet box of unflavored gelatin will be enough for one batch of marshmallows, with one packet of gelatin leftover. (If you find you love making marshmallows, you can order a giant package of gelatin (affiliate link) from Amazon, like I did; the dates on it should be good for a couple of years.)
Vanilla: Flavoring, and vanilla in particular, is essential in this recipe. Otherwise, you're just tasting sugar. Use real vanilla extract if possible, not imitation.
Powdered Sugar: This will keep your marshmallows from sticking to the pan, and to each other.
Equipment to Make Marshmallows
Marshmallows are easy to make, but there are a few specific items that will make the whole process easier.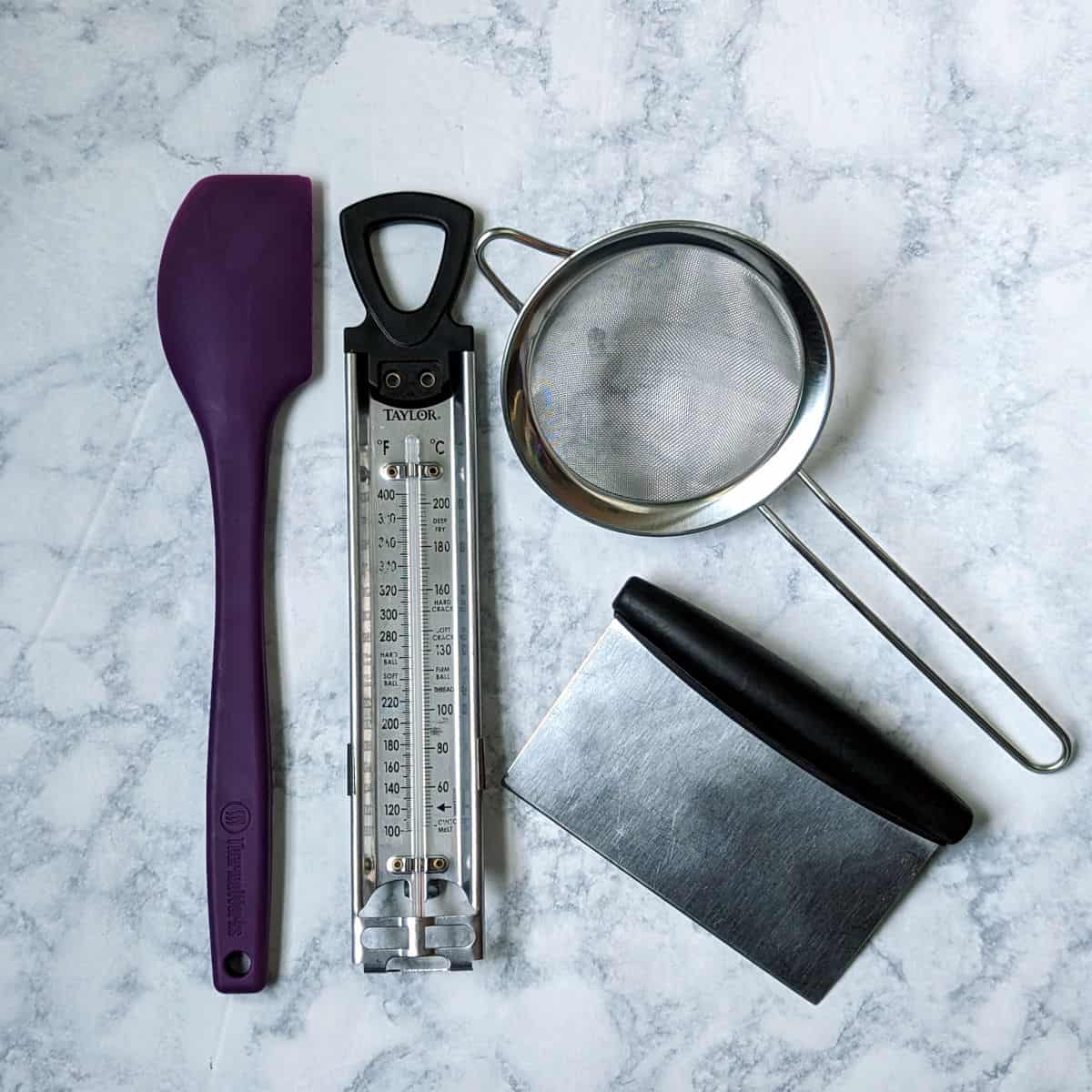 Candy Thermometer: Since marshmallows are a confection, you need a candy thermometer (affiliate link). I like the one I've linked to as it rests safely on the bottom of the pan without the bulb touching the bottom. You can also use a probe thermometer (affiliate link) preferably clipped to the side of the pan.
Electric Mixer: I've always used my stand mixer. You can likely use a handheld mixer as well, but you may need to beat the mixture longer.
Sturdy-Bottomed Pot: Thin pots will have hot spots that will spoil the syrup. Use something with a heavy bottom. I also do not recommend non-stick.
9x13-Inch Pan: I feel a little silly mentioning it here. You can use whatever pan, whatever shape you want. I recommend glass because I've had the most luck pulling marshmallows from it, and don't worry about scraping it up. Marshmallows are the main reason I still have this glass pan.
Natural aluminum 9x13-inch pan (affiliate link) should work fine as well. I do not recommend non-stick, namely because I always scratch mine up, and you don't want rust in your marshmallows.
Bench Scraper: I prefer a bench scraper (affiliate link) to cut my marshmallows. I find it cuts more neatly than a pizza cutter, which is what I used to use. If you need to, you can use a butter knife, but your results may not be as pretty.
Sifter: You can probably do without a sifter and just sprinkle powdered sugar on your marshmallows, but the sifter does a better job.
How to Make Marshmallows
First, gather all your ingredients and equipment. I list below when I usually prepare each item, but I've made at least 40 batches of marshmallows! You may want to give yourself a little more leeway.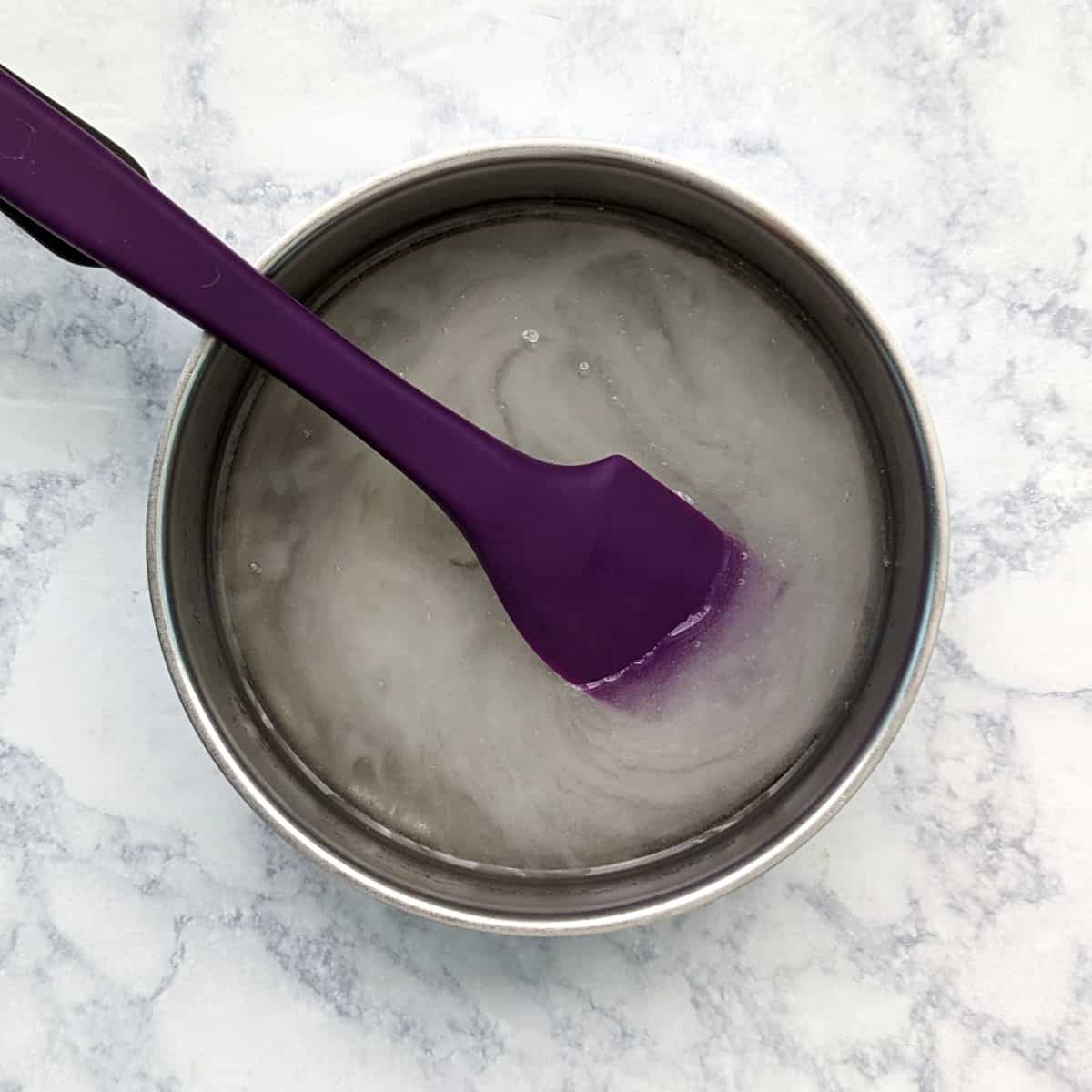 Combine ½ cup water with sugar and corn syrup in a pot and start to heat it up.
Meanwhile, combine gelatin with ½ cup water in the bowl of your stand mixer to allow it to bloom. Break it up a little after it's hydrated.
Stir to combine the syrup, then insert the candy thermometer (affiliate link) and wait.
Cook over medium heat until the syrup reaches 240F.
Once the syrup reaches the soft ball stage (around 240F), you'll have to act fast! Be sure you're ready. Have the whisk attachment on the stand mixer, and be sure you've broken up your hydrated gelatin (otherwise it won't dissolve in the syrup and you'll have clumpy gelatin in your marshmallows).
Yes, the gelatin may smell a bit as you hydrate it and as you add the syrup. It may continue to smell for a few minutes while they whip. This is normal, and won't affect how they taste.
With the stand mixer on low speed, slowly drizzle the hot syrup into the gelatin, which should dissolve.
Turn up the speed to high. Set your timer for 7 minutes. The mixture will become foamy and fluff up (seen at this picture from 2-3 minutes of whipping).
While you're beating the marshmallows, prepare your pan if you haven't already. Spray your glass pan with cooking spray, and then dust liberally with powdered sugar. Get out a rubber spatula to scrape the marshmallows into the pan, and spray it with cooking spray.
After 7 minutes of whipping, turn the speed down a notch or two. With the mixer still running, slowly pour the vanilla extract along the side of the bowl. It loosens up the marshmallows, which will fly out of the bowl if you pour too quickly or on the marshmallow directly.
Turn the mixer back to high and beat for another minute.
Use the rubber spatula to scrape the marshmallows into the prepared pan. Dust them again with powdered sugar. Let them cool for 2 hours, then cover with plastic wrap to let them set for another 2 hours (or overnight, as I usually do) at room temperature before cutting.
Cutting and Storing Marshmallows
The next day, your marshmallows will have firmed up nicely. Dump or pull them out of the pan and place them on a surface dusted with more powdered sugar.
Use a bench scraper (affiliate link) (my preference), pizza cutter, or knife to cut the marshmallows into squares. As you pull them apart, dust each surface with a little more powdered sugar so they don't stick to one another.
I store cut marshmallows in metal tins lined with waxed or parchment paper. When I give them as gifts, I put them in cellophane bags or sandwich bags. Before you store them in plastic, be sure they're dusted well with powdered sugar.
Marshmallows ship well. However, I tend to nestle them into tins so that they don't get squished (and so the bags don't break) in transit.
Keep homemade marshmallows away from heat and humidity, as this can cause mold in the long term. Otherwise, these marshmallows last for a month at room temperature. The powdered sugar on them may give them a little crust, but they're still soft and delicious. Longer than a month, they will dry out, but they will still be pretty tasty in hot chocolate.
Change It Up
If you don't want vanilla, you can add any extract you'd like. Try ½-1 teaspoon of peppermint extract, or 1 drop of peppermint oil, for mint marshmallows. Those would be perfect to add to hot cocoa!
Add liquid food coloring of your choice with the vanilla. If you add it in the last 10 seconds, you will end up with more of a swirl effect. (You will confuse others, though, if you don't change the flavor as well!)
Top them with cinnamon sugar immediately, before they cool, or with crushed candy canes.
Or, make my favorite variation - chocolate chip marshmallows.
Really, it's hard to go wrong with marshmallows. They're soft, creamy, and delicious, and sure to impress your friends and family. Of all the things I've made and gifted, marshmallows are what people have loved the most.
More Food Gifts
Interested in other recipes? I save and share recipes I like or want to try on my Pinterest page - follow me there! You can also check out my Facebook page for more recipes and helpful tips. I'm also happy to try to help troubleshoot my recipes there.
Have you tried this recipe? Or have a question about it? Rate it or leave a comment below! (PS: rating my recipes helps other people find them, too!)
📖 Recipe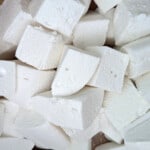 Homemade Marshmallows
Homemade marshmallows are so much better than prepackaged, store-bought ones. They are easy to make; you just need a little time. They will need at least 4 hours to cool and set up.
Keyword:
homemade marshmallows
Ingredients
3

packets

powdered gelatin

(21 grams or 7 teaspoons)

1

cup

cold water

(divided) (227 grams)

1 ½

cup

sugar

(300 grams)

1

cup

corn syrup

(312 grams)

1

tablespoon

vanilla

(15 grams)

powdered sugar

(about ½ cup/50 grams) (for dusting the pan and marshmallows)

mix-ins (optional)
Instructions
Stir gelatin and ½ cup water (113 grams) together in the bowl of a stand mixer (or another large bowl if using a handheld electric mixer).

In a heavy medium saucepan, combine sugar, corn syrup, and ½ cup water (113 grams). Heat over medium to medium-high heat, stirring to combine. Bring mixture to a boil.

When it boils, place a candy thermometer in it, and heat until it reaches 240F. (I usually do not stir the syrup.) This step can take as little as 10 minutes, or as long as 30, depending on how hot you have your burner.

Turn stand mixer on low, and break up the softened and bloomed gelatin using the whisk attachment; otherwise, it may not dissolve. With the mixer still running, slowly pour in the syrup.

Turn the mixer up to high and whisk for 7 minutes. The mixture will grow in volume and turn white and frothy.

While the mixer runs, prepare your pan. Spray the bottom and sides of a 9x13-inch pan (I prefer glass for easy clean-up) with cooking spray and dust completely with powdered sugar. Set aside.

After the mixture has been whisked for 7 minutes, it will be fluffy and white. Drizzle in the vanilla, very slowly, along the side of the bowl. (If you pour it in directly the marshmallow or too fast, marshmallow will spatter out.) Mix for 30 seconds or a minute, until completely incorporated. If desired, add in other mix-ins now and mix for another 30 seconds. 

Use a greased spatula to spread the marshmallows into the prepared pan. Smooth out the top as best as possible. Dust with powdered sugar. Cool for a few hours, then cover and let set overnight, or at least 4 hours.
Cutting After Marshmallows Set
Turn out onto a cutting surface. (I turn mine out an oversized cutting board.) You may need to use a spatula or knife to loosen the edges of the mallows from the side of the pan, but I've been able to pull mine out easily with my hands most recently.

Cut into cubes using a pizza cutter or bench scraper. Coat with additional powdered sugar, particularly along the cut edges.

Store between layers of waxed or parchment paper in an airtight container at room temperature. Kept away from heat at humidity, marshmallows will last about a month.
Recipe Notes
A candy thermometer is essential for this recipe.
I've always made homemade marshmallows using a stand mixer. You should be able to use an electric handheld mixer, but you will have to mix for longer, and they may not be as fluffy.
You must bloom the gelatin for this recipe to work. You cannot substitute anything else for the gelatin.
For softer, creamier marshmallows, you can try to cut the gelatin back to 2 packets. However, I have not tried this.
Try dusting with powdered sugar blended with cinnamon or cocoa powder for a variation. You can add peppermint or other extracts, or crushed candy canes if desired.
Originally adapted from King Arthur Baking
In the past:
(Post updated in December 2022 with new writing, updated instructions, and photos. Originally published December 29, 2010 and republished December 19, 2017.)