This weekend, it finally began to feel like fall! I had the windows open both yesterday and today to let in the refreshingly cooler air. This is St. Louis, so we may still have some hot days in the future, but I hope this weather is a turning point. I am really ready for fall, my favorite season.
Today I made Vanilla Chai Donuts for breakfast to celebrate the cooler weather. The donuts took some brewed chai tea as well as five - yes, five - spices. This morning was not a great baking morning for me. I ground all the spices - cinnamon, ginger, cardamom, coriander, and cloves - but forgot to add them to the batter. I also didn't read the ingredient list closely and added baking soda instead of powder. I wasn't about to waste the spices that were sitting on the counter waiting to be used, so I made a second batch.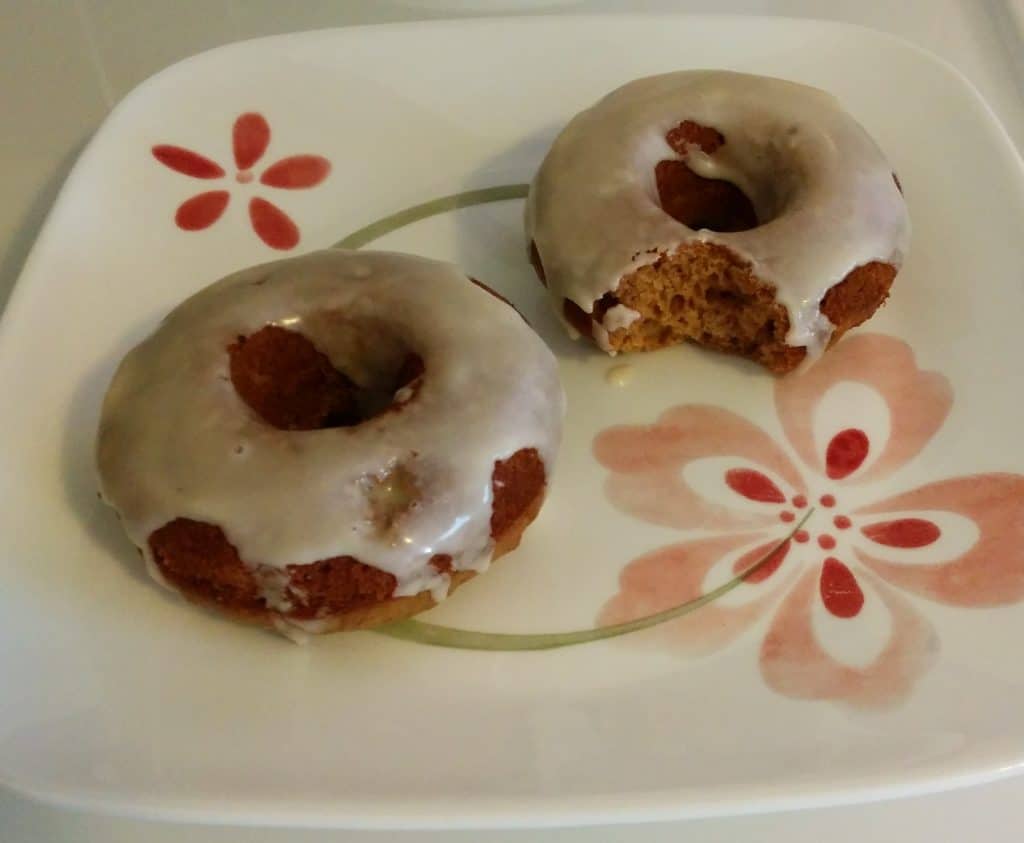 The donuts themselves were moist and tender. The donuts without the spices tasted okay, but weren't very spicy; even if you don't have all of the spices, you will still need to add some, as the tea alone isn't enough to make a chai flavor come through. The spices made a huge difference in the flavor of the donuts. I really enjoyed the unusual spiciness of the ginger, cardamom, and coriander in them. The donuts baked okay with the soda, but rose better with the baking powder. I'm not a huge fan of donut glaze, but it was needed for these donuts to balance the spices; you might also be able to get away with dusting them liberally with powdered sugar.
These donuts were nice to make for something a little different. They're definitely worth trying.
📖 Recipe
Vanilla Chai Donuts
adapted from King Arthur Flour
Ingredients
1

cup

flour

(I used ¾ cup all-purpose and ¼ cup whole wheat, which hides well here)

½

cup

brown sugar

1

teaspoon

baking powder

½

teaspoon

cinnamon

½

teaspoon

ginger

½

teaspoon

ground cardamom

¼

teaspoon

ground cloves

¼

teaspoon

ground coriander

¼

teaspoon

salt

¼

cup

strong brewed chai tea

cooled

2

tablespoons

vegetable oil

2

tablespoons

vanilla

1

egg

1

cup

powdered sugar

1-2

tablespoons

strong chai tea
Instructions
Spray a 6-donut pan with cooking spray and preheat the oven to 375F.

Combine flour, brown sugar, baking powder, spices, and salt in a mixing bowl. Separately, whisk together the ¼ cup chai, vegetable oil, vanilla, and egg (or just dump it into the dry ingredients by accident, as I did with my second batch), then add to the dry ingredients. Mix to combine.

Spoon batter into prepared donut pan and bake for 10 minutes, until donuts are springy. A toothpick inserted into one will come out clean.

Let the donuts cool for a few minutes, then carefully run a toothpick along the edge of each donut to loosen them. I usually use the toothpick to gently pry the donut up and out of the pan.

Stir together the powdered sugar and 1 tablespoon chai to create a glaze, adding a little more tea if you like yours thinner. Use a spoon to drizzle the glaze on the donuts.