It's been 8 years since I first made Alton Brown's Plain Ole' Brownies (as part of my 365 Recipe Challenge). I've often felt that, although I attempted the brownies two or three times, I didn't quite do them justice.* So I finally tried them again.
If I were to write to Alton Brown about it, the letter would go something like this:
Dear Alton Brown,
Eight years ago, I made your brownies for the first time. I did not know as much about cooking and baking as I do now. I am sorry that I made a few mistakes when I made them all those years ago. I see now the error of my ways. Your brownies, although not made the way brownies are traditionally made, are delicious. I'll try to make things right by updating this blog post now.
Sincerely,
Leona
Here's what I did differently this time.
[This post contains affiliate links. I may make a commission for purchases made through links on this post.]
Tips for Making Plain Ole' Brownies (which also apply to many other brownie recipes)
Plain Ole' Brownies came from Alton Brown's cookbook I'm Just Here for More Food (affiliate link). Here's some changes that I made this time, which is different from the original recipe (and from when I made them eight years ago):
Using a natural (not non-stick) aluminum 8x8-inch pan, not glass. Glass and metal bake entirely differently, and using a glass pan was an issue years ago.
Using parchment paper, rather than using a flour baking spray. (I believe the original recipe was ambiguous on this, but the flour spray gave edges an off taste.)
Toothpick test. See the holes in the brownies below where I stuck a toothpick in them to test them for doneness? Brownies should have moist crumbs sticking to a test toothpick. If the toothpick is clean, brownies are overbaked.
Underbaking. These were done at 50 minutes in a metal pan, despite a baking time of 55-60 minutes suggested.
The Original Recipe Attempt - 2010
The problems that I had with this recipe the eight years ago included the glass baking pan. Something made the edges of the brownies curl up - maybe the glass pan, maybe the cooking spray with flour.
Eight years ago, I baked them until the toothpick came out clean, and they were still moist. So that was great.
The cooking spray with flour (that the recipe called for) made the edges and bottom taste like flour. Not a good taste for brownies. The edges tasted burnt. I had to cut the edges away from the brownies, and skip eating the bottom.
The Brownie Taste Test
Shortly after I first made these brownies, I wanted another excuse to try them. My dream was to have a Brownie Taste Test so that I could see which brownie recipe my friends liked most. I pitted these against Hershey's Best Brownies and Best Cocoa Brownies. (I've revised both brownie recipes, slightly, this year.) Hershey's Best Brownies won.
There were a few factors at play here. My friends had already tried the Hershey's recipe several times before. But I think some of the contributing factors were the issues I had making this recipe in the first place, as I've listed above. But otherwise:
Alton Brown's Brownies recipe makes for tall brownies. They don't have the deliciously chewy edges that thinner brownies get.
These are cakey brownies, not fudgy brownies. Honestly, there's room in the world for both. Being a little underbaked, they're a little fudgier than cake, but they're still relatively fluffy. Luckily, they're still pretty moist.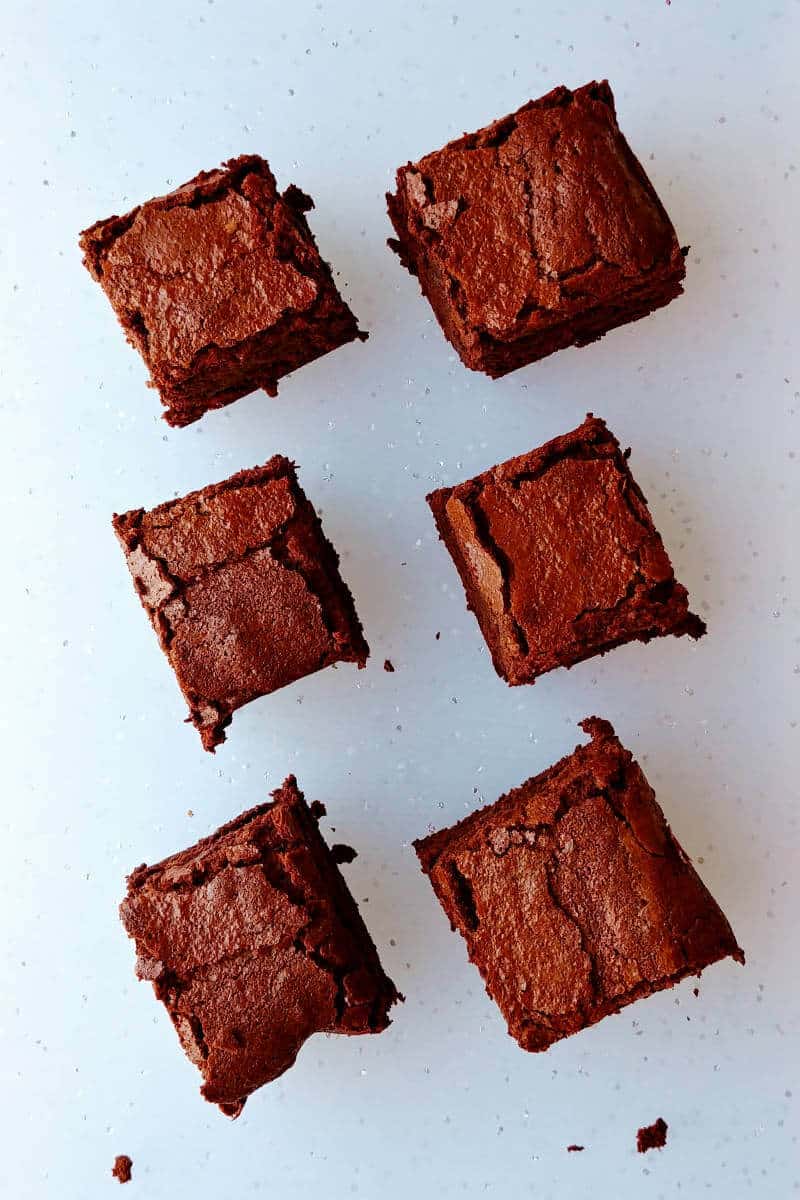 More Comparisons
Plain Ole' Brownies takes the same batter that I use in Hershey's Best Brownies and inverses the cocoa to flour ratio. That does make them darker and a little less sweet. (I actually found them a little bitter this time around; they could benefit from frosting as called for in the cookbook.)
But at the same time, this recipe takes the volume of brownie batter for a 9x13-inch pan (affiliate link) and fits it into an 8x8-inch square pan, which makes them much thicker. I ultimately just don't like my brownies quite so tall or flaky.
Alton Brown's recipe also relies on whipped eggs for leavening, rather than adding any kind of baking powder. It works, but it also makes for a lot more work. I don't usually like to pull out my stand mixer just to make brownies. I do sometimes, like for Fudge Brownies, but those have partially melted chocolate chips in them, so they're particularly amazing. Overall, I like just mixing together the batter in 10 minutes with a rubber spatula, sticking the pan in the oven, and having brownies come out 30 minutes later.
Still, I'm glad that I tried this recipe out again. These are delicious brownies, and it's a good recipe if you like tall, cakey brownies.
*Perhaps Alton Brown would agree that the recipe needed changes. He has similar recipes on both Food Network and his own website, both with a lower baking temperature, and different baking times.
Want more brownie recipes? Try Hershey's Best Brownies, Best Cocoa Brownies, and Fudge Brownies. I also have reviews of other brownie recipes if you search the archives, but these are my favorites.
In the past:
One Year Ago: Tres Leches Cake
Two Years Ago: Fajitas
Three Years Ago: Dark Chocolate Coconut Macaroons
Four Years Ago: Gluten-Free Vegan Bread
Five Years Ago: Anise Ice Cream
Six Years Ago: Granola Muffins
Seven Years Ago: Beef and Mushroom Sloppy Joes
Eight Years Ago: Raspberry-Blackberry Chocolate Chip Scones, Alton Brown's Buttermilk Pancakes
Like this recipe or have questions? Rate it or leave a comment below!
📖 Recipe
Alton Brown's Plain Ole' Brownies
This recipe for delicious, chocolatey cakey brownies is adapted from Alton Brown's cookbook I'm Just Here for More Food.
Ingredients
4

eggs

2

teaspoons

vanilla

1

cup

sugar

(198 grams)

1

cup

brown sugar

(227 grams)

16

tablespoons

butter

(melted) (2 sticks)

1 ⅓

cup

cocoa powder

(113 grams)

⅔

cup

flour

(99 grams)

¼

teaspoon

table salt
Instructions
Whip eggs using a stand mixer with the whisk attachment on medium speed until lightened and increased in volume. (They will be foamy.) Add vanilla.

With the mixer on medium-low speed, add the sugar and brown sugar. Mix until combined.

In a separate bowl, whisk together the cocoa, flour, and salt. (I often skip this step of sifting together dry ingredients in other recipes, and likely will skip it here in the future too.)

With the mixer on low, alternate adding the melted butter and the cocoa mixture in 3 additions, beginning with the butter and ending with the cocoa. Mix until just combined, and be sure to scrape down the sides of the bowl.

Pour batter into a parchment-lined (or greased) metal 8x8-inch pan.

Bake at 350F for 45-60 minutes (originally 55-60, but mine were done at 50 minutes). A toothpick inserted in the center of the brownies will come out with gooey crumbs stuck to it.

Cool for at least an hour before removing from the pan. Store in an airtight container at room temperature.
Recipe Notes
A metal 8x8-inch pan is a must for this recipe, as it bakes a long time. Do not use a flour baking spray on it. Parchment is nice for easy removal.
I've included weights for the dry ingredients; they come from the cookbook. I weighed those ingredients.
If your toothpick comes out of the brownies clean, your brownies are overbaked. In that case, add some chocolate chips to the top while brownies are hot (so they get melty), or add frosting.
Need a frosting? Here's the one Alton Brown suggests: 6.5 ounces (1 cup) semisweet chocolate, ½ cup cream, and 1 cup butter melted together, with 2 ½ cups powdered sugar mixed in with a hand mixer. 
Adapted from Alton Brown's I'm Just Here for More Food
This post was originally published on February 26, 2010. It has been updated with text, instructions, and photos.