My breakfast is boring, and has been for a while. I have a bowl of oatmeal every morning. Since having Amelia, I stick with old-fashioned oats over quick oats since they have the better texture. I love steel cut oats, but they take too long for my routine now.
I love oats in cookies, like in these Spellbinders, and in these chocolate chip cookies (which I forgot about until I wrote this post), and in these Chocolate Oat Bars (updated in 2019!). But for how much I enjoy oats, "oatmeal cookies" generally aren't my thing. I never choose them over chocolate cookies or shortbread or sugar cookies. Oatmeal cookies are usually spiced with cinnamon, which I love in a lot of things but don't want in my cookies. You usually find oatmeal raisin cookies, and raisins are far inferior to chocolate chips. But I decided to make oatmeal cookies this week because it was the easiest thing I could think of to make that Alex could top with the frosting I'd saved and stored from making Confetti Cake a few weeks back.
I didn't search very far. King Arthur Flour had a recipe for oatmeal cookies some time ago that I'd bookmarked but never made. It sounded straightforward and didn't make too many cookies. I also realized that it would be an easy thing for me to divide the batter and put raisins in half, which Alex and Amelia would enjoy, and put chocolate chips in the other half, for me to devour alone.
This easy recipe took less than an hour to make, and the cookies were delicious. I omitted cinnamon and nutmeg, but if you like your oatmeal cookies spiced, feel free to include it. The cookies, which I baked for the lesser time, turned out nicely chewy with a little crunch at the edges; bake them for the longer time if you'd like them more crisp. The cookies turned out perfectly with raisins and with chocolate chips. They are very sweet with the chocolate chips, so I think I'll cut back on the sugar next time (as I've reflected in the recipe below).
And yes, they made a fine oatmeal cookie sandwich with frosting.
📖 Recipe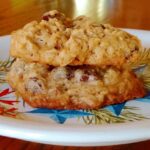 Chewy Oatmeal Cookies
adapted from King Arthur Flour
Ingredients
½

cup

butter

softened

⅓ to ½

cup

brown sugar

(I'll use ⅓ next time, especially with chocolate chips)

¼

cup

granulated sugar

1

teaspoon

vanilla

1 ¼

teaspoon

cinnamon

(optional; I didn't use it)

⅛

teaspoon

nutmeg

(optional; I didn't use it)

½

teaspoon

salt

1

teaspoon

white vinegar

1

egg

½

teaspoon

baking soda

¾

cup

flour

1 ½

cup

rolled oats

1

cup

raisins or chocolate chips
Instructions
With an electric mixer, combine butter, sugars, vanilla, spices (if using), salt, and vinegar until creamy and smooth. Add egg and beat well to combine, scraping down sides of the bowl as necessary. Add baking soda and flour, mixing until just combined. Stir in oats and raisins or chocolate chips.

Use spoons or a #40/1.5 tablespoon cookie scoop to drop balls onto greased or parchment-lined cookie sheets, leaving 2 inches of room around each one.

Bake at 350F for 12-14 minutes (less for soft cookies, more for crisp ones which I haven't tried). Cool before removing.