Most of my posts start off with "recently I really wanted..." And really, why shouldn't cooking and baking be that way? I'm fortunate that I can generally make whatever I want, and make it relatively well. Recently, what I wanted was biscotti. This surprised me, because I usually don't choose hard cookies. I like tender, chewy, and soft. For a long time, that was all I ever looked for in a cookie. Over the past few years my palate has grown, and I've come to appreciate the variety of food that I can make and enjoy (even if it seems like I only make sweets based on the recipes I post). I can embrace gooey brownies and crisp biscotti without conflict.
Good biscotti can certainly be tender, and they don't have to be rock hard. And that's what I hoped the Chocolate Buckwheat Biscotti recipe I found would be. They were gluten-free without making any unusual substitutions, provided you embrace the buckwheat and almond meal included in the ingredient list. I only first tried buckwheat flour a few weeks ago, and based on my limited experience with it so far, I think I like it. It gives an earthy flavor that works well in these chocolatey biscotti.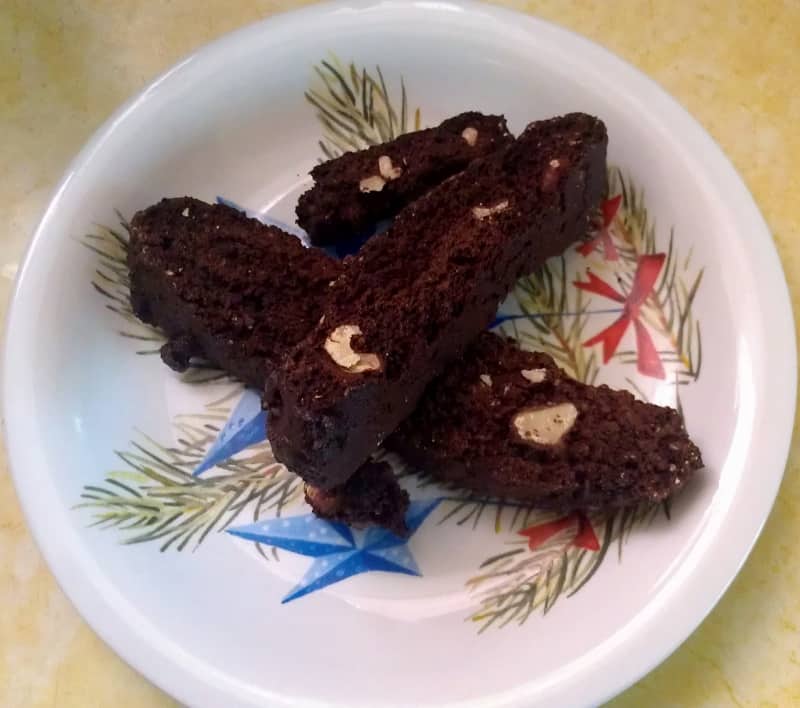 Making the biscotti was simple. The batter/dough came together easily, thanks to the large quantity of liquid included. The biscotti loaves sliced relatively neatly - better than some other biscotti I've made.
The biscotti were rather good. They were not rock-hard; I could easily bite into the biscotti without soaking it. I find biscotti to be crumbly, and these were no exception. Normal biscotti leave medium-sized crumbs; since the texture of these biscotti was finer, they left behind smaller crumbs. Flavor-wise, they were definitely chocolate. I got an earthy taste from the buckwheat, and didn't notice the almond meal in them. I think the espresso powder (affiliate link) really helped deepen  the taste. I know that these are supposed to be healthier biscotti, but I wish they had been a little sweeter. I might put extra sugar in them, or chocolate chips, which is what I really wished had been in them, although the walnuts were nice. The biscotti were good on their own, and held up rather well when dipped into hot chocolate or coffee.
This was a good and easy chocolate biscotti recipe to make, and it's perfect if you're looking to make something gluten-free without having to buy xanthan gum.
For a not-gluten-free biscotti (and not chocolate biscotti), try Cranberry-Pistachio Biscotti.
📖 Recipe
Chocolate Buckwheat Biscotti
Ingredients
88

grams

buckwheat flour

(~¾ cup)

37

grams

cornstarch

(~⅓ cup); see original recipe to substitute buckwheat for this

120

grams

almond meal

(~1 cup)

60

grams

cocoa powder

(~½ cup)

2

teaspoons

espresso powder

2

teaspoons

baking powder

½

teaspoon

salt

(less if using margarine)

4

tablespoons

margarine or butter

⅔

cup

tightly packed brown sugar

2

large eggs

2

teaspoon

vanilla

1

cup

walnuts

chopped
Instructions
Combine dry ingredients; set aside.

Cream butter with brown sugar with an electric mixer on medium speed for 2 minutes. Add vanilla and eggs, and cream for another 1-2 minutes, until well-combined. Add dry ingredients, and stir on low until combined. Add walnuts and mix until well incorporated.

Turn dough onto parchment paper and shape into two 10x3 inch logs, about ¾ inch tall. Bake at 300F for 40-45 minutes, until logs are dry and beginning to crack. Cool at least 20 minutes. Cut into ½ in slices and set (upright) on baking sheet. Bake another 30-35 minutes, until slices are dry.
Recipe Notes
If weights are given above, I weighed the ingredients. I measured by volume if only volume is given.