I apparently love Gooey Butter Cake.
I've written about before. Gooey Butter Cake consists of a layer of sugary, buttery goo on top of a cake base. It's a St. Louis specialty.
It's usually made with a yeasted crust, but this version is even easier. It's just an easy sugar cookie base, topped with simple vanilla-y batter that becomes gooey as it baked, which in turn is topped by crunchy cinnamon sugar. It's deliciously addictive.
[This post contains affiliate links. I may make a commission for purchases made through links on this post. As an Amazon Associate, I earn from qualifying purchases.]
What is Gooey Butter Cake?
Gooey Butter Cake is a regional dessert. It is insanely popular in St. Louis, where it's from. Interestingly, I didn't have much of it during my time in college there.
(Yes, there's "butter cake" other places - some of it pretty good, even. But all St. Louis grocery stores sell it. St. Louis caterers include gooey butter cookies in their dessert trays. It's definitely a St. Louis thing.)
My first introduction to it was actually a Paula Deen recipe that, in addition to using a lot of butter, doctored up a cake mix for a base and included a one-pound box of powdered sugar in the topping. A coworker of mine at Illinois would make that recipe (and so many variations) all the time for potlucks, and I made it several times after she shared the recipe with me. Those bars were delicious and incredibly sweet.
But, that is not this recipe.
I don't like using cake mixes very much, so I stopped making that recipe. I tried a few other recipes (one in 2010, which turned out overbaked; the second in 2014, which I think my pan and oven overbaked) before I made these; but since then, I've actually found a fantastic Gooey Butter Cake that I make sometimes. The only down side is that those recipes take yeast in the base, which makes them take a while to make.
In contrast, this recipe from the fantastic Smitten Kitchen Cookbook (affiliate link) is an adaptation, where Deb Perelman created a snickerdoodle-like cinnamon-topped version. Although not traditional, it's much faster to make and keeps well. And is, of course, rich and delicious.
Making Cinnamon Gooey Butter Cake
When you make this, line your baking pan with parchment paper for easy clean-up as I've had trouble with other gooey recipes sticking. Or, grease your pan very well, and use a pan you trust. I've got a natural aluminum one, less than a year old, that has been working like a dream for everything.
The cake is straightforward to make, except that you're making 2 kinds of batter.
First, you make the base, which is a sugar cookie dough. You beat together your butter and sugar, add egg and milk, and mix in your flour and leavenings, which include cream of tartar.
Cream of tartar is a little unusual. It's used in snickerdoodles, and stabilizing egg whites if you whip them. It's in a small spice container and is usually found along with the spices - not with baking powder or baking soda.
(If you can't find it, don't get tartar sauce just to not go home empty-handed! Alex did this very early in our relationship. I appreciated the gesture... but seriously, just ask a store employee to find it for you.)
Using the parchment paper, I find it hard to spread out the batter for the base with a spatula, so I get my fingertips wet and pat out the dough to the edges of the pan. Just try not to get the layer too wet. It's easier if you have a well-greased cake pan to use instead.
Next, you make the gooey layer, which is more like a fluffy cake batter. Combine the corn syrup, milk, and vanilla in a measuring cup or bowl. Cream together butter, sugar, and salt, then add egg and mix well. Add a third of the flour, then half the milk, another third of the flour, the rest of the milk, and the rest of the flour, mixing until just combined.
Spread this batter over the cookie dough base. It's thinner and fluffier, so this is easier to do.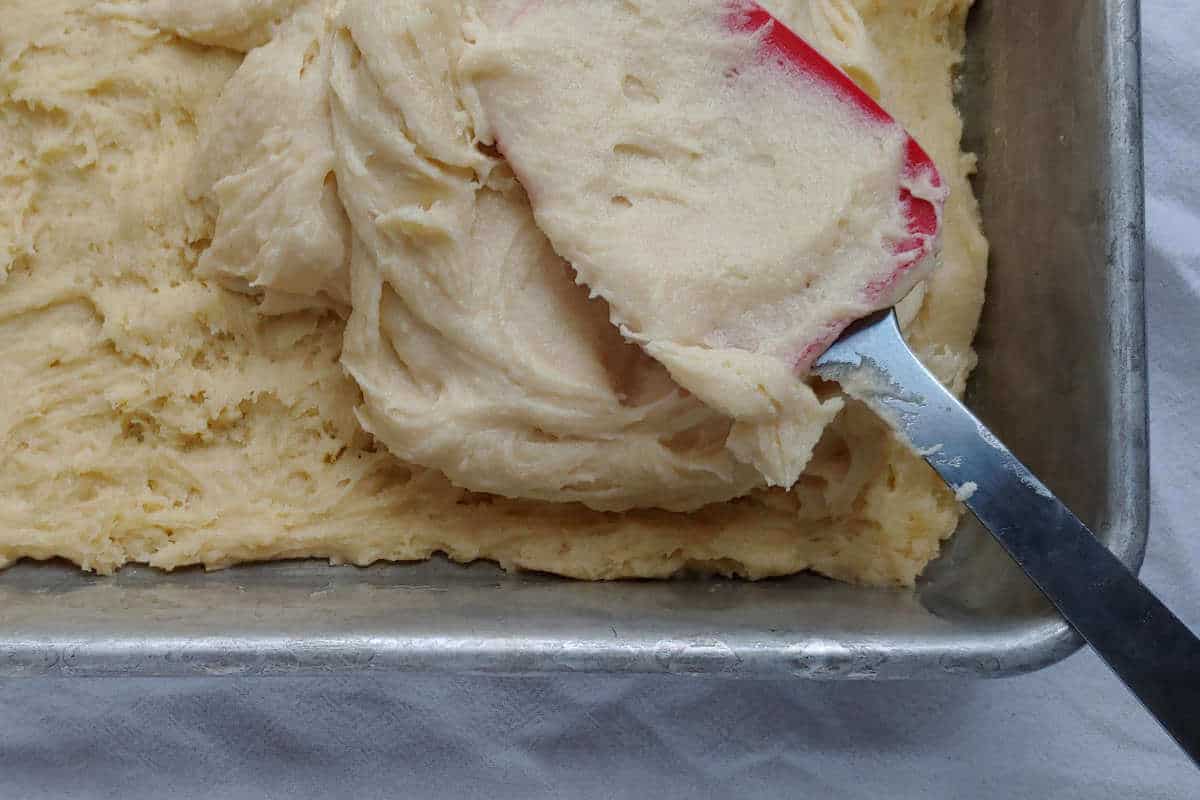 Don't like using corn syrup? I haven't tried it, but agave syrup would likely be a good substitute. Honey or golden syrup would probably be fine, but would add a different flavor that would interfere with the vanilla.
The final thing you do is mix together cinnamon sugar and sprinkle it on the top. The cinnamon sugar gives each piece a little crunch. Don't skip this step. I tried making it with cinnamon sugar on only half once, and I was disappointed; there wasn't enough contrast between base and topping without it. (Try out this new Gooey Butter Cake recipe if you want it without cinnamon.)
Next, bake the cake.
Tips for Baking the Cinnamon Gooey Butter Cake
The top will be puffy and liquidy and jiggly, even when done. Do NOT overbake. The cake will deflate and flatten as it cools.
This is Gooey Butter Cake, but the amount of goo that you end up with depends on how long you bake it.
When I bake it to the full 30 minute mark, there's little goo. At this point, it ends up like a very soft, sweet coffee cake, incredibly tender from the copious amount of butter in the recipe. In some spots, it's kind of like the dense goo you get in a slightly under-baked brownie.
At the 25 minute mark (or if my fingertips are too wet as I smooth the cookie dough base down), there's a lot of goo. Make sure the top is jiggly when you pull it out if you want more goo.
Somewhere around 27 minutes is my preference in my current oven; it's cleanest to cut and eat when the goo is minimal. The bars in these photos were baked until the 26 minute mark.
How Do You Store Gooey Butter Cake?
You don't. You eat it all immediately.
Hahaha.
We stored this on the counter in a sealed container. It's still good several days later. That said, you can't go wrong storing it in the fridge. The goo will firm up some that way and it will be a little easier to eat.
I hope you enjoy this delicious, vanilla-y, cinnamon sugar-y dessert as much as we do in my house.
Interested in other recipes? I save and share recipes I like or want to try on my Pinterest page - follow me there! You can also check out my Facebook page for more recipes and helpful tips. I'm also happy to try to help troubleshoot my recipes there.
Have you tried this recipe? Or have a question about it? Rate it or leave a comment below! (PS: rating my recipes helps other people find them, too!)
In the past:
Four Years Ago: Nectarine and Oat Scones, Chocolate Peanut Butter Cake
Six Years Ago: Apricot Cobbler, Oat and Maple Syrup Scones
Seven Years Ago: Stuffed Spuds, Spicy Orange Chicken
📖 Recipe
Cinnamon Gooey Butter Cake
Cinnamon Gooey Butter Cake is a soft, rich, and tender cake, covered with buttery, snickerdoodle-like cinnamon-sugar goo. It's addictive!
Keyword:
cinnamon gooey butter cake
Ingredients
8

tablespoons

butter

(1 stick), softened

¾

cup

sugar

(150 grams)

¼

cup

milk

(57 grams)

1

egg

1 ½

cups

flour

(212 grams)

1

teaspoon

cream of tartar

½

teaspoon

baking soda

¼

teaspoon

table salt
Gooey layer
¼

cup

light corn syrup

(78 grams)

¼

cup

milk

(57 grams)

1

tablespoon

vanilla

12

tablespoons

butter

(1 ½ sticks), softened

1

cup + 2 tablespoons

sugar

(226 grams)

¼

teaspoon

table salt

1

egg

1 ¼

cups

flour

(182 grams)
Topping
2

tablespoons

sugar

(26 grams)

1 ½

teaspoons

cinnamon
Instructions
Line a 9x13 inch metal pan with parchment paper and butter the sides/spray it with cooking spray. Set aside.

Combine 8 tablespoons butter with ¾ cup sugar and beat in a stand mixer or with a hand mixer until light and fluffy. Add milk and egg and beat until combined, then an extra 10 seconds more. Add 1 ½ cups flour, cream of tartar, baking soda, and salt, and beat on low until just combined.

Scrape batter into the pan and spread evenly to the edges using a knife or a spatula. (Dolloping all over the bottom of the pan works well, but I still find I need to use clean, wet fingertips to push the batter into the corners and edges since the parchment moves around.) Set pan aside.
Gooey Layer
Whisk together corn syrup, milk, and vanilla, and set aside. In the bowl of an electric mixer, beat 12 tablespoons butter, 1 cup and 2 tablespoons sugar, and ¼ teaspoon salt until light and fluffy. Beat in the egg until combined, and then beat an extra 10 seconds more. Add ⅓ of the remaining flour, then ½ of the milk mixture. Add another ⅓ flour, then the remaining milk, and then the rest of the flour, mixing only until just combined. Pour and spread batter over the cookie base and spread to the edges of the pan as necessary. (This is a thinner batter than the base, so this is much easier.)
Cinnamon Sugar Topping
Combine the 2 tablespoons sugar with the cinnamon, then sprinkle evenly on top of the batter.

Bake at 350F for 25-30 minutes (27 is perfect in my oven). The center will still be liquidy and jiggle; this will make goo. Cool completely, then cut into several little squares.
Recipe Notes
adapted from the Smitten Kitchen Cookbook
(Originally published June 23, 2017. Rewritten text and photos, with small updates to the recipe, in November 2018.)